Written by @diamondsindubai
Audemars Piguet is expanding its 15452 series with two new Royal Oak self winding models in 37 mm.
These elegant timepieces come in rose gold or white gold. Set with the highest quality diamonds and colorful gemstones, Audemars Piguet has managed to make our hearts race with these new iterations!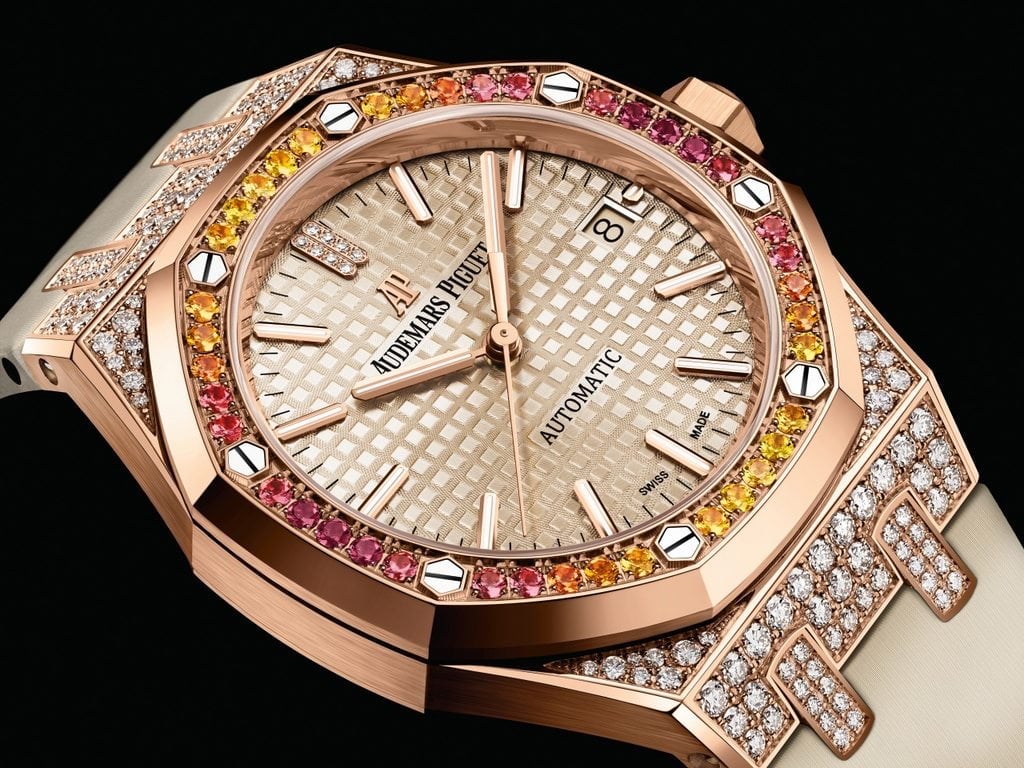 The dial is set in a beautiful guilloché "tapisserie" pattern which further accentuates the new grey or beige hues. These latest editions include a new satin-finished calfskin leather strap to enhance the watch's elegance and original aesthetic.
The pink gold bezel is carefully embellished with 40 brilliant-cut yellow sapphires, red garnets, and orange spessartite garnets, while the white gold bezel is set with 40 brilliant-cut pink sapphires and rubies. These stunning creations retail at approximately $59,200 USD.
Audemars Piguet meticulously selects their brilliant-cut gemstones to ensure harmonious gradation and optimal shine before being set by hand on the bezel.
The Original Audemars Piguet Rainbow Royal Oak in 37mm
Audemars Piguet previously released a gradient rainbow bezel in size 37mm, but it was discontinued several years after its release. The original rainbow Royal Oak came with a gold bracelet, unlike the new Royal Oak, which comes with a satin leather strap.
After discontinuing the original rainbow bezel, Audemars Piguet released another rainbow bezel, which, for the first time, included an openwork "skeleton" dial in 37mm in 2020, and 41 mm in 2021.
This new variation's bezel is set with 32 baguette-cut gemstones, including ruby, emerald, and sapphires in a range of colors.
In addition to including a "skeleton" dial, AP also incorporated its infamous "diamond dust" bracelet, also known as the "frosted" bracelet. It was initially inspired by a traditional hammered technique in Florence, Italy, where a diamond-tipped graver removes tiny amounts of gold to create minuscule pivots on the case surface.
History of Audemars Piguet and the Royal Oak
Founded in 1875 in Le Brassus, Switzerland by two young and successful watchmakers, Jules Louis Audemars and Edward Auguste Piguet created Audemars Piguet, the brand we know and love today. Since its inception, Audemars Piguet has always strived to stand out through their complicated and innovative mechanisms, blending intricate parts to create their beautiful designs.
In 1892, Audemars and Piguet created the first-minute repeater wristwatch. Seven years later, they released the first Grand Complication pocket watch, which, for the first time ever, featured a minute repeater, an alarm, a perpetual calendar, a deadbeat seconds, a chronograph, and a split-seconds hand.
Photo credit: Bespoke Unit
By the 1900's, AP was on a role by continuing to look for other ways to push for innovation in the watch industry. In 1925, they released the thinnest pocket watch caliber.
Shortly afterward, AP launched the world's thinnest wristwatch in 1946. Audemars Piguet created many firsts in the following years, but in the 1970's, the brand had created a piece so infamous nowadays that it has been labeled a 'timeless' piece.
The History of the Iconic Royal Oak
Audemars Piguet unveiled the sporty and luxurious Royal Oak in 1972, pushing traditional boundaries of watchmaking due to the stainless-steel make, which, at the time, was not commonly used in the watchmaking industry. The Royal Oak was considered bold in its design of a round dial laid within an "octagon bezel with 8 screws set inside a tonneau-shaped case." This new design has become one of the most iconic and recognizable watches, and still one of the most highly sought-after pieces.
The Royal Oak is undoubtedly what cemented Audemars Piguet as a brand in the luxury watch world.
Meaning Behind the Royal Oak
The inspiration behind the name is said to reference the historical and legendary royal oak tree that saved and provided shelter to King Charles II of England in the English Civil War in 1651.
Audemars Piguet Today
Audemars Piguet is considered a part of the Holy Trinity of watches alongside Vacheron Constantin and Patek Philippe, thanks to AP's innovative drive, rich history, and unmatched craftsmanship. Over the last decade, the resale market has seen Audemars Piguet prices skyrocket thanks to its huge demand and limited production. This is also a result of the company's trend of discontinuing highly sought-after pieces to maintain the exclusivity of its most elite makes.
Audemars Piguet continues to set the bar high for the watch industry in manufacturing, design, and complications. Irrespective of what model you adore, any Audemars Piguet watch will always be an icon and a piece of art.
Final thoughts...
Between all three rainbow dial releases by Audemars Piguet, our favorite is the latest rainbow Royal Oak with the satin leather strap. The partially diamond-encrusted strap along with the harmonious gradation of gemstones defines elegance.
Perhaps some may find the frosted Rainbow 'Skeleton' Royal Oak to be excessive. The openwork 'Skeleton' dial along with the frosted bracelet could come across as excessive especially when combined with the rainbow baguette-cut bezel.
What are your thoughts? Are you a fan of the latest rainbow Royal Oak watch?