With the continuing popularity of vanity case style handbags, it's time to compare and contrast two of the top designs. Specifically, we're talking about the small versions from Chanel and Dior.
So what is a vanity case exactly and why so popular? Originally designed as luggage to hold cosmetics, vanity cases prove to be quite useful on the daily. Designs typically come with a long strap that can be worn over the shoulder or crossbody, or, alternatively carried by the top handle. Always nice to have options!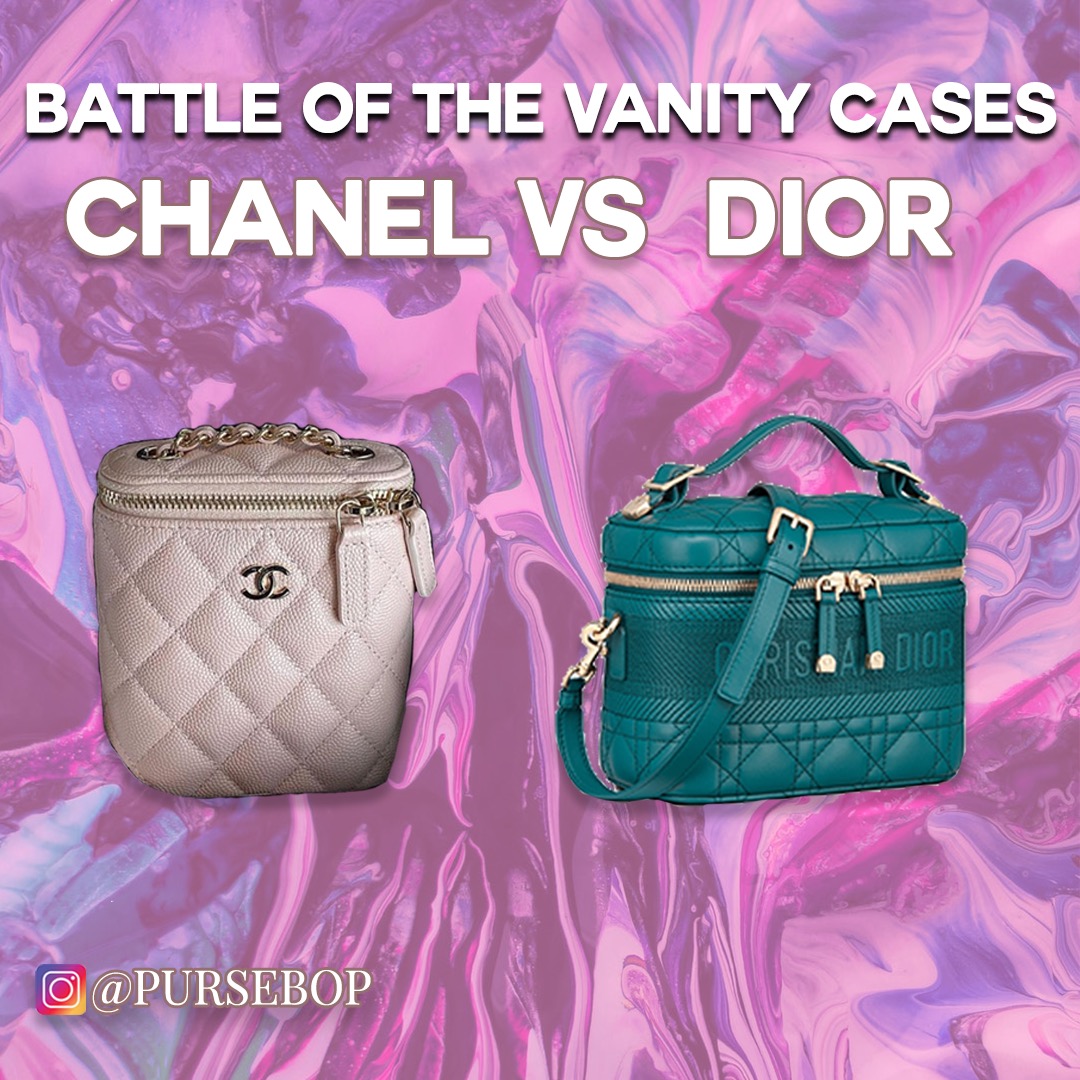 Although popular in larger sizes, the smaller versions of the style from Chanel and Dior really stand out. And no, we're not referring to the almost comical itty bitty adorable versions that popped up on Chanel's Spring 2021 Ready-to-Wear runway. We're talking small but still practical with an elegant and structured look.
At first (quick) glance, the Chanel and Dior models are quite similar, perhaps even susceptible to confusion. Look carefully and you'll see the differences, certainly in price and shape. With the facts in hand (or strap, lol), vote for your preference in our poll.
Chanel Small Vanity Case
Chanel's Small Vanity Case has a structured cube-like shape featuring the house's signature diamond quilted lambskin. 
Dimensions – 15 × 15 × 12 cm
Price – $4,400
Small DiorTravel Vanity Case
Dior's DiorTravel Vanity Case is more rectangular than square. Wider and shorter than the Chanel style, it still maintains a similar, boxy structure. Dior's classic stitching, in this case the classic and popular Cannage, adorns the bag. 
Dimensions – 18.5 x 13 x 10.5 cm
Price – $3,000
Chanel Small Vanity Case
Featuring a horizontal dual zip top, Chanel's vanity case offers relatively easy interior accessibility. The double C logo is placed front and centre of the design in typical Chanel fashion. On the bottom four metal feet surround the large CC leather logo. Staying true to its origins as a holder for cosmetics, the design includes a small square mirror on the inside.
Small DiorTravel Vanity Case
Dior's version similarly sports an emblem of its brand. 'CHRISTIAN DIOR' is embossed in all capitals across the front of the bag, akin to many of Dior's popular designs. Notably, the logoed section is fabric, rather than leather. Like the Chanel Small Vanity Case, Dior's bag features a horizontal dual zip opening and gold-tone metal hardware. The bag also includes two patch interior pockets.
Chanel Small Vanity Case
Like many classic Chanel items, this bag has a chain strap interwoven with leather. Very thin and long, it appears suitable for both shoulder and crossbody carry. However, it is neither adjustable nor removable. The bag includes an elegant single top handle in lambskin for hand carry.
Small DiorTravel Vanity Case
Dior's version has more of a hand strap than an actual handle. Like Chanel's, it has a thin lambskin strap suitable for shoulder and crossbody carry. However, this strap is removable and adjustable via a gold-tone metal buckle. You can even pair the bag with one of Dior's signature chunky fabric straps for a completely different look. 
Fabrications, Sizes And Colors Available
Chanel Small Vanity Case
Online, Chanel's Small Vanity Case only appears in black calfskin. However, it's likely that other colors are available in boutiques. In fact, we've seen photos of pink, probably no surprise given the rosy bags of Spring/Summer 2021. 
Small DiorTravel Vanity Case
Dior offers the small case in a panoply of colors. In addition to black, there's Beige, Gray, Rose Des Vents, Dark Nude, Cloud Blue, Deep Ocean Blue, Cognac and Poppy Red, all in Cannage printed lambskin.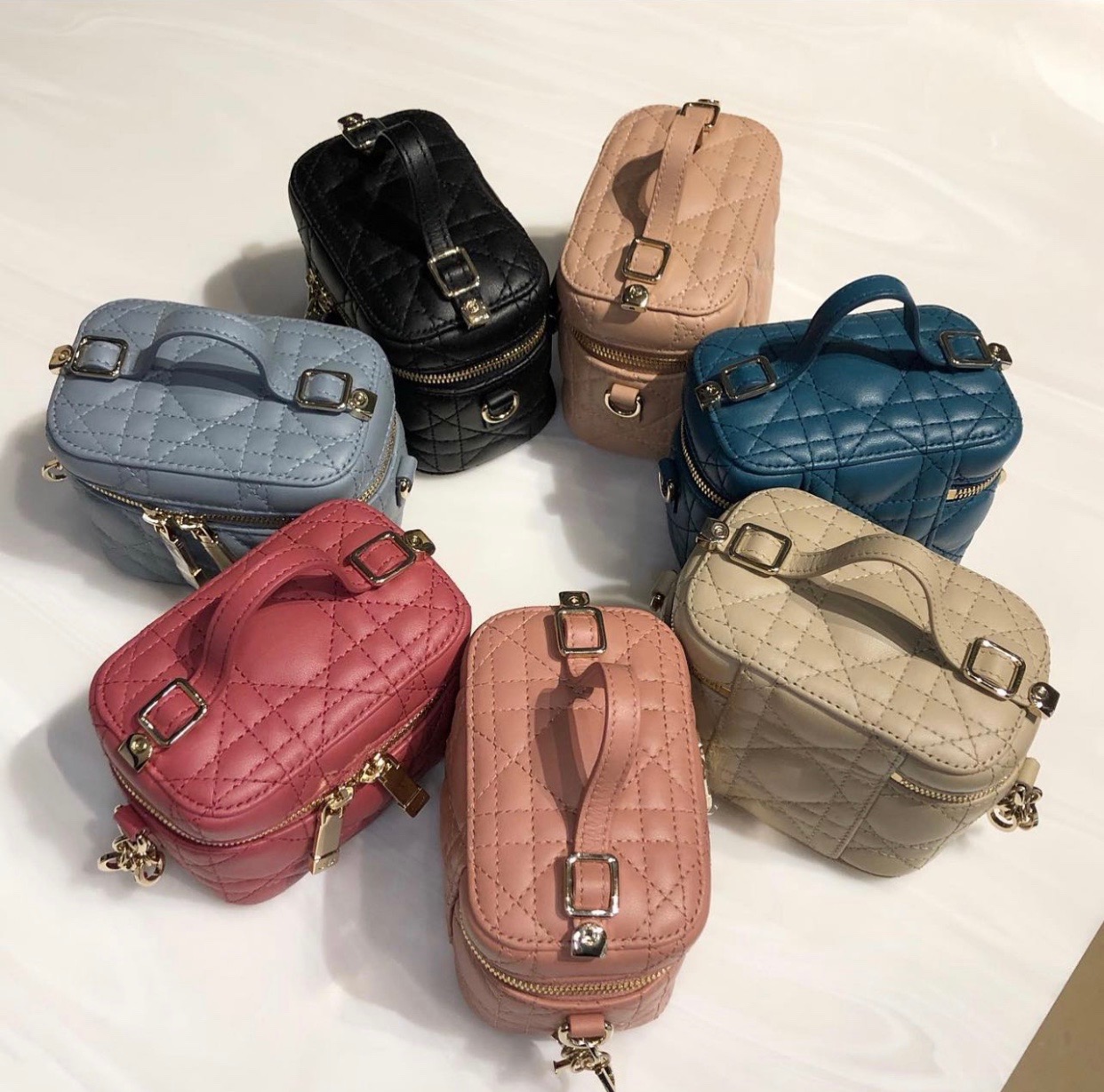 Whether you prefer Chanel or Dior, there's a small vanity case for you. Perhaps you like the structured handle, so go for Chanel. If the removable strap provides the options you desire, go Dior. To save $1000, Dior's your pick. Either way, you really can't go wrong… it's a matter of preference.
Chanel's prior vanity case styles were and remain fashionista favorites, especially for those expanding beyond the flap. The Chanel Filigree Vanity Case is wildly popular and has been reimagined in a plethora of colors and materials. However, the Small Vanity Case offers more of a traditional take on the vanity case style with its horizontal zip opening.  
So what's your choice? Vote below… and feel to tell us why on social.