Talk about an apology present! This story is making the rounds on social media and no, it's not the plot to some whimsical romantic comedy- it actually happened! And, to be honest, we wouldn't mind being apologized to in this way more often (*winkwink*).
A recent BuzzFeed article tells the tale of how a couple holidaying in Paris have gone viral for an interaction they had during dinner one night. Lya and her husband, Nickolas, were living their best life in the city of love, when an unexpected cameo suddenly, let's just say, changed the ambience of their outing. While sharing a meal, Nickolas spotted OnlyFans and adult film actress, Mia Khalifa, from across the room at a neighbouring table. Overcome with giddiness, he got so excited at the sighting that he texted all his friends about who he'd just caught a glimpse of.
https://www.tiktok.com/@lyamariella/video/7108437489357966638
Credit: @lyamariella
While witnessing this burst of excitement, Lya snapped a video of herself comically unimpressed and sipping on her wine with the caption "POV: You're in Paris having dinner with your husband and he spots Mia Khalifa, gets way too excited about it, and proceeds to text all his guy friends." Shortly after, the snippet had almost 4.5 million views.
Upon seeing the video, Khalifa herself left a cheeky comment saying "Girl my man was on his phone the whole time, I say we throw them all away and go shopping tomorrow." After all… girls just wanna have fun, right?
To up the ante, Khalifa even suggested that Mr. Nickolas buy Lya a new Hermès Birkin to apologize and make up for the incident. A perfectly logical, reasonable and rational gesture is it not? LOL ok ok, we're having a bit too much fun with this, but just wait till you hear what happened next…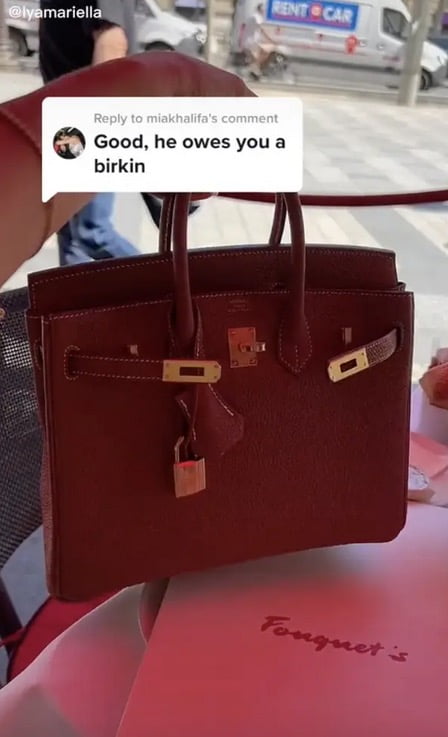 Image Credit: @lyamariella
EVERYONE! THIS IS NOT A DRILL! HE ACTUALLY DID! HE GOT HER A BIRKIN! In the following hours, Lya had a brand new Birkin in her hands, courtesy of her husband, hat in hand (or should we say, bag in hand). It looks to be a GORGEOUS Birkin 25 in the color gold with gold hardware- a staple stunner from Hermès. The cherry on top of all this? Lya and Mia even had the chance to meet in person, sharing some giggles over the whole situation, and poking fun at Nickolas.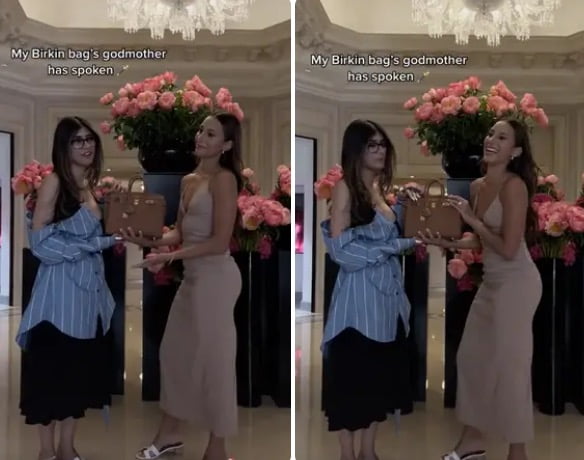 Image Credit: @lyamariella
https://twitter.com/i/status/1536334826898395142
Credit: @miakhalifa
We're not asking our significant others to take notes but… we're also not Not asking them to take notes either (*wink). A story that's surely one for the books, you can read all about it at the link here: https://www.buzzfeed.com/alexalisitza/husband-apologizes-with-birkin-mia-khalifa-tiktok
We can't help but wonder, though, how on Earth did Nickolas manage to a) get an appointment on such short notice at H and b) nab such a coveted B?! Might he have shared the tale with an SA, who simply couldn't refuse helping him out? Perhaps the laughs that ensued upon hearing such a dilemma were too good to pass up. As an Hermès SA, it's not every day that you hear such a story…
What do you all think about this? We'd LOVE to hear your thoughts!
Read Related Articles:
A Jewel Encrusted, Platinum Plated Birkin Bag? You've Got to See It to Believe It…
Birkin Body: The Luxurious New Procedure That Already Has a Waitlist
Update: Kanye Gifts $250,000 Chèvre Birkin to New Girlfriend