Just when we thought the smash-and-grab saga had started to cool down, another incident to report on. This time, thieves targeted luxury resale boutique Designer Revival in NYC's Upper East Side. In a brazen Hollywood-style heist, three suspects broke into the store Wednesday morning and were able to get away with almost $40,000 of presumably pre-owned Louis Vuitton and Chanel handbags in under a minute.
This incident comes a few days after another report of a robbery in the city's SoHo area, where a group of shoplifters looted $70,000 worth of designer clothing, and were even filmed ramming their vehicle into an NYPD cruiser in an attempt to flee the scene. They were eventually caught up with by police, however not without a trail of damage left behind. In fact, it is being alleged that this group was behind another incident occurring at the same store back in February, where nearly $50,000 in garments from designers like Dior and Gucci were snatched.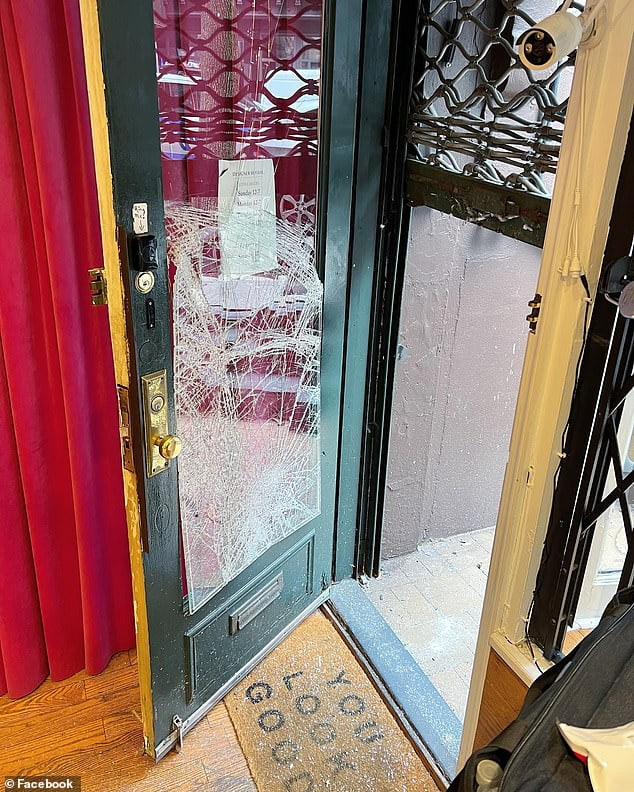 Designer Revival's damaged store door
The three New Jersey- based suspects were all charged with grand larceny, reckless endangerment and resisting arrest, amongst other charges, according to police.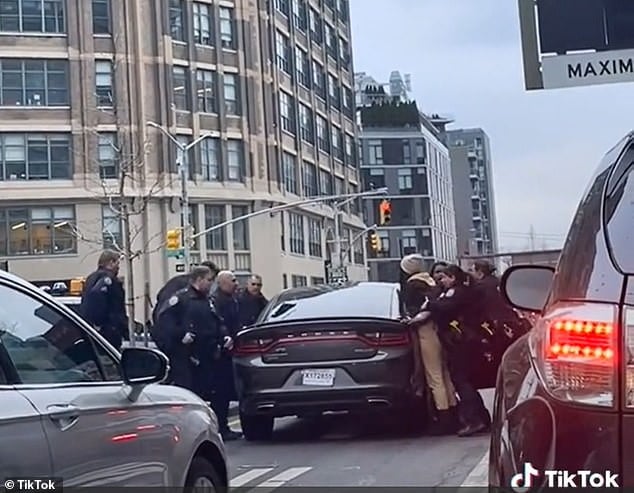 NYPD arresting suspects after attempting to flee
Both incidences are currently still under investigation. However, they are just two of many similar robberies on the rise in New York City. Stores and boutiques across the city have called for heightened security, surveillance and penalties for anyone caught attempting to carry out heists such as the ones mentioned above. This comes as the city recorded a 44% increase in crime just last year, while municipalities across the United States are also dealing with a rise in identical occurrences.
From Chicago to New York City, South Beach to Los Angeles, these bold smash-and grab style robberies are taking a toll on boutiques already heavily impacted by the pandemic and respective restrictions. In a statement posted to Facebook by the Designer Revival boutique, the company shared that they "are completely devastated by this attack on our small local shop, the 2nd robbery in less than two years… we recognize the deep underlying issues and distress that led these brazen thieves to steal from a small local shop, one that is still recovering from the pandemic. Justice will ultimately be served to the deplorable thieves."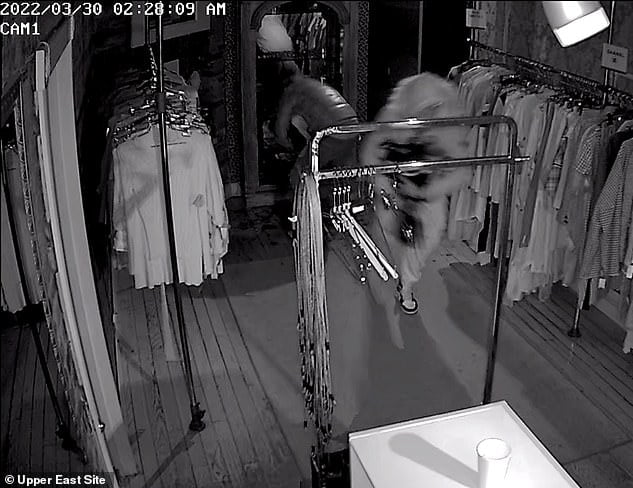 Security camera footage from inside Designer Revival, thieves grabbing what they can before dashing out the door
More on this as the story develops. What are your thoughts on this? Do incidences like this make you less comfortable visiting boutiques to shop? Let us know what you're thinking…
Read Related Articles:
https://www.pursebop.com/boptalk/topic/conviction-in-soho-chanel-boutique-robbery
https://www.pursebop.com/boptalk/topic/real-housewives-of-beverly-hills-dorit-kemsley-victim-of-home-invasion-robbery
https://www.pursebop.com/boptalk/topic/hot-watches-rolex-robberies-on-the-rise-across-europe-uk
https://www.pursebop.com/boptalk/topic/repeat-smash-and-grab-of-pre-owned-hermes-handbags
https://www.pursebop.com/boptalk/topic/secondhand-luxury-new-target-of-smash-and-grab-thieves
https://www.pursebop.com/boptalk/topic/what-is-going-on-here-another-louis-vuitton-boutique-robbed-in-san-francisco
https://www.pursebop.com/boptalk/topic/news-yet-another-louis-vuitton-store-robbery-in-chicago-area