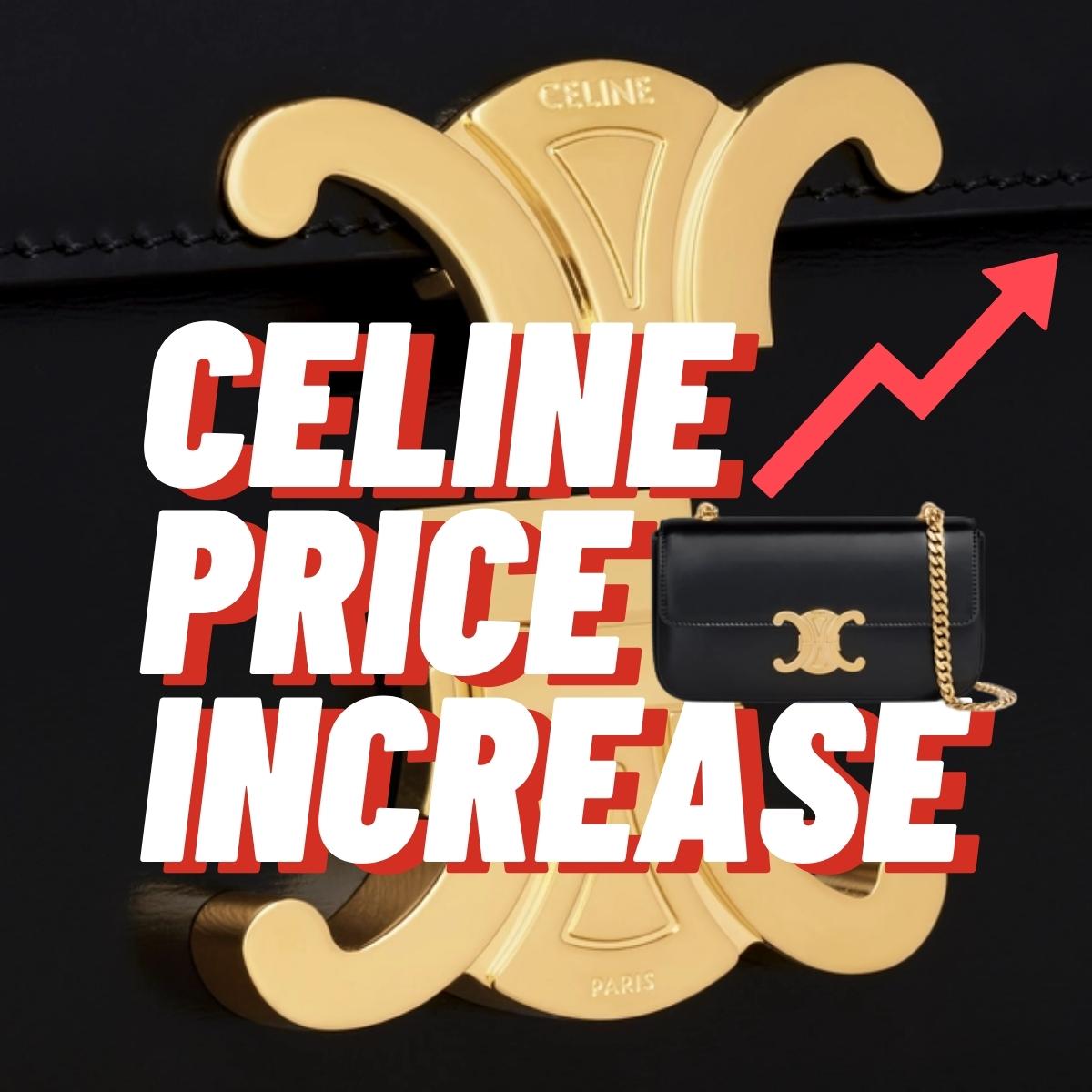 Another overnight price increase! This time it's Celine. Fortunately, only a limited number of bags are affected. So far.
Perhaps we shouldn't be all that surprised and maybe grateful it took this long. After all, Celine is under the LVMH umbrella. Barely three months into 2023, sister brands Louis Vuitton, Dior, and Fendi have all increased prices. Baby sis wants to catch up! We joke.
But, Celine lately is on a fashion hot streak. After Phoebe Philo – creator of the still classic Nano Luggage Tote, Trapeze Classic Box, and Belt – left the brand around 2017, people wondered what would happen.
Stepping in was and is the Current Creative Director Hedi Slimane who has developed several handbag must-haves of his own. One of his first designs was the Classic 16, which is still being produced today. Probably one of the newest bags, the Ava, is seen on stars and fashionistas worldwide. And let's not forget the Teen Triomphe bag, which is on its way to classic status.
Luckily, the Ava bag is not affected by this round of hikes. However, the 16 bag will go up. And sadly, the price tag on one of our favorites also is rising… the Classic Panier, which was the bag to carry in Paris last summer, will cost 3% more in the United States. Maybe that's an excuse for a trip to the City of Lights.
Notably, the canvas Cabas saw the largest price jump at 27% in the US and 23.8% in Europe. Is it merely a coincidence this beach bag goes up just in time for spring break and summer vacations?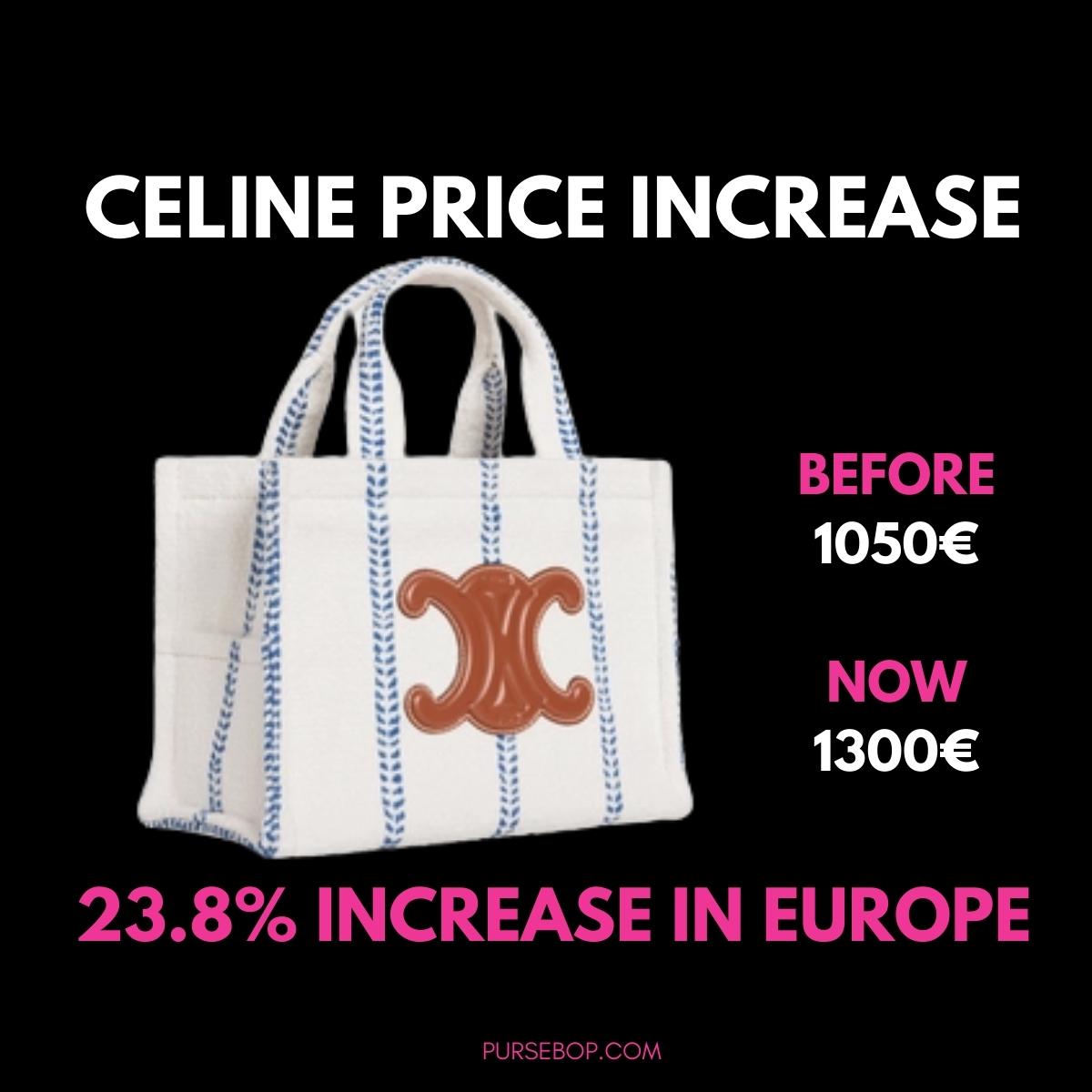 Fortunately, although this price increase is global, Americans (and other non-EU residents) may still get a better deal in Paris versus the United States. Information will be updated as it becomes available.
Here's what you can expect on your next purchase of these Celine handbags:
USA Celine Price Increase
| | | | |
| --- | --- | --- | --- |
| Celine Bag Style | Previous Price (3/14/23) | New Price (3/15/23) | Increase (%) |
| Chain Shoulder Triomphe in Shiny Calfskin | $2950 | $3200 | 8.5% |
| Classique Triomphe in Shiny Calfskin | $3950 | $4150 | 5% |
| Teen Triomphe in Shiny Calfskin | $3650 | $3950 | 8.2% |
| Classic Panier | $720 | $740 | 2.8% |
| Mini 16 Satinated Calfskin | $3300 | $3700 | 7.7% |
| Cabas Thais Small Textile | $1300 | $1650 | 27% |
| Nano Luggage Bag | $2700 | $2800 | 3.7% |
Europe Celine Price Increase
| | | | |
| --- | --- | --- | --- |
| Celine Bag Style | Previous Price (3/14/23) | New Price (3/15/23) | Increase (%) |
| Chain Shoulder Triomphe in Shiny Calfskin | 2300€ | 2450€ | 6.5% |
| Classique Triomphe in Shiny Calfskin | 3000€ | 3200€ | 6.7% |
| Triomphe Teen Veau Satine | 2800€ | 3000€ | 7.1% |
| Cabas Thais Small Textile | 1050€ | 1300€ | 23.8% |
| Nano Luggage Bag | 2000€ | 2200€ | 10% |