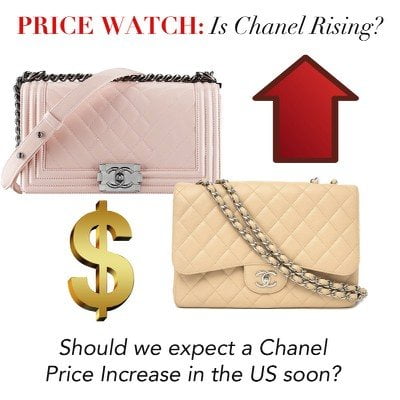 The rumor mill is swirling… that Chanel bag prices are about to take a hike in the United States.  From what we've heard, look to shell out 8 to 15 percent more.  And when? Well, one source said "soon."  Another pegged it to mid-November.
The American consumer shouldn't be shocked by this.  Earlier this month, Chanel increased prices in Asia by 9-10 percent. This summer, prices in Europe rose 5-7 percent. And back in 2016, the United Kingdom was hit with not one, but two spikes: May 2016 prices rose 10 percent, followed by another 5-7 percent in July after Brexit. The last U.S. rise was about three years ago.
Most interesting over these two years has been Chanel's undeniable success in global equalization of its prices.  No longer can Chanel aficionados from Asia flock to Europe or the U.S. for a better deal.  Prices for Chanel bags are virtually the same worldwide.
Whispers of an impending increase may not be such great news for would-be buyers, but might help if you're trying to sell a classic from the closet.  With stable pricing, PurseBop suspects secondary market values have declined.  An increase at the boutique allows a reseller to demand more as well.
We'll be sure to keep watching this space, stay tuned!