It was the highlight of my recent Chanel boutique visit. Having exhausted the stores in Miami for viewings and offers of the hottest colors, I returned to Chicago still on the hunt. Forget the caramel – no one has it and I'm over it. Does Chanel have a pink that doesn't replicate one of my many Hermès roses? Well maybe one, but more on that later.
After all, as stunning as the colors are, there are only so many I can justify. I'm not really a blue girl and I go back and forth on greens. Yellows I love… as I still pine for Hermès lime.
So, it's probably no surprise that the Chanel color making my heart sing… is essentially highlighter yellow.
What can I say that I haven't said before about this season's offerings from Chanel? There's no way to adequately capture the passion and the adrenaline from the hunt for these colors.
Since my first article in February on the Chanel frenzy, I confess I have visited the Chanel Boutiques in Miami and Chicago more times than in the last several years combined. Thankfully, I've been able to view nearly everything that struck my fancy. Another silver lining is I have reconnected with an entire community of Chanel lovers that had taken a back seat during my Hermès obsessed years. With each color craving came the high… the chase, the viewing and then the calm. Somehow the anticipation to find the color and then to see it has been outweighing the compelling need to buy. At least until this happened…
Back in February, when I was researching 21P bags, I scoured Instagram hashtags, reconnected with old sales associates. This was investigative, hit the pavement-type research. Soaking up the info and piecing it together on a puzzle board, one might have thought it was the crime of the century, LOL. Clearly reminiscent of my early Hermès days of that intense crash course on leathers, colors, sizes, it was nearly obsessive. Every little detail became relevant. But you all know what I'm talking about … you've all been there.
During that time I stumbled upon a tidbit that really piqued my interest: neon fluorescent-colored flaps were coming for the 21 Summer collection. Whoa! Hold your horses, forget 21P, I'm waiting for summer. This was a total surprise. Trust me, I saw the rainbow collection, smitten by the pink, flipped over the green and so on. Now, I reversed course and jumped ahead.
I waited in anticipation knowing it could very well be a few weeks. Remember, I didn't have any concrete information, just a whisper of neon. Unlike many of the colors we have recently written about, there is not a single image on Instagram, no flashing signs of what was to come. All I had was a hunch that the neon colors would light me up.
On a dreary cold Monday afternoon I received a text from my Chanel SA in Chicago. There with a photo were four words "Monika, it's arrived, OMG". I am sure I gasped and I remember running upstairs to the study where Mr. PB was likely making calls. For some reason I was compelled to show him this ASAP. It's not like he has a lot of say in my collection of handbags but I guess I knew that if he saw a photo he would grasp my excitement. I grabbed my laptop because I wanted to see the photo that I received as a text on my computer screen. I wanted to examine it. I wanted to zoom in and make sure every square inch was absolutely perfect. I wanted to savor it.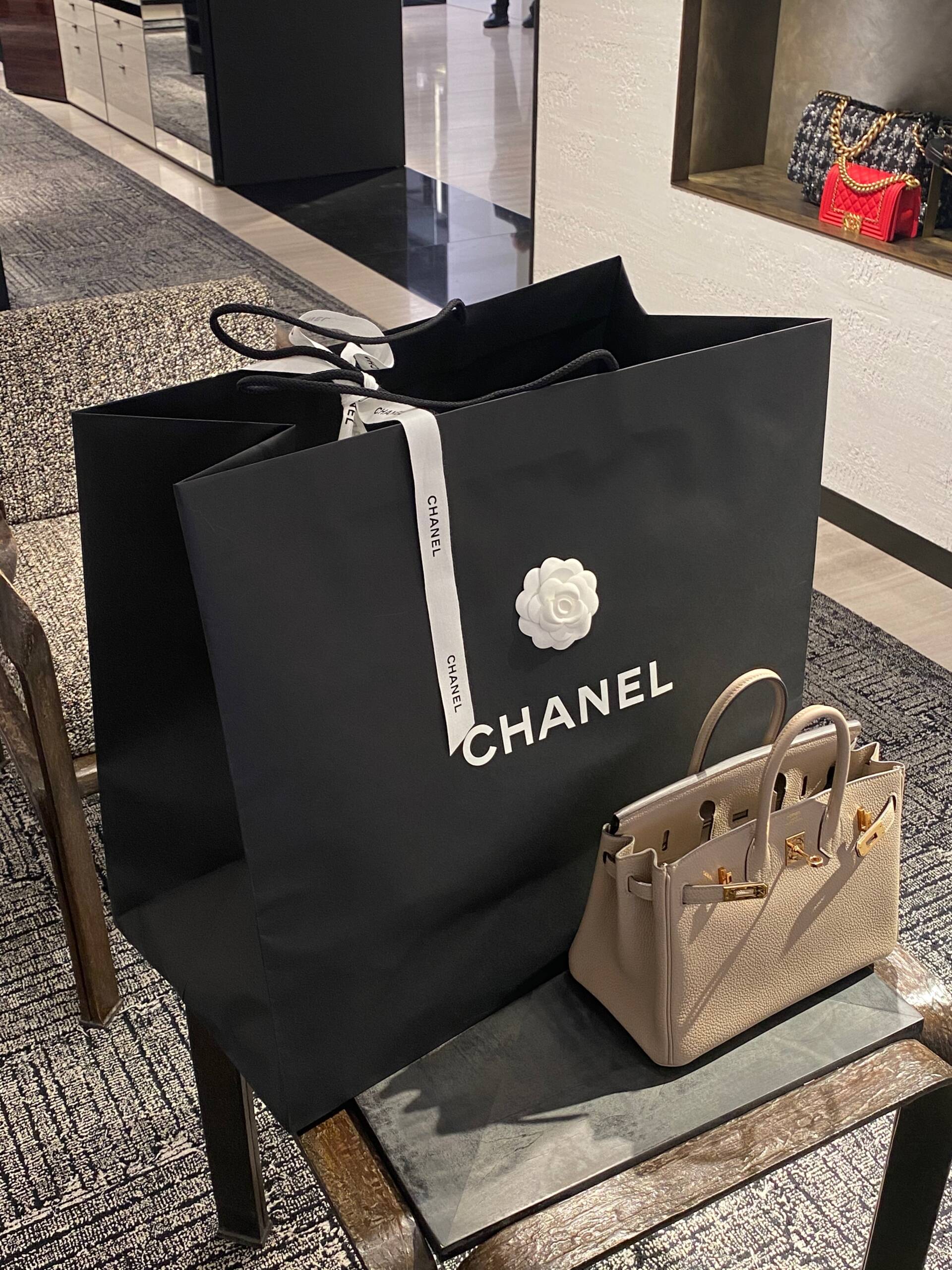 This bag was not going to be shipped to me. It warranted the full blown boutique experience – a downtown trip, documenting the story, unboxing, photo shoot etc. And, of course, I needed, above all, to see the bag in person before making any decision. So much of our shopping over the last year has been charge and send. But there's nothing like an old fashioned reveal. 
Alas, It was a crazy week, and my trip would need to wait a day or so.  Ideally, the "viewing" would be combined with a date night with Mr. PB, however, the schedules just didn't work.
Wednesday couldn't come soon enough. I daydreamed about summer nights with the pop of fluorescent yellow on my shoulder. Somehow I traveled to exotic Caribbean destinations with this highlighter yellow flap.  I even began searching for matching neon sneakers for that 'cool vibe' and short heels for that sexier playful look. Let's just say, I was more than ready to see this baby in person. 
Arriving at the boutique, I was greeted by my new SA. During our chat, I was impressed by Chanel's pandemic protocols. It felt super safe. As my SA went to retrieve the bag, I documented the moment with photos. She may have been gone only a few minutes but I was savoring the experience.
I literally gasped with excitement as I saw her appear with the yellow flap in hand. She must've been 50 feet away and I had already made up my mind. Resting on the counter next to my Birkin, she was perfect. Bright and trendy, yet clean and classic so that I could imagine myself using her for many years to come. It was a no-brainer. Do I wish it was in caviar to be more resilient, yes. But perhaps the color would not translate as well as it did in this beautiful lambskin.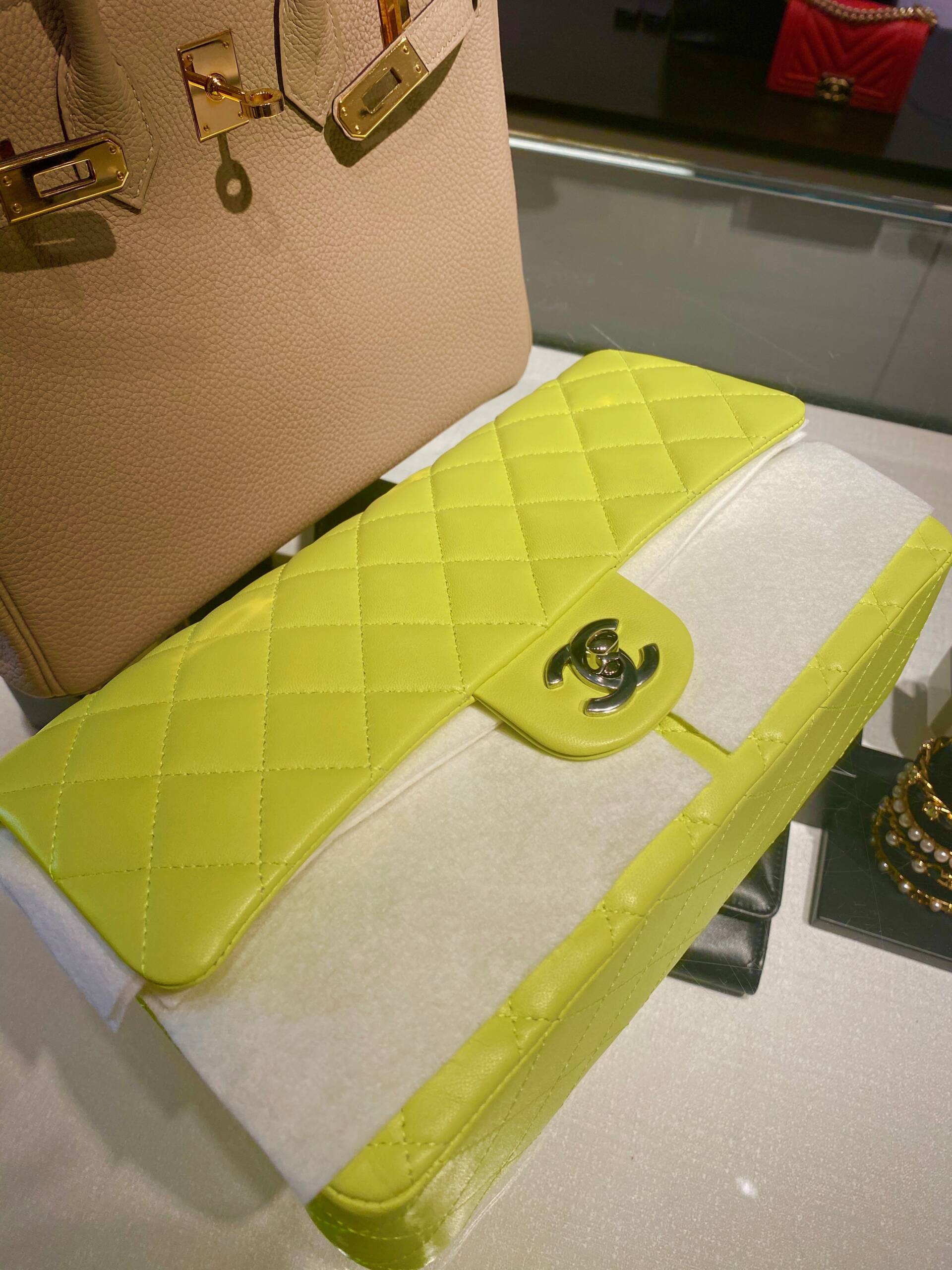 Game over, I had found the classic flap to make my heart sing. I've had many colorful chanel flaps over the years, and I have never seen a color like this one. It is so unusual, vibrant and perfect. Perhaps there is a reason that Hermès lime never made its way to me. Really, this neon fluorescent yellow flap was my destiny.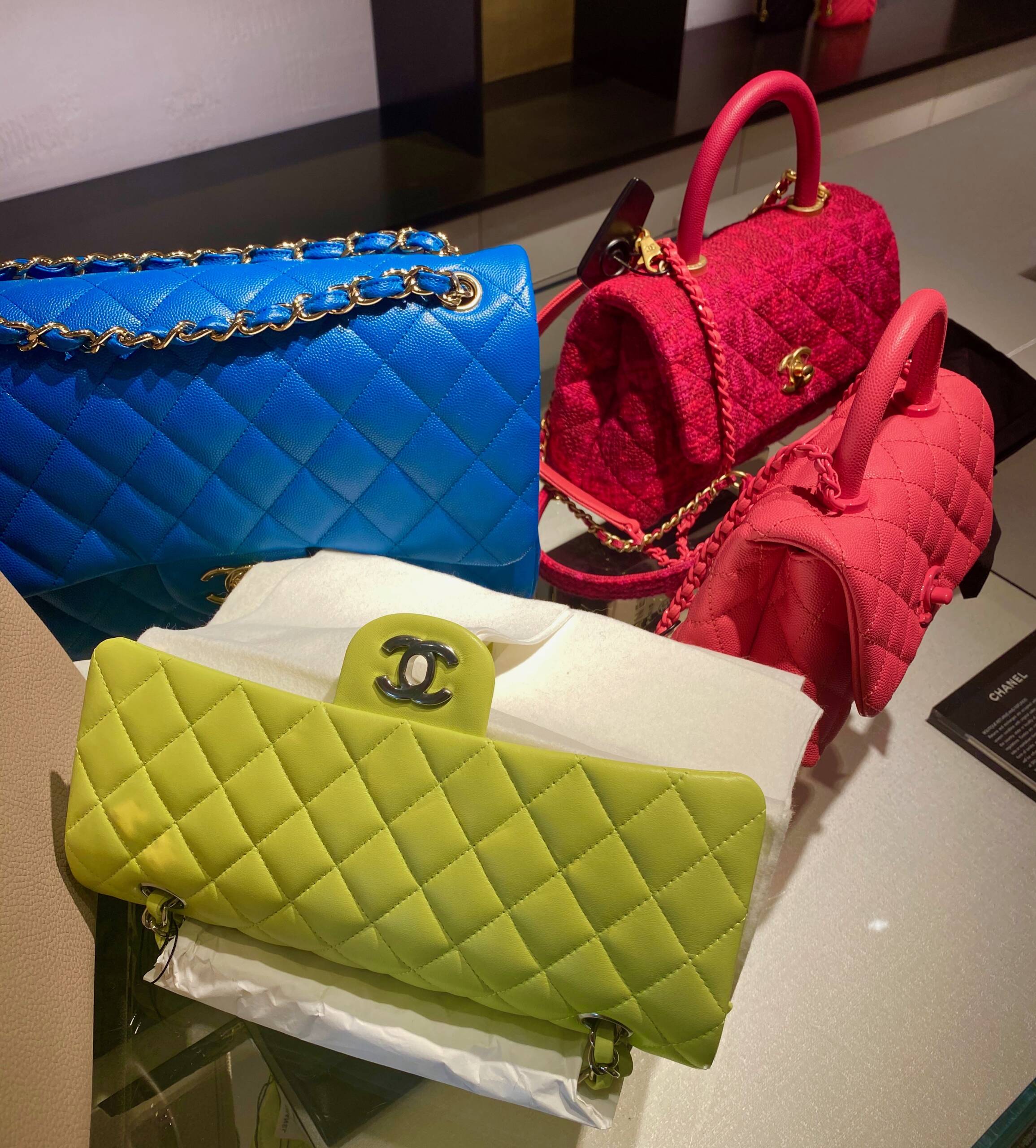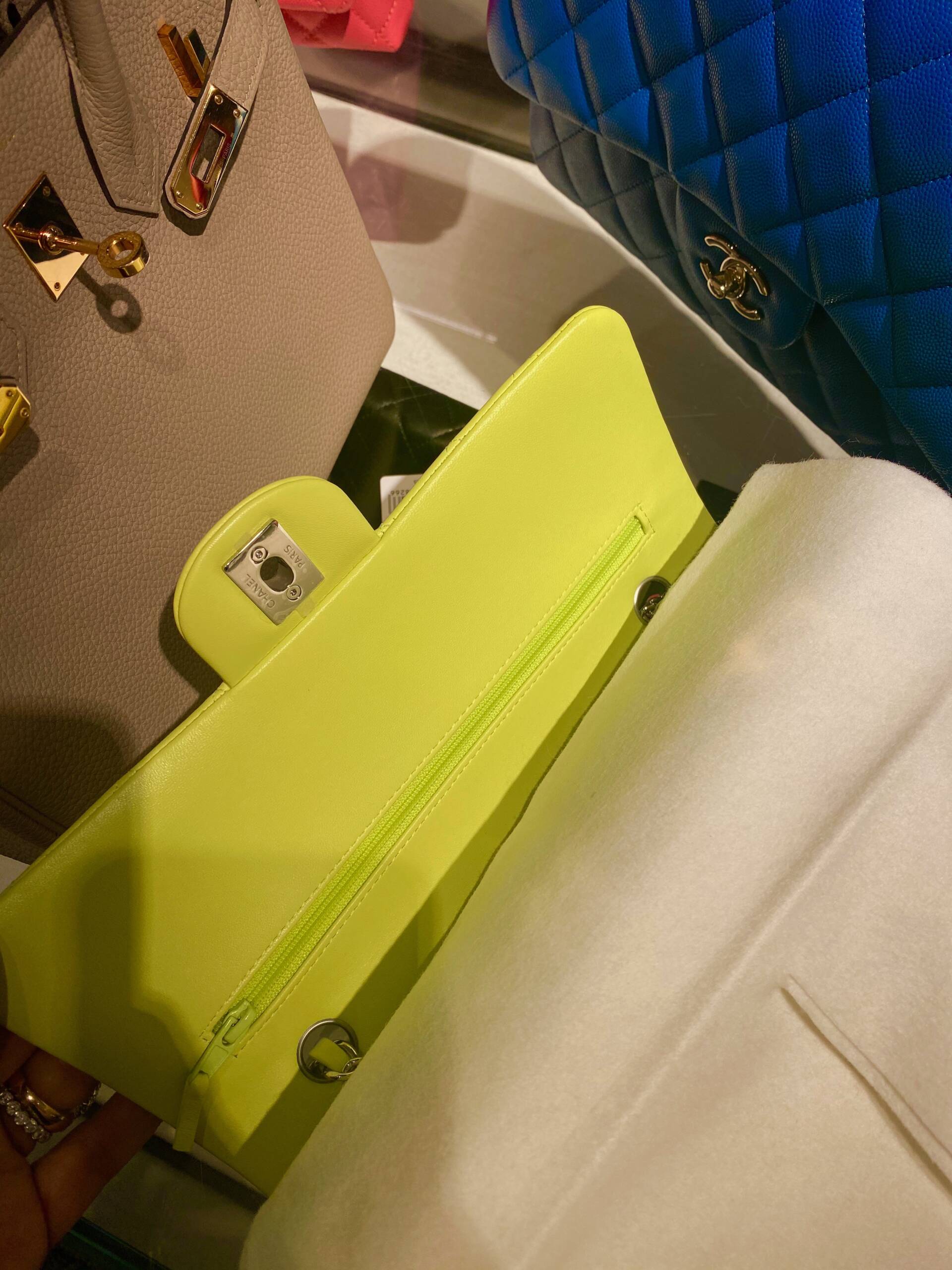 I contemplated various ideas to create the perfect reveal setting. Truthfully, I wasn't really sure how to bring this color alive in the dreary Chicago weather. Then, last Saturday, Chicago's mayor surprised us by dying the river green in honor of St. Patrick's Day –  a city tradition for years. On Sunday, Mr. PB and I headed downtown for a stroll to admire the vivid color green. 
Literally as we reversed out of the garage, eureka… It hit me. "Wait stop. I can do the reveal of my neon flap against the bright green river…" 
I couldn't see Mr. PurseBop's eyes which I assume were rolling, but I had already opened the car door and was rushing out.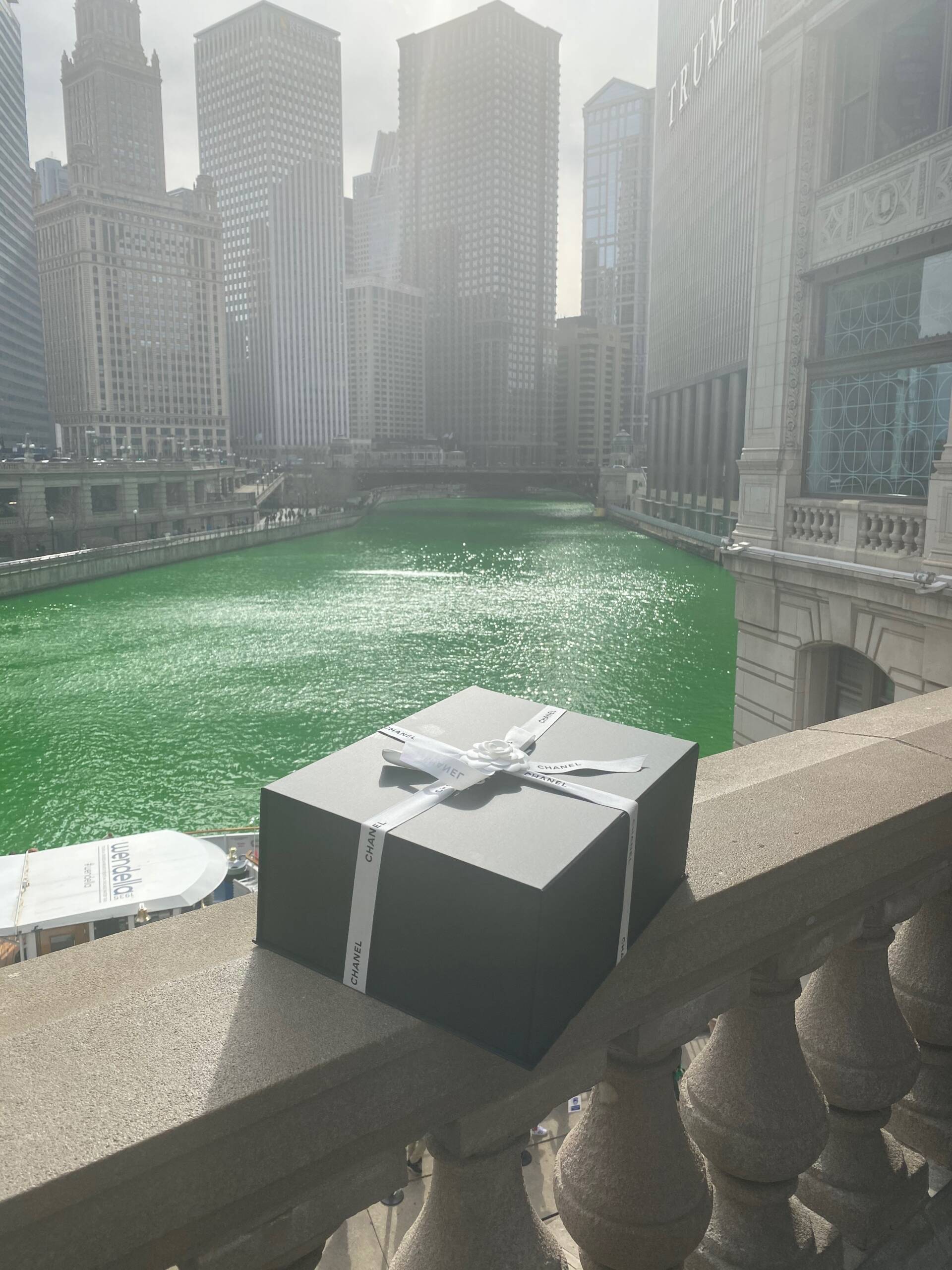 I quickly put the bag in the backseat of the car and we headed downtown. We scouted a site for enough space to videotape the unboxing. I must say Mr. PurseBop was a complete sport and this by far is his finest photography yet. The epic videos I will share @pursebop. They truly bring the bag and the scenes to life.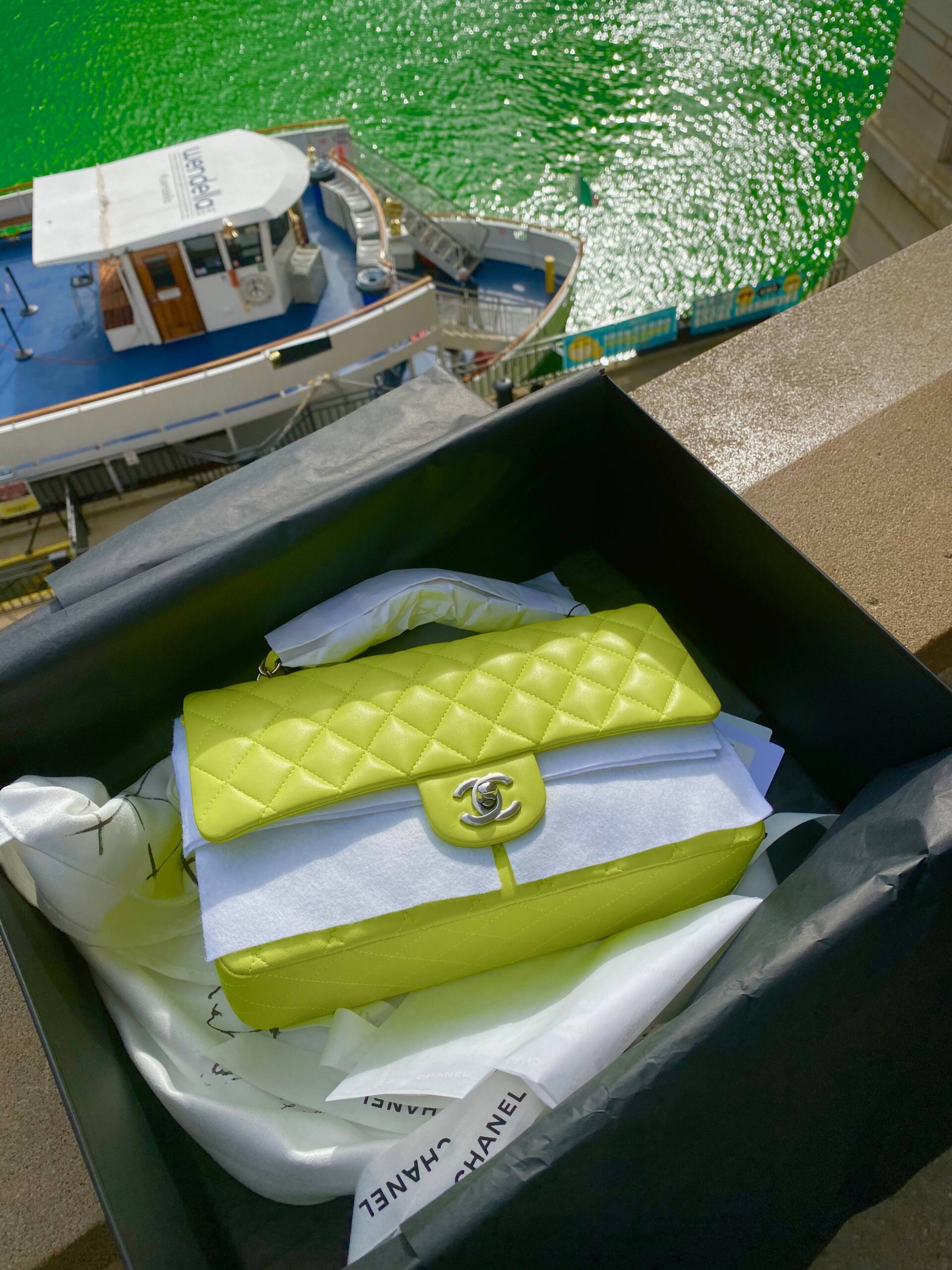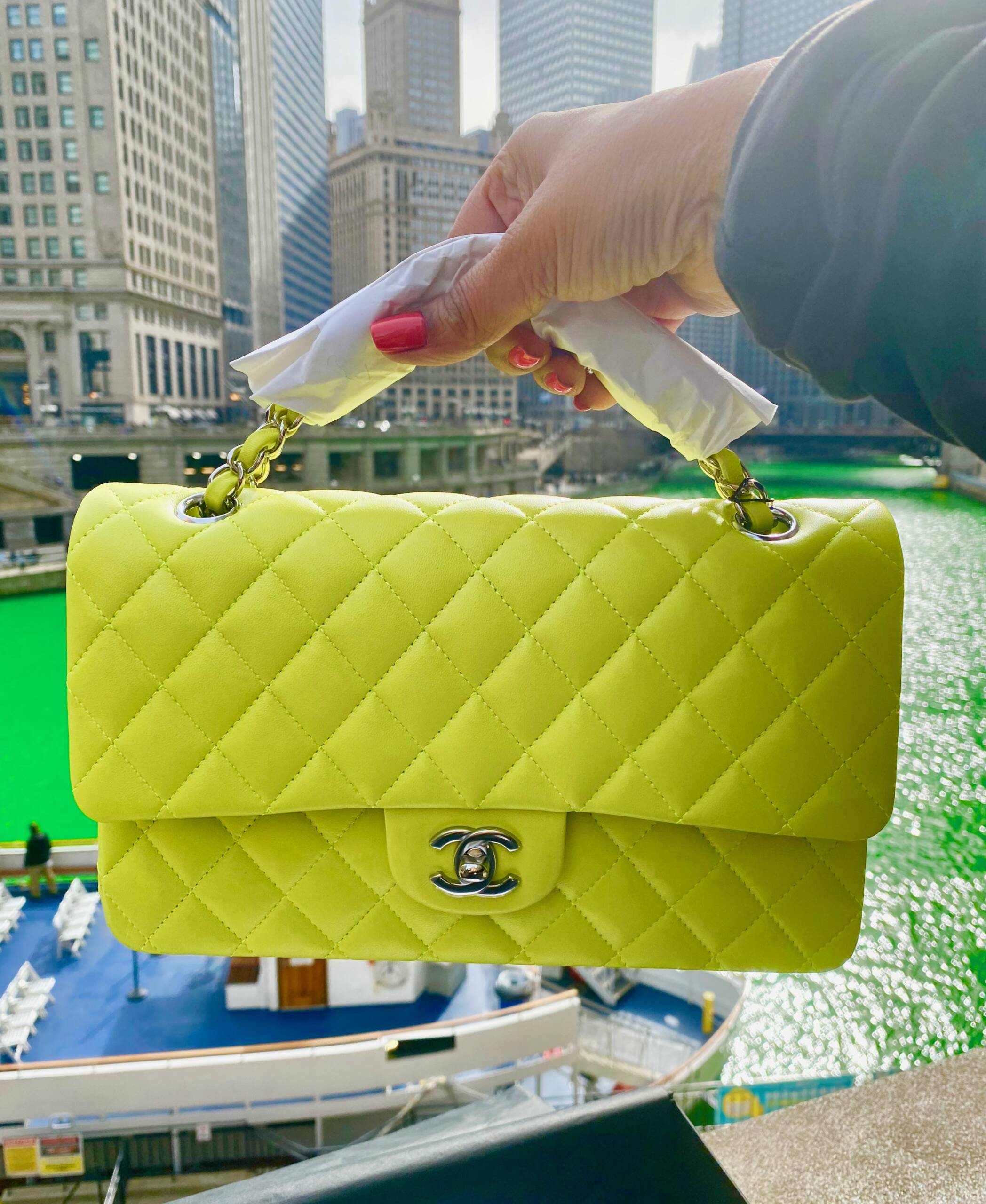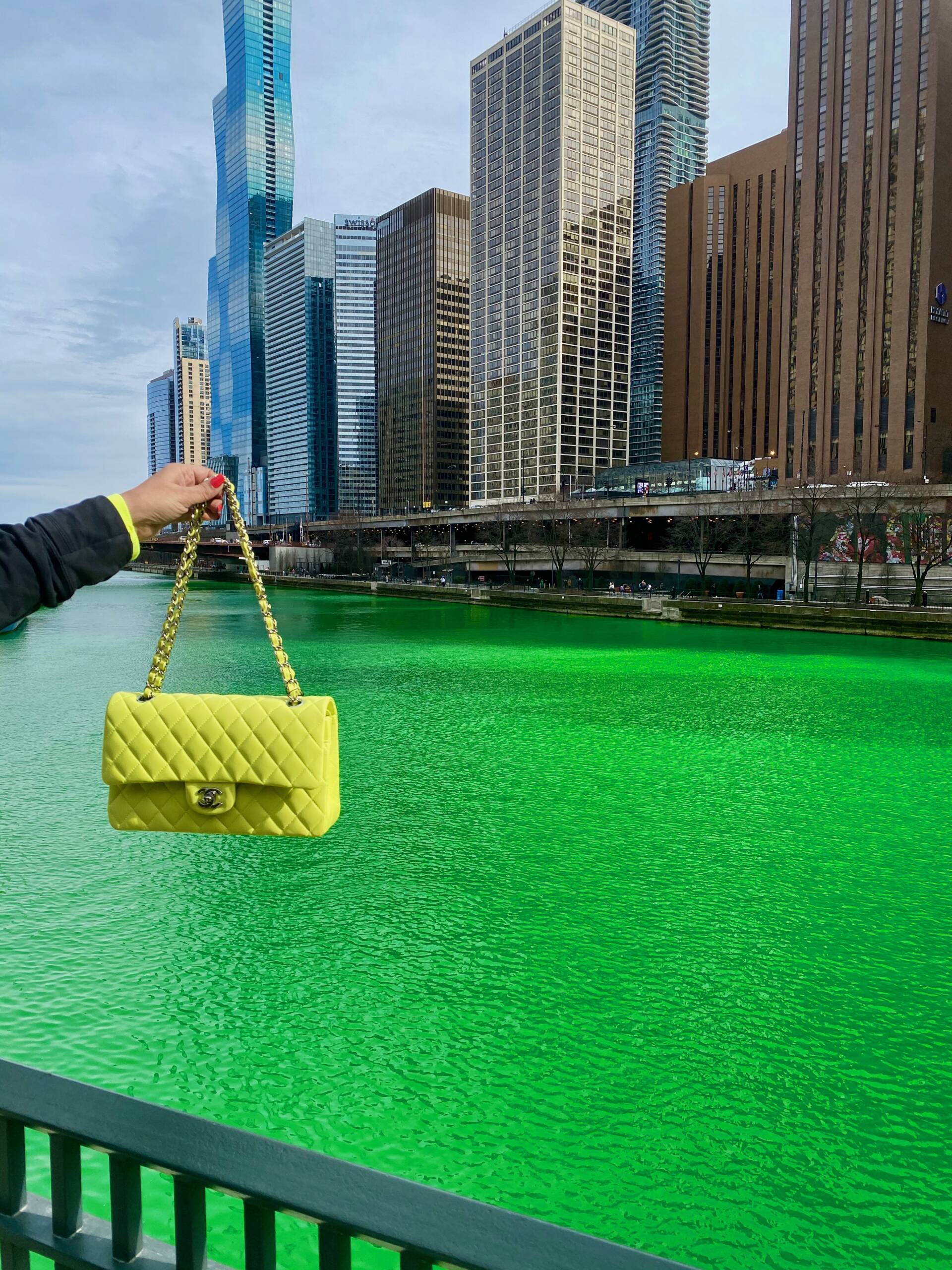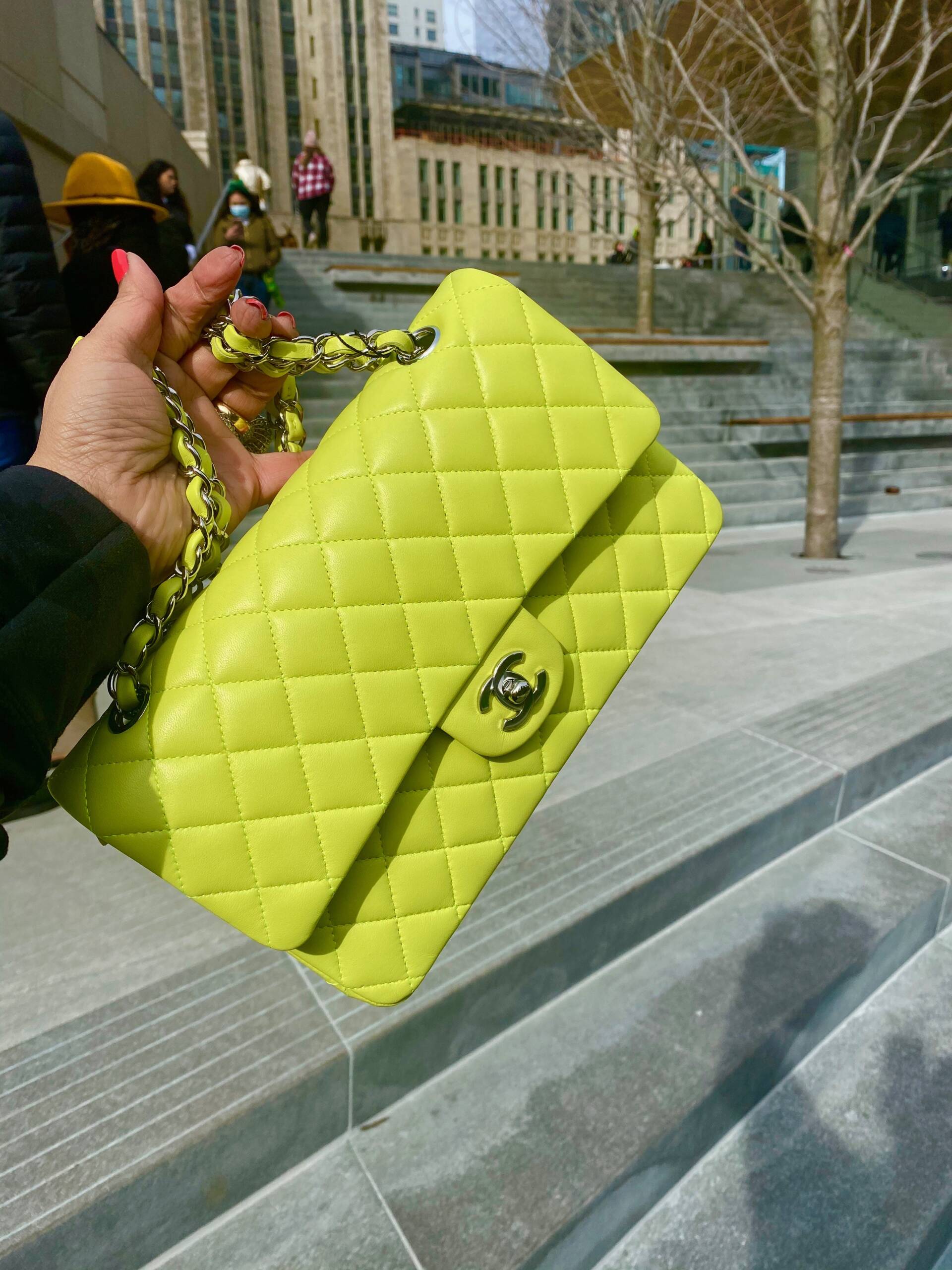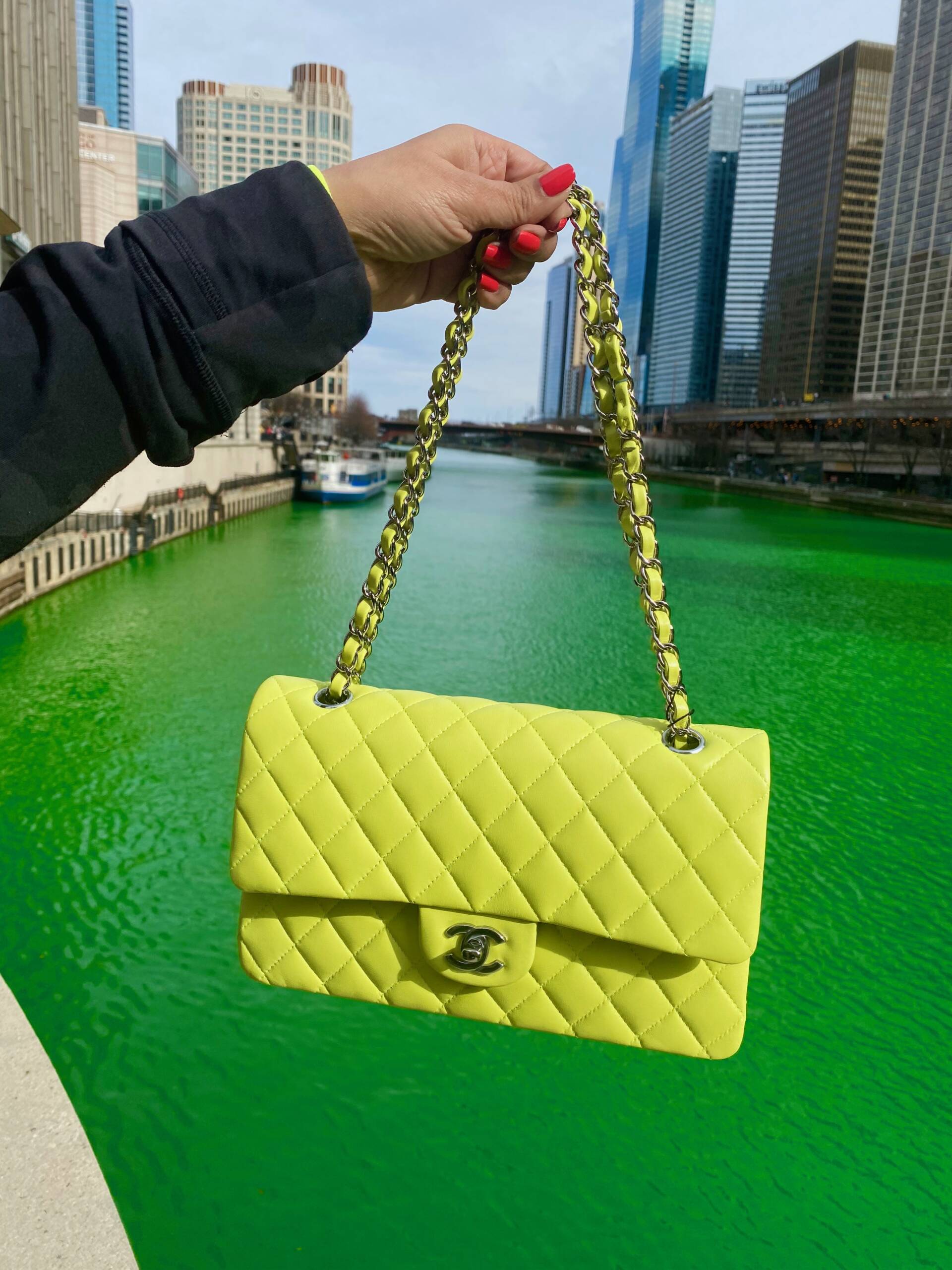 When done, I safely tucked away the box in the trunk of the car and we spent a glorious day in Chicago where there was such a euphoric feeling of hope and optimism in the air. We followed our escapades with a delicious dinner at the Shanghai terrace of the Peninsula Hotel, reveling in the day's experiences.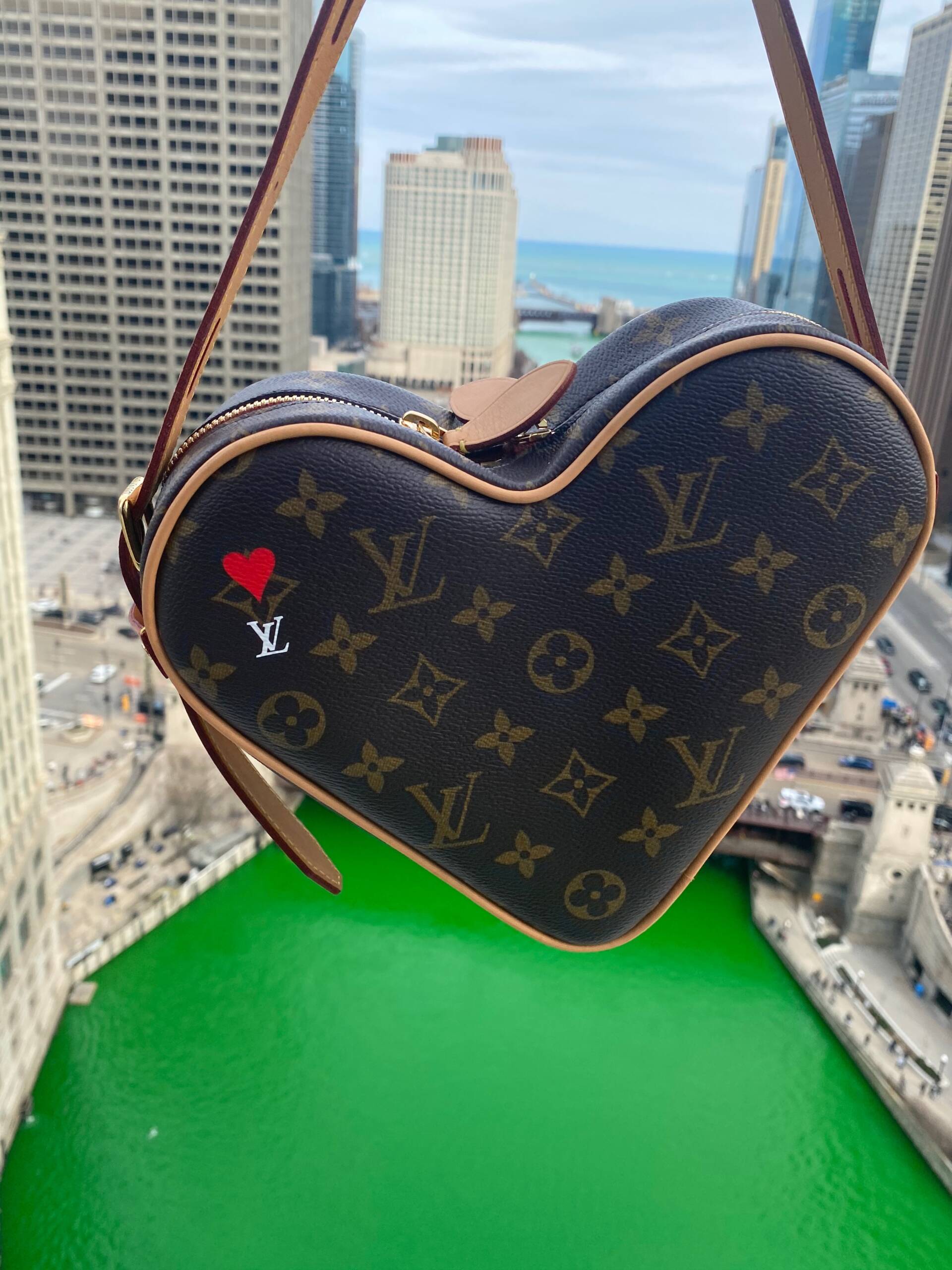 It's truly a day that will be etched in my memory for as long as I live. I suspect these pictures will leave a lasting impression on you as well.
View this post on Instagram