OMG! I expected that, by now, the dust would have settled on the Chanel frenzy we so candidly discussed three weeks ago (read: The Chanel Caramel 21P Frenzy – The Race for the Classic Flap is On Again). 
It's simply not the case. In fact, it has intensified. I surely did not think I would be writing a sequel to that first piece. One thing is for sure though —I have definitely sharpened my Chanel skills since that earlier report. 
You might be wondering how. Since I was a little late to the 21P frenzy, I was forced to play catch-up at rocket speed. While in Miami, I did all the digging I could (and not just in the sand lol). Fortunately, I could book in store appointment visits to see all the colors I was drooling over. I know, I know, I haven't revealed what I bought or the thought process to get to that point, but let me tell you it was quite a unpredictable journey (hint: no pink!) 
Securing a Chanel flap in a color you desire from 21P or 21S feels like a race to the finish line. Yes, that is correct. You need to have your name on the reservation list for a bag color you may not have any idea of what it actually looks like or exactly when it's coming. It's like playing a game of darts in the dark with $4,000-8,000 transactions!
From the intel I gathered, the books (or iPads, lol) haven't arrived or been updated for 21S. Thus, there's really no way to know what you want to reserve. You operate on instinct and hunch. For example, if you want a light pink or maybe a dark pink, perhaps in lambskin or caviar… you tell your SA and she politely places your name on a list. How soon you get your name on the list will determine your success rate at acquiring the color of your dreams. Now, if you miscalculate and reserve the wrong pink, then you might be up the creek. I know this all sounds nonsensical, but there really is no system at the moment. The bags are sold out on reserve lists well before they arrive into the store.
What does that mean in reality? Well, if you think you're just going to stroll into a boutique on a leisurely Saturday afternoon and explore the new colors, forget it! The hot colors of the season will not make it to the floor. They are received and shipped out from the stockroom to elite members on these reserve lists. You will be notified that your reserve has arrived, hopefully receive a text photo, and from that alone you will make an instant decision to buy or not. If not, the bag will promptly offered to the next person on the list. 
So there you have it, This is the new Chanel system —at least for the moment. The demand is far exceeding the supply which is creating a market frenzy for the Chanel classic flaps. I assume this must be happening for other styles, but my Chanel thesis revolves around the classic flap because that is my only area of  passion and interest. 
Folks, mark my words… there's a 'new' chase in town and this time it's not Hermès. 
Oh, and in case you are wondering… I know I do not stand alone in this re-born obsession — it's a movement everywhere. 
Good for Chanel, I guess. It seems to be achieving that desired dream of exclusivity. I ask you again to think long and hard… Is this frenzy only because Chanel has a dozen seasonal colors that are all drool-worthy? Or, is it the age old game of supply and demand – we want what is hard to get? Is it possible that the price increases creating an air of exclusivity? 
While you ponder the answer to this pressing question let me tempt you with 21S leather colors for the Chanel classic flap. This is not all of them by any means, but here's what's on my radar as the season begins to unfold. 
Chanel Rectangular Mini with Handle
Before I do that I should mention that the Chanel Mini has a new cousin. It's been highly anticipated by Chanel aficionados and I'm rather tempted myself. It's the Chanel classic rectangular mini but with a handle. Perhaps, it's a mini Kelly vibe? I have updated with photos below details of the length of the strap and how it compares worn crossbody to the classic mini sizes. To be totally upfront I also hear rumors that the chain is really thin and is not detachable which might make it cumbersome.  Really hoping the handle is substantial in that case.
As far as I know this mini with handle will be offered in several colors. Models in the favored caviar will include metallic silver, gold and black. In lambskin, there is also an iridescent white, iridescent pink, possibly a darker pink, and even a green. Although full details aren't yet available, I thought I'd share my research with you Chanel hunters.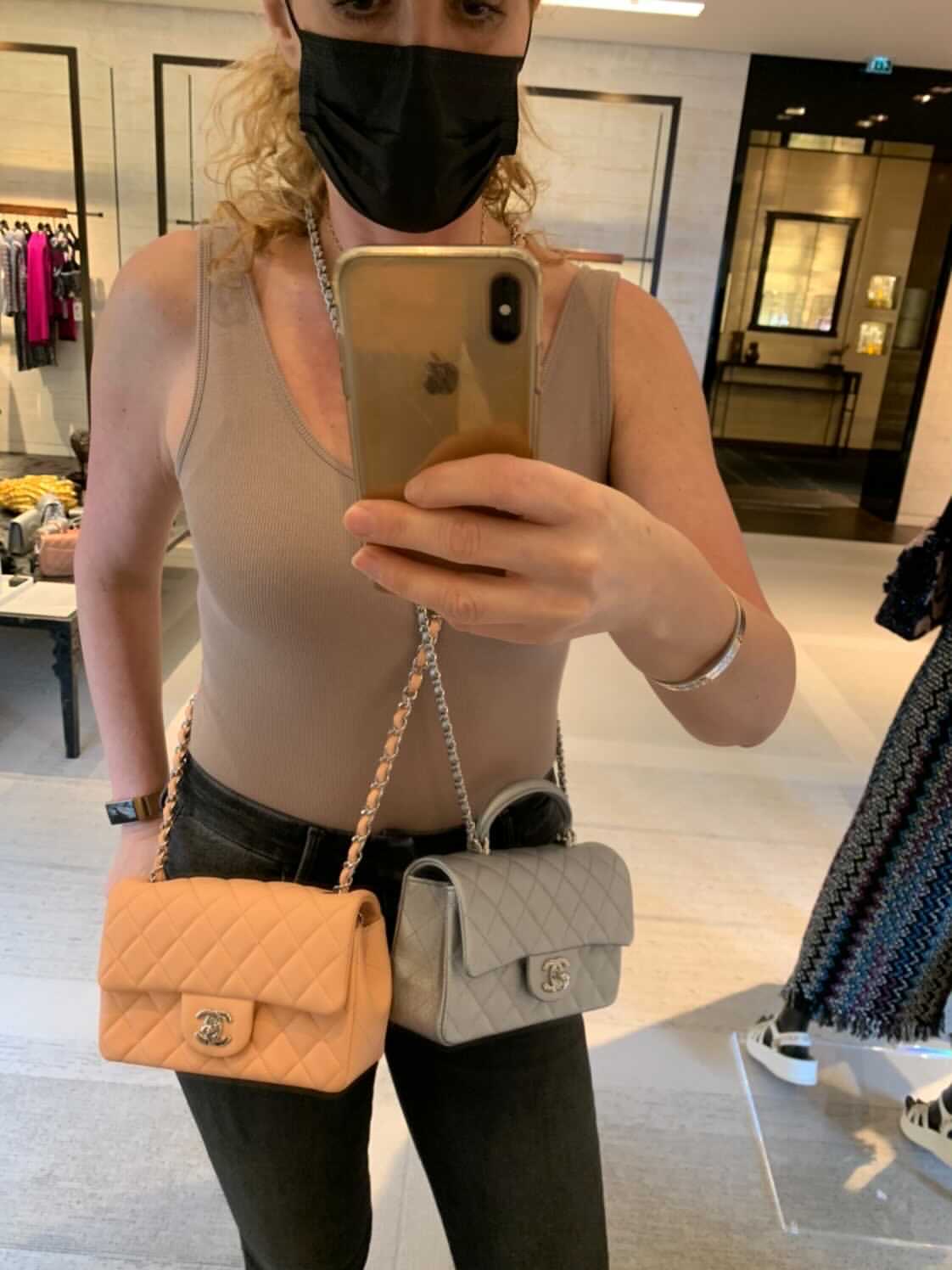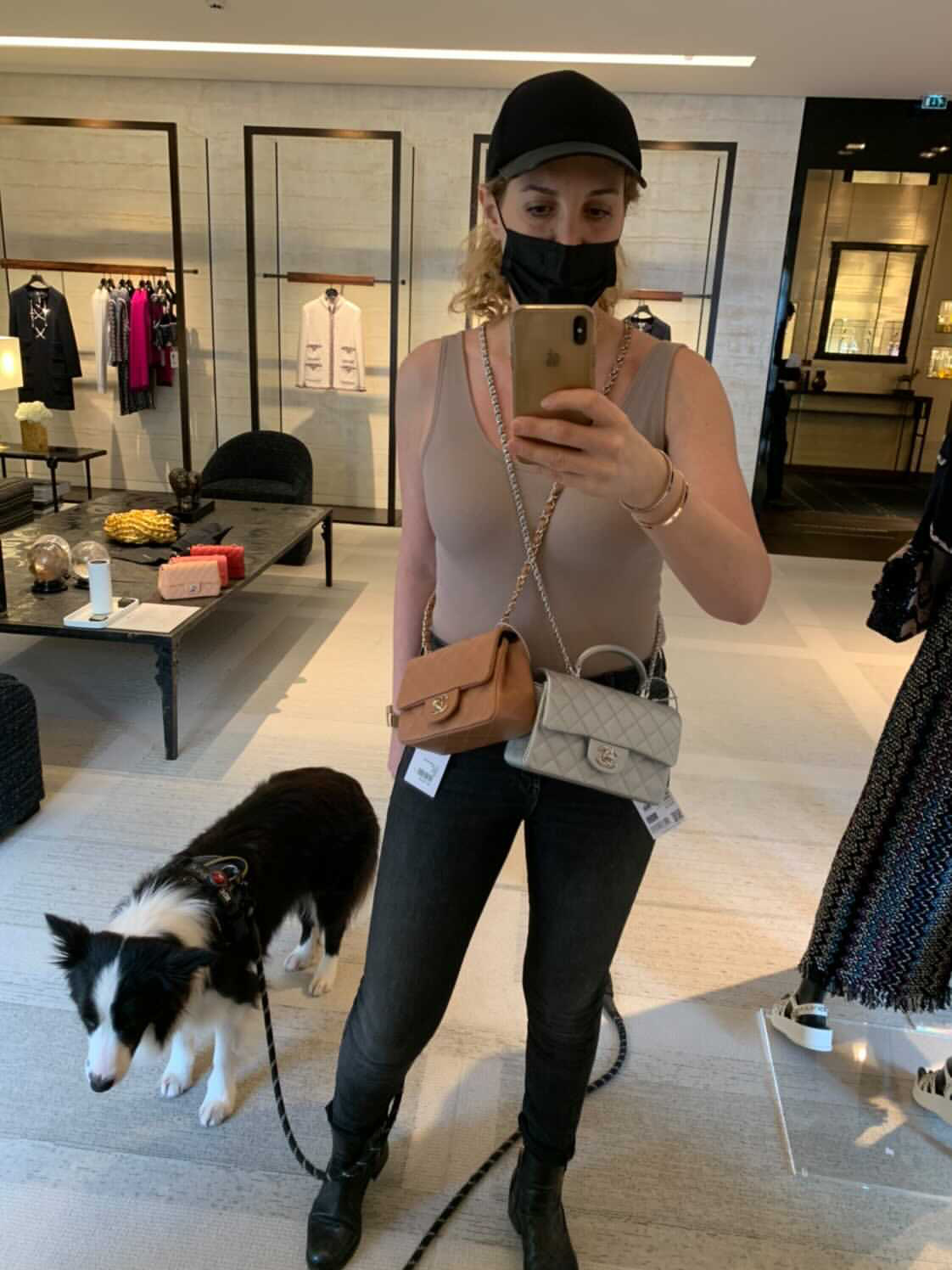 Chanel Fluorescent (Neon) Colors
Here lies the real 21S story for me personally. With four classic neon colors to select from it's going to be really tough for me. Theres a neon pink, yellow, blue and orange. Think highlighter colors on lambskin, eeeks! If you know me and have followed my pink obsession over the years… this 21S neon pink might be the SCORE of the season for me… (oh, and I am partial to neon yellow too, LOL). Yes, this is why I ultimately passed on the rainbow hardware bubblegum pink lambskin from 21P that I absolutely love. I hope I don't regret my decision. There's also an Hermès box under my bed that needs to be revealed that is throwing my pink acquisitions all off. I am really trying not to duplicate colors in my collection…"trying" is the operative word.
The neon pink code is A69900 B05640 NC421. The neon colors are going to be available in classic mini and mediums.
The Chanel 'Rose' Shades Competing with Rose Clair from 21C
Since we are on the topic of pink, I should mention there are several more and quite a bit of confusion. There is a calfskin and lambskin in soft pink shades. Some are being produced on each leather and it is unclear to me yet what is what. I know there is a soft iridescent pink (called Rose Dragées) that has a bit more of a lavender hue than Rose Clair from 21C. To further complicate matters there is a caviar version of this called 'Light Pink' that I think is going to be the hot pick…  here's a photo comparing the two close up. I will also be sharing some videos to see the iridescence upclose on @pursebop. 
Enter CHANEL DRAMA. The 21P caramel color or…  if we go by it's official name brown is not being reissued contrary to rumors. Apparently still some pending orders but most were cancelled so even if any arrive… the reserve lists are so long there's no hope anymore. Not to fret if you didn't get it, there is a new 21S brown coming out that some say is even prettier. It's lighter (milkier) in color than 21P and although I have seen a picture, it's not a good one, so we will wait to share. See photos of 21P here: The Chanel Caramel 21P Frenzy – The Race for the Classic Flap is On Again.
There's more, plenty more and we will update as we go… but here's a solid start to get your spring juices flowing. We'd love any intel you can offer as information gathering and sharing is our thing!
What color are you texting you Chanel SA for right now?