by Chloë
If you were following @boptalk's stories yesterday, which I took over as PurseBop's London correspondent, you may have witnessed some exciting news live from Christie's in London. Around 5pm, at the Christie's Handbags and Accessories auction, a second hand Birkin broke records, fetching £162,500 (about $217,000). Perhaps to no one's surprise, it was yet another Himalaya Birkin. (Read: The Hermès Himalaya: All Your Questions Answered)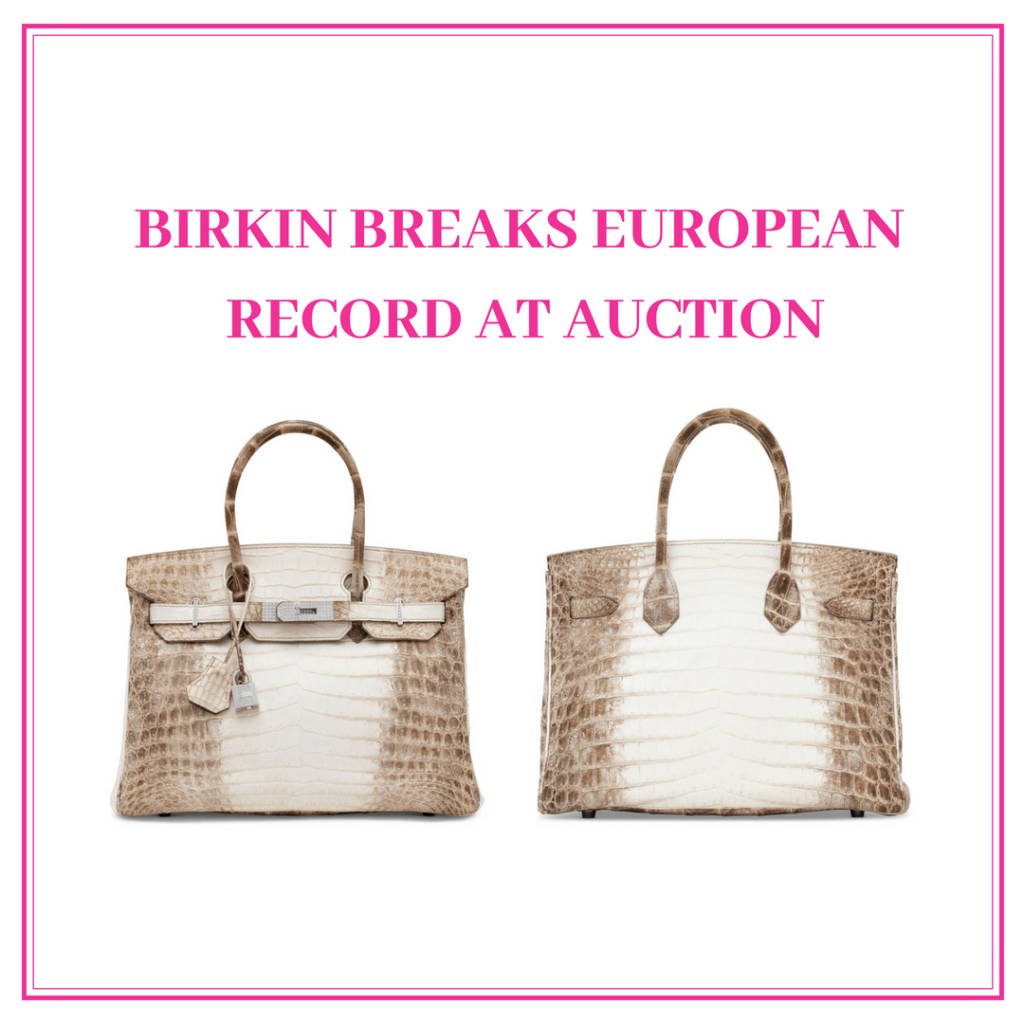 It was an afternoon of anticipation, from start to finish. In a room off to the right of the main lobby of the Christie's headquarters, handbag connoisseurs gathered, Birkins and Kellys tucked beneath their arms. As the auction progressed from 1pm to 6pm—there were 220 lots—the attendees raised their paddles, chatted with one another, and dog-eared the pages in their auction booklets containing the handbags they'd been eyeing.
In the moments before important lots were auctioned, we could all sense the energy in the room intensifying. One of these lots was a which unexpectedly went for £100,000 (about $133,000)—£20,000 over its estimated price!
The Holy Grail of the afternoon, though, was lot 175: a 2008 Exceptional, Matte White Himalaya Niloticus Crocodile Diamond Birkin 30 with 18k White Gold & Diamond Hardware. For the duration of the auction, it loomed in the background, beckoning potential buyers from the side of the room where it gleamed behind a glass case. After a bidding war, the bag reached £135,000, which became £162,5000 with the buyer's premium. Applause followed.
The Himalaya Birkin set not only the record for this auction, but also the record for the most expensive handbag ever auctioned in Europe. The previous record holder? Also Christie's—for a navy blue crocodile Birkin last year, which reached £155,000. (And let's not forget that Christie's still holds the record for the most expensive bag ever auctioned, which was—yet again—a Himalaya Birkin sold in Hong Kong last year).
It was a momentous occasion to witness; as the afternoon unfolded, so too did European handbag history. To be a part of that, even without scoring the Himalaya Birkin myself, was a privilege.
Now let's turn  our attention to the NYC  auction that concludes on June 19th. There are many special pieces and even some great deals to be found. Bidding is already live, follow Christie's Summer NYC Online Auction. 
Do check out PurseBop's Picks at PurseBop x Christie's: The Evolution of a Collection.