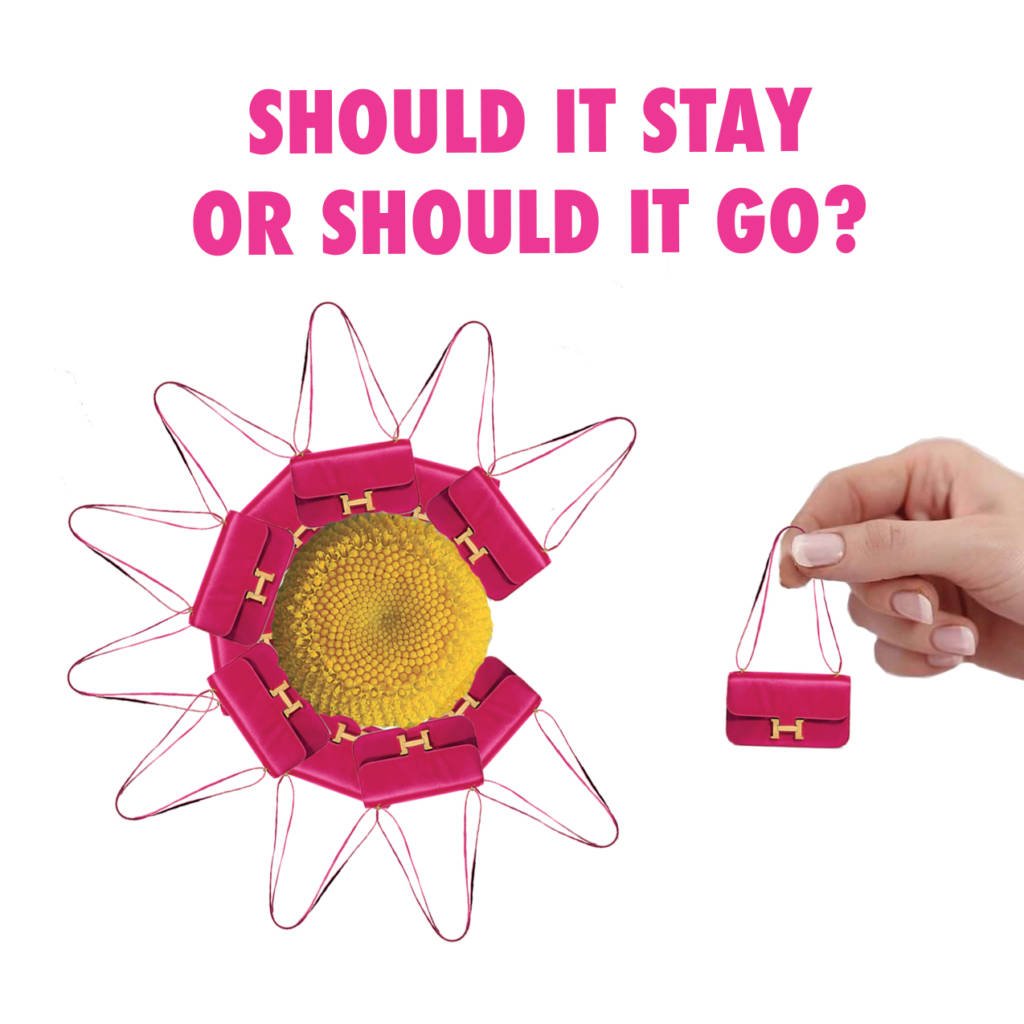 Maybe it's the changing of the seasons? Or the time to switch out closets from summer to fall (or vice versa)? More likely, you're all looking to go shopping for new handbags to go along with the latest styles.  In any event, we at PurseBop have been getting a lot of questions relating to keeping and selling purses. Below we'll tackle: Should It Stay or Should it Go?
Is there a reason to keep designer bags I don't use?
There's no simple answer to this: It depends. As we've written before, we don't believe you should go into debt for any handbag and if you need to liquidate assets, go ahead and sell anything and everything you like. To read about some drastic cases, read Q&A: Ask PurseBop About your Hermes Collections. 
For those of you like contributor @kugzz who believes in limiting our number of bags (Read Why One In and One Out? And No More Than 10 Bags), sell away. Whether you de-accessorize to fund a new purchase or not, you have a philosophy we would never contest (even if we cannot follow it ourselves).
Let's also be clear that selling is not the only way to separate from a bag. You could gift it to family or friends or donate to charity. Although many pre-owned high end bags retain substantial value, at least at the moment, rarely do you make a profit from them.
Oftentimes the motivation to re-home a bag is less extreme and not about finances. An urge or need to declutter makes you reconsider the stuff you have. Maybe you've run out of closet or storage space. Changes in lifestyle – work, family, location – can affect how you feel you about a particular bag. If this is your dilemma and you're ready to part with the bag without regret, we're not here to convince you otherwise.
This discussion really is for when you're just not sure.  You find yourself thinking that maybe you'll need that work bag after your sabbatical. A backpack/crossbody/fanny pack could come in handy if and when you have children. For an active nightlife and travel schedule once the kids are grown and flown, your collection of minaudiere and tote bags could be just what you need. And if space and money are no object, feel free to sit tight on your bags until the future reveals itself.
Someone who switches bags daily likely wants a greater variety and number of bags (of course there are exceptions). If you like to color coordinate bags to shoes and/or outfits (or alternatively you're a neutral gal/guy), your bag closet will reflect that. Conversely, if your vibe is totally ladylike, that crossbody probably won't get much play. In other words, if the bag just isn't you, it's probably time to let it go.
A corollary of this is what to do with the "mistakes." You know what we mean –  the bag you had to have and purchased that turned out to just be wrong for you. Maybe it's a little too big, or small. The handle doesn't feel right. The bag is too heavy. It could be anything. And it has happened to even the most purse savvy of us at every price point. The pain and shame is multiplied just looking at the wasted purchase – like it's mocking you. When that happens, cut your losses and move on, if you can.
Another issue is what to do with the former "it" bag of the season that just isn't "it" any longer. Perhaps the purse is so "of an era" that it dates you. But you still love it. The good news is that an out-of-style bag today could be the hot item tomorrow. Just look at the resurgence of the Dior Saddle bag, reissued for Fall 2018 and selling like hotcakes (both the 2000 and 2018 versions) and the Prada nylon backpacks and bags made ubiquitous by 1990s fashion models and back on the market now. Fads and fashion, like logos and bag size, constantly shift back and forth with the times. If you still love the bag (or the memories it holds), try to make room in your closet.
Speaking of special memories – whether of a time, person or place – that's a valid reason to hold onto something even if you don't envision using it. We know at least one person who still has a pair of old high school field hockey socks that she'll never pull on but represent a winning season, accolades and a special time. Similarly, PurseBop would never part with her first Birkin, even if B35s in orange become the most unwanted, unloved purses on the planet. (They're not and we will address this again in an upcoming post).
We hope this helps you decide whether that dust-collecting bag (or closet ornament) stays or goes. Let us know what you plan to do.