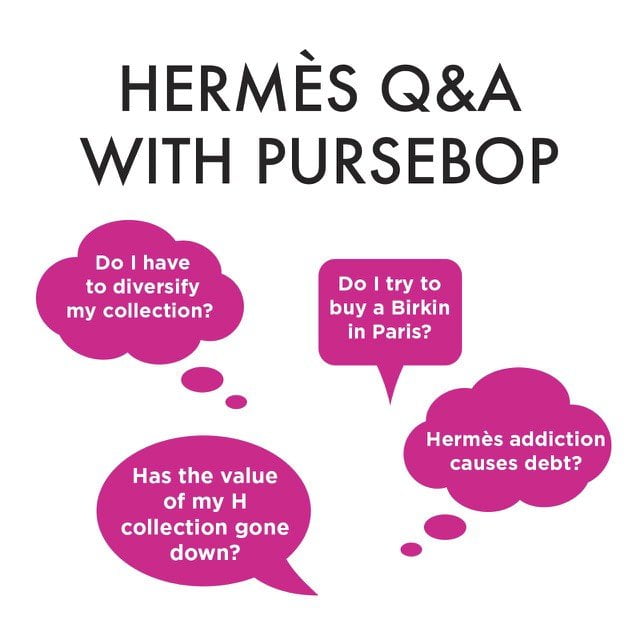 As we near the end of the PurseBop in Paris series, the time seemed right for PurseBop to answer some of the many questions received regarding Hermès and travel.  Below, she tackles an orange addiction, collection woes, a gray palette and Paris plans. Sharing the replies here in an anonymous Q/A segment could benefit many pondering similar queries.
Falling Into Debt Because of Bag Addiction
Dear PurseBop, I am obsessed with buying Hermes bags. It is interfering with my credit. I am spending more than I can afford and have maxed out 2 credit cards and owe 27,000 on 3 different credit cards. It is causing me stress and sleeplessness. What do I do? How do I get out of this mess? I am ashamed of myself and cannot tell anyone. I don't know how this happened.
-Indebted
Reply from PurseBop:
Dear Indebted –
First, please try not to waste your energy being ashamed. The important thing is to address it now and resolve it will not happen again.
Second, although you haven't mentioned exactly how many bags you have, I recommend you pick three or four from your collection (depending on value) to rehome right away. Depending upon the bags and their condition, that hopefully will be enough to pay off that debt completely. If you need guidance as to how to sell, please reach out to us again.
Third, while I am by no means a financial or credit advisor, I do suggest you limit the use and availability of your credit cards. Keep one – you can destroy or put away the other two, so you're not tempted to build up debt again.
Lastly, we need to address your shopping habits and the availability of Hermes bags. Believe me, I understand the compulsion to purchase every bag offered by Hermes, particularly with the concern (or fear) that the opportunity will not return. For better or worse (depending upon who you are and where you are in your collecting evolution), reality is bags are a little easier to find now, whether in the H store or in the secondary market. Unlike days gone by, the secondary market premiums are not as extreme as they used to be. Hermès having increased its production over the last year of normal leather bags has had an impact on the prices of bags selling in the secondary market. If it's something that you absolutely must have and you have saved up your money to purchase, your peace of mind now is worth the extra cost later. I cannot stress this enough. 
Has the Value of My Hermès Collection Gone Down?
Dear PurseBop, I have been collecting Hermes bags for nearly 8 years. I bought several 35's as that was the popular size when I started. I still love that size but after adding 1 B25 and 1 B30 – I no longer like my 35's as much. I have reached out to 2 consignment shops and the prices they are offering are ridiculously low. I always thought my collection was worth so much and now I discover its nearly worth a third less than I expected. My 35's are being valued at 8-9K – is this accurate? Is that the value of my collection of B35's today?
-Price Depressed
Reply from PurseBop:
Dear Price Depressed –
Sadly you're not the only one bemoaning what seems to be a slow-down and decrease in pricing when you're trying to rehome a bag (or three or four). Eight to nine thousand dollars for an older B35 is not out of the ballpark in the current market. Remember the reseller will add their premiums bringing the cost to a potential buyer to 12-15K which is in fact the price we are seeing for used 35's.  Of course condition, color, and leather play a tremendous factor and my prices are estimates only. As we've written many times, there do seem to be more bags available right now both in Hermes stores and from resellers, which naturally affects what you can garner when rehoming. You might try consignment rather than an outright buyback as the prices are certainly higher. 
Fashion goes in cycles and while smaller bags are more popular at the moment, I have no doubt that the larger ones will be back in vogue sooner rather than later. B35s are, in fact, the classic, traditional size and will never really be out of style. Many European women prefer larger sizes regardless of the trend. 
Whether it suits your lifestyle is a completely different question. If you truly believe you will never carry a B35 again, then part with what you don't want or need. If you can afford to keep a favorite (or two or three), then do so.
Follow Your Color Heart When Curating a Collection
Dear PurseBop, You write about diversification of colors and leathers so often on your website. As hard as I try to follow your advice I am not drawn to anything but shades of gray and near blacks. I also do not want to try the more delicate/evolved leathers as you recently have been speaking about. I stress about maintaining the condition of my bags to near perfect. All of my Birkins and Kellys are in Togo leather. Am I curating incorrectly? I worry that I do not have an assortment of bags that would be considered a desirable collection, yet I have invested so much money. When I wear a new bag sometimes my friends don't even notice because to them it is so similar to the others that I own. What advice can you give me please?
-Fifty Shades of Gray
Reply from PurseBop:
Dear Fifty Shades –
Buy what you like – whatever makes your heart sing, no matter the color (or lack thereof). I do not advise making purchases with an eye towards anyone but yourself noticing or caring. As long as you love and use the bags, it simply doesn't matter. It is your collection, after all.
I would, however, ask yourself why you need so many shades of gray. One thing I consider before buying is whether a bag I already own and adore would still be a top option with a particular outfit or for a specific event. If the answer is yes, then perhaps you do not need the new bag; alternatively, maybe the new could replace the old which you would sell.
Another possibility is to try a touch of color – maybe in a small bag. Fashion icons know that a little pop goes a long way and it is much more difficult to incorporate a big bright bag. Or consider one of the many Hermes colors that acts as a neutral – Rouge VIF or Rouge Casaque, for example.
You need not be worry that "you do not have an assortment of bags that would be considered a desirable collection." Desire is subjective; if the purses work for you, they're desirable. The monetary value of the collection is really the sum of the individual items rather than a premium for it being in one grouping. That is to say, you need only be concerned about the value of each bag on its own. For example, if you have 10 B35s in togo leather and if each bag is worth (just for this illustration and easy calculation) $10,000 – then the value is $100,000. Five bags would be $50,000 and 15 would be $150,000 (for example only).
Read Related Articles on Neutral Hermès Colors:
Shopping in Paris for an Hermès Bag vs. Making the Most of My Trip to Paris
Dear PurseBop, I have saved enough money for my first Birkin. My husband and I are traveling to Paris this summer to celebrate our fifth anniversary. I have followed all of your articles and advice regarding handbag math. It seems logical that I should take my chances and purchase a bag in Paris to save the few thousand dollars. However, I am concerned that it will overwhelm my visit to Paris especially with the new online appointment system. I don't want to ruin my trip, but at the same time I would like very much to take advantage of the savings of buying in Paris. What is your advice for me?
PS – I do have a relationship with a sales associate at my local store. I bought a mini Evelyne, two clic clacs and an Hermès shawl. At my last purchase, my sales associate offered me an Etoupe B35 with PHW. My heart is set on a B30 with gold hardware in any neutral color. Should I try in Paris or should I continue to hope and pray that my local store will fulfill my Birkin dreams? I have been putting aside a few hundred dollars each month for over a year now. I want this one bag before we plan a family as I know it will be near impossible later. This purchase is a really big deal for me. Thanks for any advice you can give me.
-Paris Bound
Reply from PurseBop:
Dear Paris Bound –
Your trip to Paris sounds like it's going to be a very special time for you and your husband. Buying a Birkin in Paris can be a very stressful experience beginning with the appointment that you must secure, in order for that chance. Here's my advice to you: Try the online system on the first day. If you should get an appointment, of course try the full experience, but if you don't get an appointment, I would focus on enjoying your trip to the max. It sounds like your local sales associate is working to get you the bag that you love. Purchasing your first bag here in the US is far more relaxing. You can turn it into a memorable event – maybe take your husband along, the way I bring Mr. PurseBop, and enjoy a celebratory dinner together (with the new bag). So by all means try in Paris, but I would not want you to make it the sole focus of your trip. Remember you have spent so much money on your airline tickets and your hotel to enjoy all that Paris has to offer. Don't be penny wise and pound foolish; saving $2000 is great, but you wouldn't want to waste the vacation time and precious moments in Paris with your hubby.