Our fabulous contributor @kugzz who coined the philosophy of the "under 10 rule" to maintain a minimalist handbag collection shares the story of her latest handbag addition. When one comes in though, one must come out…read all about her swap!
by @kugzz author of "No More Than 10 Bags"
You've heard this a million times, but a picture really is worth a thousand words. These two bags are very similar to my eyes. They even fall into the same color family.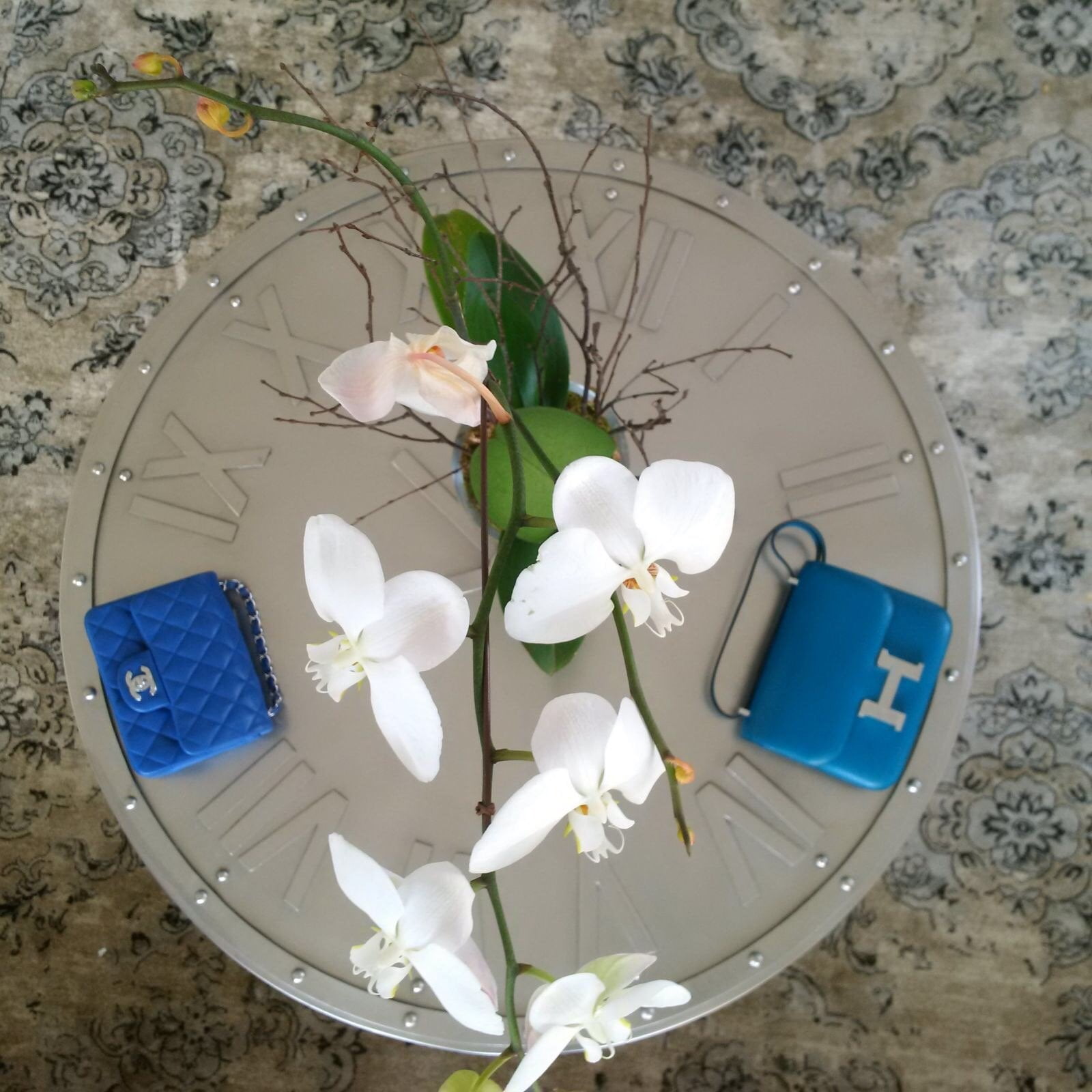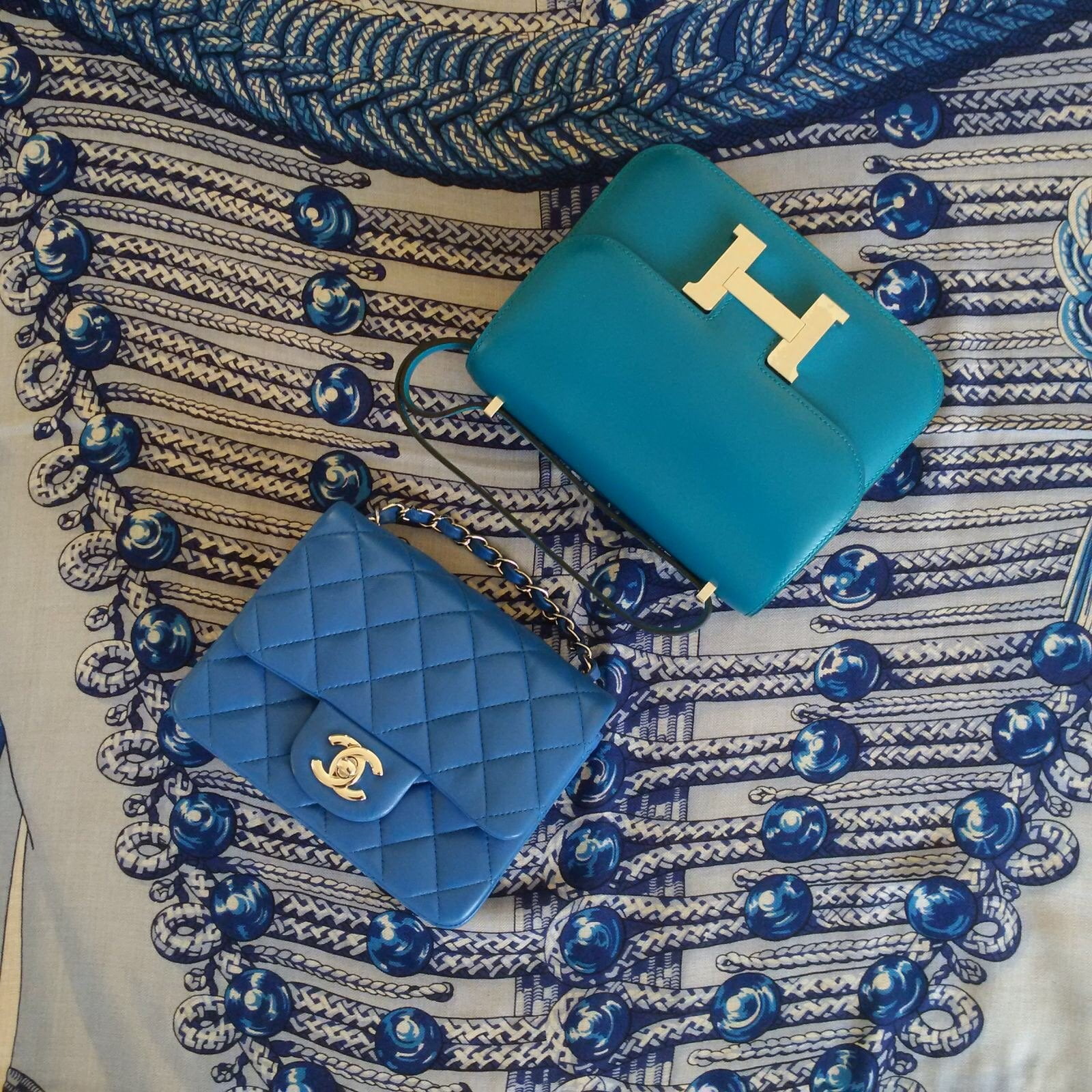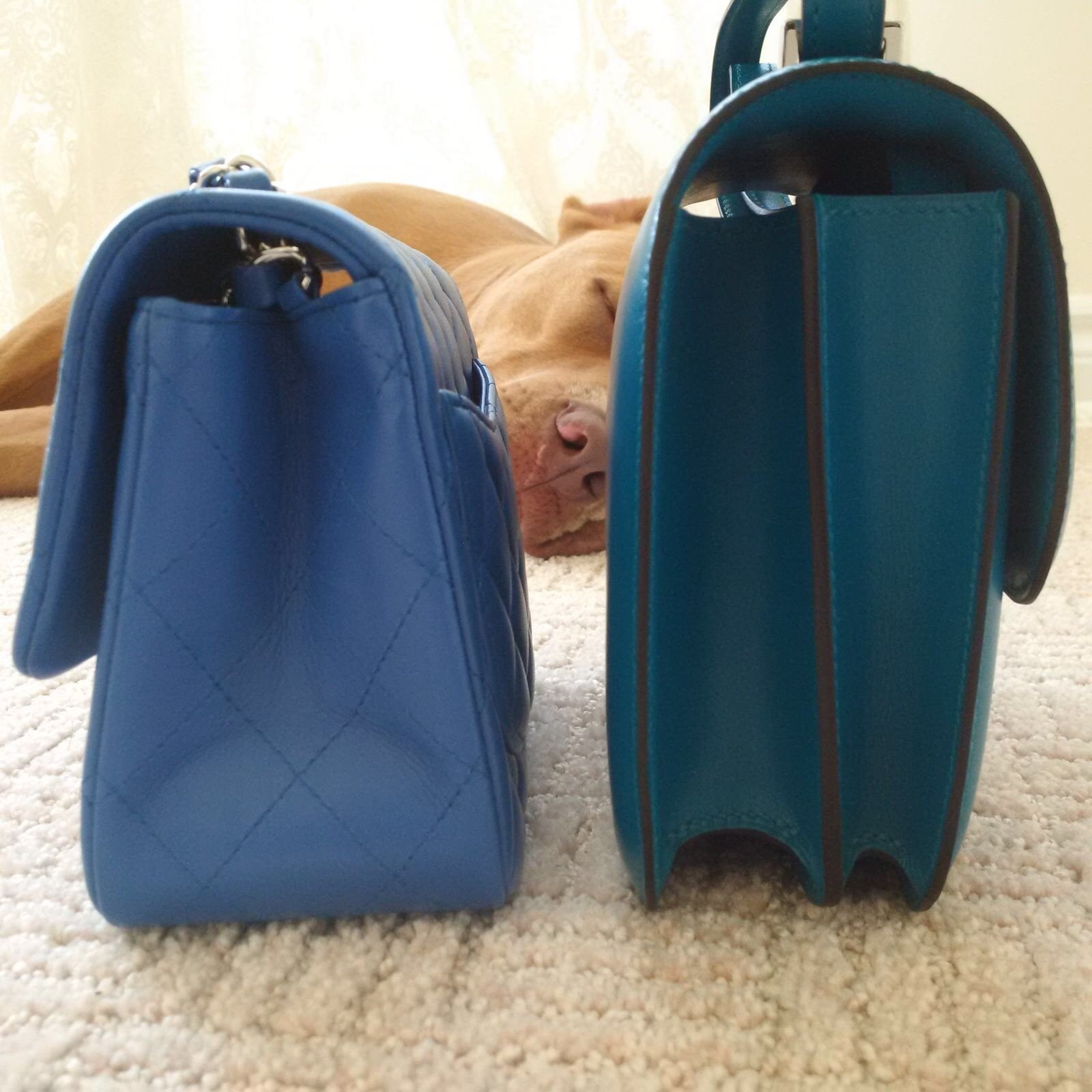 Yes…You can part with your bags.
Someone on instagram was intrigued by the swap picture I posted above. We had an interesting conversation for 10 minutes, and she mentioned "I own 50 bags in four different color families, how do I get rid of certain bags?" Does this sound familiar to any of you out there? I have news, you are not alone.
Before making any harsh decisions, figure out what you have, need, and use most. Write a list and make mental notes of what you have in your collection already, and jot down your long term goals and wishes for your collection. One of the characteristics of hoarding is feeling anxiety and discomfort about getting rid of things that you believe could be used in future. Purging can be an extremely difficult exercise for an emotional shopper. If you are one, don't just get rid of things just yet, instead part with them temporarily, put them away at your parents/sister/friend's house…basically, whoever you confide in (remember, bags are precious goods!) More of a "dress rehearsal" if you will until you get to the optimal experience of getting rid of bags permanently.
Finding Your Happy Place
I am more inclined to entertain myself with psychology research than flip through a magazine. Yup, I know! Boring. I have a natural curiosity towards how our mind works; hence, I have come across a lot of research, documentaries, and interesting reads about human habits. Through my searching I have come to the conclusion that excessive hoarding and excessive decluttering could both be dangerous. Note the use of word "excessive" . Excess is a problem. Staying right in the middle somewhere is a happy place. Figure out your happy place. Mine is 10 could be your 5, 15, 20 (If you haven't read my "No More Than 10 Bags" article, you probably feeling a little lost, please click here). 
Defining Minimalism by Your Own Style
There is a difference between a minimalist lifestyle and aesthetic. Minimalism doesn't have to be associated with a bare color palette of neutrals and clean silhouettes. However, color is factor in terms of quantity.  My article, The Perfect Neutralista, was intended to cover neutrals specifically. My article, Color Snob,  covers primary colors specifically.
An artist's closet could be totally different than a corporate employee. Know your style and own your style – don't base minimalism off the trend in its aesthetic form. If you want to combine those Js with a Birkin, hell yeah, do it – I do!
I receive endless messages with questions such as how to build a capsule collection, what neutrals I would pick given the choices, why I picked one and not the other color, does hardware really make a difference etc; My sincere apologies if I haven't responded, I try to get to every message possible, I really do. While I love giving advice, sometimes I hold back on answering too specifically because I ultimately think that you are the mastermind of your own collection. Take my articles as guides and not as the ultimate, sacred answers to handbag curating.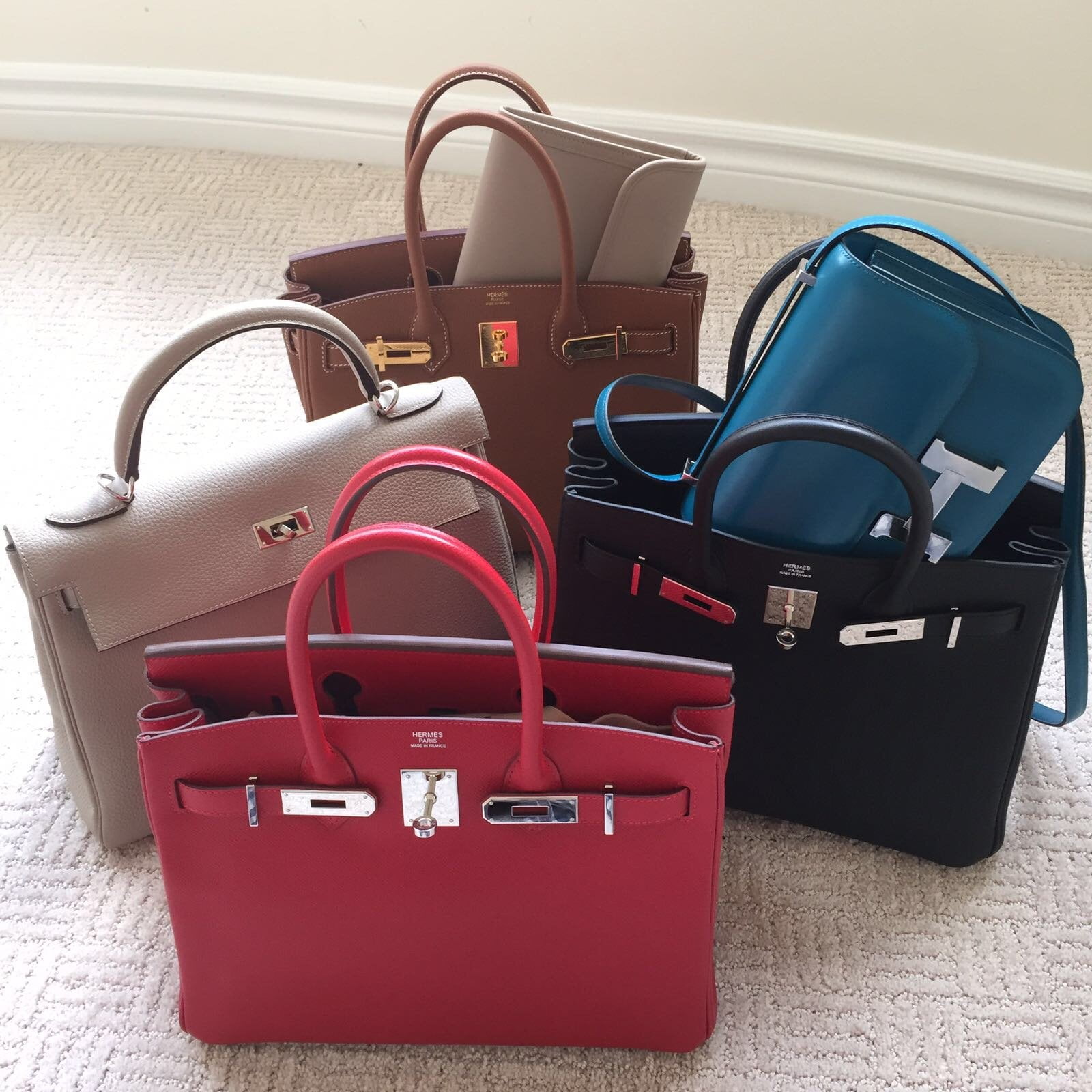 Elimination: Breaking Out of Your Comfort Zone and Moderating Temptation
Let's go back to the example of the woman who had the dilemma of 50 bags in 4 different color families. It seems like we are all slaves to comfort colors, why? Tested and true, we are never led down. I am guilty of owning three black bags myself. My advice: eliminate bags in your collection until you have only one or two comfort color bags, and make sure they are in a style that you carry the most often (Guys, please include the clutches that are sitting pretty in the boxes, way back in your closet in your elimination process – you haven't used it in a year, what does that mean?) I hope you start applying a owning vs. admiring mindset. I promise this is fundamental to the minimalistic lifestyle.
Everyone is on a different self-control level, if you fall under "I see I buy" keep away from one of those forums, and IG where multiple reveals happen in a day. You should know what makes you weak in the knees.
Storytime: A Moment of Self Reflection…
Now, back to my swap picture of the Chanel vs. Hermes bag…Why did I even consider a blue bag when I already had one in my collection? Am I practicing what I am preaching? I will also cover the frequently asked question: How much stuff does someone need to buy to score a H bag? Heads up, story time coming up.
Bag #11 – The Addition
Long story, short: I've been fascinated with the Hermes Constance for the longest time, trust me, the struggle was real. C18 size was exceptionally rare to come by at my local boutique, yet I yearned for it everyday. Finally I got the courage to ask my SA about it. I even had the courage to ask about special leathers and colors, and lo and behold, I have my dream combo now.
Bag #10 – The Loss 
Before this new bag, I really thought I was done with Hermès. I brought my gold Birkin home in May 2016 (my request was placed by the former SA and fulfilled in his absence) and said my goodbyes to Hermès! I was too lazy to build a new relationship so I bought a blue Chanel square mini, like I said before patati-patata (it was close enough). After the CC mini, the existence of a Constance on my wish list became miniscule. During the time that the CC mini was in my collection, it got a lot of use. Swapping it out was tough even for me, but the fairtytale story behind bag #11 will make you realize why the trade out was necessary. Better yet, my new score came through a relatively new SA relationship.
The Full Story of Bag #11: My New Hermes Constance
Now it's time for the long story I warned you about…I know my readers love the stories behind the purchases, so I'm happy to share.
I happen to know (let's call him Monsieur P) who works at Hermès.  Let's be clear here, Monsieur P doesn't work as a SA and can't offer bags to the clients. I stopped by for a quick catch up; he has always been such a treat to talk to. Monsieur P and I talked about anything and everything. A big part of our conversations was always my former SA that we both dearly missed. Monsieur P offered to introduce me to a new SA. We peeked inside the boutique, and the newbie looked busy with a customer. So much for the first try…I was sans SA for quite awhile.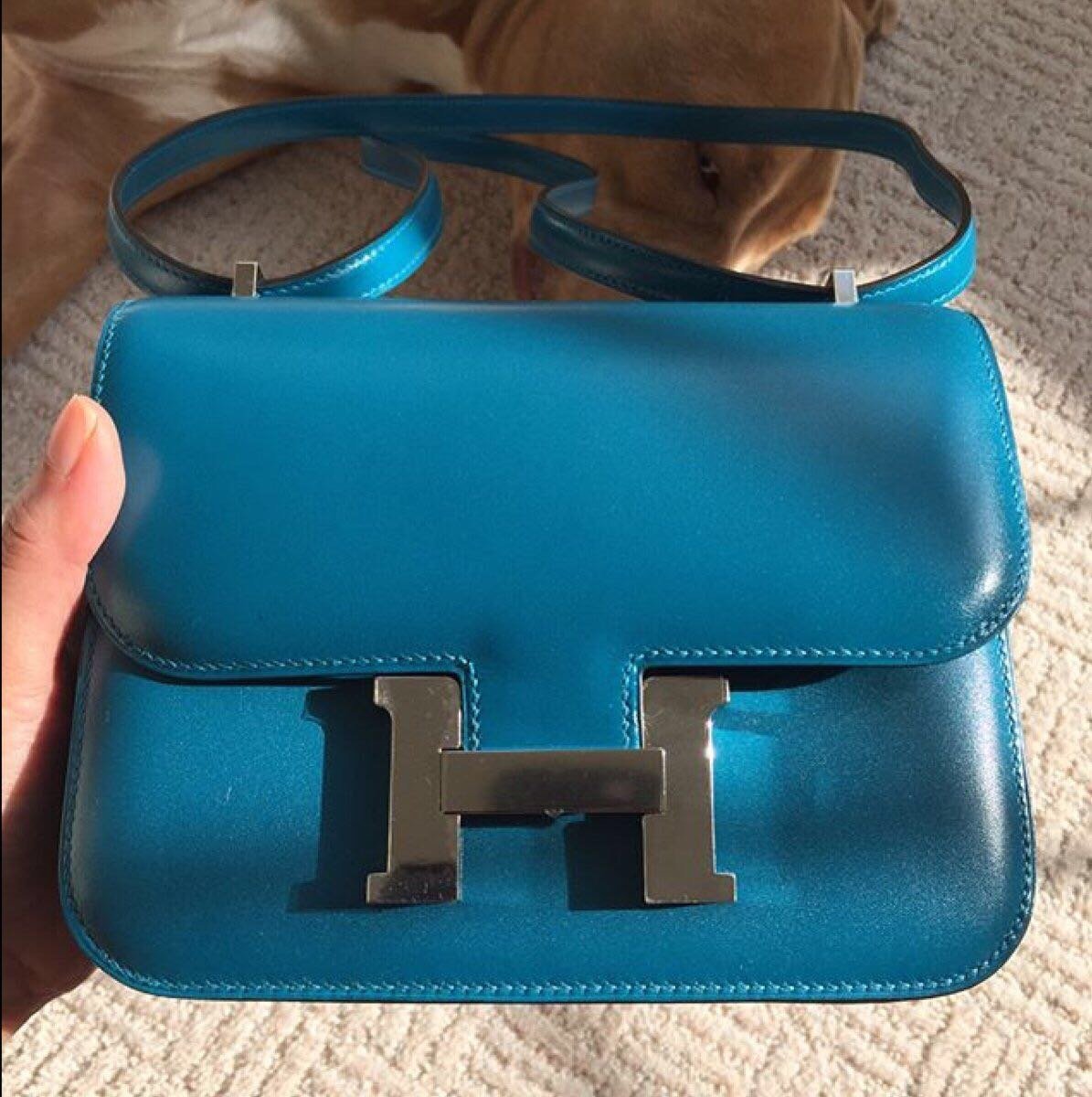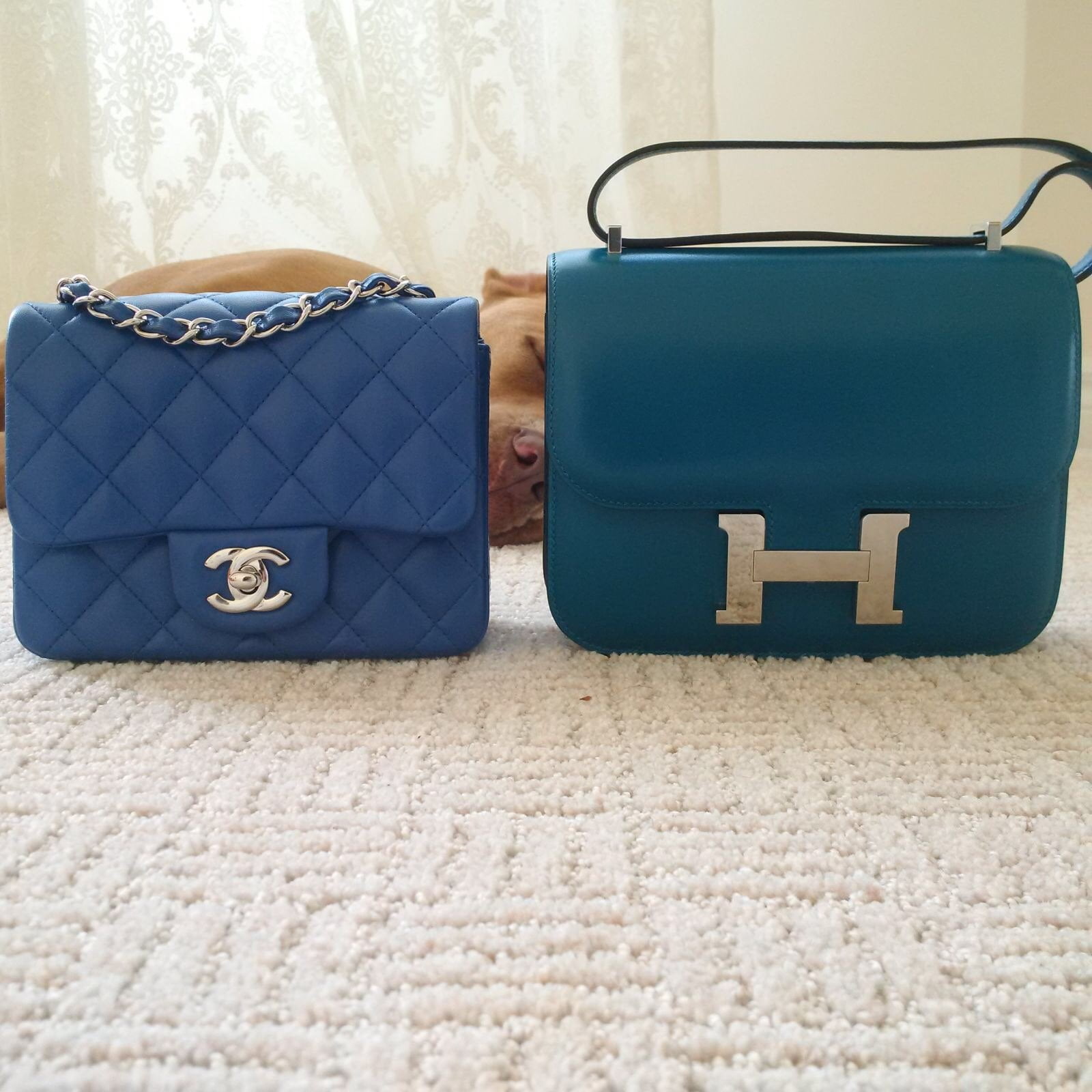 The Timeline
Week of May 1st: An unexpected missed call from Hermès…do I even need to explain this feeling?  What could it possibly be? I called the boutique, but didn't know who to reach out to because I was still with an SA. The lady on the phone said, madame, I'll find out who, and have them call you right back. The curiosity was killing me slowly but surely. Turns out it was monsieur P, Bonjour! Hope your day is going well! I wanted to introduce you to (Let's call him François) and transferred the call to him. I knew this SA relationship was the right match as soon we started talking about the amazing soft leathers Hermès carries and how much we both loved box, swift etc; He also went through the bags I already have, we both agreed that I absolutely needed blue or green. I did slip in a mini constance thinking "ahh, what are the chances". He also mentioned something about my former SA and how he only heard good things about him (nice touch huh!) He ended the conversation with: "I would like you to stop by sometime, Wednesdays are good if you could make it". We both said au revoir and it totally slipped my mind, I never went.
Week of May 7th: Missed call, again, from François. How? I was beyond frustrated with myself. You girls know the usual drill.  We played phone tag all day long. By the end of the day, I was able to get a hold of him. So the convo went something like this…
François: Rami, how are you? I thought you were planning to visit last week.
Rami: I am so sorry! I got caught up and totally forgot about it.
François: I was wondering if you would like to come down this week
Rami: hmmmm…
François: Ok, I wanted it to be a surprise, but I have to tell you now. (I felt the disappointment in his voice, but before I could even stress on that, he added something that brightened the whole conversation) I have a Constance mini in blue, and I think you would really love it. It's in one of those gorgeous leathers (my brain didn't register anything after Constance mini)
Rami: O wow! Constance…and a mini at that…I can't believe it (still in lala land mode and forgot he said surprise, which I obviously ruined by now and asked more questions, ugh, Rami why you do this) May I know the color please? (Unfreakinbelievable right?)
François: Gorgeous blue (I felt the hesitation, I believe he wanted to keep at least this a surprise)
Rami: (If you thought I wasn't annoying enough, already) Please tell me the color?
François: It's bleu Izmir, and I think this the color that you would be able to wear all year around.
Rami: Thank you so much! I still can't believe it. May I come by on a Friday or Saturday?
François: Absolutely! à bientôt!
The Rest is history. Most of you watched my IG stories about this moment.  Thank you.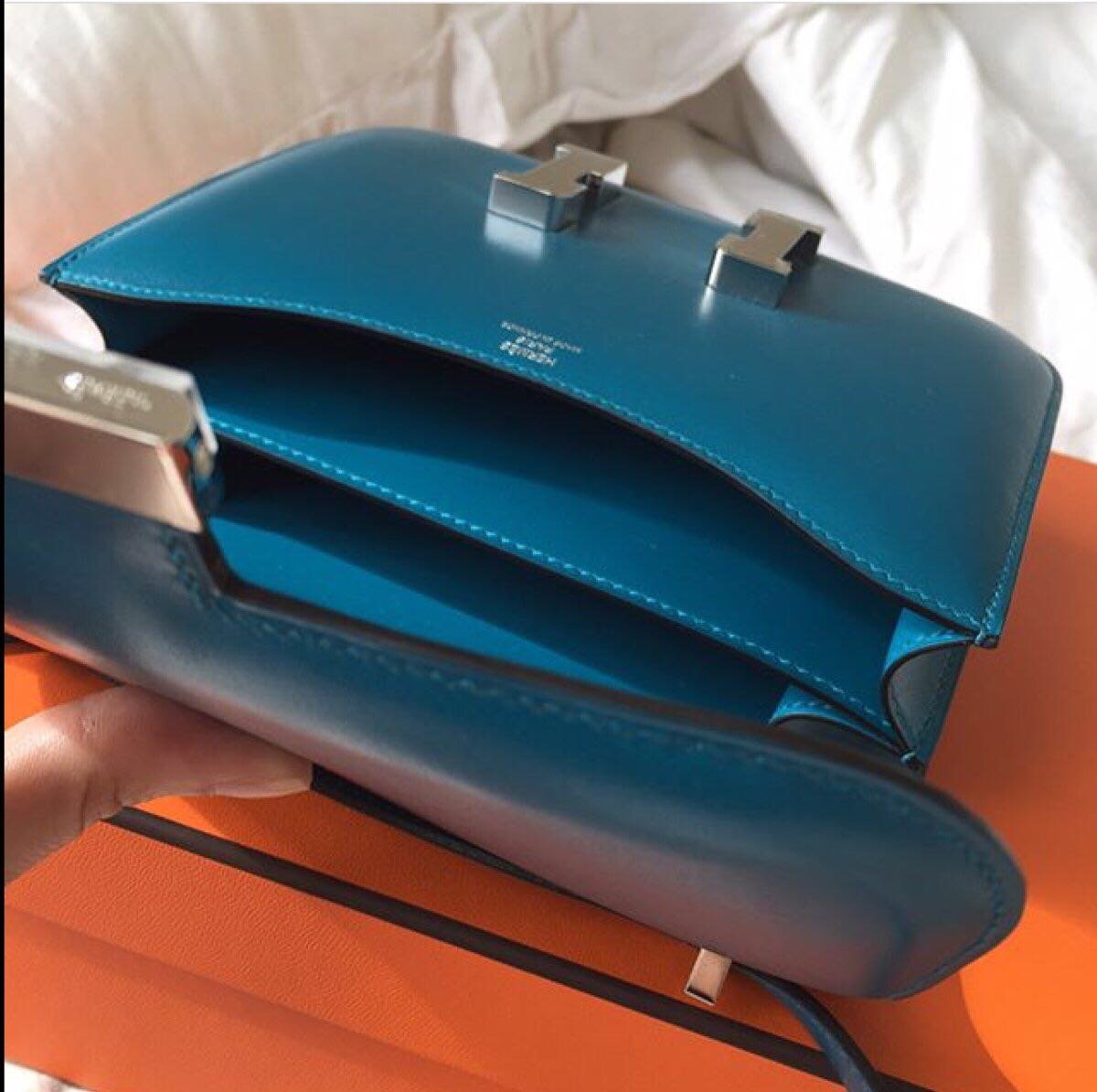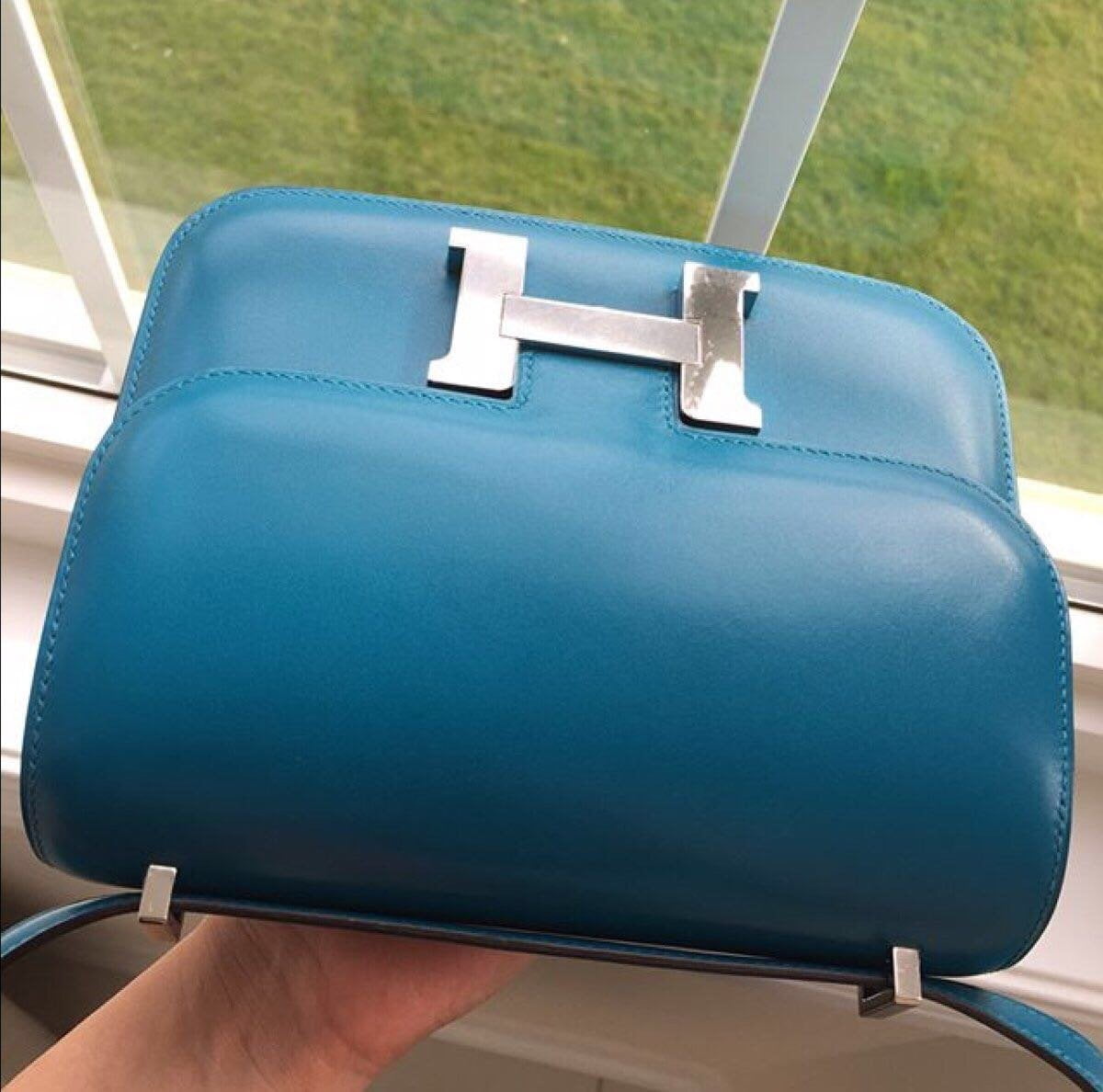 The Magic of Hermes: Tips & Tricks for Scoring
Back to the question I said I would answer about scoring a H bag. I settled with a Chanel mini because I thought my Constance would not come given the fact that it was rare, and the fact that I was going to have to start a new relationship with another SA after my former one left.
Lots of people talk about building a "buying history" at Hermès to acquire your dream bags. I truly believe that Hermès is all about sincere appreciation instead of merely products. The relationship starts from the very top of the house. @Hermès please feel free to jump in.  Just like any good relationship, you tend to enjoy the raw moments in the long run. We all put our best face on in the beginning, but the real joy starts when you can be "the real you". I mean everyone likes a bit of romance, you don't just jump to the third base on your first date. Patience is the key. It's not like the boutique has every color stocked at the back, so your dream bag may be in the works.
Here are few of my take aways on Hermès shopping:
Be kind, respectful, and patient with your SAs. If you have a good one, appreciate them as they are rare to find. Don't rattle all over the place; be specific because the good ones are always listening. Have your SA vested in big and small purchases as much as you are. Don't hesitate to ask for opinions. Every time you are shown a new item, doesn't translate into "wink, wink buy this and I'll get you a bag". BE PATIENT and WISE.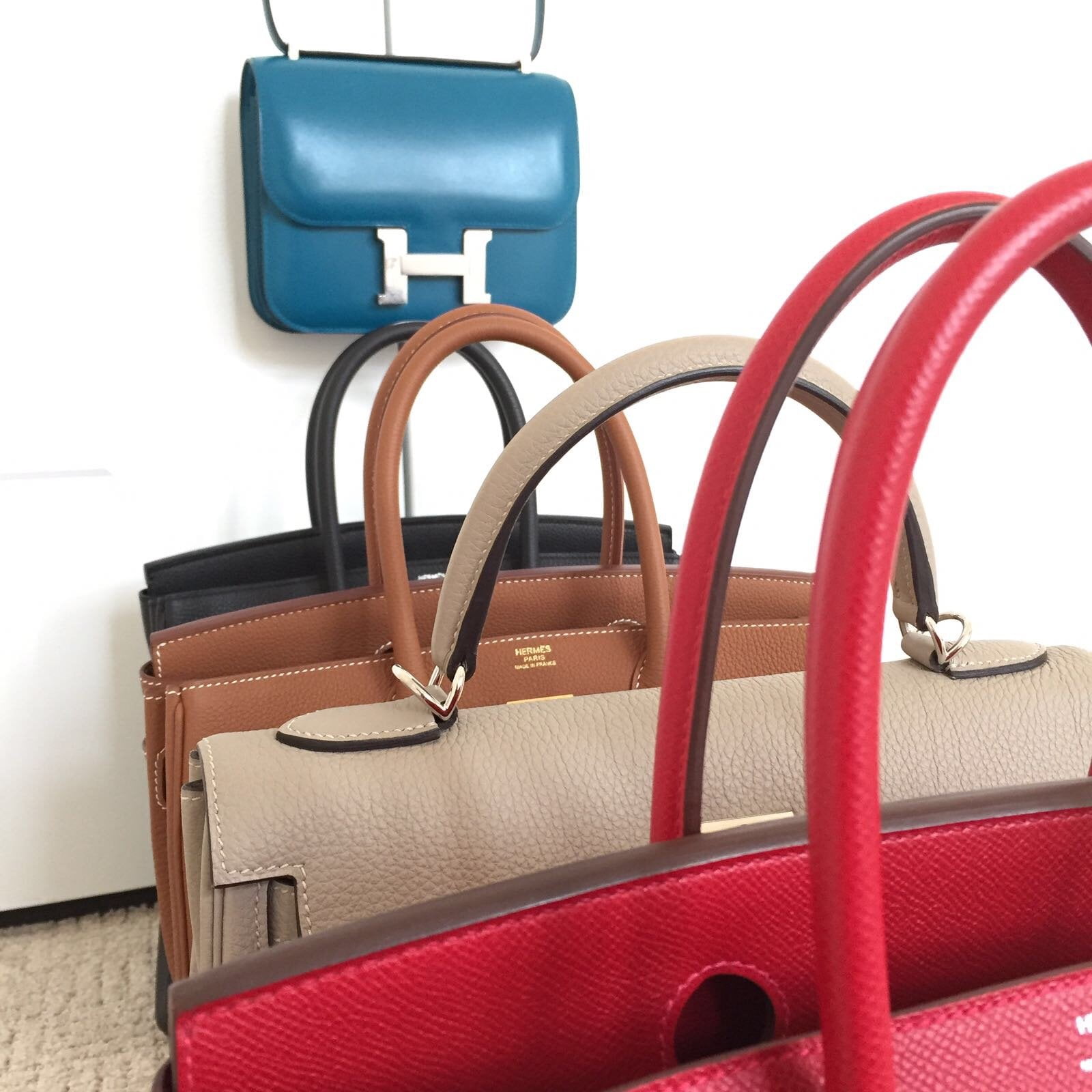 Updated: May 20th, 2017