We've talked about totes here before. How could we not? But while we can all agree on the versatility of a carry-all bag, one question persists: The Goyard Saint Louis or the LV Neverfull? Both bags are fan favorites, and for good reason. We look at the two staple totes once more.
We've written many a post on Goyard (read: Goyard Reference Guide) and the Saint Louis tote. With its large, structureless body and signature Y design, it frequently tops the list of bag-lovers and celebrities alike. Goyard's look is classic, its roots started in trunk making back in the late 1700s (Remember Kris Jenner's Funny AF Christmas trunk?). The Saint Louis takes Goyard's classic look and turns it into a light-weight super-bag that still pays homage to the brand's history.
Features
Waterproof Canvas: cotton, hemp, and linen
Shoulder-length strap
Detachable pochette
| | |
| --- | --- |
| Size | Dimensions (W x H x D) |
| Saint Louis PM | 19" x 11" x 6" |
| Saint Louis GM | 23" x 13" x 7" |
| Saint Louis XXL | 24" x 16.5" |
Styles
While Goyard does not provide many print options outside their signature Y print, there are colors across the spectrum and neutrals to boot. Of course, you can also customize the bag with names, initials, and stripes.
The Neverfull was not introduced until 2007, and yet it has already risen to classic status. Thanks to Louis Vuitton's sleek, neutral design and the bags excellent capacity for storage with a structured appearance, the Neverfull is the handbag of totes. Louis Vuitton comes out with limited, seasonal styles on top of the various patterns, which keeps this tote from never seeming dull.
Features
Canvas or Epi Leather
Lined interior pocket
Removable zippered clutch
Natural cowhide leather trim
Shoulder strap
Gold metallic accents
Side laces to cinch bag
| | |
| --- | --- |
| Size | Dimensions (W x H x D) |
| Neverfull PM | 11.4" x 8.7" x 5.1" |
| Neverfull MM | 12.6" x 11.4" x 6.7" |
| Neverfull GM | 15.7" x 13" x 7.9" |
Styles
Louis Vuitton is known for its signature neutrals, and the Neverfull provides a great array of neutral options. Additionally, there are different patterns to choose from with their classic monogram and damier as well as the Epi leather in indigo, noir, and denim. If you are looking for something a bit brighter, the canvas styles have some choices in the color of the tote's interior. And, true to Louis Vuitton, you can customize your Neverfull with initials and stripes.
So you've read the breakdown of both bags. Now it's time for them to go head-to-head. Or, tote-to-tote. These are two of the top carry-alls in the luxury handbag game, so of course there is overlap in features. We will break down where they differ so that you can make the perfect decision for you!
Goyard Saint Louis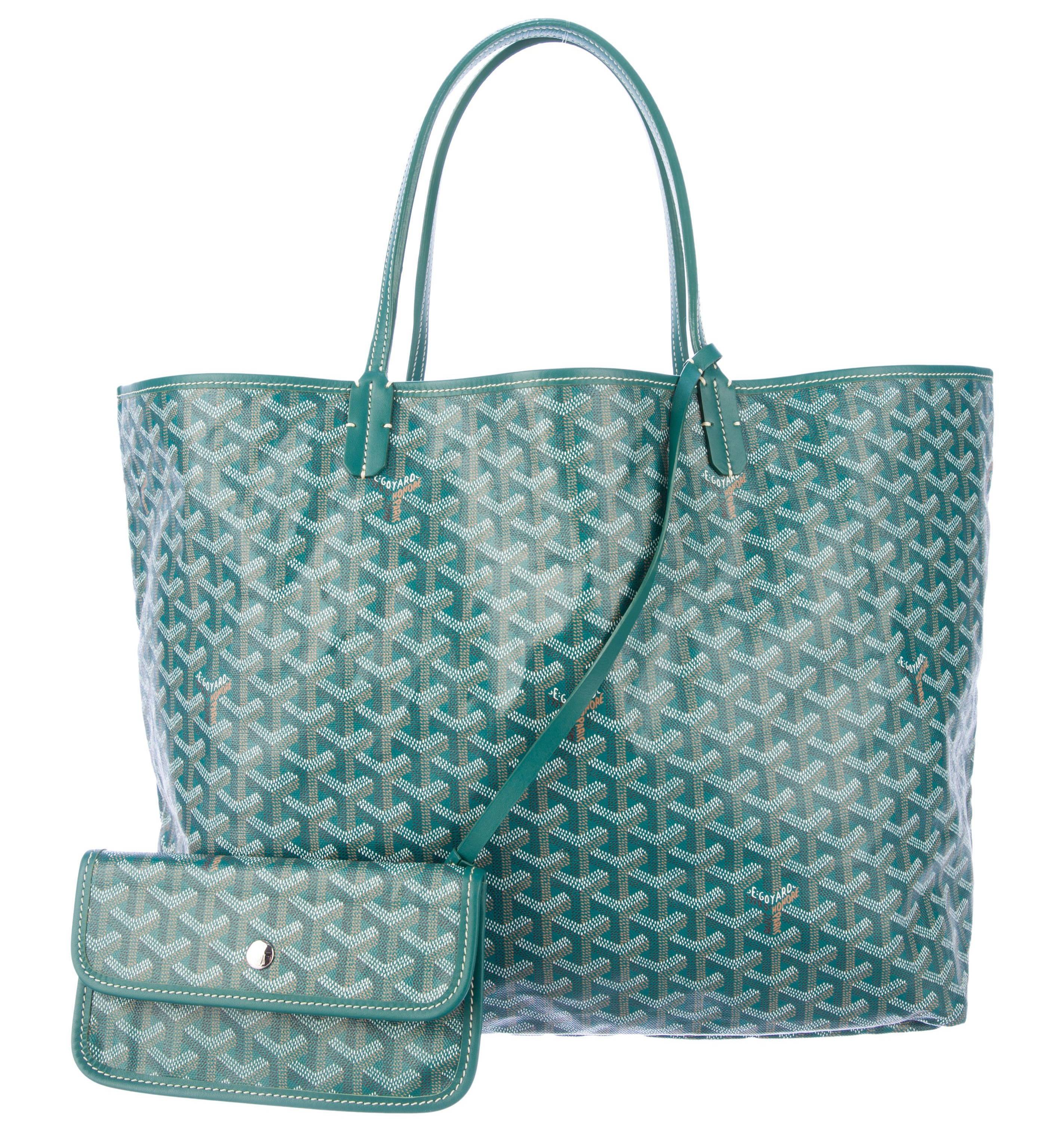 Goyardine canvas
Lightweight
Structureless
Louis Vuitton Neverfull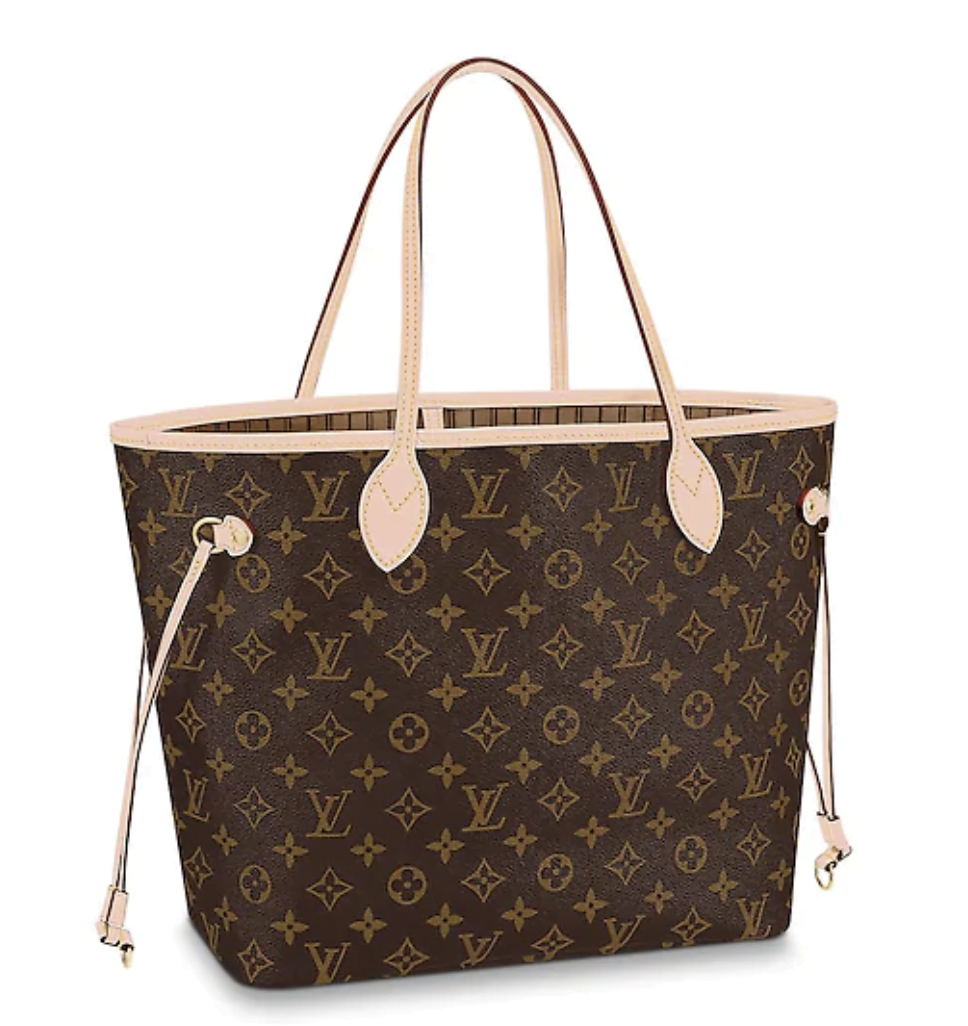 Leather OR canvas options
Lined interior pocket
Leather trim
Side laces to cinch
When it comes to features, the Neverfull definitely has more, from interior pocket to choice between exterior material. Features such as the leather piping and side laces gives the Neverfull a more structured look, which makes it a great work bag. The shoulder straps on the MM and GM are 8.5″ from the top of the bag, which makes it a good option if you are taller or wish to wear the bag over a coat.
While the Saint Louis only comes in canvas, it is  a very durable yet lightweight, waterproof material that is easy to clean. If you're looking for a travel bag that can withstand the test of time and the elements, Goyard might be the one for you. However, the straps on the Saaint Louis run at about a 7.5″ drop, so it might not fit as well over a coat. They were originally designed to be beach bags, after all. Additionally, its lightweight and structureless nature makes the Saint Louis the perfect nesting bag.
Goyard Saint Louis
Saint Louis PM
Saint Louis GM

NEW

Saint Louis XXL
Louis Vuitton Neverfull
Neverfull PM
Neverfull MM
Neverful GM
The Neverfull MM and GM are comparable to the St. Louis PM and GM, respectively. If you are a looking for a tote with smaller dimensions,  the Neverfull PM is the smallest you can go. On the flip side, if the GMs just aren't cutting it for you, Goyard has recently released and XXL size of their Saint Louis, which is sure to hold everything you need.
Goyard Saint Louis
Classic colors: Black/Black, Black/Tan
Special colors: White, Grey, Red, Orange, Yellow, Green, Light Blue, Navy, Burgundy
Louis Vuitton Neverfull
Multiple pattern options
Seasonal styles
Leather or canvas
Customization options for both totes are fairly similar with the addition of monograms and patterns. When it comes to the bag itself, if you are looking for a wide array of bright colors, than look no further than the Goyard Saint Louis. However, if you are looking for a variance in pattern and seasonal styles, then we recommend the Louis Vuitton Neverfull.
Goyard Saint Louis
| | | |
| --- | --- | --- |
| Size | Classic | Special Colors |
| Saint Louis PM | $1,280 | $1,665 |
| Saint Louis GM | $1,490 | $1,935 |
| Saint Louis XXL | $1,780 | $2,310 |
Louis Vuitton
| | |
| --- | --- |
| Size | Price |
| Neverfull PM | $1,240 |
| Neverfull MM | $1,320 |
| Neverfull GM | $1,400 |
Louis Vuitton's prices have been on the rise (read: Alert: Hermès Price Hike Coming). Still, Goyard's classic colors are comparable to Louis Vuitton's of the same size. However, if you are looking for color, you'll have to pay more for a Saint Louis tote, and Neverfull patterns will run the price up as well.
So, which tote came out on top? Which factor is the most important to you when determining your ideal carry-all? Let us know in the comments below, and join the conversation at BopTalk on Instagram!