One of my favorite 'built in' treats that comes with visiting home in South Florida is the pleasure of shopping at Bal Harbour. Since I was a little girl, I don't think any mall in the US has captivated me more. Its a quaint hidden treasure near the beach just north of Miami. The Bal Harbour shops are flanked by two of my favorite department stores, Neiman Marcus and Saks Fifth Avenue, and each is bursting with designer selections, colors and styles not seen anywhere else! On top of that, all my favorite designer boutiques are in between! The tropical landscape takes me to an island of designer paradise! There is the newly renovated gorgeous Chanel boutique, Versace,  Miu Miu, Alice & Olivia, Nanette Lapore, Roberto Cavalli and the ever too dangerous Harry Winston, Bulgari, Chopard and Van Cleef & Arpel…just to name a few! There's all the wining and dining, and of course my favorite cappuccino stand in the middle of it all (there used to be ice cream when I was a young one…). I think I've grown up watching those giant size orange and yellow fish in the ponds surrounded by lush lavish green landscape. And you all know how obsessed with landscape and greenery PurseBob is! Not a single trip home goes without taking a few hours to visit my shopping oasis.
I took my time strolling the designer stores to see the latest collections of handbags. I fell in love with the Versace 'Vanitas' shoulder bag with studs in vibrant yellow. The 'miss Dior' in the new fall brilliant 'turquoise', and the Louis Vuitton Deauville show bag with red velvet embellishment. So many gorgeous purses, PurseBop was in PURSE HEAVEN! But I always need to survey my options before making any final choices.
One of my last stops was Miu Miu and this is where PurseBop was sold! As many of you know, I LOVE their sunglasses and thought I would try to score another pair of my favorites in RED. I met Elizabeth, a fabulous sales associate that walked me through the upcoming sunglasses collections so I could reserve my favorites (in red of course). And then, as leaving, the Nappa Cristal bag caught my eye. It is a classic Miu Miu style I've seen dozens of times before, but what made this one different was the color!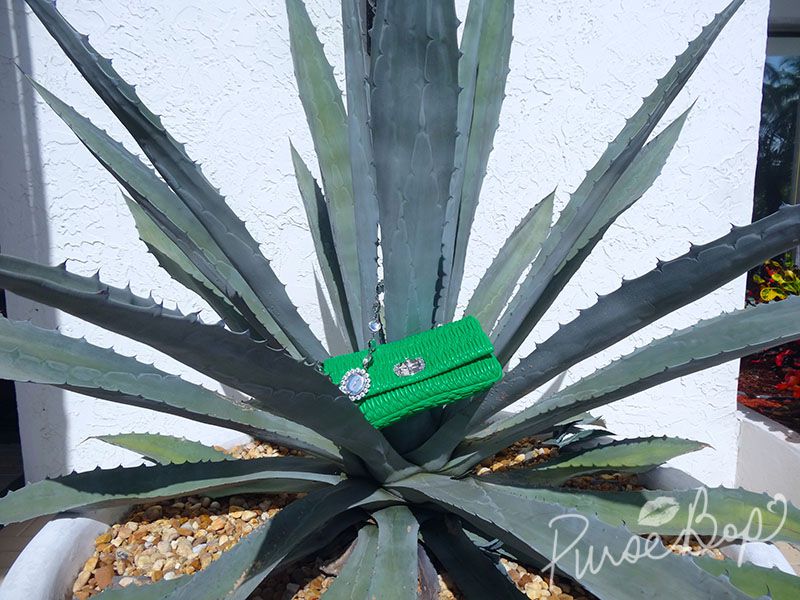 Miu Miu is a high fashion brand of women's clothing and accessories from the PRADA fashion house. Miu Miu opened its doors in 1993 and is headed by Miuccia Prada. The name of the collection is taken from her nickname (love this detail…)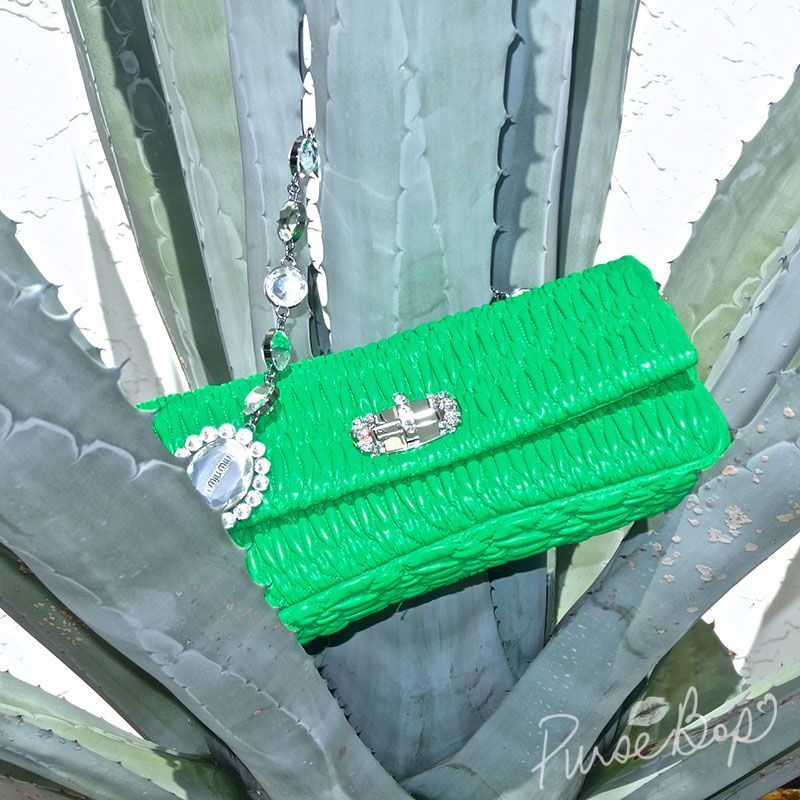 Its leather is a Nappa Croque which is a tighter quilted version of the signature Miu Miu matalesse leather. Nappa Croque started off with just basic colors, but over the years it's become their best seller world wide. Miu Miu started to do more fashion forward colors varying with the season. This summer offered a capsule collection of neon colors called Verde, Mandorino, and Turchesa (green, orange, and teal). Obviously PurseBop could not resist the verde! Is it not just scrumptious…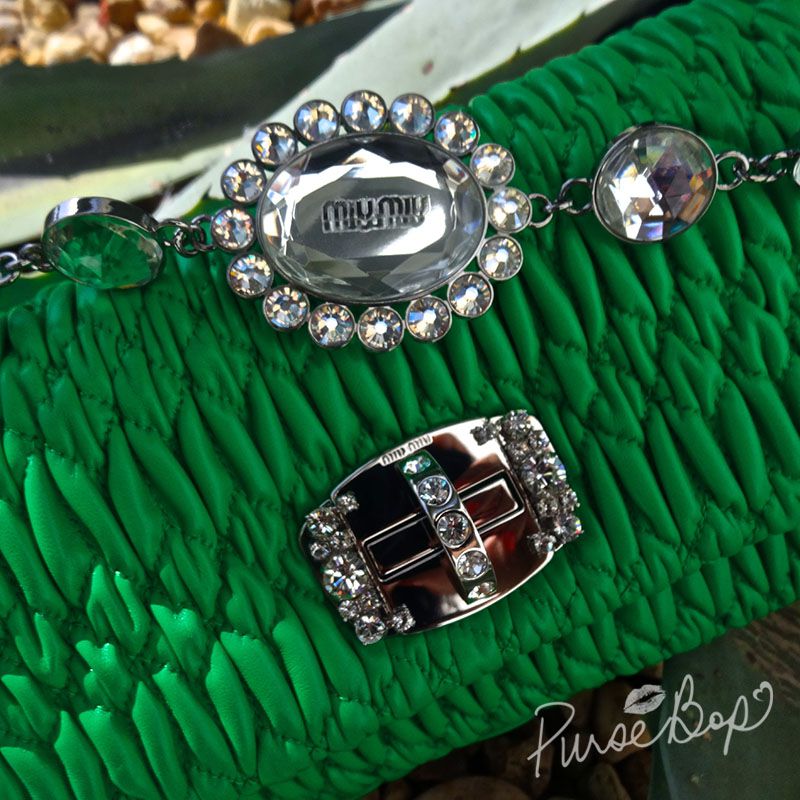 The inspiration for my photo shoot are the new ginormous pots outside our Ft. Lauderdale home doors! I admit I have a weird fascination of placing my bags in plants, LOL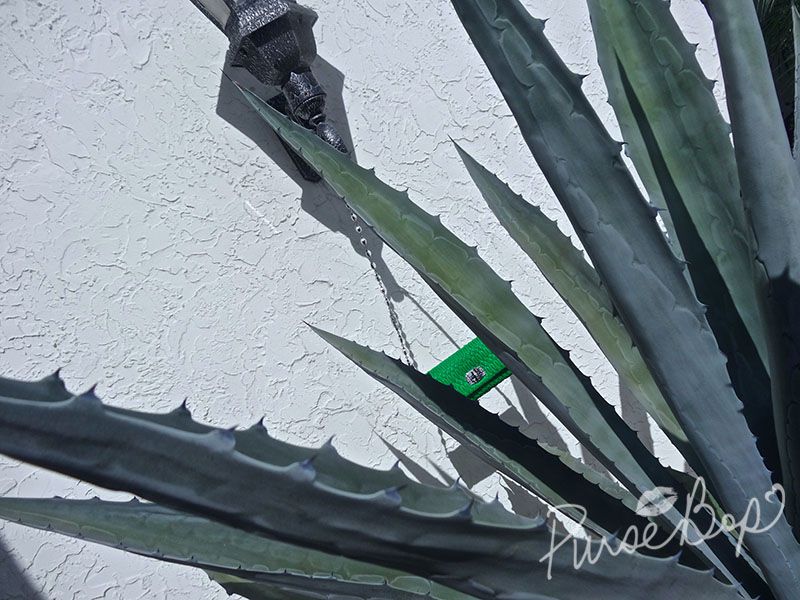 Its popularity has taken off and this style has already gone through two price increases.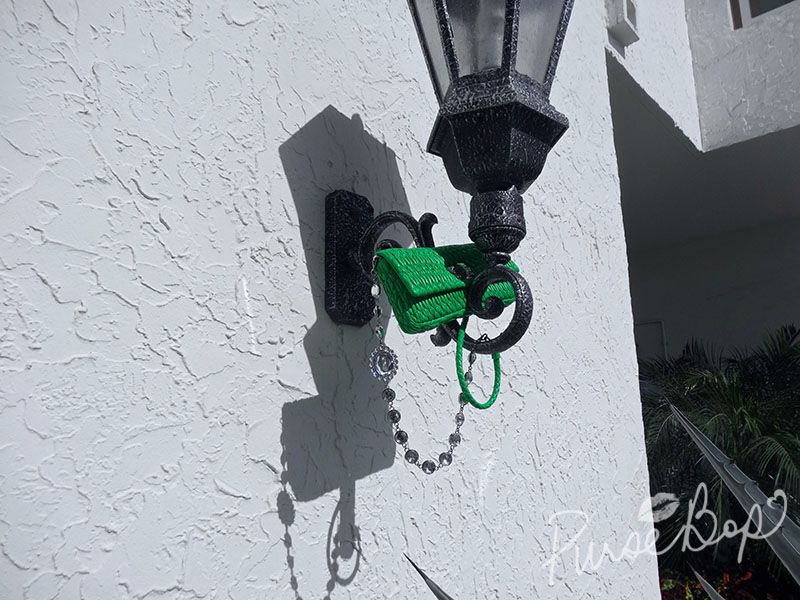 What's particularly unique about the new version of the Nappa Cristal is its versatility. It can be worn four ways: 1) the crystal chain only, as a short chained shoulder bag 2) the leather extension only, as a short strap shoulder bag (when bling is too much, haha…never!) 3) both swarovski chain and leather strap clipped in to use as a cross body bag (its truly long enough, even at 5'6″…) or 4) without either as a gorgeous clutch.
The Swarovski stone chain was originally offered as a necklace, and it now comes in multiple options including gold, silver and gunmetal.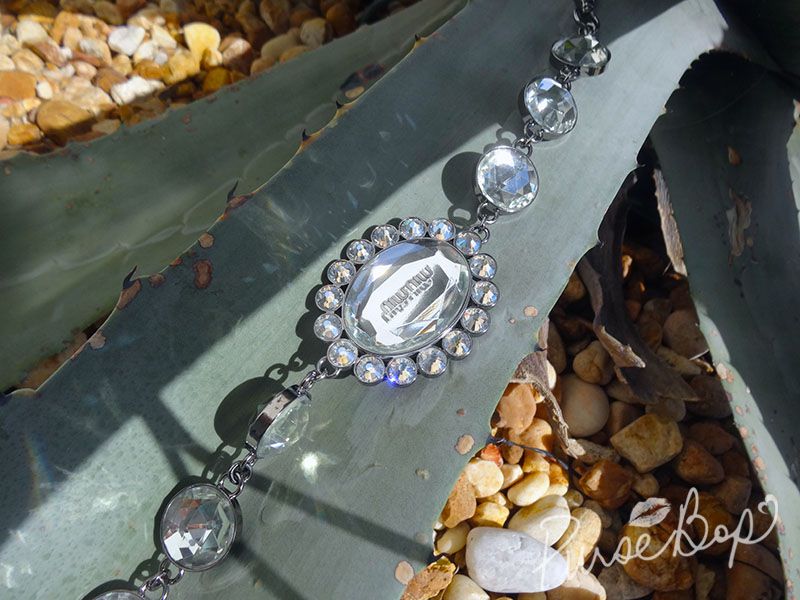 I might love Miu Miu more for their gorgeous boxes than their goodies! I still want wallpaper like the gold foil on the inside of these precious cartons…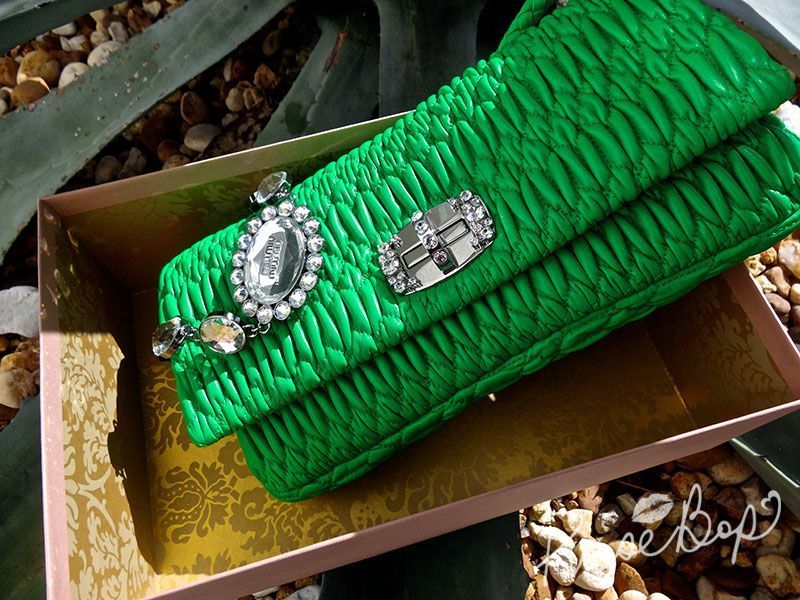 I hope you enjoyed our 'green' trip to Bal Harbour! I'll be back there in a couple of weeks and will be sure to share some pics of my shopping paradise and my ' big fish' with all of you…as unlikely as it is, lets hope all those other selections fade from my memory by then, roll eyes…
Love PurseBop
XO