Part I: Hermès 101: The Hermès Constance Bag
It is a truth universally acknowledged that we love Birkins and Kellys as much—or dare we say even more—than most, but we want to shine a little spotlight on the other handbag in the exclusive H trio that's captured our hearts: the Hermès Constance.
With the Constance recently making the rounds on our site (appearing on the list of our PurseBop Family's Holy Grail Bags and @bullies.n.birkins' tale of finding two lucky Constances), we thought it was about time to give the chic handbag some love of its own. Although the elegant and iconic Constance has been around for over half a century, it's undeniably having a moment right now. By the end of these 8 reasons, you'll know why we seriously adore the Constance. Maybe you'll even fall in love yourself?
1. It has a rich history.
Like any classic H bag, the Constance has a long history with an anecdotal founding story. First created in 1959 by in-house designer Catherine Chaillet, the bag was shortly thereafter named after Chaillet's 5th child, who was born on the very day the first Constance was sold! The Constance was an immediate hit and toted by the likes of Jackie O, who sparked a trend among America's fashionistas of the time.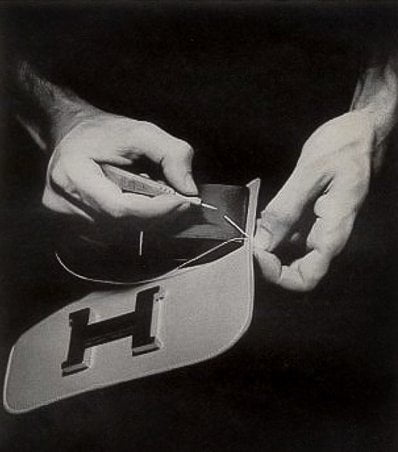 2. It is a testament to Hermès heritage and the brand's impeccable craftsmanship.

The Constance is painstakingly-crafted, living up to the H ideal of excellence. In fact, each Constance is made by a single artisan and takes 14 hours to make! The quality is unparalleled, and Hermès' reputation does not disappoint.
3. The Constance is elegant, chic, and simply beautiful.
The Constance is, in a phrase, the ideal crossbody (or shoulder bag!). Its clean lines and sharp structure make for both glamor and elegance, adding that perfect and effortless "put-together" touch to any look.
4. The bold H emblem makes the Constance truly unique.
The defining feature of the Constance is the central H, which makes the bag ideal for the fashionista who is proudly in love with Hermès and wants to boldly identify with the brand. The H emblem is versatile in itself—sometimes it's hardware, sometimes it's enamel. It can be made to stand out, contrast, or be tone-on-tone. Ultimately, it's a symbol that allows you to express yourself!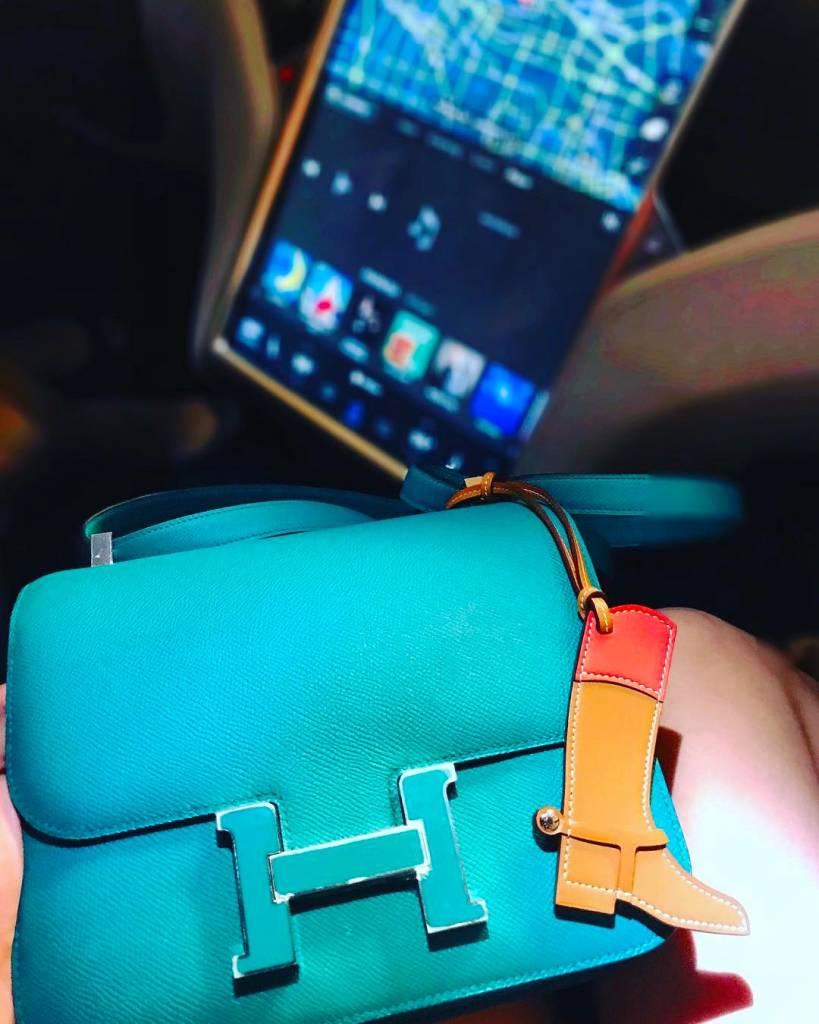 5. It's a seriously versatile shoulder bag/crossbody that's perfect for color lovers *and* neutral lovers!
The Constance stands out from the rest of the "Holy Grail" Hermès trifecta because it's always hands-free. We say this about quite a few bags, but it's not difficult to imagine the Constance, draped on your shoulder, transitioning beautifully from day to night. The Constance is also ideal for traveling and relatively small, and it comes in 4 sizes: micro, mini, 24cm, and elan—a longer, narrower design that was first offered in 2010.
Additionally, the bag is perfect for different occasions and tastes. It's a clean canvas that wears any color, neutral or bold, exceptionally well. It also comes in different leathers—epsom, box, swift, and exotics, among others. And the Constance recently became customizable: last spring, it was added to the special-order menu card. In fact, it's the only H bag that can have rose gold hardware (an addition that can't even be found on a Birkin or Kelley)!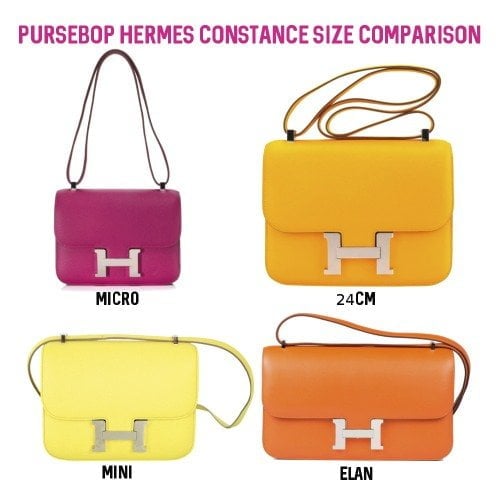 6. It's thoroughly celeb-approved!
Seen draped on the shoulders of Hollywood stars, the Constance has complete star approval across the board.
7. ...and even more, it's BopTalk celeb-approved!
Key influencers from our own PurseBop family swear by the Constance. We asked them to talk about their favorite leathers and colors, and whether they prefer the mini (18cm) or 24cm. Here are their lovely photos, coupled with what they personally have to say about the bag.
@upcloseandstylish: I actually can't really choose between the 18cm and 24cm. Love them both equally. It feels like two different bags.
@bullies.n.birkins: 24 for sure. It fits everything I need from day to night. Oh geez, I would love an exotic Constance one day!! In regular leathers I prefer smooth like swift, evercolor… and maybe chèvre if it can be special ordered in it!
@mrslulu3: For me it is about usability and practicality. While 18 is super cute and fun, 24 is perfect. It fits everything I need for the entire day and goes easily from day to night.
@howshespendsit: I prefer 24 as it suits my frame better. If the 18 had a longer strap and went crossbody it would be perfect. My favorite though is my Constance Cartable. Much rarer, cooler on, and different from all the others.
@bb10lue: I'm relatively late to the Constance game, not sure why it took me so long but it's safe to say that I'm in love with my Constances. If I have to pick a favourite, I would probably say the mini size 18! We can all agree that the mini bag trend is not going away anytime soon! And why would it? Less is more. The mini size is not just super adorable, you're also "forced" to downsize the accessories and stick to the fundamentals: a card holder, keys, lip balm, and of course my iPhone 7 Plus (yes it fits ????). The result is not only a weight off my shoulders or arms, it's a very refreshing and effortless way to switch up a look and make a fashion statement with just one tiny piece.
8. Last but certainly not least, the Constance is a symbol of Hermès validation.
Although the Birkin and Kelly have the reputation of being Hermès' "needle in a haystack" bags, the Constance is not an easy find. With the limited stock, obtaining a Constance requires patience and a strong relationship with your SA. The wait can be long and anxious, but it's ultimately rewarding—we consider it akin to achieving a hard-won victory (aka the ultimate Hermès validation!).
While the Constance was more readily available 10-12 years ago, there's since been a harsh drought. You could hardly find one for years, until Hermès upped their production in 2016—resulting in a big comeback on Instagram! This matches the experience of BopTalk celeb @bullies.n.birkins. As bullies.n.birkins wrote in her guest post, the Constance has proved to be the most elusive Hermès bag. In fact, after her first one (in bleu electrique), she was offered several Bs and Ks, but not a single Constance. It wasn't until Special Order Spring 2016 season that she was able to find another. With this increase in production, maybe you'll be lucky, too?