Written by BopTalk Celebrity StylishSheba
I am always fascinated by how people fair with Hermes when they are travelling, so I thought I'd write a report on my experiences in both Hong Kong and Macau over the Christmas period. My purchasing technique is never to buy anything first, but rather to simply smile and ask nicely for something off my wish list which is always a Birkin, Kelly, Kelly Cut, Constance or a Jige. I don't believe in spending money on something I don't truly want. Besides, when you aren't in your home store anyway, I figure there isn't much point in outlaying money without knowing if you will be eventually rewarded with a special bag from out the back.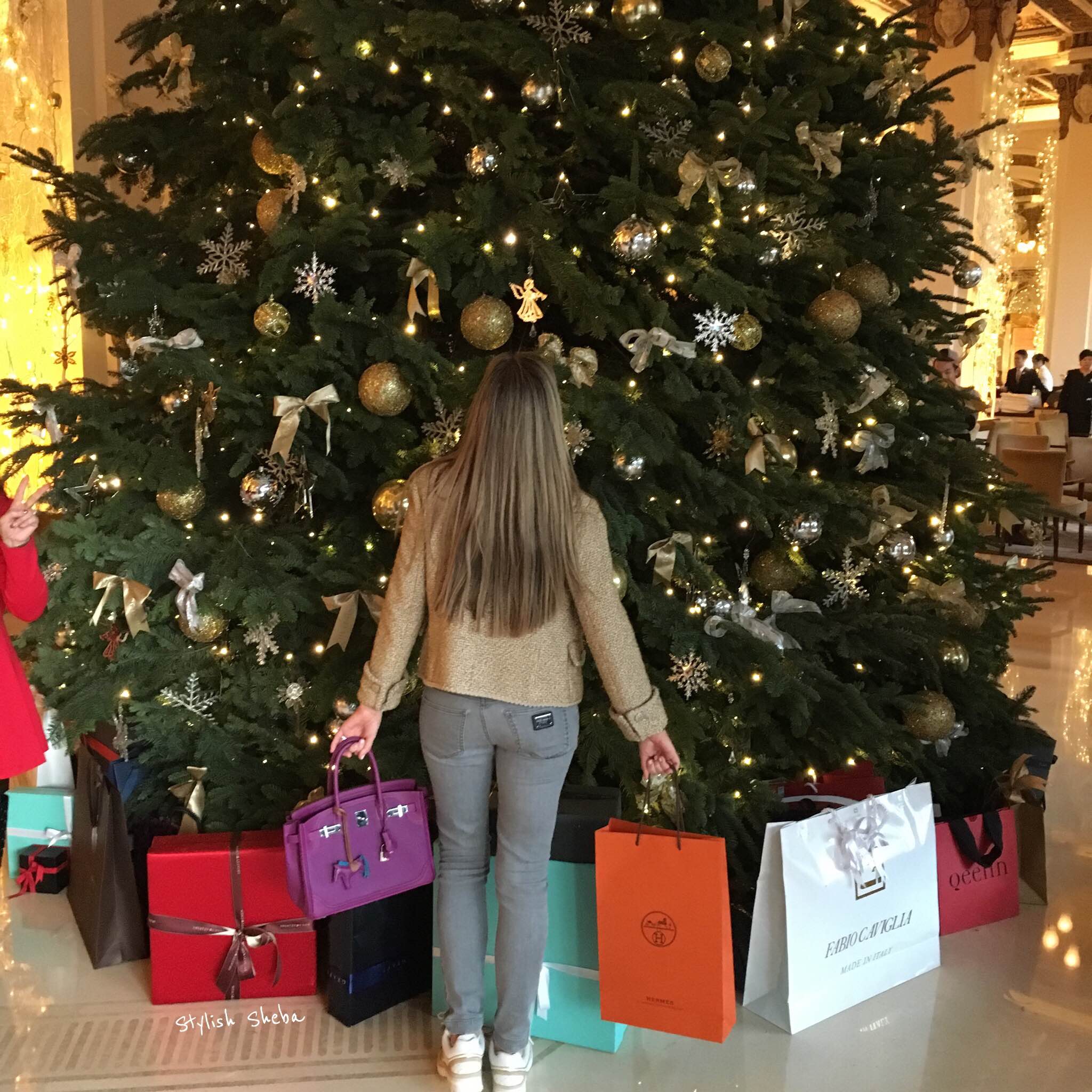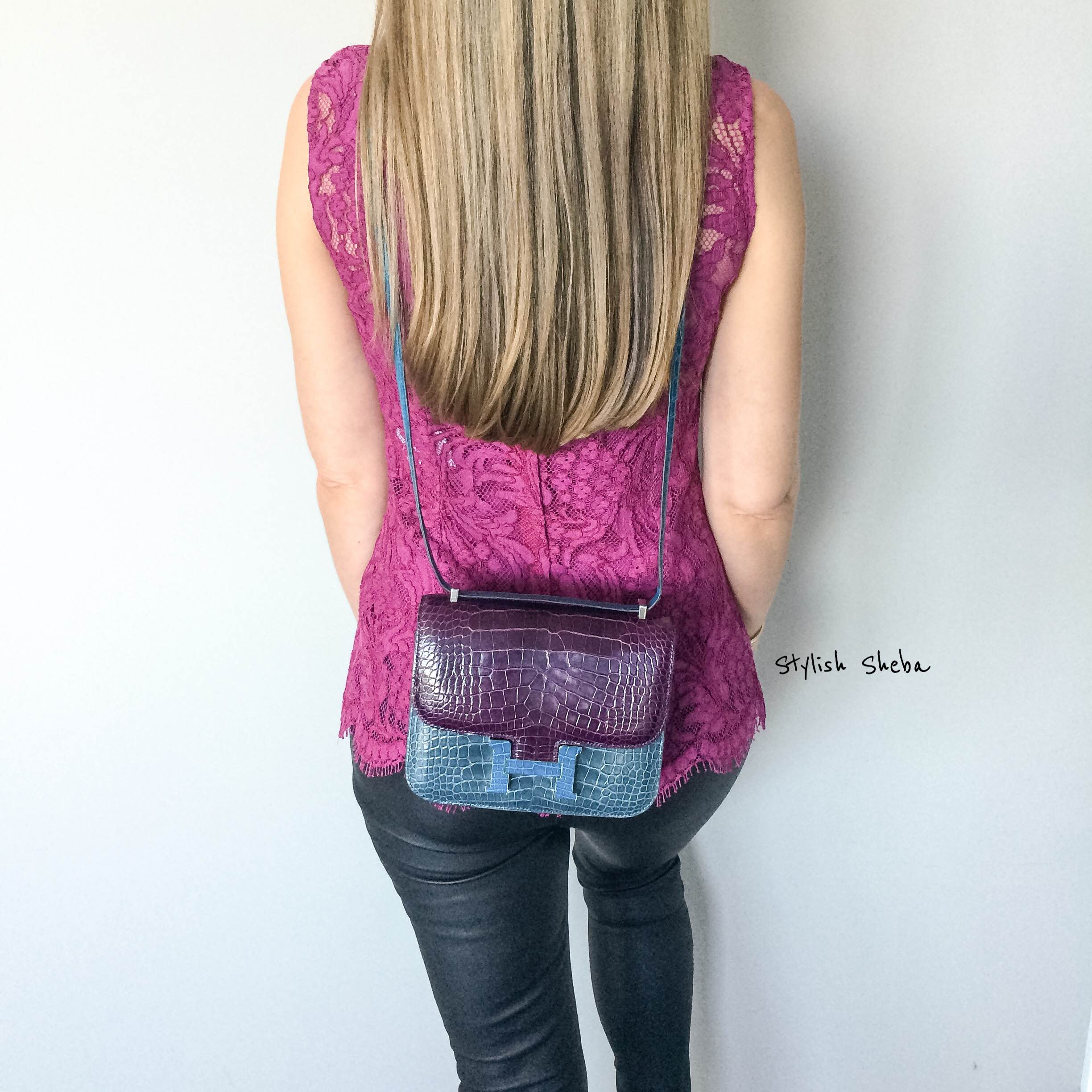 Hong Kong
We started our trip in Hong Kong and I really wasn't expecting to have any luck as a fellow Bopper who lives in Hong Kong had told me that most of the premium items go to the VVIP Chinese customers and that the SAs are generally polite but distant. The first store we visited was the Hermes Pacific Place, which was attached to the shopping mall that was next to where we were staying at the Island Shangri-La. We happened to arrive just as a courier was delivering a massive stack of orange boxes to the store! I couldn't believe our luck, but when I went in and started to talk with a few of the SAs, they all gave me the familiar "no stock, no stock" line. After attempting to engage with them and getting nowhere, I couldn't resist cheekily asking what was in the massive orange boxes at the door? They said that they were full of carry bags to put customer purchases in. My husband and I raised our eyebrows at each other. Riiiiggghhhttt. I was also bemused to find that the staff referred to the various items I was asking about as "red" or "blue" rather than "Rouge Pivoine" and "Bleu Paradis". This store was obviously going to be a bust so we moved on.
At the next two stores, we experienced more of the same. Hermes Galleria had "no stock". At Hermes Harbour City, there were long lines to get into the store, but the turnaround time of the customers inside was extremely quick as we were all given the same "no stock" message. In fact, I had my husband go and wait in the line up for Chanel whilst I waited in the Hermes line and I was in and out before he had even progressed in his queue. We actually ended up giving up on Chanel as the line was so long and the people in the queue had suitcases which I eventually worked out was to carry all of their purchases in. I initially thought they were all so keen to get to the store that they had come straight from the airport with their luggage! The SAs told me that I might have better luck at Hermes The Peninsula Hotel, which luckily was on our way home anyway.
This store was relatively quiet. There was us and a Chinese family who had just landed their helicopter on the top of the hotel (as you do) and had come to pick up purchases they had already made, as it was Christmas Day the following day. Here is where I happened upon an amazingly helpful SA. Every request I made, she dutifully headed over to the computer and checked through all of the stock and eventually said that she had one Jige left in Capucine if I was interested in it. Several phone calls were made as she had someone fetch it from the stock room. As I sat with my husband, we were both betting that it wouldn't actually be a Jige, or that it was a Jige wallet or that it wasn't actually Capucine and would be in a colour that I didn't want to add to my collection. You can imagine my surprise when she opened the plastic on the box and unfolded a beautiful Jige Elan in Swift in a gorgeous red/orange colour. I immediately said I would take it (and watched my husband's face turn white as I hadn't asked the price and he always thinks the worse and assumed it was around $20,000).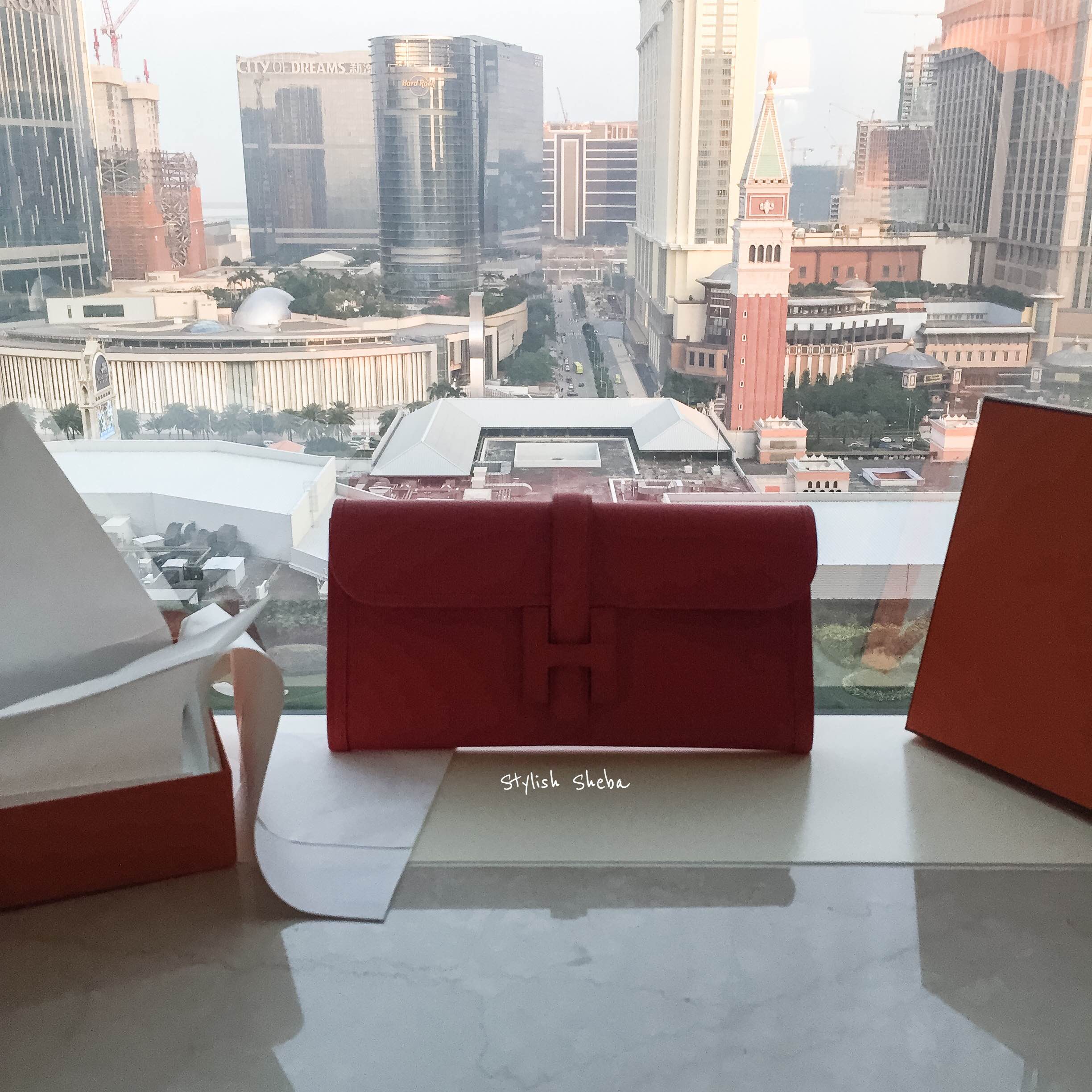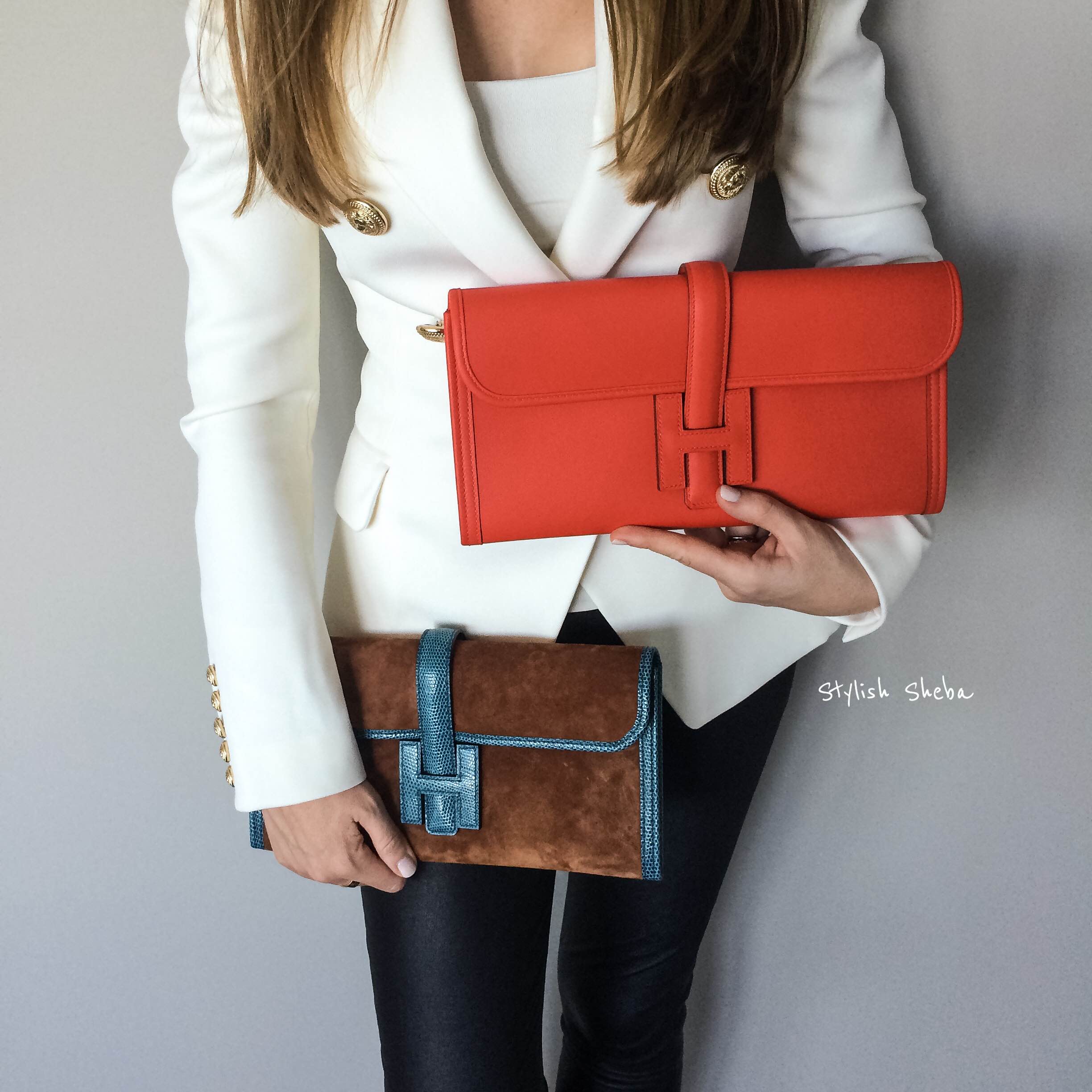 | | |
| --- | --- |
| Region | Hermes Jige |
| USA | $3,625 |
| Hong Kong | $27,600 (HKD) |
| USD Equivalent | $3,553 |
Handbag Math
So, now let's do some of that handbag math that PurseBop is famous for and see if my purchase overseas saved me any money…
*1 Hong Kong Dollar (HKD) = $0.13 USD
Jige in the US: $3,625 + $372 (tax 10.25%) = $3,997 total
Jige in Hong Kong: $27,600 HKD = $3,553 USD total
What I saved: $3,997 – $3,553 = $444 (~11% savings)
Macau
The second part of our trip was in Macau, which is an absolute goldmine for anyone wanting to start a Hermes collection. As it is an island that is essentially made up of tourists gambling, they have no customer base to be loyal too and will offer you whatever they have on hand (provided you are persistent). At each store we visited, they initially told us "no stock" so I told them the duration of my stay and asked if I could leave my phone number to be contacted just in case there were any deliveries. Despite the fact that they didn't call, we visited the three stores again a few days later and hit the jackpot. Although I didn't end up taking any of the items I was offered home, both Hermes The Shoppes at Four Seasons and Hermes Wynn Hotel offered me everything I requested: a Birkin 35 (too big), a Kelly 35 (also too big), two suede Constance Elans (I already have a suede Jige) and a Medor (this had GHW which I am trying to steer clear of). I felt like Goldilocks rejecting everything that was presented to me and had to apologise to the SAs profusely. As I am two years into collecting Hermes, I am now a lot pickier with what I will add into my collection, but if I had been just starting out, I think I probably would have taken them all home.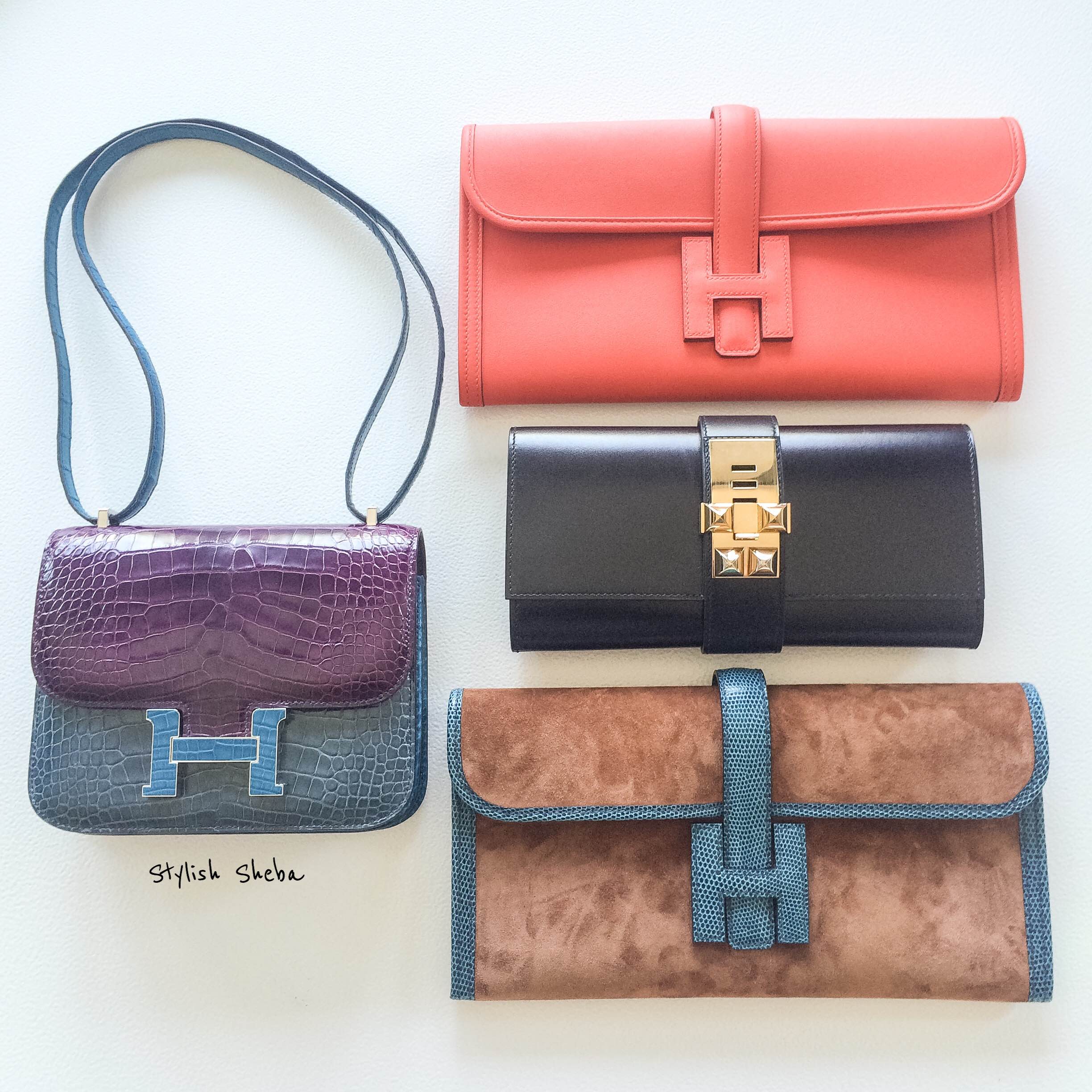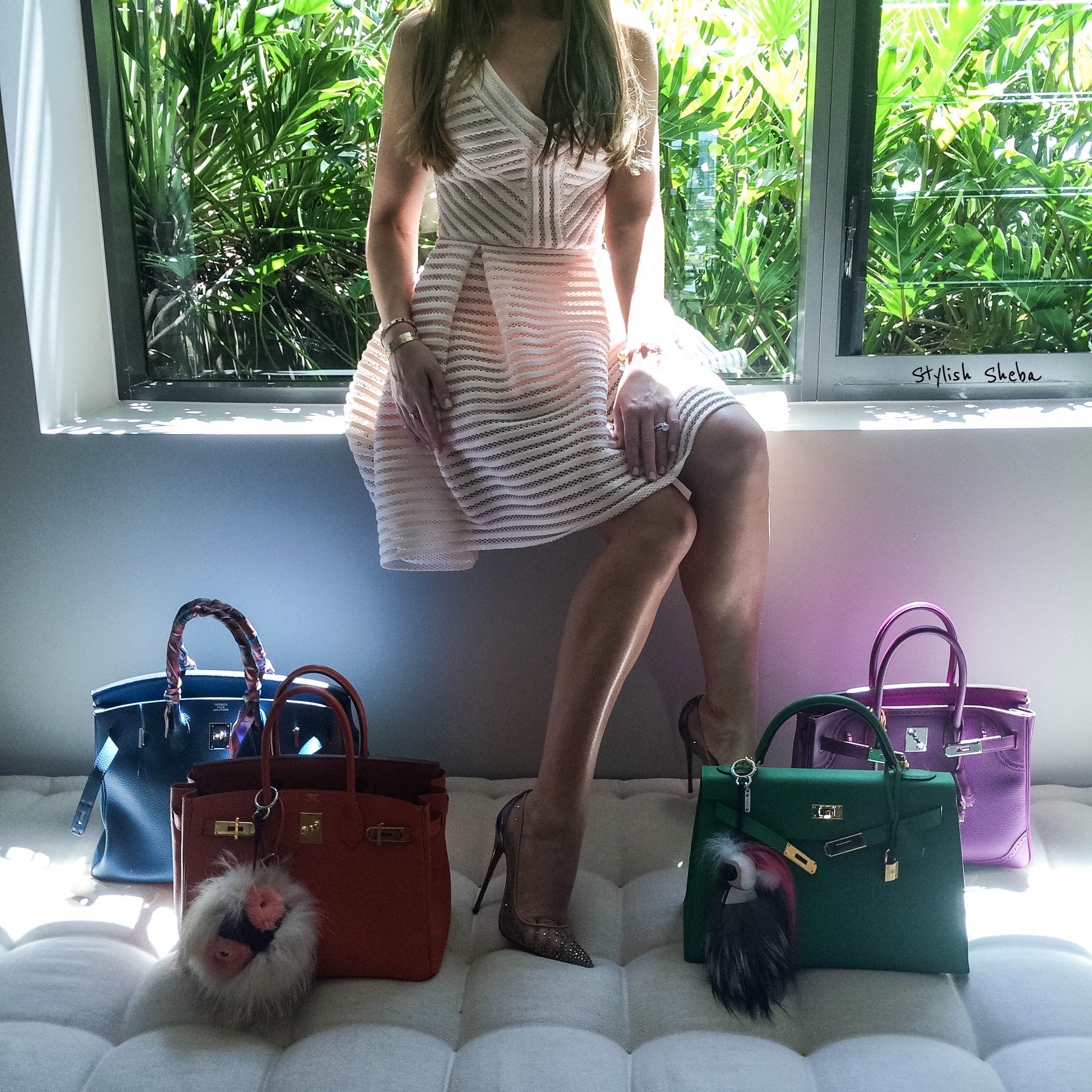 The only place we had a bad experience at was Hermes One Central where some kind of team meeting seemed to go on to assess if I was worthy of being offered a bag. There were five SAs in the middle of the floor having a flurried conversation and glancing over at my husband and I every now and again before they eventually all came over and told us "no stock". It was quite comical to watch, and I can only assume that my husband and I in our travel clothes (we'd just taken our son to the panda park) just didn't cut the mustard for them.
All in all it was a really interesting experience and I'm really happy to have been able to add a new Jige to my collection. Hopefully if any fellow Boppers travel to Hong Kong and Macau, they can use my experience to also check an item off their wish list.
With Love,
StylishSheba