Valentino has a new release that just might steal your heart: the Demilune. Last year, after leading Valentino together for eight years, Maria Grazia Chiuri and Pierpaolo Piccioli parted ways, leaving Piccioli as the sole creative director of the Italian fashion house. The Demilune, released last month, is the first Valentino bag created solely under Piccioli's direction.
The beautiful Demilune first appeared at the brand's Pre-Fall 2017 runway show at the NYC Beekman Hotel. Last month, it became available at department stores and Valentino boutiques. The bag comes in different sizes (in the form of a satchel or chain clutch), and Valentino's intention is to offer a myriad of different colors, prints, and leathers. Right now, for instance, there are floral prints, water snake leathers, and sequined bags, among the more traditional monotone calfskin ones. At the moment, the bags range in price from $1,775 for the small chain clutch, to $5,475 for the patent snakeskin satchel.
The Demilune is quite the departure from other Valentino bags—it's pliable yet structured, and has very few embellishments. While there are still rockstuds (two on the clasp, connected by a delicate chain, and a few dotting the wide shoulder strap), the Demilune tends to be more simple and polished. We dare say it might be a contender for the title of Perfect Work Bag!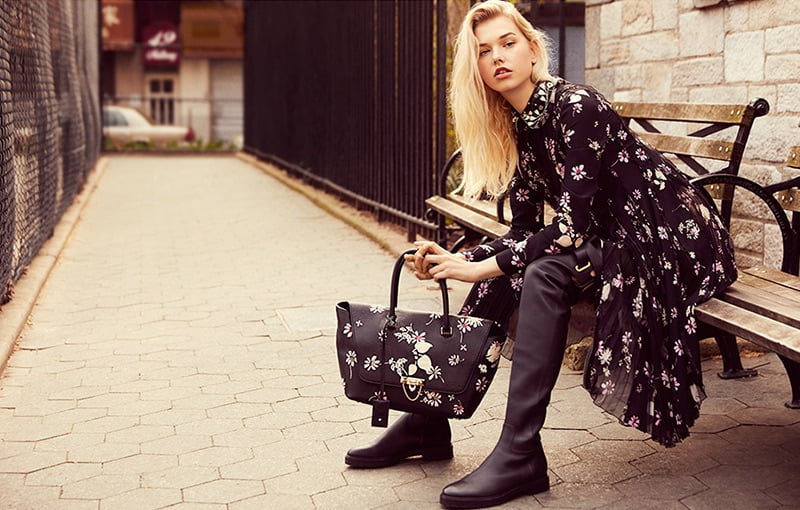 Curious about which bags are available now? Take a peek below...