As the days of summer tick down, the hours of sunshine wane and there's a slight chill in the air. With the inevitable changing of seasons, our attention has diverted to exploring the new handbag trends that capture the essence of autumn. 
While the allure of new handbags is always compelling, the impending shift to fall adds an extra layer of excitement to the mix. Although classic autumnal hues like deep burgundy and neutral tones never go out of style, the current fashion scene includes vibrant and bold colors. From striking yellows to serene glacial blues, this fall's color palette offers something to suit everyone. 
Let's delve deeper into fall 2023's hottest handbag colors, from our favorite brands. 
Cherry Bomb Reds
Red continues to command attention, but this fall it takes on a new, fresher twist. Instead of the usual deep berry tones traditionally synonymous with autumn, cherry reds are stealing the spotlight. These bright and lively shades are sure to add a touch of vibrancy to any neutral outfit. Whether it's a tote, crossbody, or clutch, a pop of cherry red is guaranteed to make a statement.
Chanel
When it comes to vibrant reds, Chanel stands out. The French fashion house has spoiled us this season with plenty of options. Here are some of Chanel's true rouge offerings this fall.
No Chanel collection is complete without the iconic flap bag, and this season you can select one with an autumnal transformation. It's reimagined in a luxurious red wool tweed with contrast stitching. Unfortunately, it goes without saying that this rouge beauty comes with a hefty price tag, as pricing is only available upon request.
But, not to worry if you're seeing some variation. Among the fall offerings are plenty of small and miniature bags. Enter the vertical Mini Flap bag with Top Handle, crafted in red and multicolor wool tweed, with lambskin detailing. With a price tag of $5,100, it'll fit in nearly every wardrobe. And when it comes to newer styles from Chanel, this Small backpack, in red calfskin with gold hardware priced at $7,100 is a charming alternative to the classics. Just look at the bottom details! 
Celine
Chic and understated, the Celine box bag continues to rise as a modern classic. Suitable for everyday errands, this medium size fits comfortably crossbody and will easily accommodate your essentials. Grab this ruby-hued timeless box bag and go for $4,200.
Louis Vuitton
Louis Vuitton's lipstick-toned offering this season arrives in the form of the Orsay bag – first seen during the Fall 2023 ready-to-wear runway. This practical box-style crossbody bag offers a timeless aesthetic, while the rich red shade exudes sophistication. It retails at $4,950.00 for the MM size.
Spectra Yellow
As the days continue to grow shorter, an extra touch of sunshine can work wonders to elevate your mood. As well as any ensemble. Enter "Spectra Yellow," a bold, daring shade that steals the show. Emerging from Pantone's color report from London Fashion Week autumn/winter 2023, this vivid, slightly mustard-hued yellow offers a refreshing accent to fall outfits. No longer limited to warm weather, you can consider mimosa yellow year-round.
Read: Part II: Revealing My First Exotic Hermes Mini Kelly, Mimosas Anyone?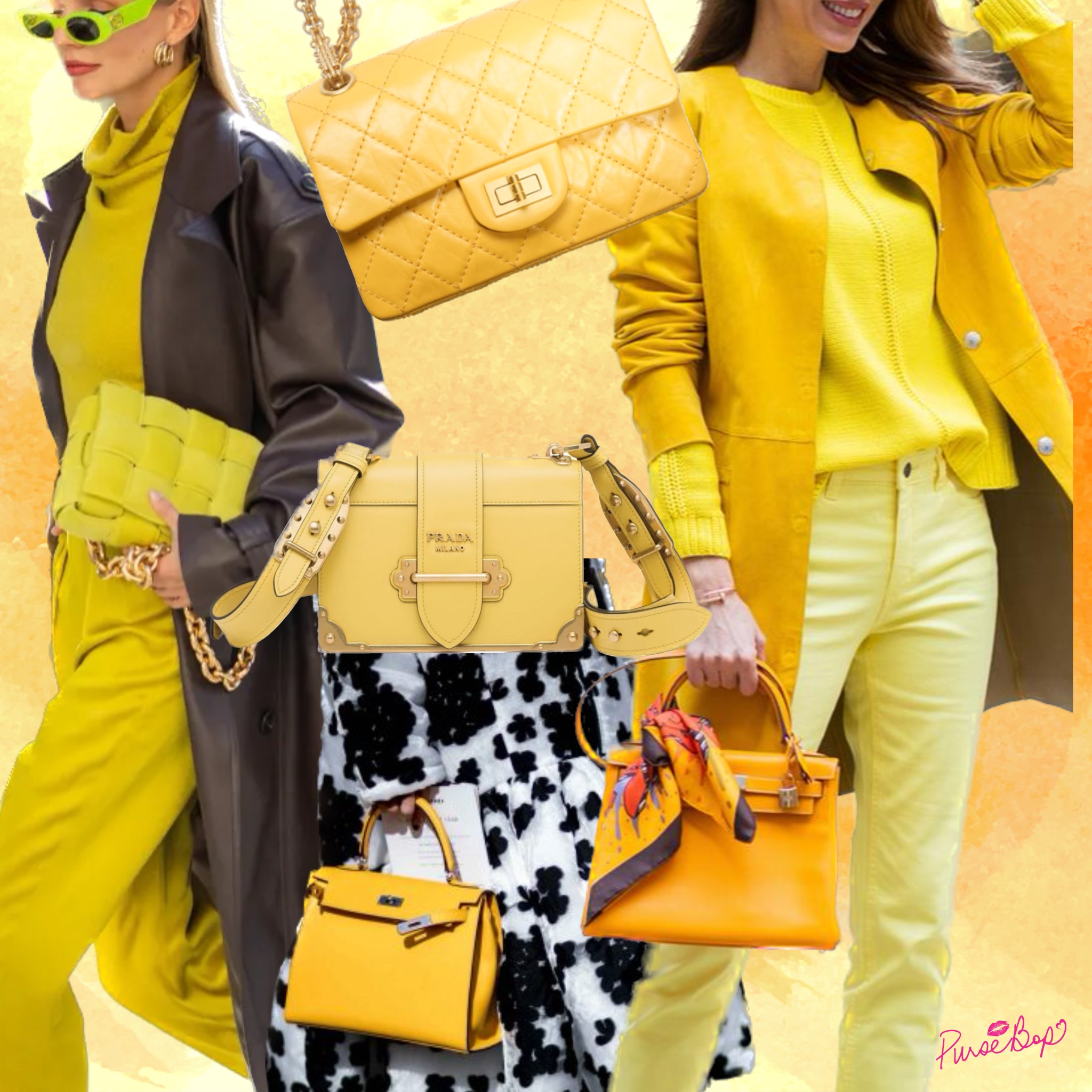 Chanel
Of course, you can get a dose of sunshine for your fall closet from Chanel this season – here are our top picks.
Whether you're a fan of classics, or seeking fresher designs – Chanel has you covered. For mini bag lovers, there's the iconic Chanel Mini Reissue reimagined in vivid yellow aged calfskin with complimentary gold-tone hardware, priced at $4,900. Or perhaps, you're a Chanel 19 lover? If that's the case, there's the large Chanel 19 in yellow shiny lambskin coming in at $7,100. Whatever your preference, these two bags are sure to add a burst of sunshine. 
Hermès
Known for its saturated colors, Hermès typically has its finger on the pulse of the hottest hues. So it's no surprise to see the brand's newest yellow, appropriately called Sun. (Read: Updated New Hermè Colors 2023). This sunny tone suits a plethora of Hermès bag styles, however, we simply can't resist the Roulis in this sunny shade. Prices start at $7,750 for the mini size.
Saint Laurent 
If you're looking to add more unusual textures to your closet this fall, how about this eel skin bag from YSL? Redesigned in mimosa yellow, Saint Laurent's Le 5 à 7 has been given a seasonal update. A unique material, eelskin is rarely found in the luxury handbag world – and really shines in this matte yellow shade. The Le 5 à 7 retails for $2,750.
Prada
Prada is no stranger to experimenting with bold colors. For fall there are a plethora of colorways, however, it's the vibrant yellow that caught our attention. Retailing for $4,500, the 'Sunny' yellow Cahier leather bag is a great grab-and-go crossbody. 
Chic Charcoal
The skies may be overcast, and perhaps a little moody – but your gray handbags don't have to be! While gray is often associated with somber business attire, this fall, it's adopting a more chic personality. Take your oversized knitwear and wool coats, and add a cool-tone gray handbag to match. The vast range of shades, materials, and textures – from suede to leather, to denim – ensures that everyone can find their ultimate gray companion.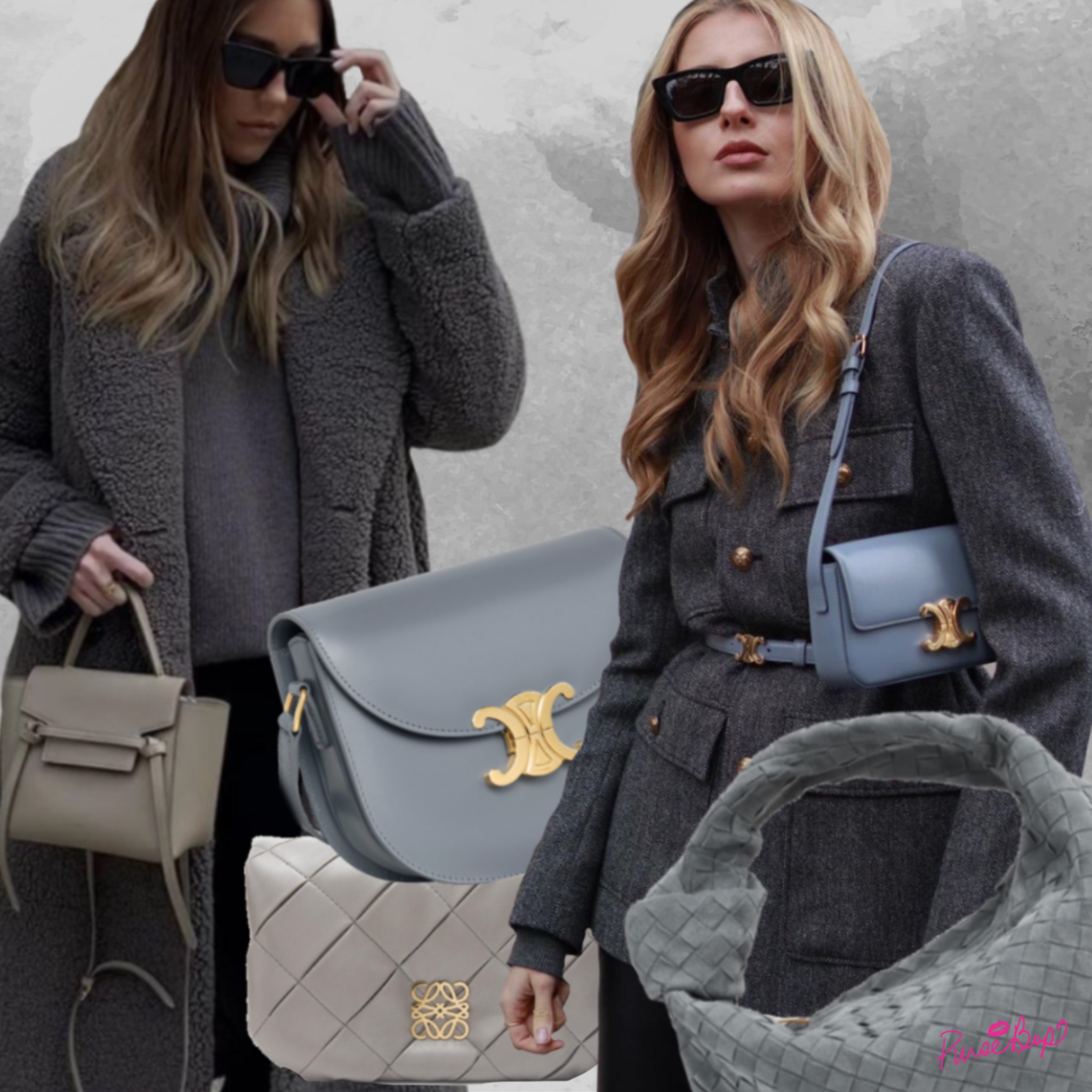 Chanel
Can you ever really have enough iconic Chanel flaps? Of course not. So even if your closet already is teeming with Chanel's iconic classic flaps, the brand has your need for gray covered! And where better place to start, than a sequin embellished gray denim Classic Flap bag? This embroidered denim bag is complete with silver-tone hardware and matching sequins. You can find this beauty in boutiques for $10,200 – definitely not for the faint of heart . . .  or wallet.
Bottega Veneta 
If you're looking for classic and timeless, you can't go wrong with Bottega Veneta. The beloved Teen Jodie bag is fall-ready in a beautiful shade of gray, known as 'thunder'. There's a twist this time as it's crafted in a soft suede that compliments the iconic intrecciato weave effortlessly. Retailing for $3,500, this bag is sure to be a hit this season.
Loewe
Loewe has jumped on the puffy bag trend with its iteration – the new Mini Goya bag. It is available in a subtle pearl gray hue that is complimented by its gold-tone hardware. Coming in at $3,350 for the mini size, this bag is crafted in pleated soft nappa lambskin, adding to its tactile allure.
Celine
Celine continues to capture our attention with new and exciting color releases. For fall, it is giving us a slightly darker shade of gray. Actually its 'Blue-Gray' includes hints of both hues. Available in the popular Triomphe range, prices start at $1,300 for the mini and reach $4,150 for the Classique Triomphe. Could this perhaps be the gray for every day?
Read: Falling Head Over Heels for 'New' Celine – Buying a Celine Triomphe in Paris
Hermès
Once again, Hermès has created yet another beautiful gray shade. And it has quite a roster of shades. The latest addition released in the spring/summer 2023 collection is Gris Neve. This cool-tone icy gray is the ultimate match when paired with gold hardware on this Picotin. Prices start at $3,025 for the size 18.
Classic Chocolate Brown
A more subdued option than jet black, the timeless chocolate brown is always a fall favorite. Rich brown shades are both versatile and classic – making them a quintessential choice. Take a look at our top picks.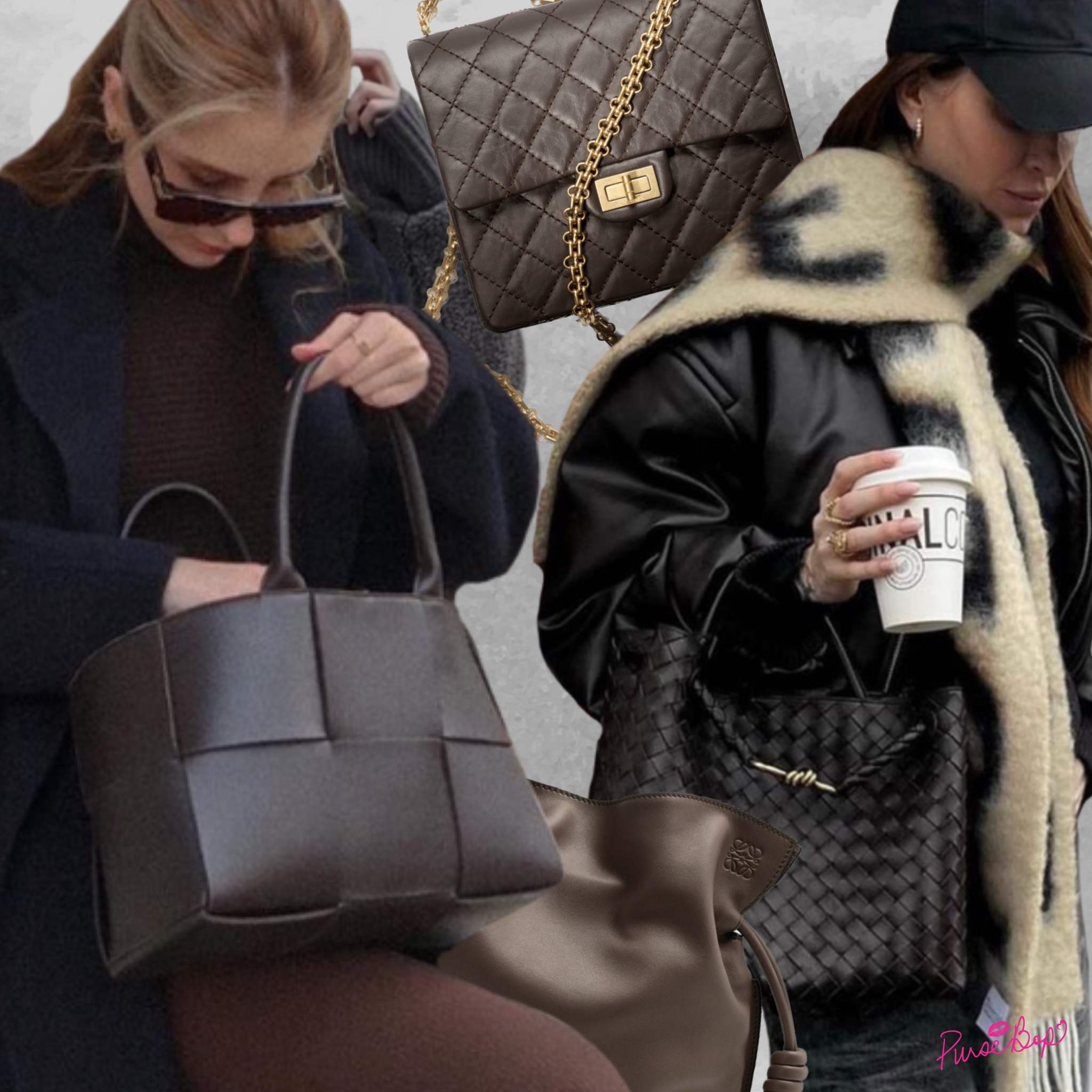 Chanel
Known for its classic black bags, Chanel is offering a dark alternative this season. Deep rich chocolate brown re-emerges, a color that shows up from time to time. In a Mini Reissue, the bag is practically good enough to eat! Well, not really, but it certainly is the epitome of chic, particularly with the gold hardware and chain. Coming in at $4,900, you can turn your back on black, just for a moment anyway.
Bottega Veneta
Bottega's most recent releases are certainly autumn-ready. If you're looking for an everyday companion, how about the Andiamo bag in the iconic 'Fondant' shade? Available in three sizes, prices start at $4,500.
Loewe
Loewe continues to tempt us with so many great colorways. However, the deep dark chocolate brown Puffer Goya bag in shiny nappa lambskin is one to watch. Retailing for $3,750 the simplicity and tactile design are everything quiet luxury demands.
Bubblegum Pink
Although the hype surrounding the Barbie movie may have subsided a bit, the enthusiasm for bubblegum pink and Barbiecore endures (Read: All the Chanel Bags from the Barbie Movie). There's a bit of a shade shift though. Today, pastel pinks and soft hues take a backseat to bold and vibrant iterations of pink. Indeed, the brighter, the better. This eye-catching color choice adds a playful edge to fall outfits, proving that pink isn't just for the warmer months.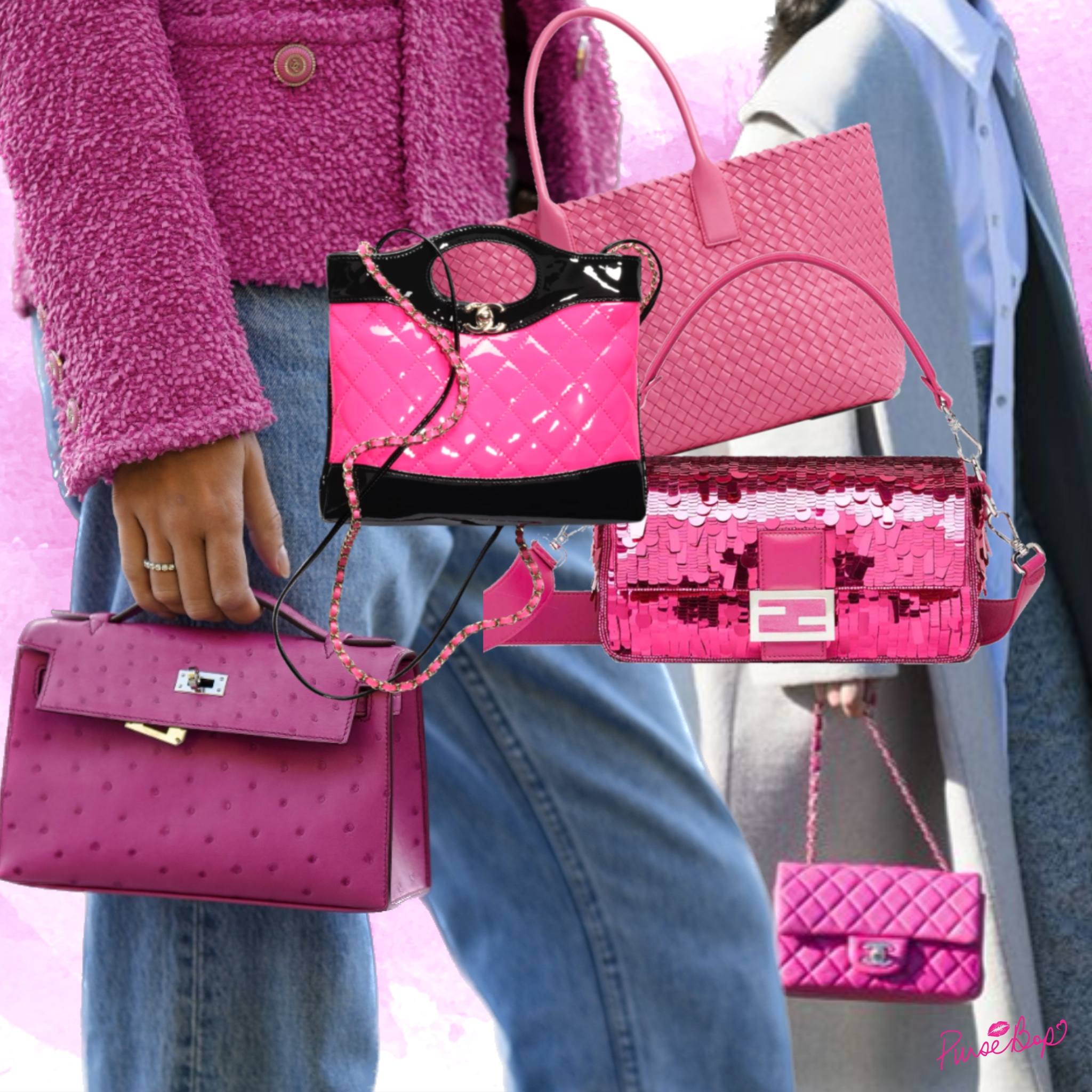 Hermès 
Hermès never lets us down when it comes to color and unsurprisingly has a plethora of pink options. However, right now we've got our eyes firmly set on Rose Pop. In a Mini Kelly, this shade is simply irresistible. Currently, prices for the Mini Kelly start at $8,700 for Epsom and $9,450 for Chèvre.
Chanel
Chanel brings the pink color pop with its Chanel 31 Mini Shopping bag in bright pink and black patent. The mini shopping tote is sealed with a CC clasp and is a practical and functional design that can be worn hand-held or crossbody. Retailing for $4,900, this bag wouldn't look amiss in Barbie's closet.
Bottega Veneta 
There's no reason to avoid rosy shades in your timeless tote. Take a look at Bottega Veneta's medium Cabat bag. It's been given a full Barbiecore makeover. Meticulously made from supple intrecciato lambskin, this classic tote is now available in this pink (strawberry perhaps) 'Milkshake' colorway and retails for $9,100.
Fendi
Pink and sequins, what's not to love? Channel your inner Carrie Bradshaw with the new Fendi Baguette in Fuschia sequins. Priced at $4,900 this all-over sequin Baguette is currently available to pre-order. You'll be sure to turn heads.
Glacial Blues
Sophisticated and understated, glacial blue has been seen all over the runways. Icy and cold, with hints of the coming winter, it works surprisingly well in most seasons. No doubt, this serene shade effortlessly bridges the gap between the end of summer and the start of fall.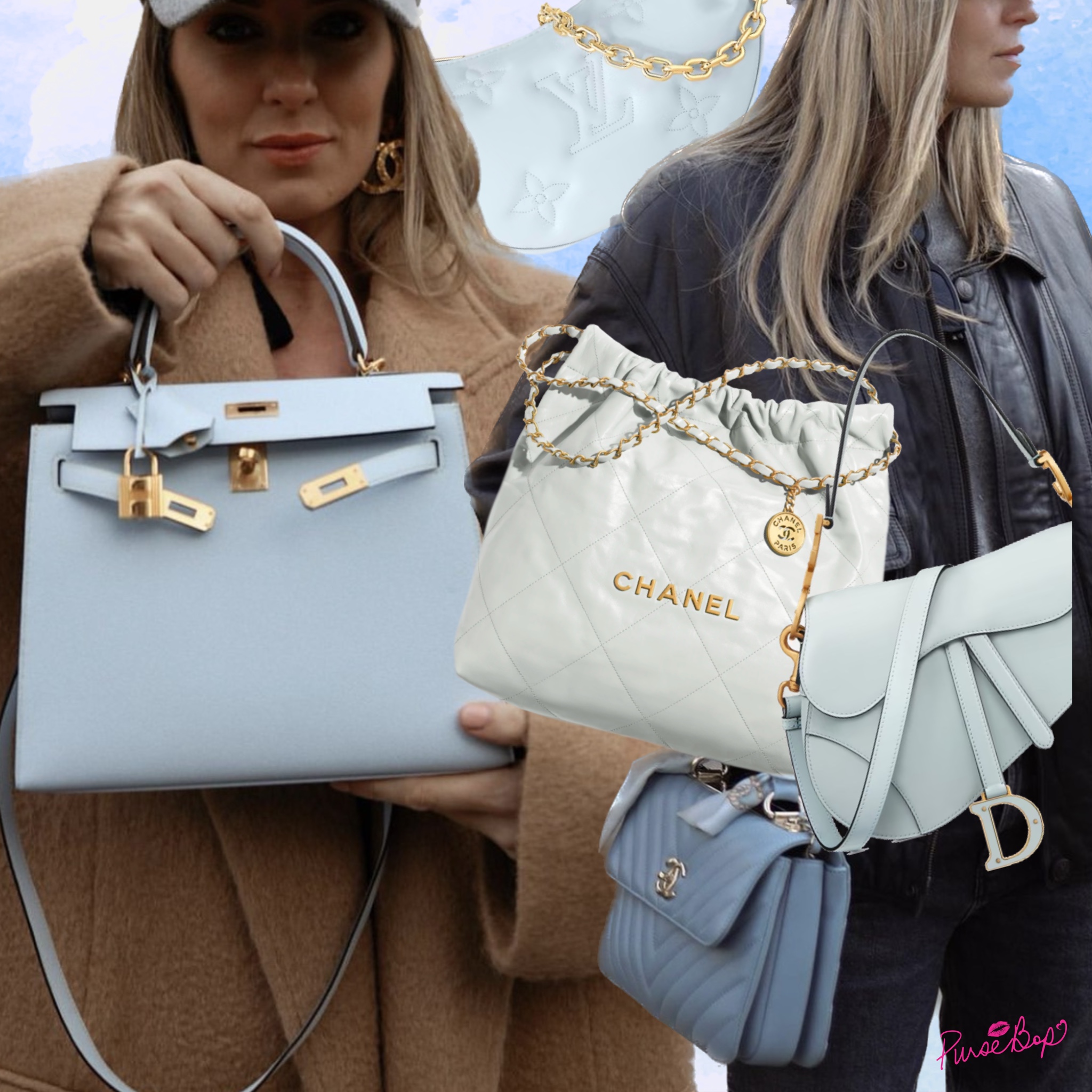 Chanel  
If you're seeking a practical bag for daily use, consider the Chanel 22 in light blue. Coming in at $5,800, the shiny calfskin 22 is not only luxurious but functional.
Dior
Talk about cool. Dior ups the chic factor with its new-in 'Placid Blue' shade for this fall. Seen on the updated Saddle bag in ultra-smooth calfskin, it ices the competition. Retailing for $4,400, this Saddle Bag is fit for fall.
Louis Vuitton 
The Louis Vuitton Over the Moon bag also received a glacial makeover – in Bleu Glacier. Priced at $2,980 this versatile LV bag can easily transition from day to night.
And if Bleu Glacier isn't your vibe, Louis Vuitton offers and alternative. The Louis Vuitton Bella bucket bag in the color Bleu denim give that icy blue feel as well. Complete with Monogram detailing, this petite leather bucket bag is a refreshing change from the classic canvas. It retails for $4,350.
Seasonal Silver
Never really out of style, metallics are returning this season for the cooler months. Sparkle or shine, silver is a neutral. Whether you opt for a sleek evening clutch or tote, silver adds a touch of understated glamour.
Chanel
Get a head start on the festive season this fall and opt for a bag that will see you through the rest of the year. This sequin Mini Flap bag will certainly steal the spotlight. Coming in at $8,700 this super special piece is crafted in embroidered satin, with sequin and glass pearl detailing.
Celine
Go all-out metallic with this medium Croque bag in mirror silver from Celine. Priced at $1,950, this minimal silver shoulder bag can take you from day to night.
Louis Vuitton 
Louis Vuitton's much-loved Coussin has been released in a fabulous metallic silver shade. You'll find the Coussin PM size available for $4,700 in boutiques. 
Updated: September 11th, 2023