Yes, I am that girl, that dreams of having a row of mini Kellys in rainbow colors sleeping softly on the most premium shelf of her closet. For no one but her to admire as they wait their turn in queue for a night out… a girl can dream, right? 
I'm not going to go down the rabbit hole and rediscover my passion for mini Kelly's here because we just did that in Part I. 
Let's dive straight into the reveal because you've all been waiting for this. If I go down my usual path and stray onto another perhaps related topic, I fear you'll all disown me. So let's get to the point and address the unboxing. 
But first, hold on… if you haven't read Part I, please stop. It's really important to me that you read Part I before you delve into the narrative here. In fact, if truth be told, I really enjoyed writing it.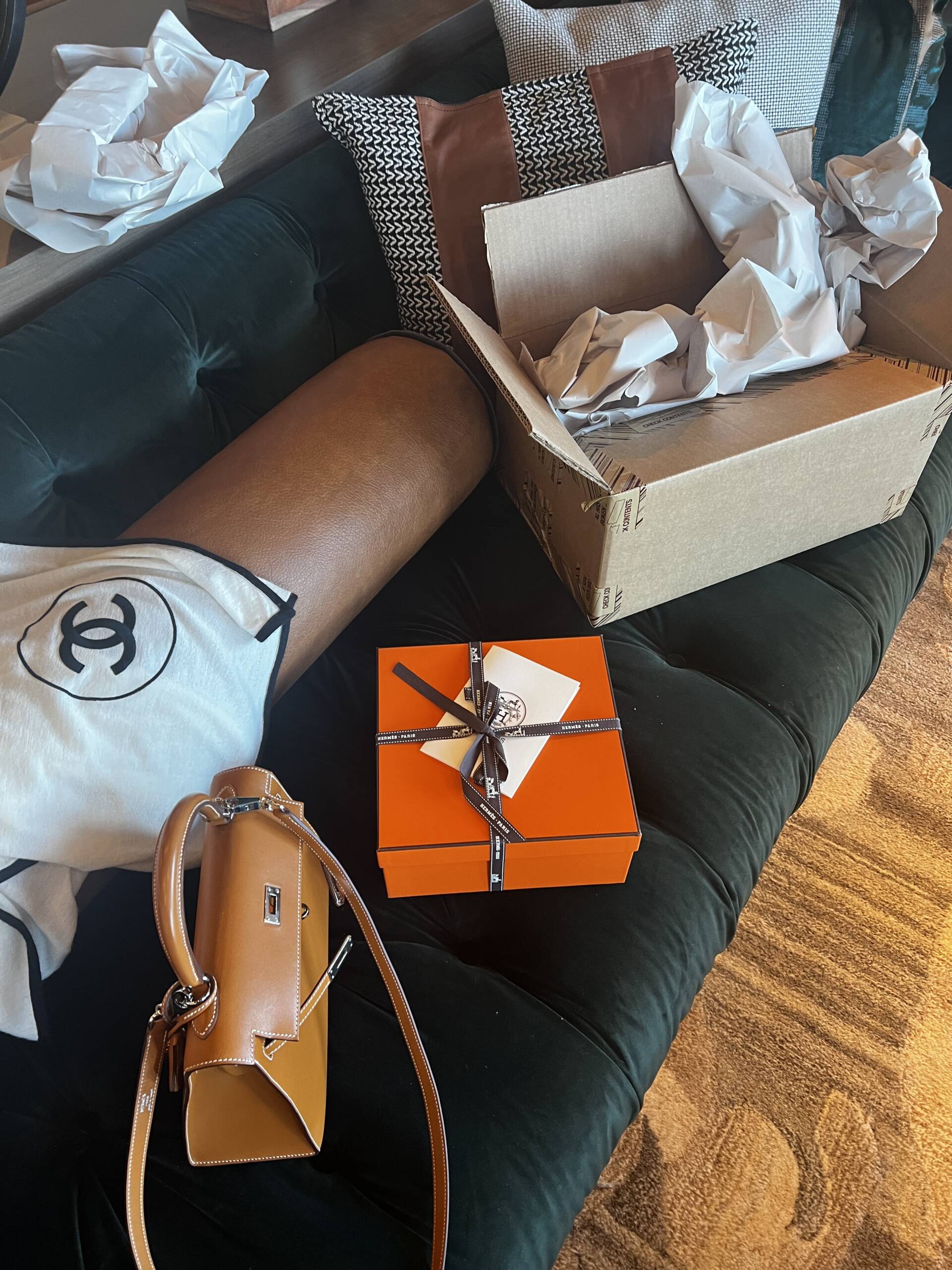 The small orange box was smiling at me. Remember I had just opened a cardboard box that was in another cardboard box. The feelings that were running through me are near impossible to articulate. Of all the reveal stories I have written over the years (and there are many) I don't think I have yet succeeded to truly, accurately, and fully find the words to express my feelings. My favorite reveals are the ones that Mr. PurseBop and I have shared as a couple, usually at the boutique. Clearly, one of my most treasured was during the 706 Madison opening.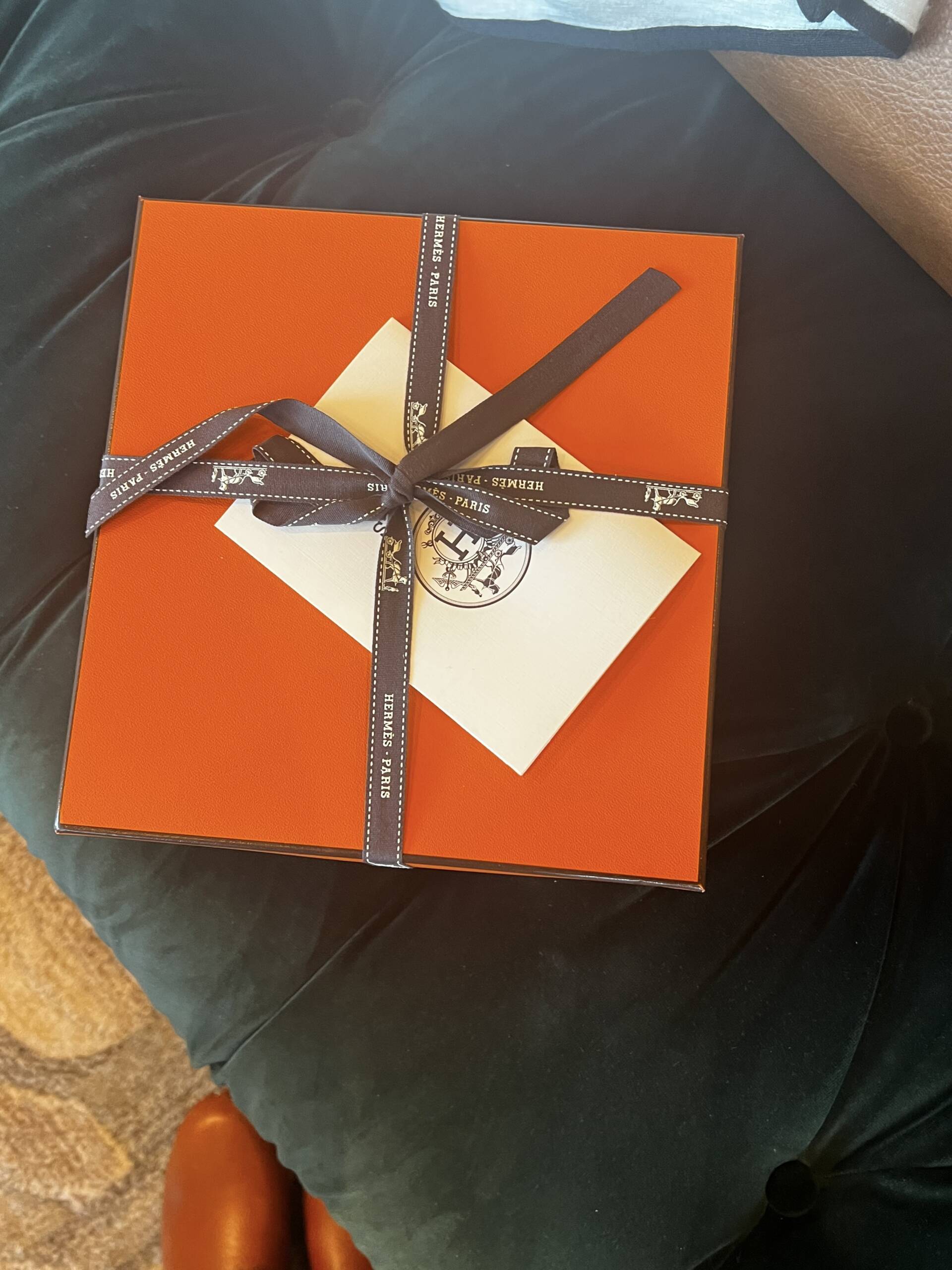 Unlike most of the reveals, this one caught me totally off guard because I had nothing to do with the procurement, selection, or planning. I was just presented with a peculiar package 24 hours prior and "suffered"  an entire day of speculation and imagination. Until now.
Relive this with me…
As I untied the ribbon of the small orange box, I thought ahead to that first peek of the handle that always sparks a skipped  heartbeat. That is the moment that it all unfolds…
I lifted the cover, spying a plastic ziploc baggie with a familiar black and white folded certificate  – a Cities indicating that my latest treasure was an exotic. But I didn't know what kind — lizard, crocodile, or alligator. 
I moved the Cities to the side and gently lifted the first layer of smooth paper to one side, then another to the other side. As the last two flaps of paper were moved, the dust bag centered into full view. I should've paused to take photos, but there was no stopping now. That would all come later; yes, I confess the pics are staged shots, but this moment could handle no interruption.
Gently I lifted the pint size treasure, still cloaked in its dust bag, from its box, as though it were a baby. At last, I pulled the loosely draped drawstring and before I could pull the dust bag away, I caught a glimpse of it……. Enough to see only that it was sunny and yellow. I gasped with excitement, still no words, just heavy and heartfelt breaths.
Was I imagining this beautiful exotic sunny mini Kelly in the palm of my hands? What miracle occurred for Mr. PurseBop to get his hands on this, my very first exotic mini Kelly? I was overcome with emotion, such total excitement and glee.
And the color, OMG. It's the prettiest shade of yellow I have seen. Not too bright, but not pale… Rather, a perfect pop of pleasant color that Hermès calls Mimosa. Come to think of it… I wonder if Hermès was inspired by orange juice and champagne mimosas? Something I'll need to do a little research on.
The scales were perfect. Not that I am an exotic expert but I know enough to assess the scales pattern. Also, having done research for our site I was well versed in the differences between alligator and crocodile and the related Hermès hot stamps.
My new Kelly is a matte gator skin, now preferred and used for smaller sized bags and small leather goods. The typical finish options for both types of skin are shiny or matte. Mimosa is just sublime in the matte finish and bears the square stamp.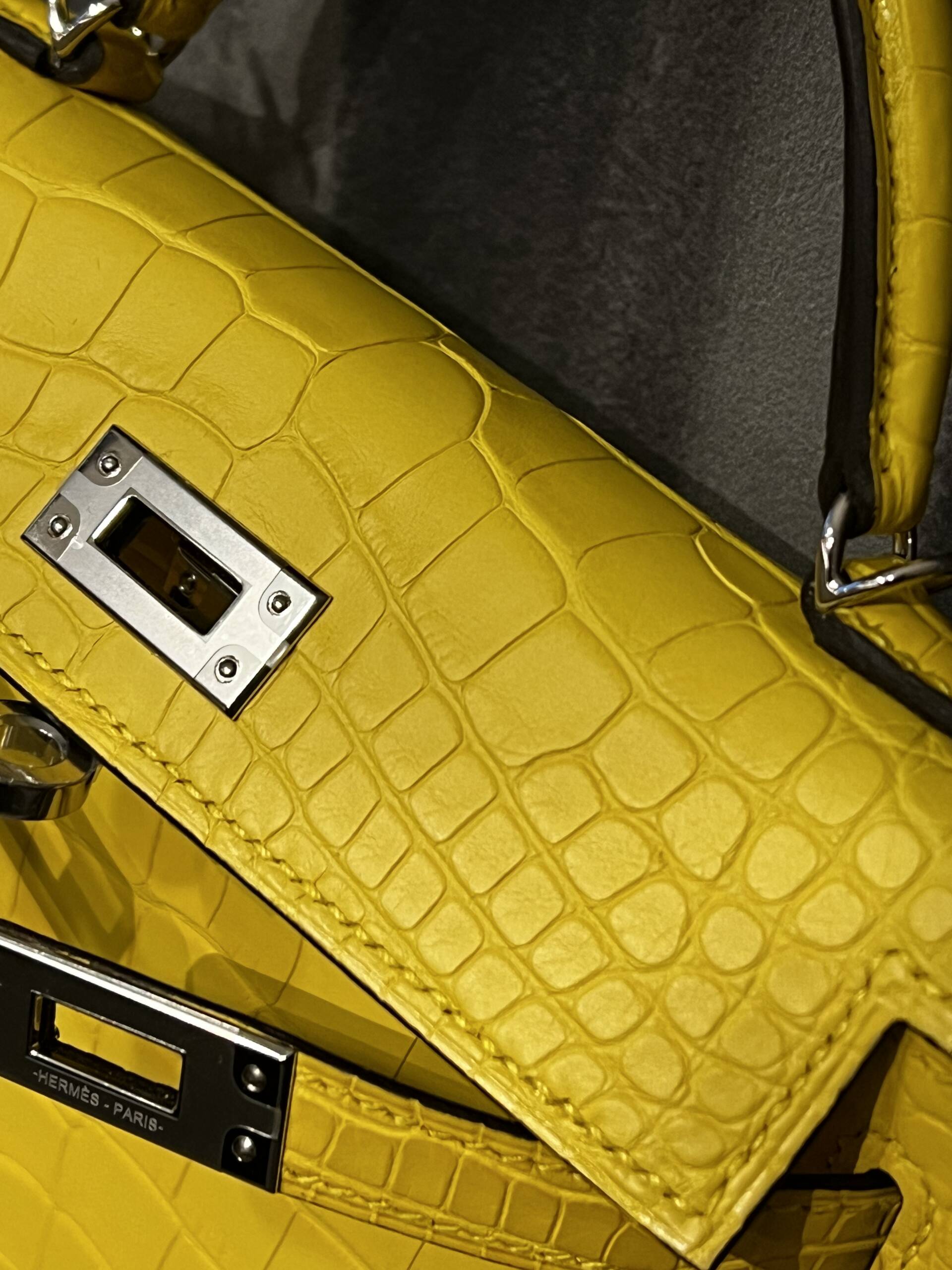 I was also filled with a sentimental appreciation for the huge gesture. Mr. Pursebop has been an incredible supporter of this journey. But for him to go so far above and beyond and collude with my Hermès fairy weeks before Christmas is just another level.
I couldn't stop staring at this beauty. Studying the front and the back, I realized that I had not really said anything yet. I was internalizing all of my emotions, and Mr. Pursebop was standing there, most likely waiting to see, and hear my reaction. There have been times I have yelped for joy, screeched with glee, giggled like a teen, but this time it was different.
My internal level of was indescribable, and perhaps I was a bit more subdued. The color brought back a flood of memories. Yellow has a special significance for us.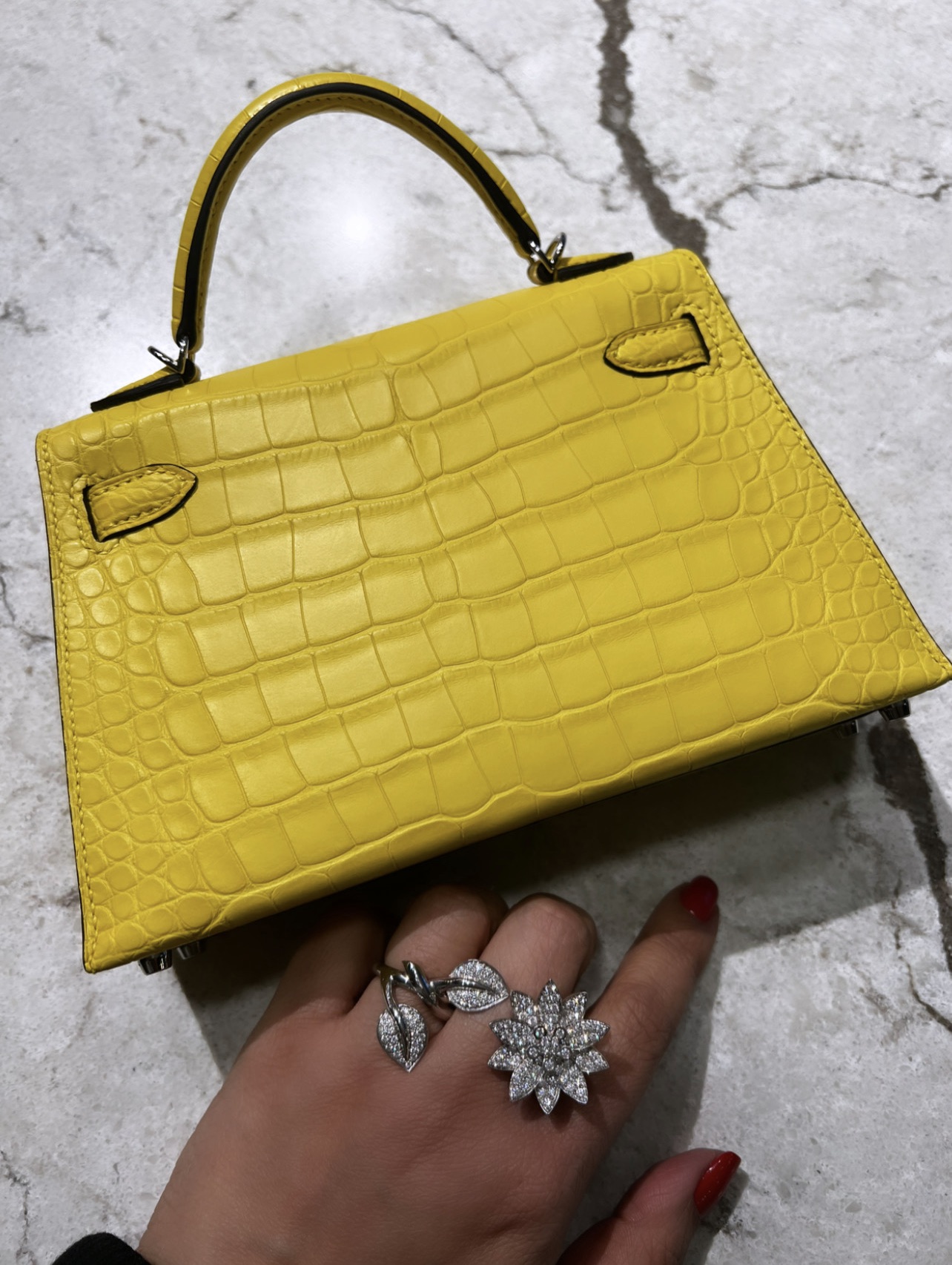 Allow me to digress. Yellow is one of Mr. Pursebop's all-time favorite colors. In fact, when I met him the first time just out of med school he was wearing a yellow argyle cardigan. The shade wasn't a bright canary yellow but more like a soft pastel yellow. The argyle pattern had white and deep blue stitching. Below he sported faded blue jeans. As if that's not enough, the first dress Mr. Pursebop bought me (I'm quite sure his mom had more to do with the selection than him) was a soft yellow and gray colored dress with Missoni-style zig zag weave.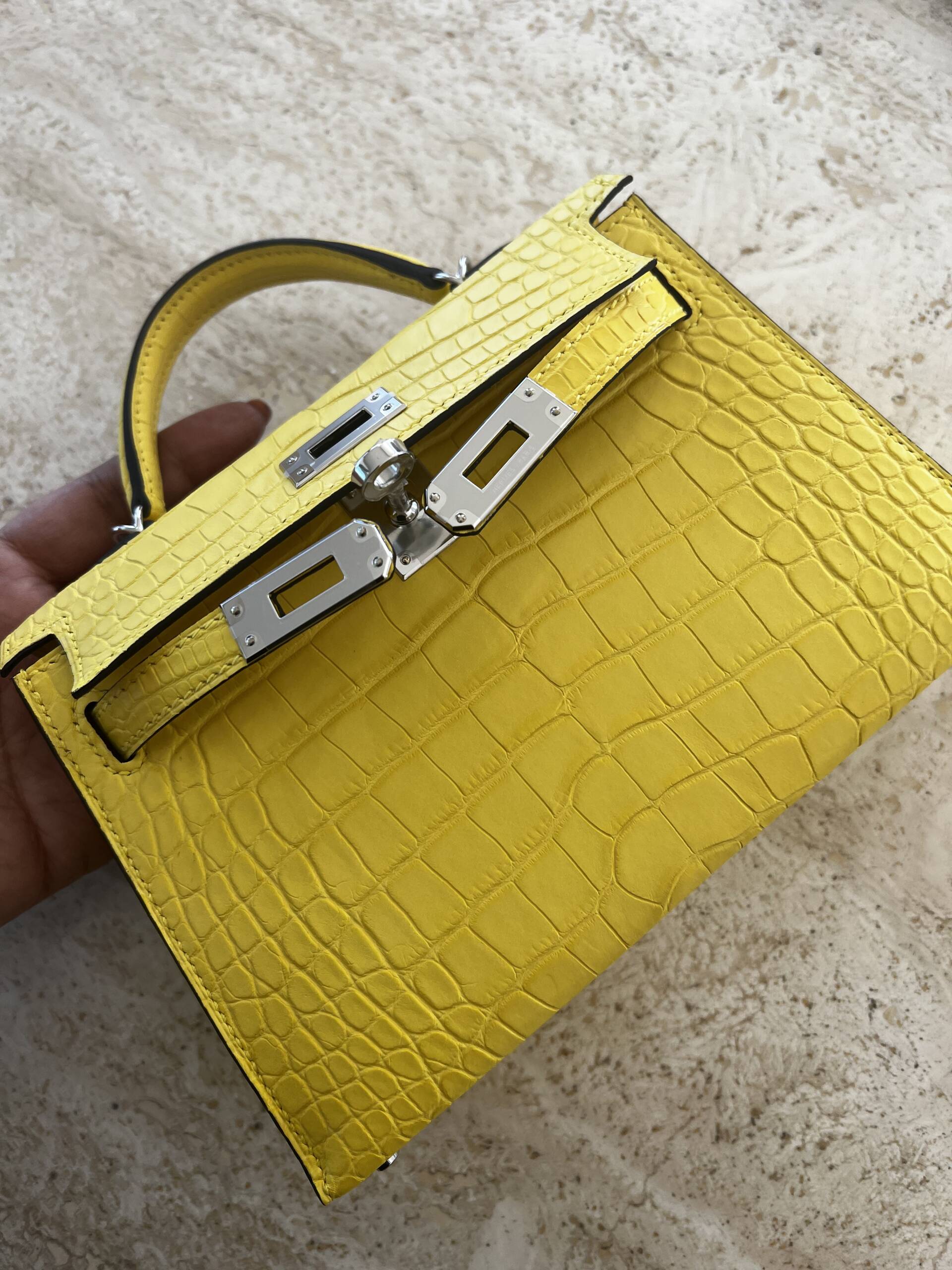 My head pulsed with a flood of questions. I just had to know every detail. When and how did all this even happen? I sat Mr.  PurseBop down in front of me with the Mimosa mini sitting between us like a new child…and then the inquisition began.
As he reached for his phone, he began to narrate the story that originated in the first few days of December. He had reached out to my SA in search of a Christmas gift. The timing of this gift actually meant much more than just a Christmas gift. If truth be told, we have had a very stressful couple of months — all for good and exciting reasons for the future…  but we had to navigate a few complicated ones to get here.
More on this at a later time.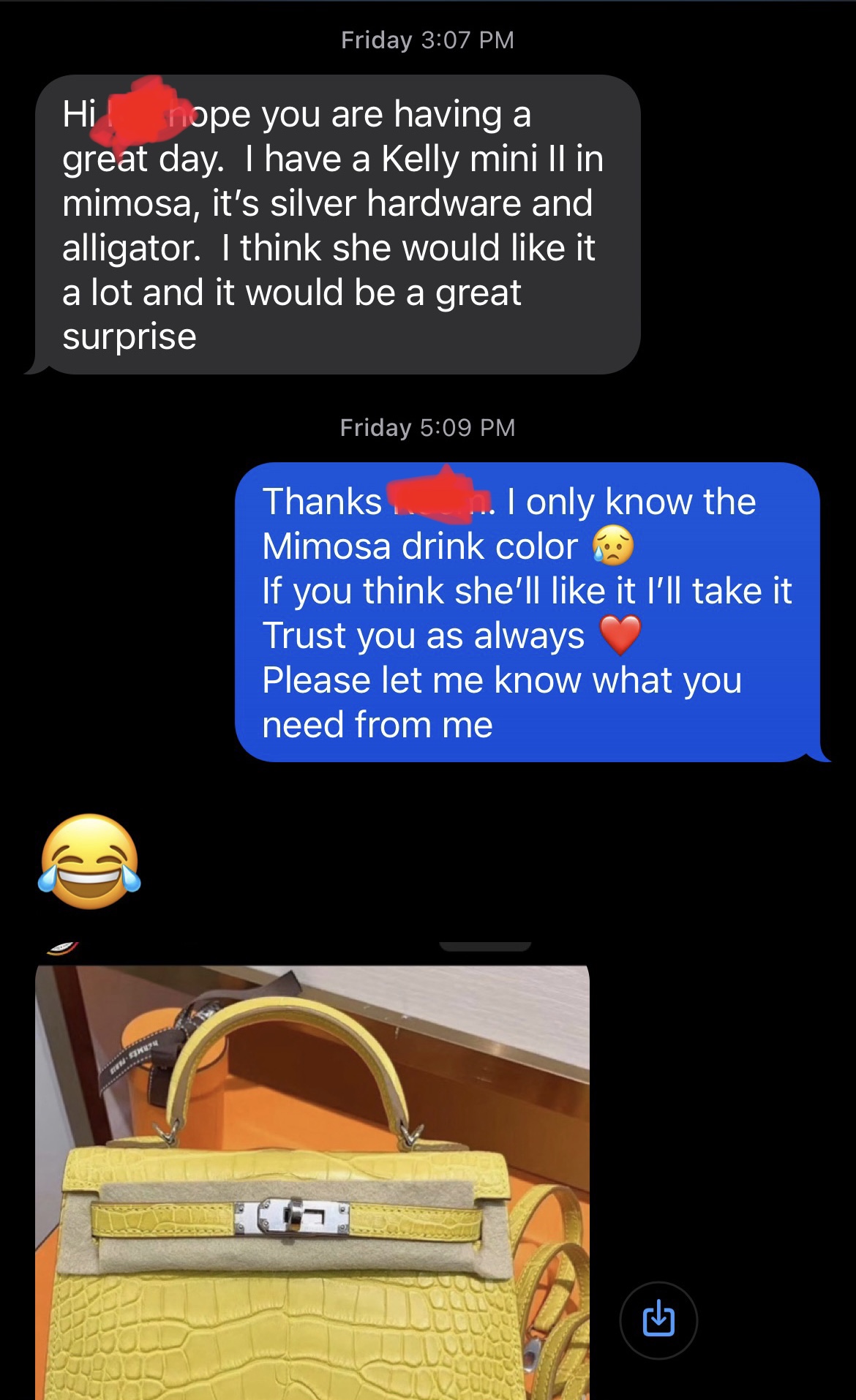 He then handed me his phone to read the texts between the two of them back and forth. In one he said, — "if you don't help me, she's going to take me to Paris again, LOL" 
But my favorite part had to be when my sales associate suggested Mimosa to him — and he replied, "I only know the mimosa to drink, are we talking yellow here???"
Their chats were sweet and even funny. What really surprised me is they were conspiring right up till the 24th. She had sent him a screenshot of my rants with her the previous day. Mr PB's response "ignore her" 😳
Just imagine, my messages to her on the 24th had already been relayed to him. I loved it. My heart was full and warm. How lucky can a girl get? I was truly touched.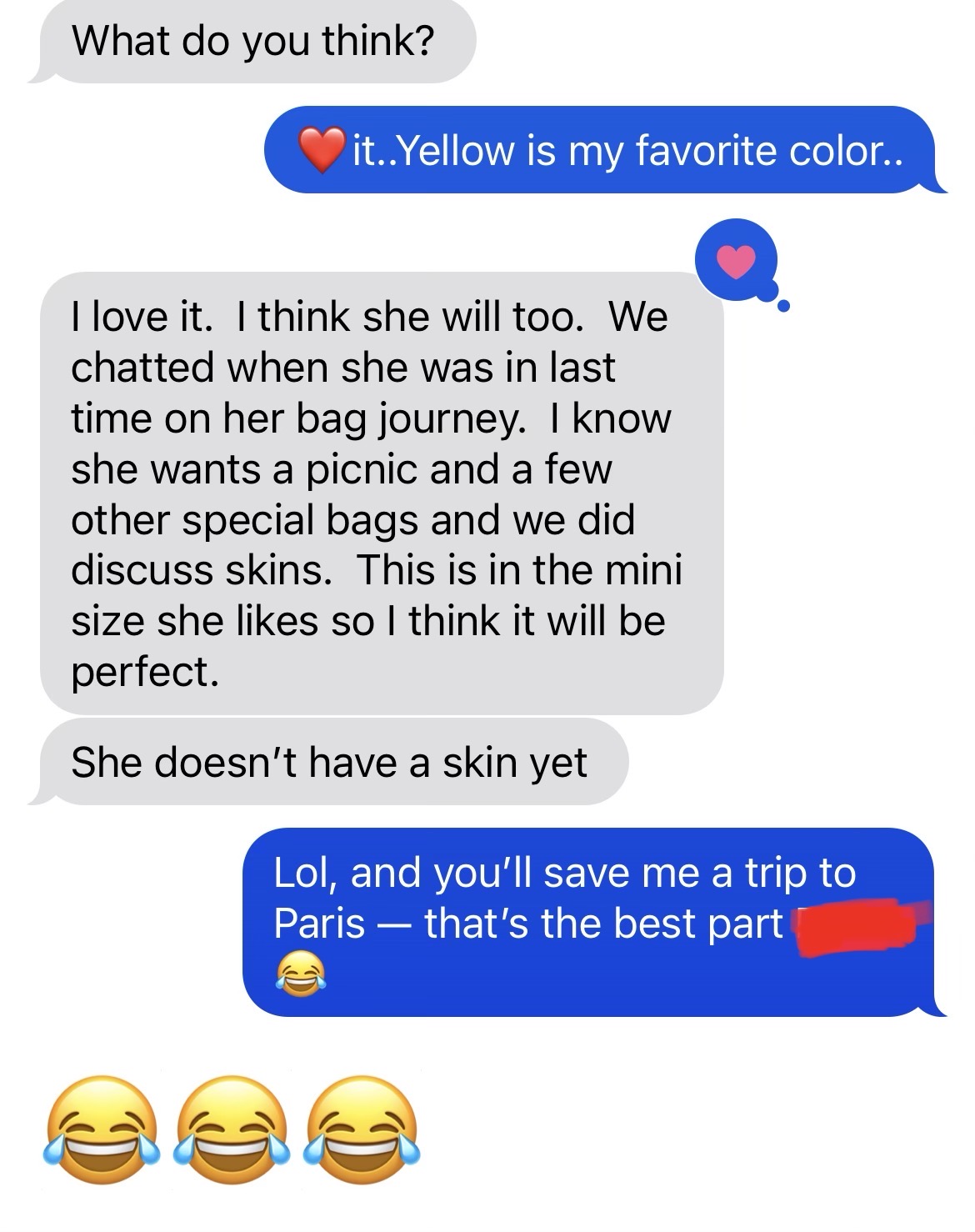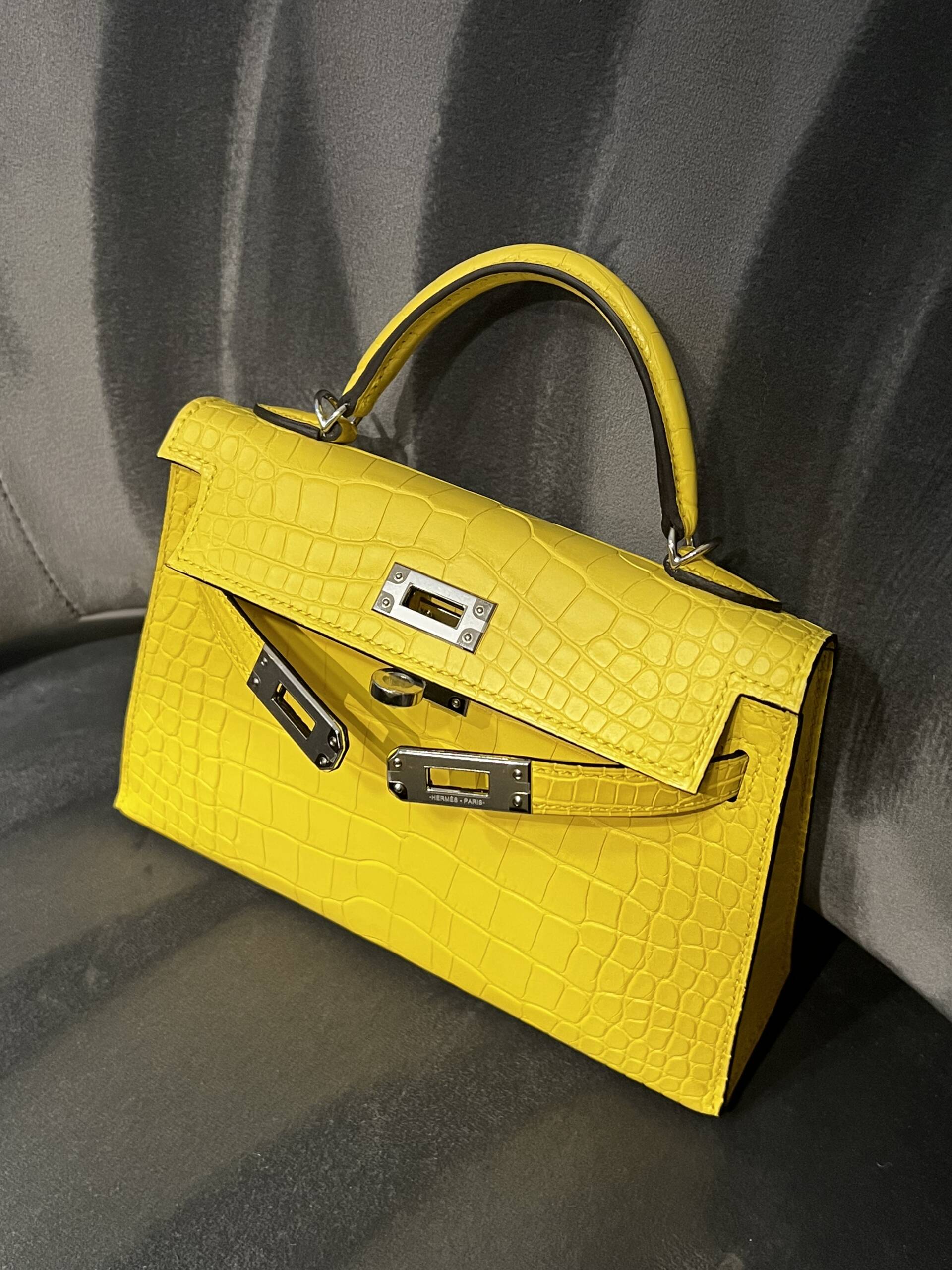 When I reached out to my SA Christmas morning after opening the box she shared many more details. According to her, it was all my hubby. Of course, that is very gracious of her but she also took it to heart to make this one very special.
She provided me with screenshots of their text conversation and told me he even reminded her to take photos of the orange box and the Kelly in the store, as I would likely need and want those later. I mean how adorable that he would think of that! I am sure my SA would have regardless, but the thought of him thinking through details that much meant the world to me. 
I guess it's time for Mr PurseBop to give the masterclass Hermès 101 for Hubbies.
Registration is now open 🤣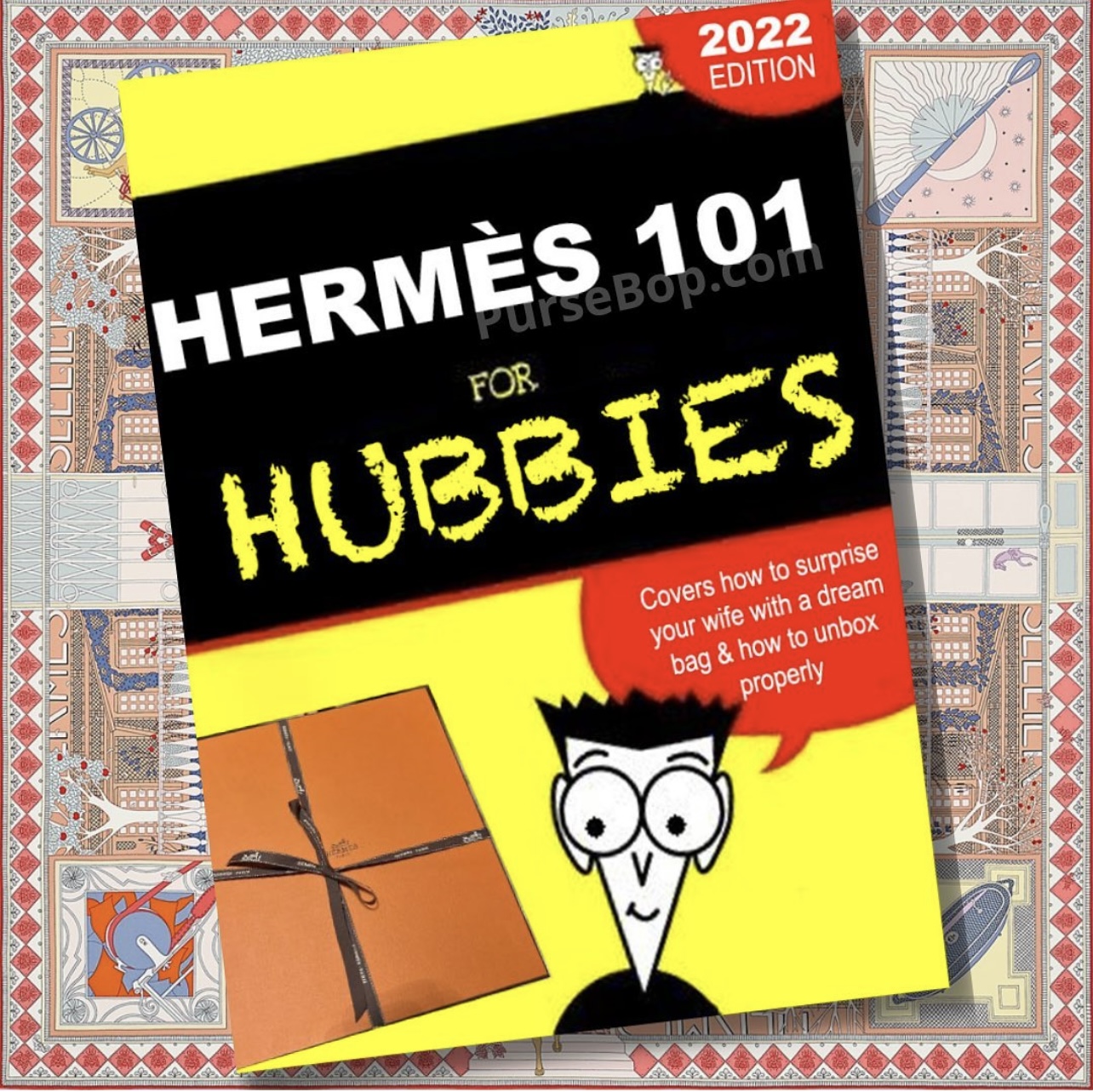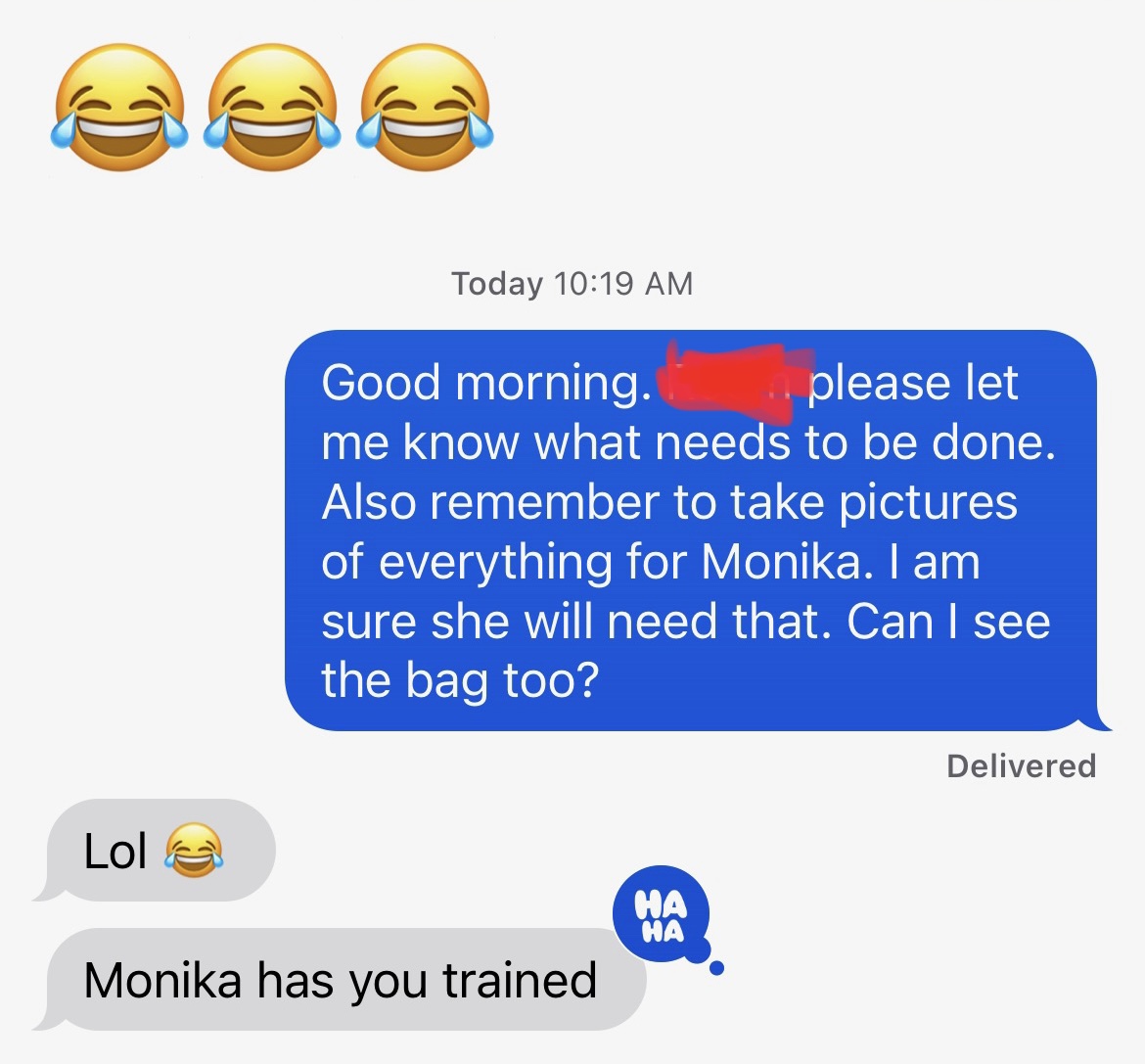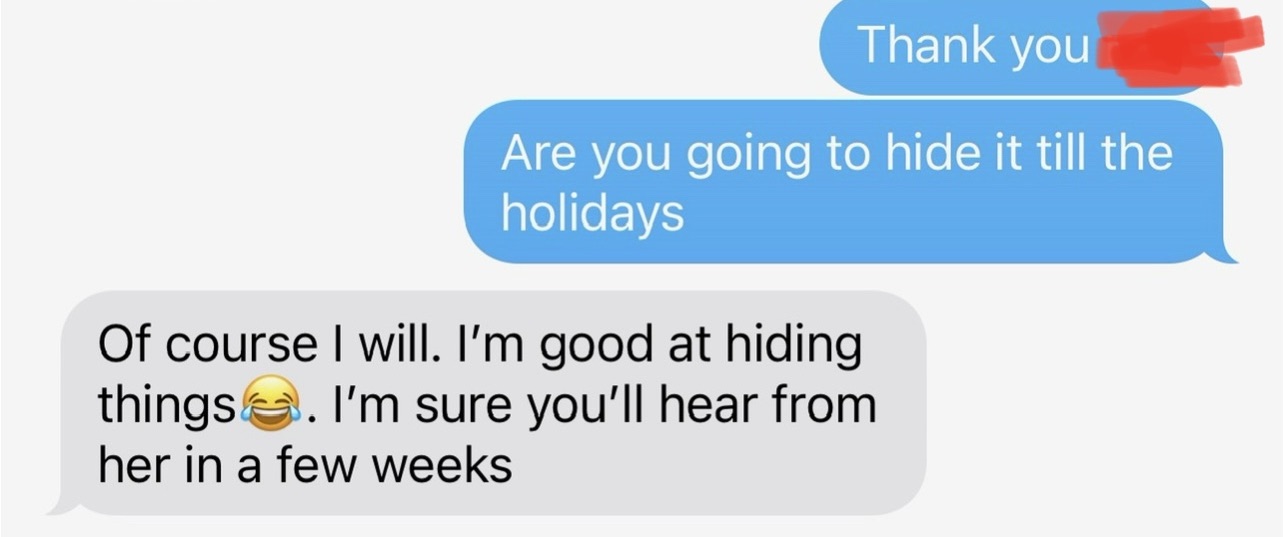 Despite the sentiment behind yellow, Mr. PurseBop and my SA actually took somewhat of a risk on the color. We had not really discussed or planned for a bag in a shade of yellow. In fact, until relatively recently, yellow was not represented at all in the PurseBop collection or wardrobe. I totally missed the Lime boat from a couple of years ago. Come to think of it, I don't think I ever wore the yellow dress he gave me, lol. 
Instead, I was typically drawn to vibrant and saturated, non-pastel colors like fuchsia, red, cobalt blue, and black. For those of you who followed my handbag journey through the heavy Chanel years, you will remember caviar red jumbos and patent bright pinks and lambskin maxi-sized flaps in tangerine orange and highlighter pink. Timid colors were never my thing. 
It's only now, 15 years later, that I turn to the softer shades of these hues: Rose Sakura, Bleu Brume, Mauve Sylvester, Nata. Such a far cry from my early days. Along the way, I also fell in love with certain neutrals. I love my Barenia and Butler Hermès bags and crave Beton and Vert d'eau. Who am I?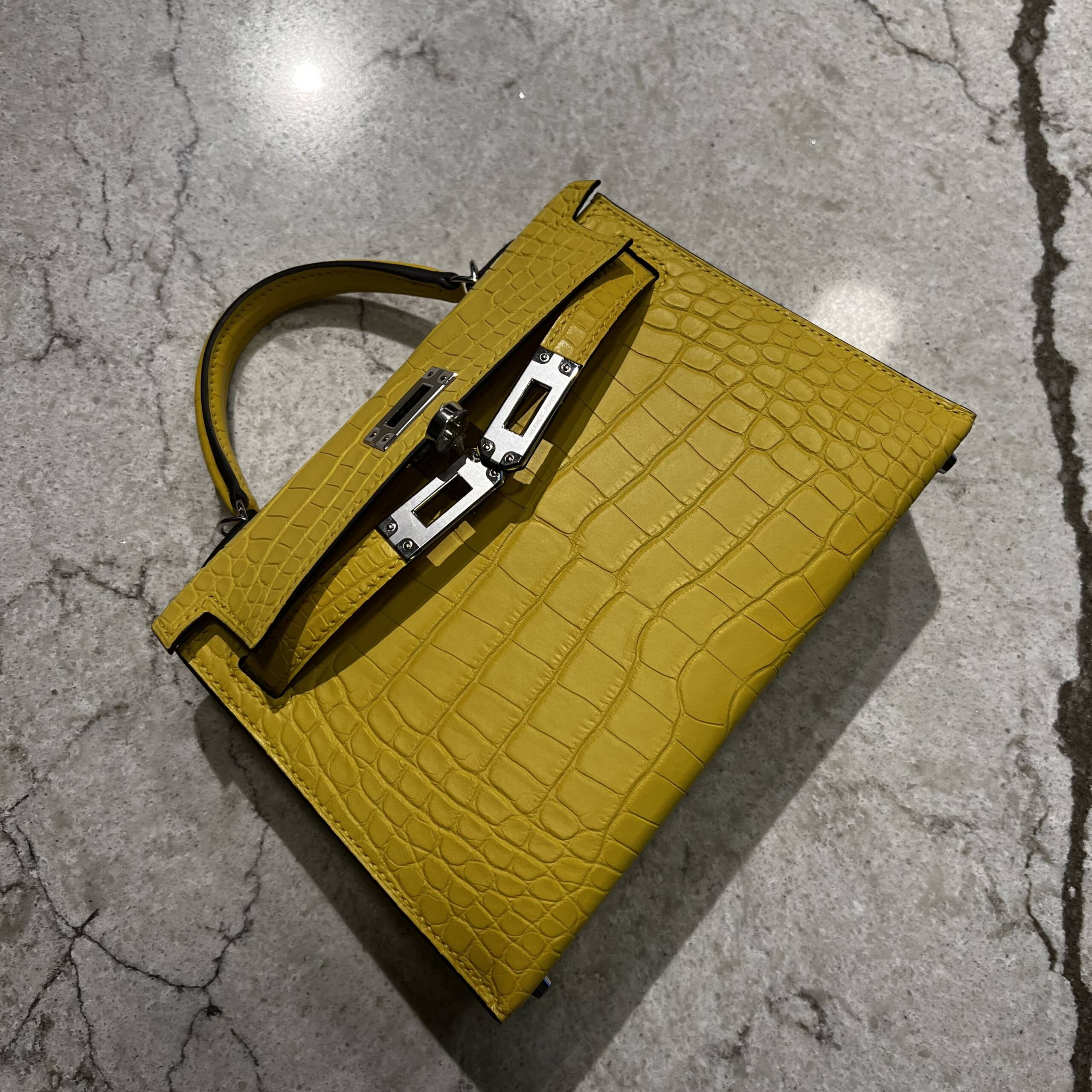 As for my relatively new love for yellow — nearly everyday since Dec 2021, I wear a yellow faced Rolex. And to think when offered I had two choices… a vibrant red or sunny yellow dial. I think that says it all. I don't know when the flip happened but it did.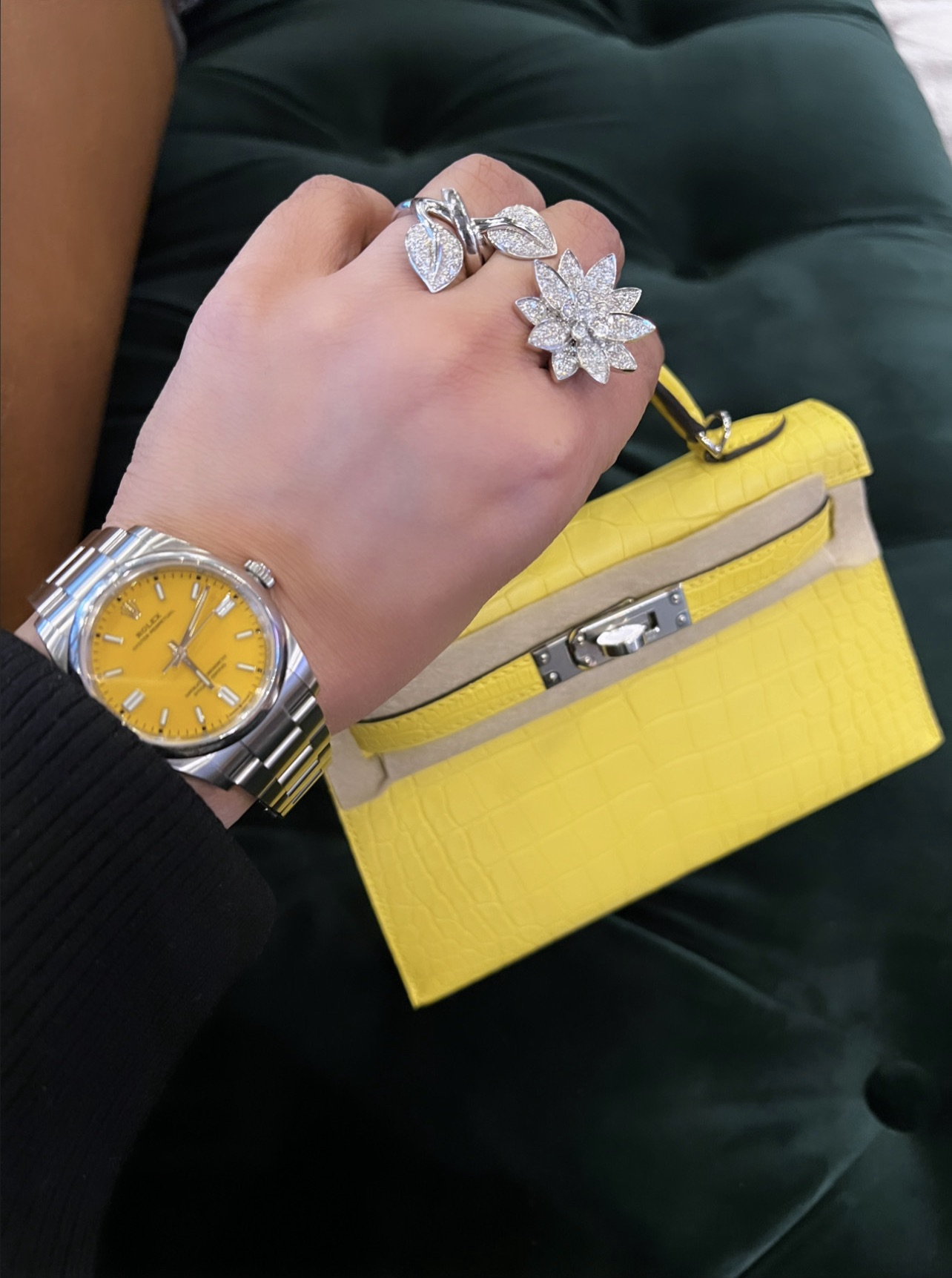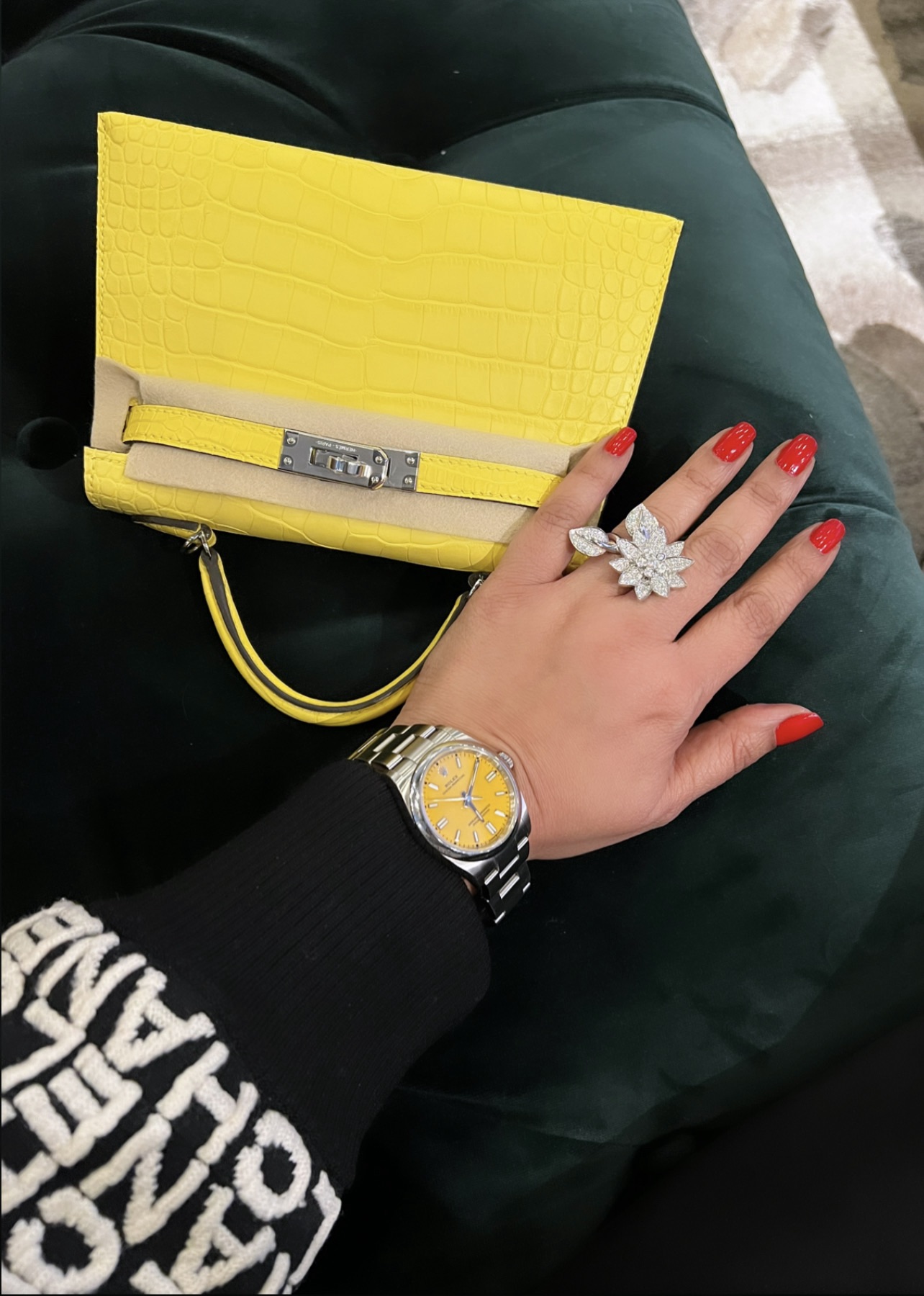 Of all the colors in my Hermès collection there was just one shade missing and that was yellow, till now. 
Welcome home Miss Mimosa. 
You will stand tall next to your mini siblings for me to admire and wait your turn in queue for a night out. 
Updated: January 10th, 2023