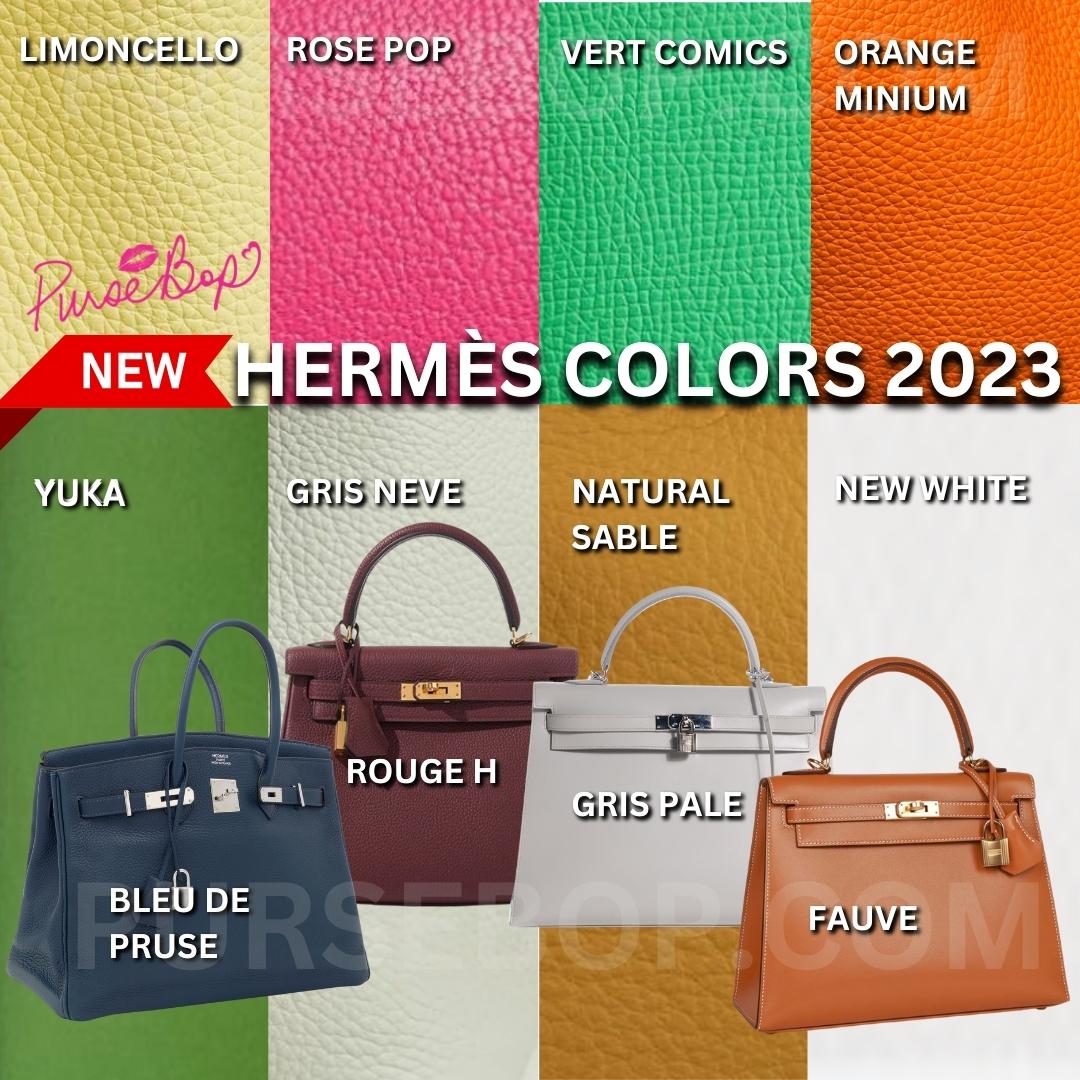 It's time to spin the Hermès color wheel and check out the colors for 2023, at least what we know so far. As you'll see, Hermès is restocking some of its hallmark colors in the more neutral category – like Bleu de Prusse and Rouge H, to name just two. But there also are some new ones – vivid and bright – like Rose Pop (perhaps a variation on Pantone's Color of the Year Viva Magenta) and green, yellow, and orange.
Let's begin with the oldies but goodies. It's a very neutral and classic grouping.
Bleu de Prusse
Otherwise known as Prussian Blue, Bleu de Prusse has been in the Hermès stable (pun intended) for quite a long time. The color's name comes from the blue dye from the 18th century used in making coats for the Prussian army. Some say it's a deep blue, darker than a cobalt, more somber than indigo, and lighter than Hermès' Bleu Nuit, with a touch of green.
Rouge H
For those who don't think of red shades as neutral, reconsider, especially when it comes to Rouge H. For starters, it's not really red; it's more of a dark clay or oriental red, leaning to brown. Of course, like most Hermès hues, the shade looks different depending upon the leather (and the lighting).
Reportedly created in the 1920s, Rouge H is actually a signature archive color. In other words, it never goes out of style. And it's in production for 2023.
Fauve
Fauve Barenia, anyone? Between the heritage leather and the classic tone, this neutral speaks volumes about Hermès. Fauve is best described as a tan, or brownish tan natural color. When fabricated in Barenia leather, its patina changes over time and use, deepening the color.
Hermès' other classic tan, Gold, sometimes is confused with Fauve, though Gold is a lighter and brighter shade. Put another way, Fauve is warmer or deeper than Gold. One similarity, however, is that both colors typically (depending on leather) use white contrast stitching.
Natural – Sable
Bet you didn't realize there are so many Hermès tans – and frankly, there are many more not on the workshop table at the moment. Natural Sable also can be confused with Gold but it's a bit lighter and brighter and darker than Natural. Maybe a better description is a lighter Caramel, also a Hermès tan. If you find a bag in this color, it's likely to be made in Butler, another Hermès heritage leather.
Turning now to the truly new colors, that's where we get the pops of color, as well as some more somber shades. 
Rose Pop
It's as if Pantone consulted Hermès when selecting the 2023 Color of the Year – Viva Magenta. We put Rose Pop in the same family as Rose Shocking and possibly Rose Tyrien. Unlike Frambroise, Rose Mexico or Rose Extreme which have red undertones, Rose Pop is a true pink with more of a fuschia or neon color. Deeply saturated and bright, the ultimate pop for pink lovers.
Read: The Color Match Up: Pantone's Take on Hermès Hues 2023
Yuka
Combine Yuka with Rose Pop and you can go full Lily Pulitzer with this pink and green combo. It appears to be a grassy green, from the early days of spring. While providing a pop of color, it can also be neutral and, like most green shades, will work with most other greens in your wardrobe. We'll update with a photo just as soon as we have one. This is a mock up to give you an idea.
Vert Comics
If Yuka isn't to your taste, there's another green option – Vert Comics. As the name suggests, it's comic green. It's bright and cheerful. And also coordinates with Rose Pop. To be fair, it was here in 2022, but there's more to come in 2023.
Orange Minium
Leaving the greens, we head back to the orange label with… an orange. Orange Minium is not the Hermès Classic Orange. Rather it is a lesser orange. Minium means less in French (at least according to our translation sources). It appears to pop, a bright clean orange, leaning more to neon. In person, it reminds us of the juicy mandarin fruit. Consider it cheerful and happy, like the way you feel getting a new Hermès bag.
Limoncello
Ah, who wouldn't want a frosty glass of limoncello on the Amalfi Coast. As a color rather than a liquor, it's subdued with a hint of green. Not as bright as Lime or Jaune de Naples but more so than Jaune Poussin. It's soft, fresh, and evokes early spring vibes.
Gris Neve
This season brings two gray shades – one dark, one light. Gris Neve is the darker one, with a moniker reflecting the compacted snow of a glacier. Icy and yet clear, it could be a true gray, depending upon the leather. We can't wait to see a comparison photo of it next to Gris Mouette.
Gris Pale
Light gray it is, so pale it borders on white. Flatter than Gris Perle, another light gray, it's almost a whisper of color.
New White
To anyone who has ever needed to pick paint colors, you know that there's not just one white. Take a look at a Benjamin Moore white chart. It's overwhelming: white with a hint of beige, or yellow, or gray, or pink, green or blue, etc. We'll share a photo just as soon as we have a good one.
With these glimpses of the shades to come, tell us what's hitting your wishlist. Are you favoring Classic Hermès neutrals? Or perhaps some of the newer ones.