Being abroad in London this Fall, I have gotten to enjoy the best parts of the city including museums, restaurants, theatre, and of course, shopping! Over the past couple of months, I have learned to navigate the city pretty well, but I am still constantly finding things that surprise me. London is a very diverse city, and you can notice this from just looking at the people walking around or touring through the various neighborhoods. Each little area of London has its own distinct character and flavor, and all them are connected by the extensive underground train system. When you read travel guides, you may see lists that recommend the same, touristy things over and over again like the Buckingham Palace, the London Eye, and Big Ben. However, there is so much more to London, it is hard to define a single experience of the city. I have had the opportunity to embark on so many different adventures while I've been here.
When I was initially planning to come to London, I was already expecting to be thrown into a bustling environment since London is such a big, crowded, and lively city. However, the big announcement of the Brexit vote in June has really allowed me to see the city from another interesting perspective. I have gotten the chance to talk to many locals about their opinion on Brexit, and it is quite a controversial, divisive topic of conversation. Even though the formal procedure for exiting the EU has not take place yet, Brexit has had wide reaching effects culturally and economically. As we've reported here on PurseBop, the Brexit vote has already weakened the pound, and the UK is now one of the cheapest places to buy luxury goods at the moment.
Tourists taking a holiday in London will benefit from lower prices and the VAT refund depending on the strength of their currency. However, it is still important to take into consideration that London is one of the most expensive cities in the world and has higher prices for everyday expenditures, so the money you save might be marginal. Also, if you are coming to enjoy London for either the attractions or shopping, it is a good idea to consider the political implications of Brexit even as a visitor to have a deeper understanding of the state of things around you.
I've gotten to experience some of the pricing aftermath of Brexit first-hand as a visitor. I thought I would share my observations of prices with luxury goods in a shopping trip through one of London's most iconic department stores called Harrods.
Let me first start of by giving you a sense of how massive and spectacular the store is….
The Store
Harrods is a truly a maze of temptations of everything you want to indulge in, and you could easily get trapped in Harrods for hours on end. In terms of size, Harrods is 7 floors high and over a million square feet. The store consists of the 330 departments with products including women and men's clothing, luxury accessories, home goods, books, electronics, and much more. According to an article from the BBC, the store's motto is" Omnia Omnibus Ubique", which means "All Things for All People, Everywhere." This statement still holds true as the store attracts over 15 million shoppers each year.
Harrods is walking distance from the Knightsbridge Piccadilly line Underground stop. As soon as you emerge from the underground station, you see the emblematic, green awnings and gold script of "Harrods". For the holidays, the display windows were filled with snow and gift boxes. There was an exclusive, Burberry Christmas tree right outside the main entrance.
Even if you are not a big shopper, you have to visit Harrods to experience the magnitude of the store. The store was first established in 1849 by Charles Henry Harrod, and originally sold tea and groceries. Since then, Harrods has greatly expanded, and you can see the efforts made to craft Harrods as the ultimate shopping experience. The Egyptian Elevator in the center of the store takes you to every department you could ever imagine. In fact, Harrods is home to one of the first escalators in the world, which was installed in 1898.
You can take any approach to exploring Harrods either by climbing up to every floor, staying in one department, or just enjoying a leisurely meal in the Food Hall. It is easy to see why Harrods is one of the London's most beloved treasures.
Take a look at a few of the different sections in the store…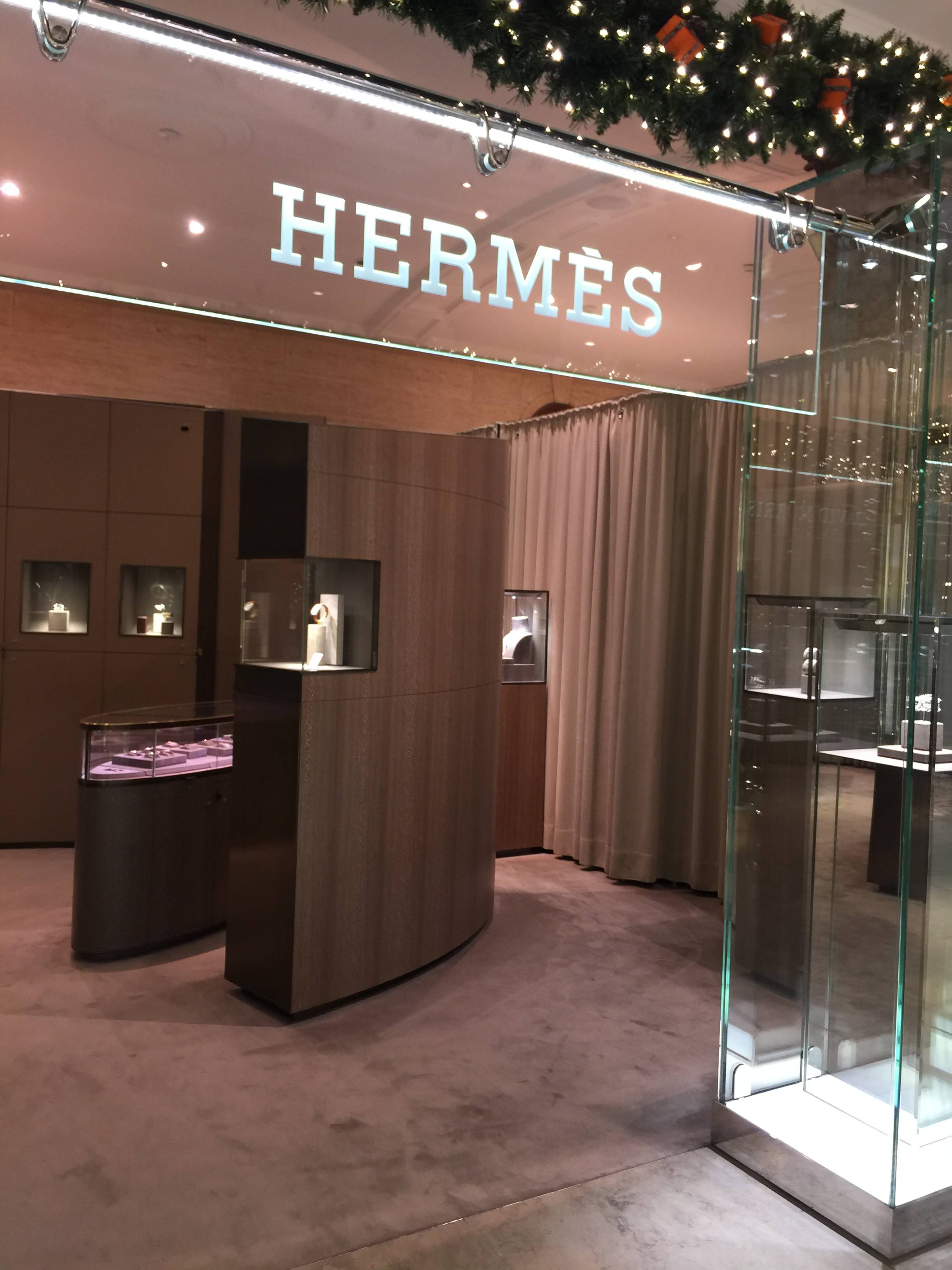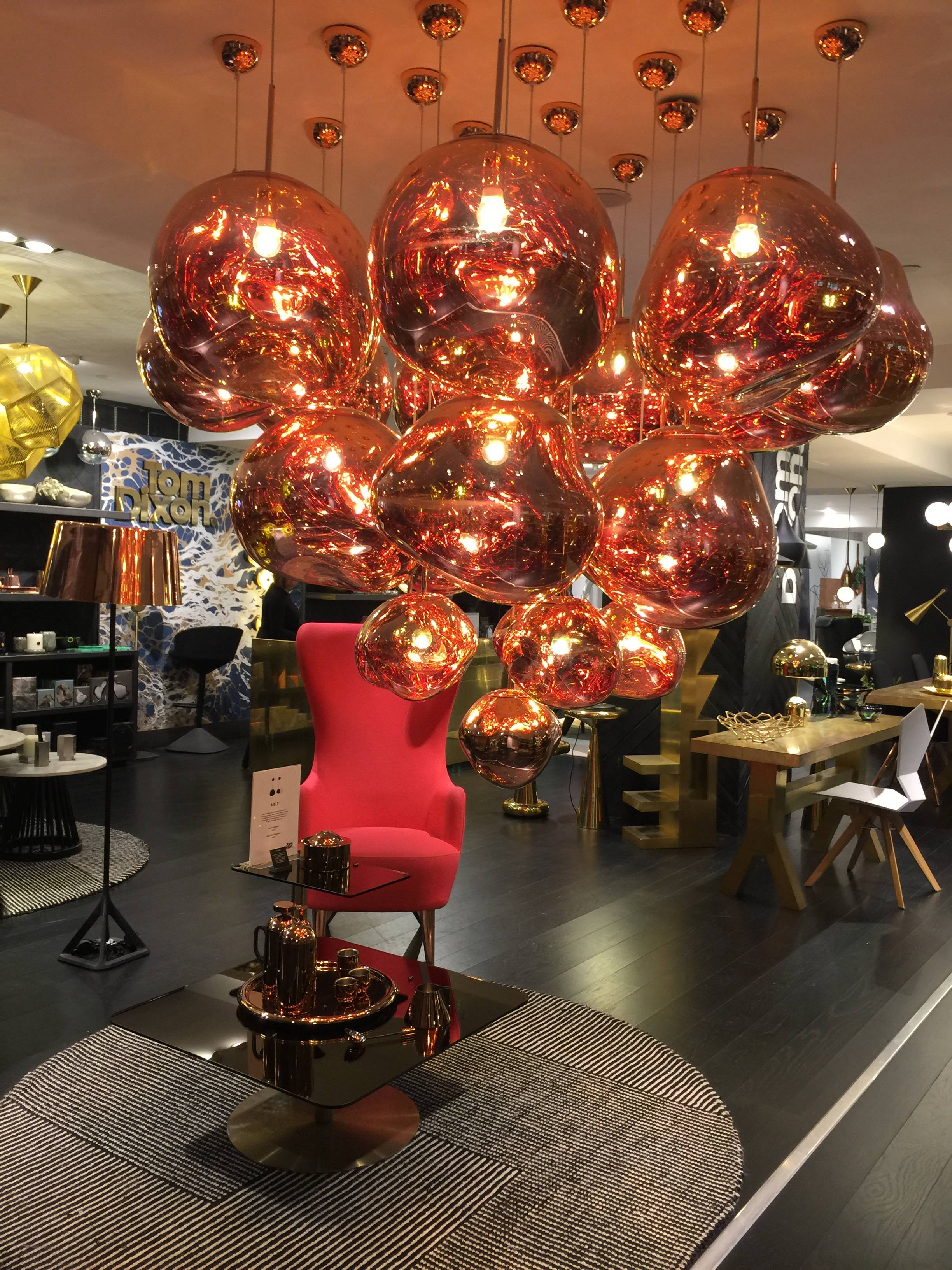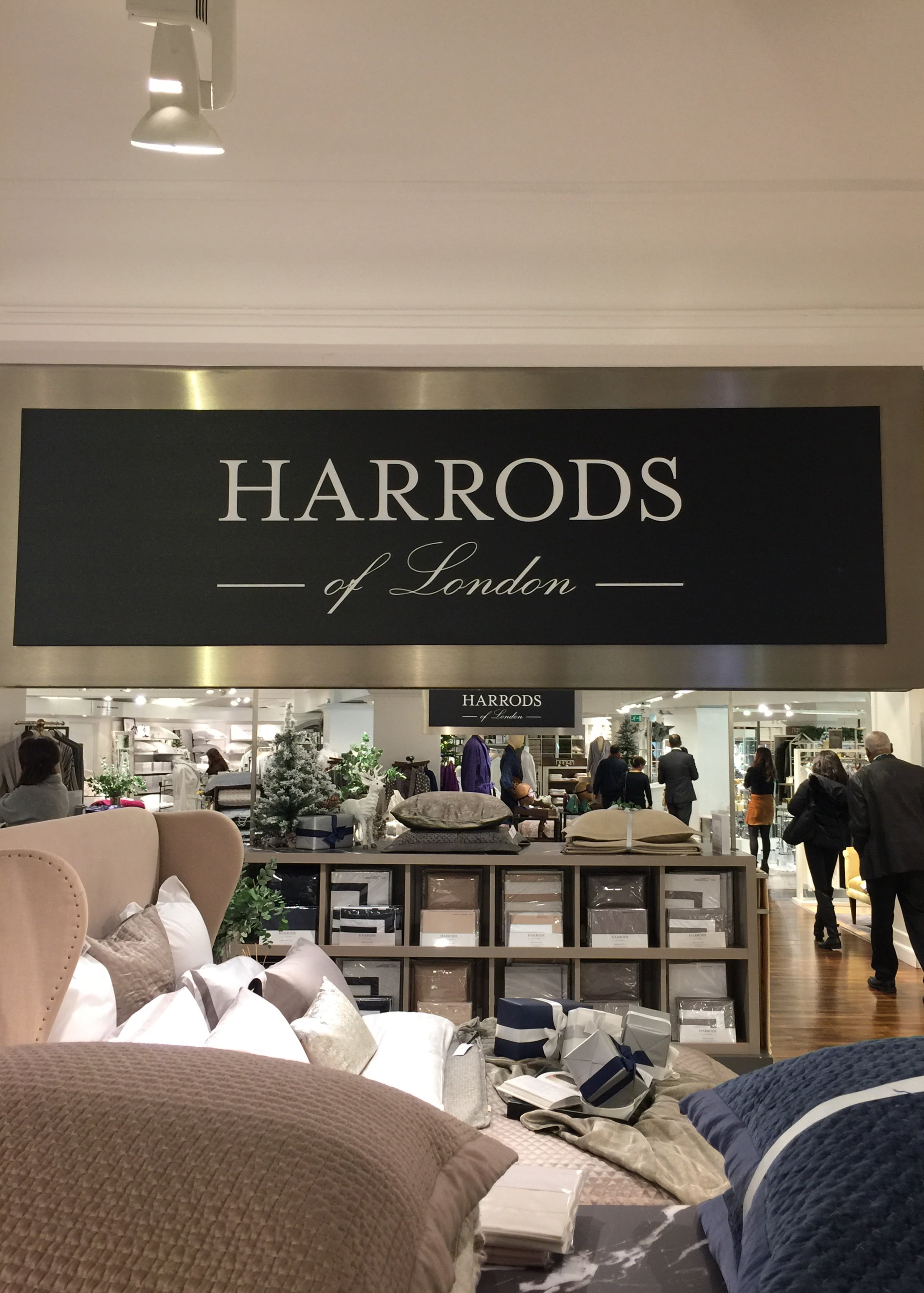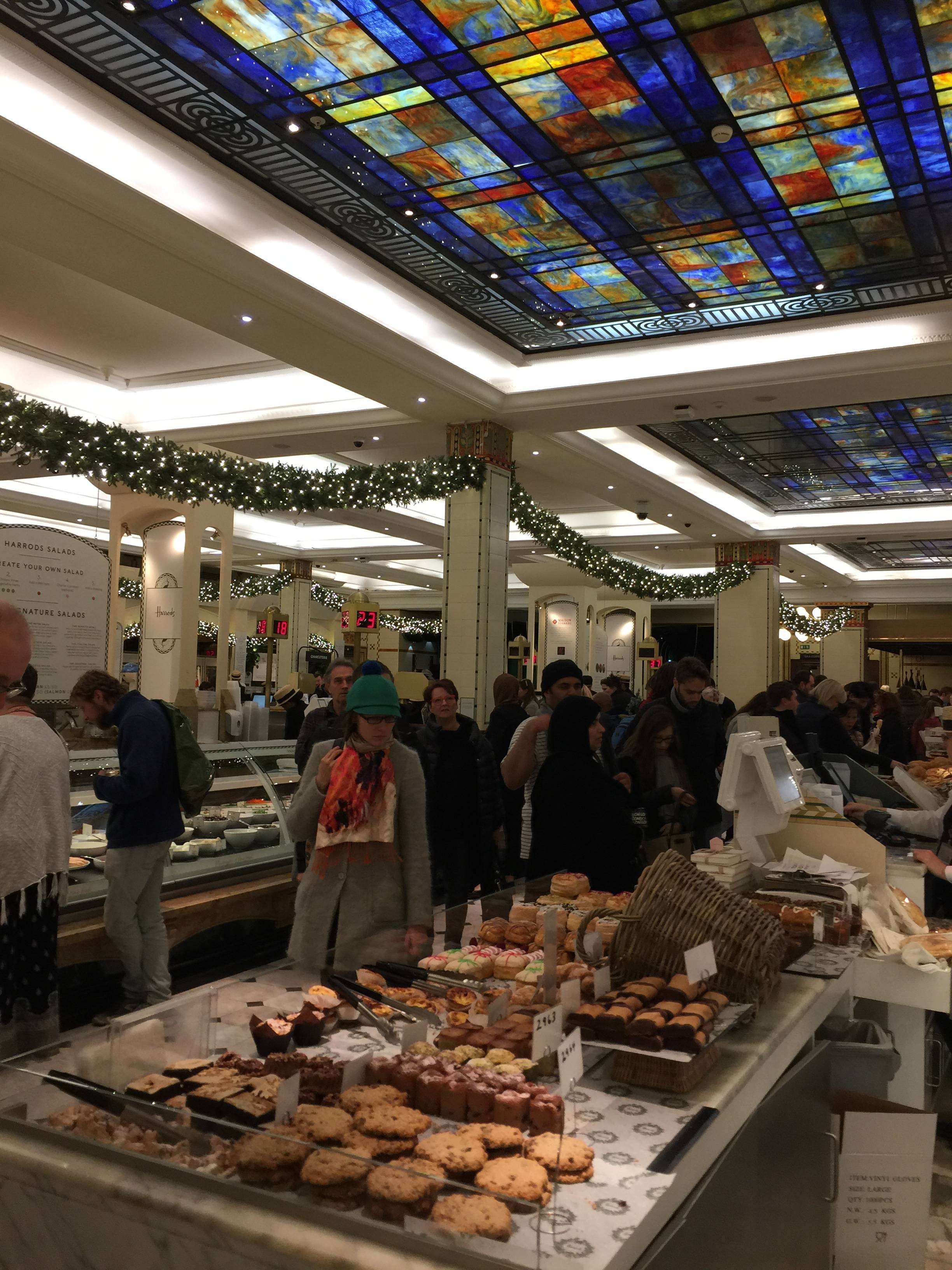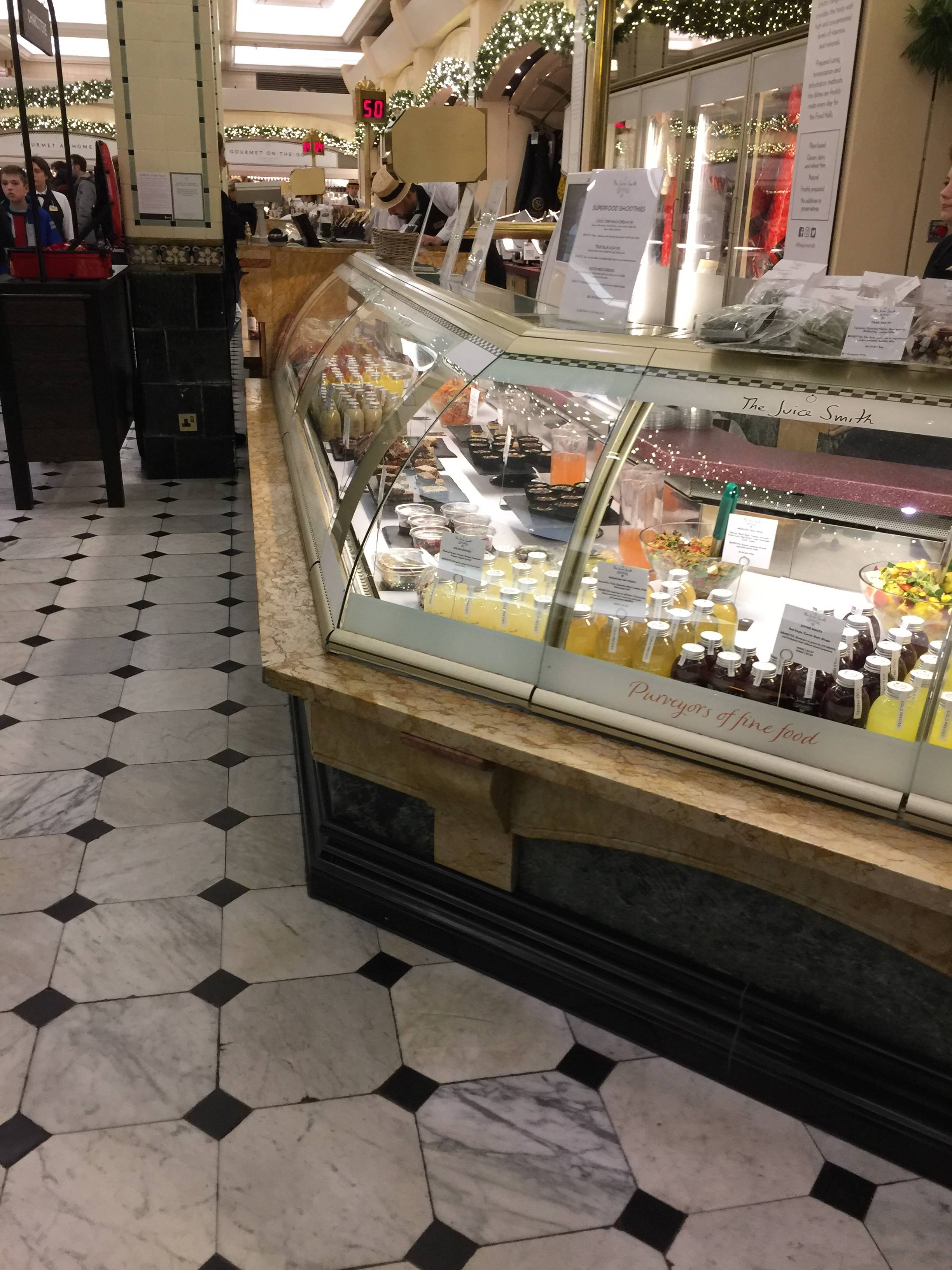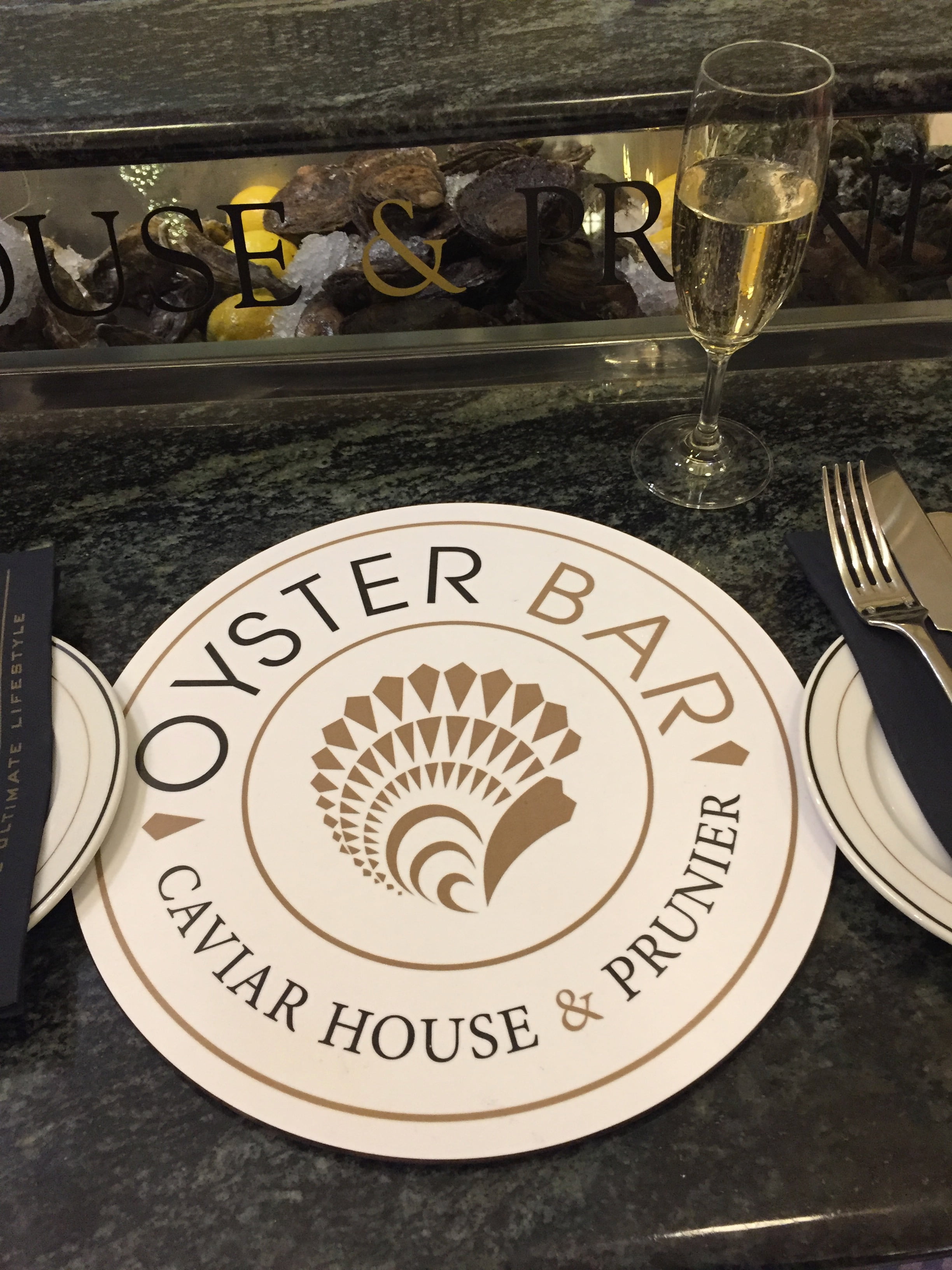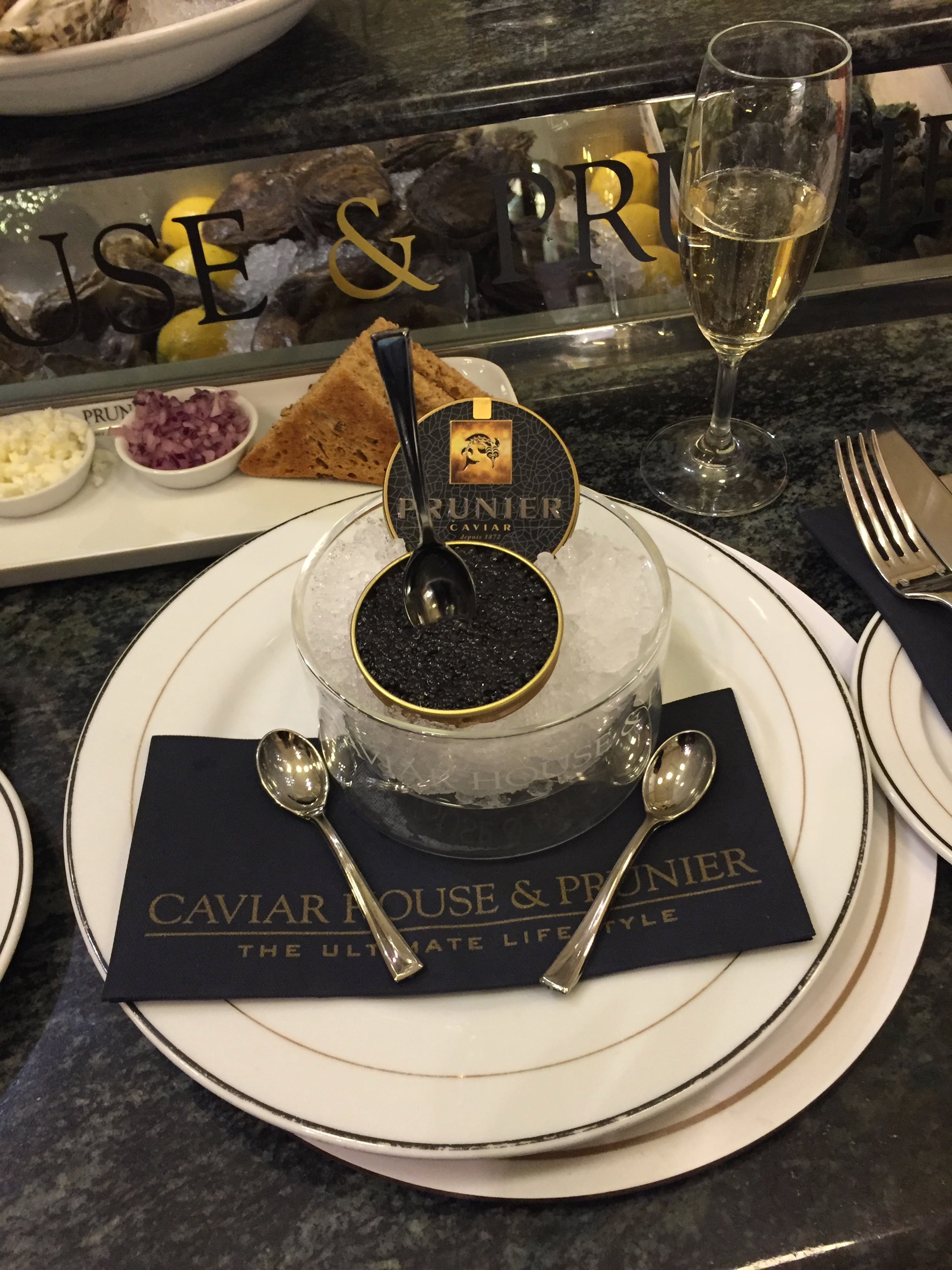 The Children's Department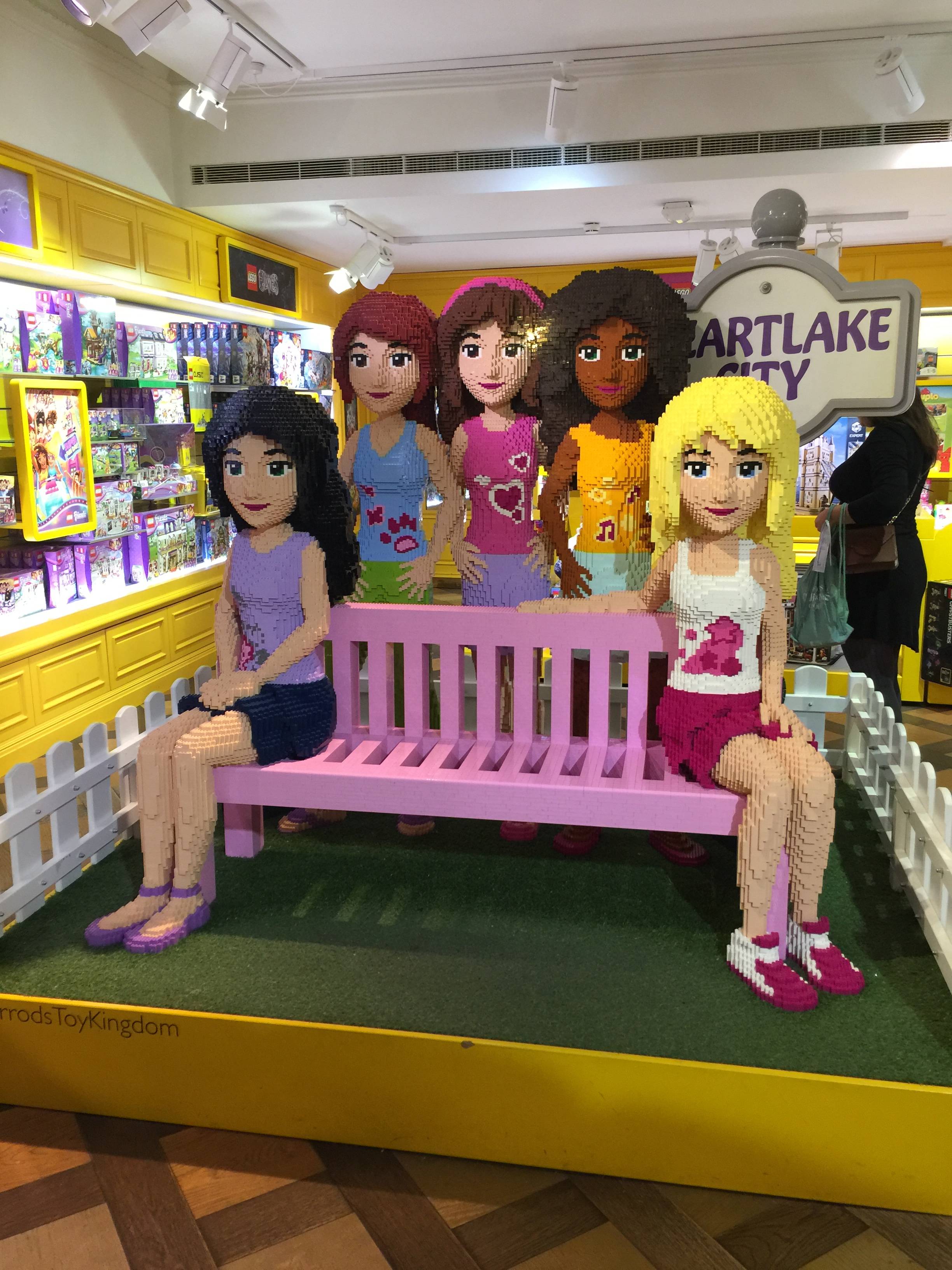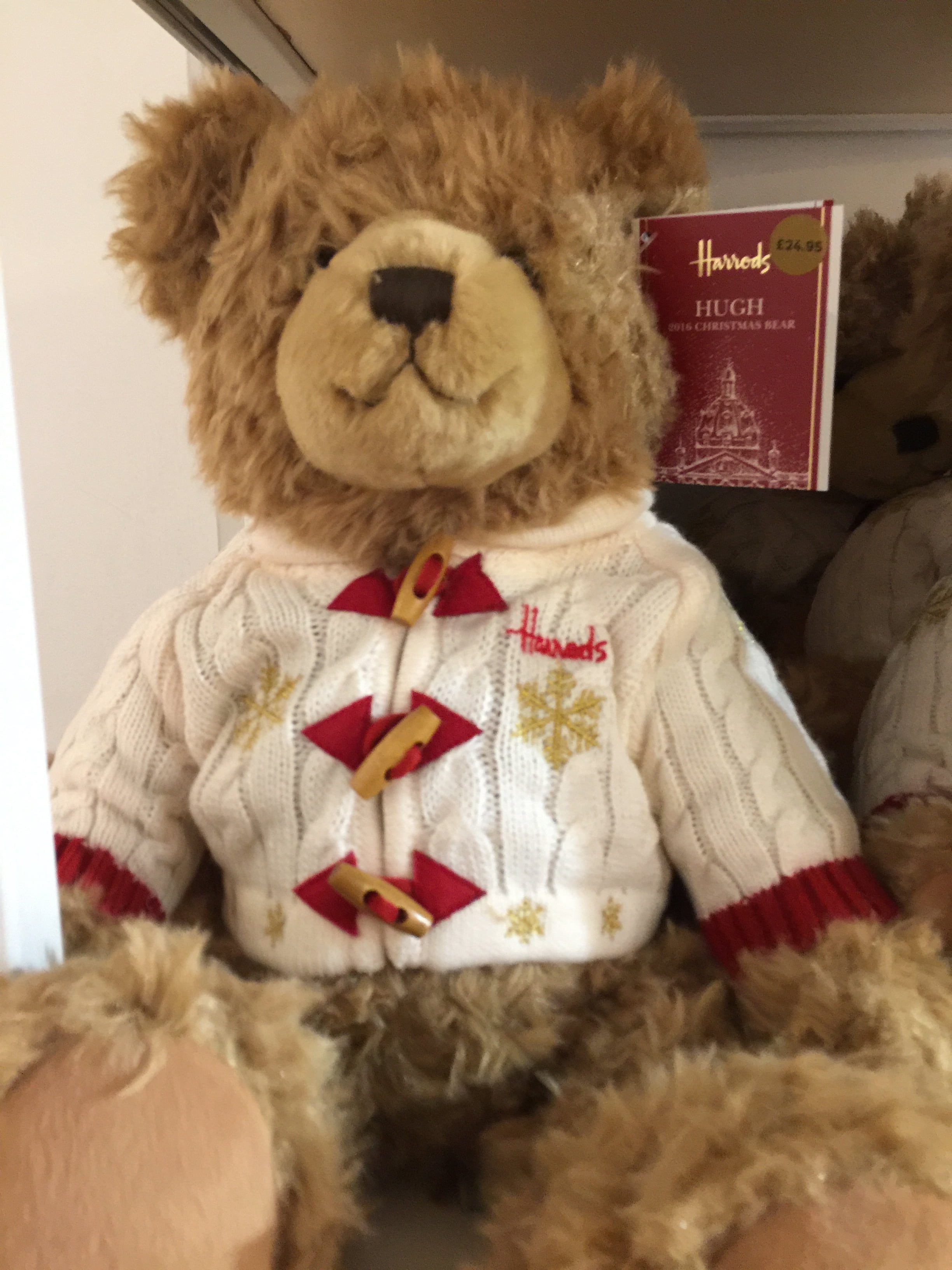 Handbag Math
I took a full afternoon to window shop through Harrods as a rainy day escape. I looked through the Superbrands floor with beautiful, haute couture pieces from designers like Chanel, Prada, Chloe and Dior. I also spent a lot of time looking at London designers on the Fashion Lab floor such as Stella McCartney, Ted Baker, Karen Millen, and Reiss.
The WOC Dilemma
After seeing all this eye candy, I looped back down to luxury accessories to do some real handbag math. In Paris, I looked at the Chanel Wallet on Chain briefly, since I was in the market for a smaller bag, but I decided to put my quest on hold until I got back to London. Due to price increase, the savings for the Chanel WOC in the UK were not that significant even with the weakened pound. However aside from price, style wise, I really fell in love with Saint Laurent WOC. The price for the Saint Laurent WOC in the UK was significantly lower compared to the US, and the savings proved to be fruitful.
Compare and contrast the Chanel vs. the Saint Laurent WOC further in our reference guide HERE.
Chanel Wallet on Chain
| | |
| --- | --- |
| Region | Chanel Wallet on Chain |
| US | $1,900 |
| | |
| UK | £1,470 |
| VAT Refund (approx. 10%) | - £147 |
| Price after VAT | £1,323 |
| | |
| US $ Equivalent | $1,643 |
| | |
| Total Savings | $266 (~14%) |
Saint Laurent Wallet on Chain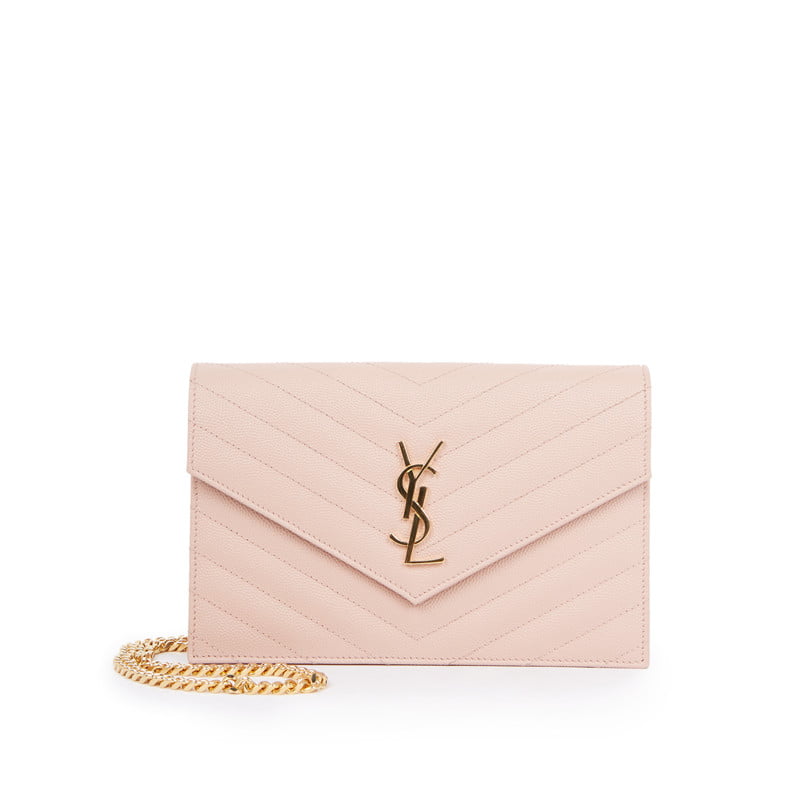 | | |
| --- | --- |
| Region | YSL Wallet on Chain |
| US | $1,275 |
| | |
| UK | £750 |
| VAT Refund (approx. 10%) | - £75 |
| Price after VAT | £675 |
| | |
| US $ Equivalent | $834 |
| | |
| Total Savings | $441 (~35%) |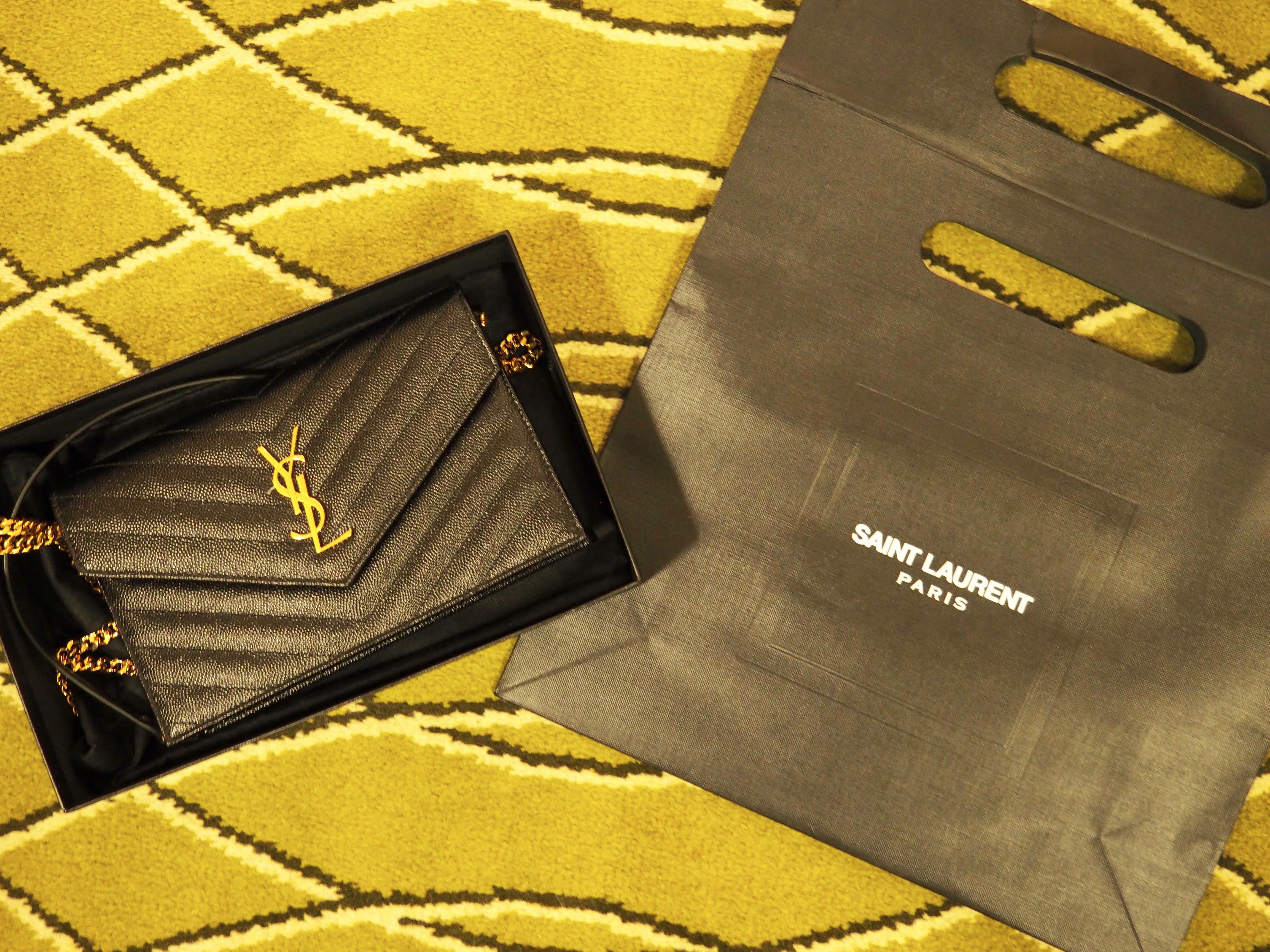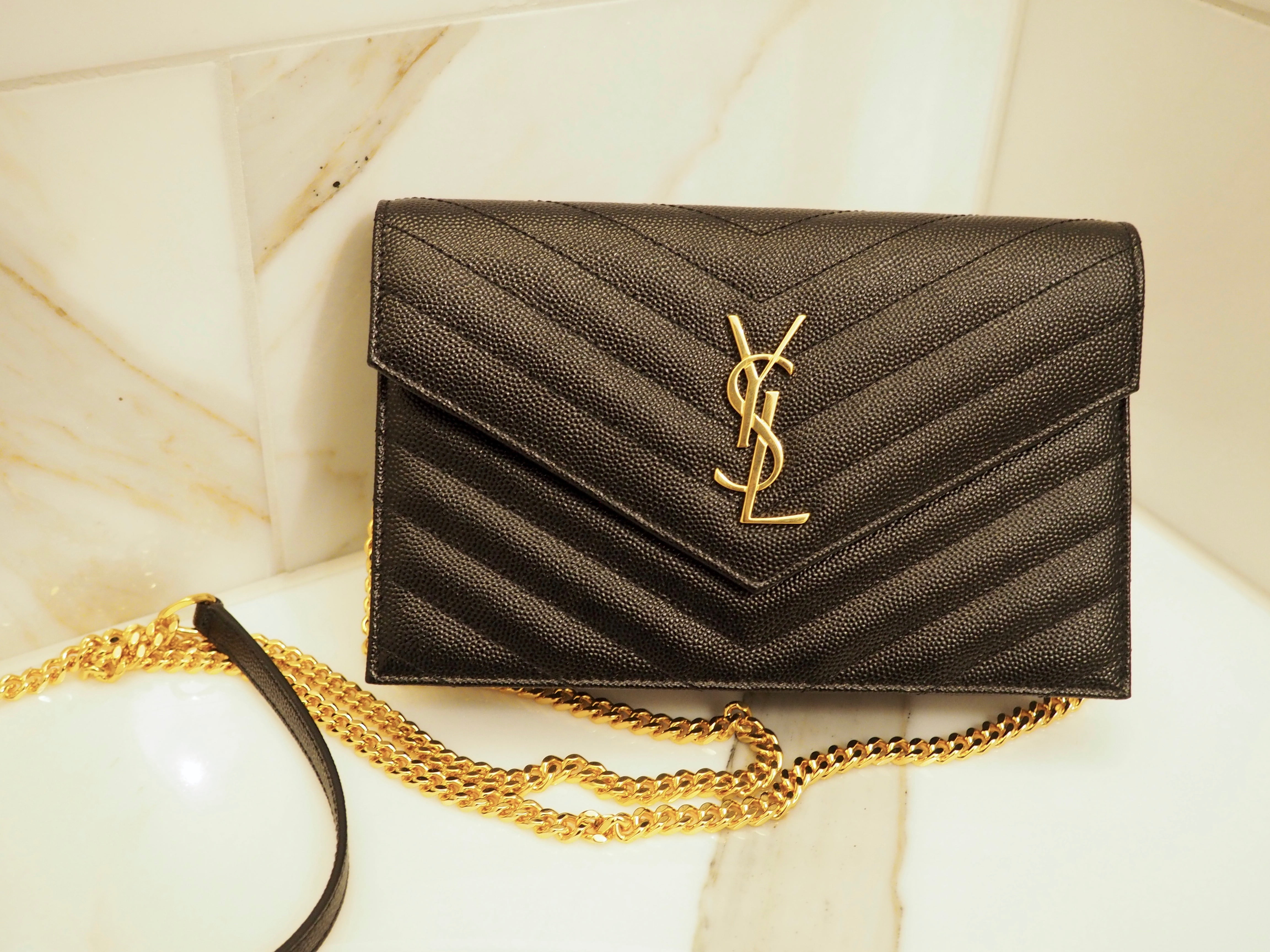 The Mini Bag Score
While shopping that day, I passed by the Furla store and some of their bags really caught my eye. Compared to other brands, I am not as familiar with Furla, but I found the simplicity of their bags to be very appealing.  A great way to explore a brand you are unfamiliar with is by first investing in a mini bag. Perhaps wearing this Furla mini bag will spark my interests in other products in the collection.
Read about mini bags from other brands in our reference guide HERE.
Furla Mini Bag
| | |
| --- | --- |
| Region | Furla Metropolis Mini Bag |
| US | $298 |
| | |
| UK | £220 |
| VAT Refund (approx. 10%) | - £22 |
| Price after VAT | £198 |
| | |
| US $ Equivalent | $245 |
| | |
| Total Savings | $53 (~17%) |
Dress Shopping...and Big Discounts!
Out of all my fashion vices, I would say I am most addicted to clothing. From the very beginning of travel here, I have been looking for one special dress as a type of "souvenir" to remember my experience. London has a reputation for being one of the leading cities in fashion, and overall style here tends to be very polished, with clean lines, and a neutral color palette. However, of the more ornate, elaborate pieces I do see people wearing here, they overall are much more expressive and unique compared to the clothing I sometimes find in the US.
I am happy to take home two dresses from London designers Karen Millen and Ted Baker. I found the floral embroidery on my Karen Millen dress to be simply stunning and great for more formal occasions. I plan to wear my Ted Baker dress to more professional events, and it is made a thicker material that can withstand all seasons.
Buying these dresses in the UK was much more lucrative for me since they were priced much cheaper here compared to the US. Additionally, I received a 10% discount since Harrods was having a Rewards Points Weekend special and then received a further percentage off due to the VAT refund I am entitled to as a non-Brit.
Read all about how the VAT Refund process works HERE.
Karen Millen Dress
| | |
| --- | --- |
| Region | Karen Millen Dress |
| US | $550 |
| | |
| UK | £275 |
| Harrod's Discount (10%) | - £27.50 |
| Sale Price | £247.50 |
| VAT Refund (approx. 10%) | - £24.75 |
| Price after VAT | £222.75 |
| | |
| US $ Equivalent | $276 |
| | |
| Total Savings | $274 (~50%) |
Ted Baker Dress
| | |
| --- | --- |
| Region | Ted Baker Dress |
| US | $279 |
| | |
| UK | £149 |
| Harrod's Discount (10%) | - £14.90 |
| Sale Price | £134.10 |
| VAT Refund (approx. 10%) | - £13.41 |
| Price after VAT | £120.69 |
| | |
| US $ Equivalent | $149.54 |
| | |
| Total Savings | $129.46 (~%46) |
I hope my Harrods story has given you a little insight to shopping post-Brexit. Over the next few months, we'll see how the pound continues to fluctuate in the market. More importantly, it will be interesting to track how and if Brexit is actually implemented. The UK has been in the EU since the 1970s, and changes to the laws will significantly affect the lives of British citizens as well as have many other global implications. It has been an incredible opportunity to learn about British culture and history, particularly in this moment. I only hope to learn more even as my time in London comes to an end.
Updated: May 22nd, 2017