The Wallet on Chain (or simply WOC) is one of the most loved accessories in the handbag world because it is so incredibly useful and versatile. Chanel and Saint Laurent are probably tied in first place as the best designer Wallet on Chain bags, so we decided to put both to the test. If you're having a hard time choosing between the Chanel versus Saint Laurent WOC or if you just love a good fight, PurseBop is here to give a full showdown and comparison of both styles today!
Here are some of the aspects we'll be comparing below:
Style
Size
Interiors
What's in my WOC?: Capacity
Try-On/Modeling
Reasons to Buy a WOC
Showdown Results
Instagram Eye Candy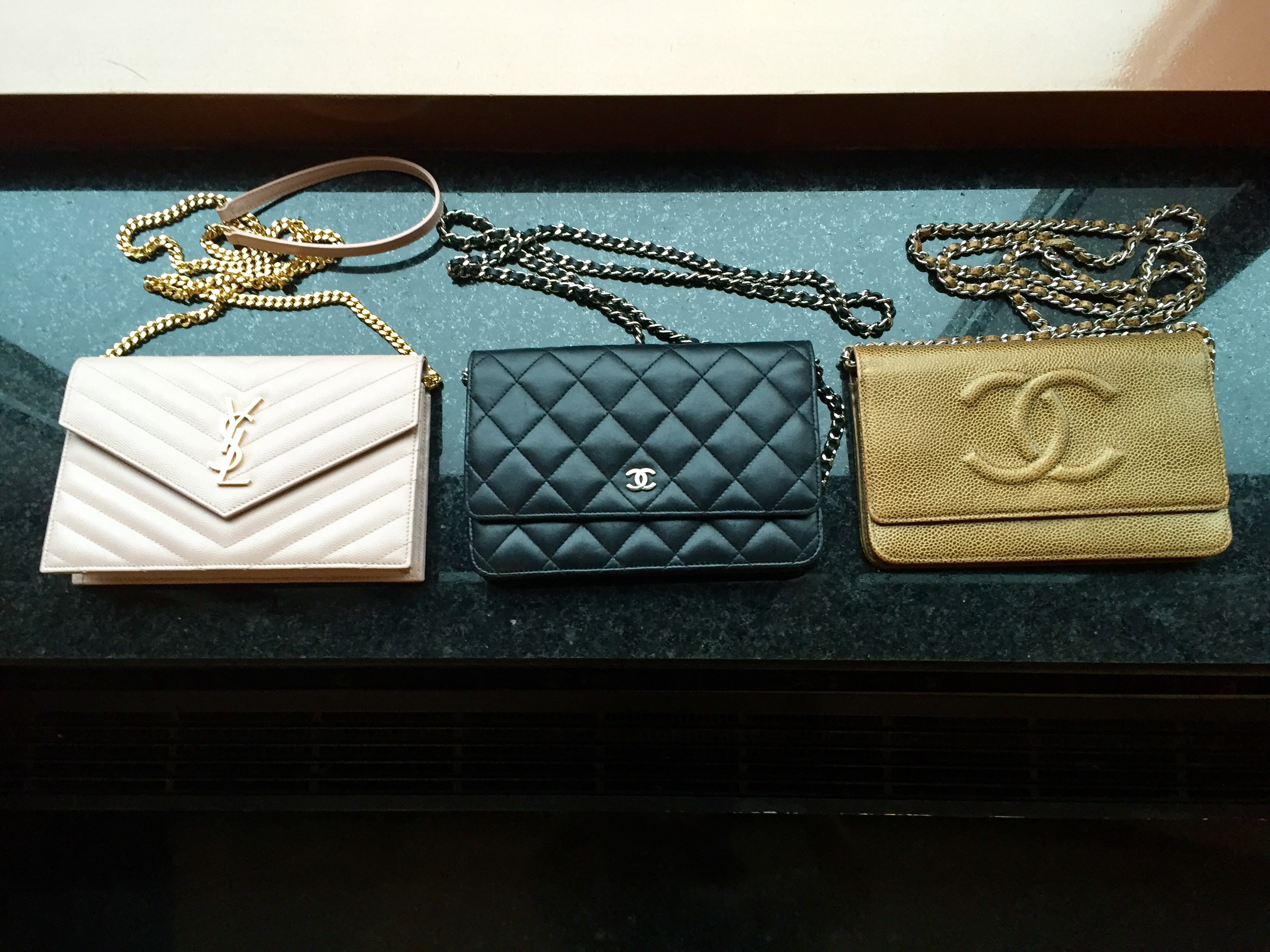 Style Comparison
In terms of silhouette, both the Chanel Wallet on Chain and Saint Laurent Wallet on Chain are very slim, compact, and rectangular. The Chanel WOC has a straight flap that stops a little bit above the bottom of the bag. The Saint Laurent WOC has a triangular flap that stops a little bit above the bottom of the bag too.
In terms of material, most Chanel WOCs come with the iconic, Chanel quilted leather and a hardware 'CC' logo. The Saint Laurent WOC has a chevron style leather pattern and a large hardware 'YSL' logo in the center.
Due to its lines and angles, the Saint Laurent WOC has a more modern, fresh, and bold look. The Chanel WOC has a more classic, traditional feel that is very elegant. Without a doubt, both bags are very stylish, chic, and could adapt well to any look.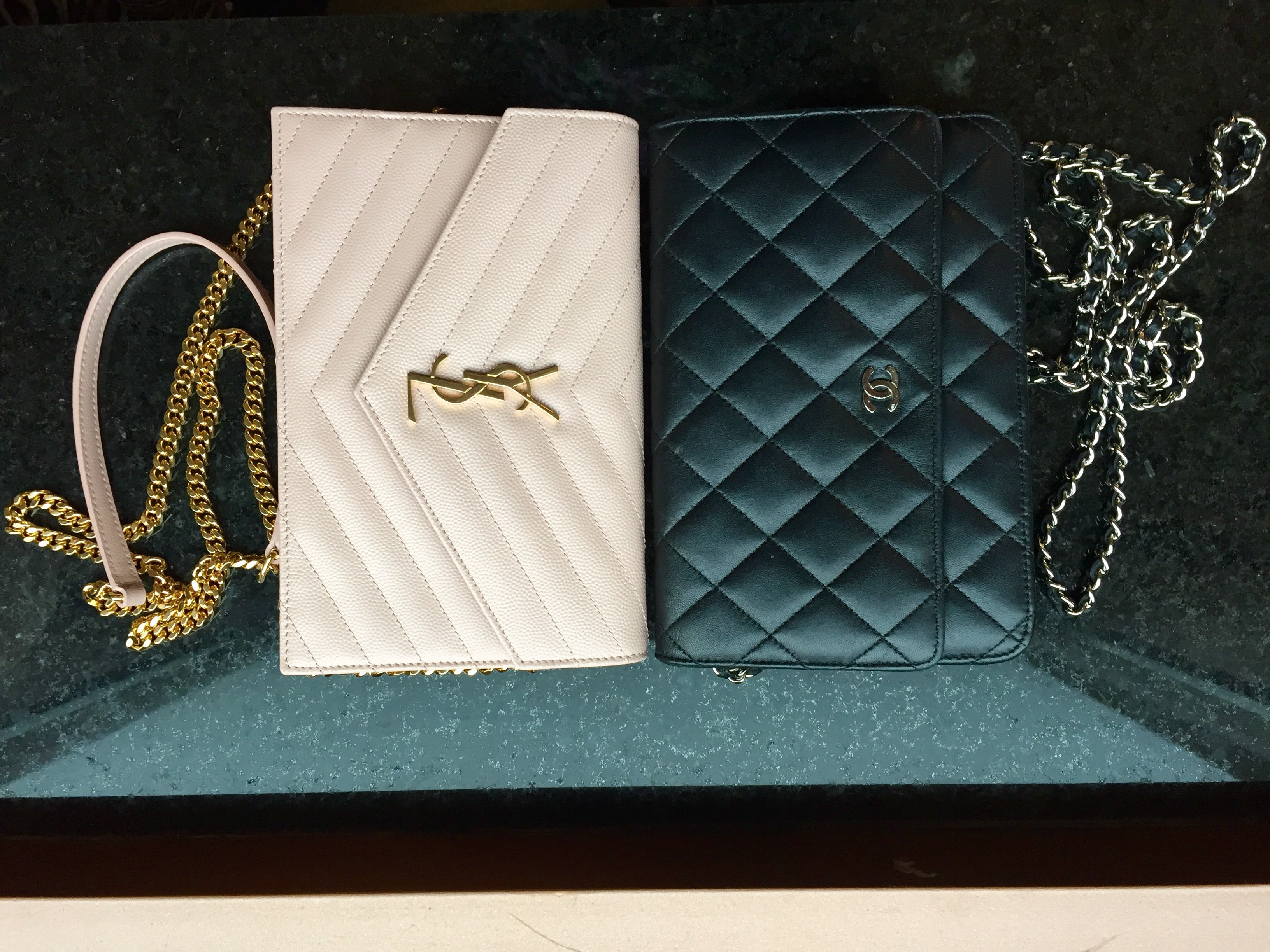 Size Comparison
The Chanel and Saint Laurent WOCs are almost exactly the same size! We laid each bag on top of one another and confirmed this to be true. In terms of dimensions, the Saint Laurent WOC is slightly bigger but not significantly enough to provide you with more room.
Dimensions:
Saint Laurent WOC – 7.5″ x 5″ x 1.5″ inches (L x W x H)
Chanel WOC – 7.6″ x 5.8″ x 1.4″inches  (L x W x H)
Price Comparison
Compared to other designer bags from the same brands, the Chanel and Saint Laurent wallet on chains are relatively affordable. The price is a little more justifiable considering that wallet on chains are extremely versatile and convenient. The Chanel WOC is more expensive than the Saint Laurent WOC by a little less than $1,000.
The prices listed down below are just for the size and material of these particular WOCs. Prices may vary with different leathers and sizes.
| | |
| --- | --- |
| Style | Price in USD |
| Saint Laurent Wallet on Chain | $1,275 |
| Chanel Wallet on Chain (Calfskin) | $2,100 |
Interior Comparison
Both the Chanel WOC and Saint Laurent WOC have a similar interior constructions. They both have all the features of a traditional wallet like card slots and a zippered pocket for change. Both wallet on chain styles are well organized and have room for a significant number of items.
Feature Breakdown of the Chanel WOC:
6 Card Slots
Slip Pocket
Zippered Pocket inside and on top of the flap
Exterior Pocket on the Back
Chain Strap with intertwined leather
Snap Closure
Feature Breakdown of the Saint Laurent WOC:
6 Card Slots
Slip Pocket
Zipper Pocket
Chain Strap with solid leather portion
Snap Closure
What's in my WOC?!: Capacity Comparison
You might be thinking, the Wallet on Chain doesn't seem that big…what can I even fit in there?? Don't worry, both the Chanel and Saint Laurent WOC have a surprising amount of space. You can carry more items than just money, cards, and flat items, but remember if you stuff the bag, the shape will change and it may look a little bulky.
Here's what PurseBop managed to fit in both of these Wallet on Chains:
Bobbi Brown Compact
Tom Ford Lipstick
Judith Leiber Card Holder
Eye Glasses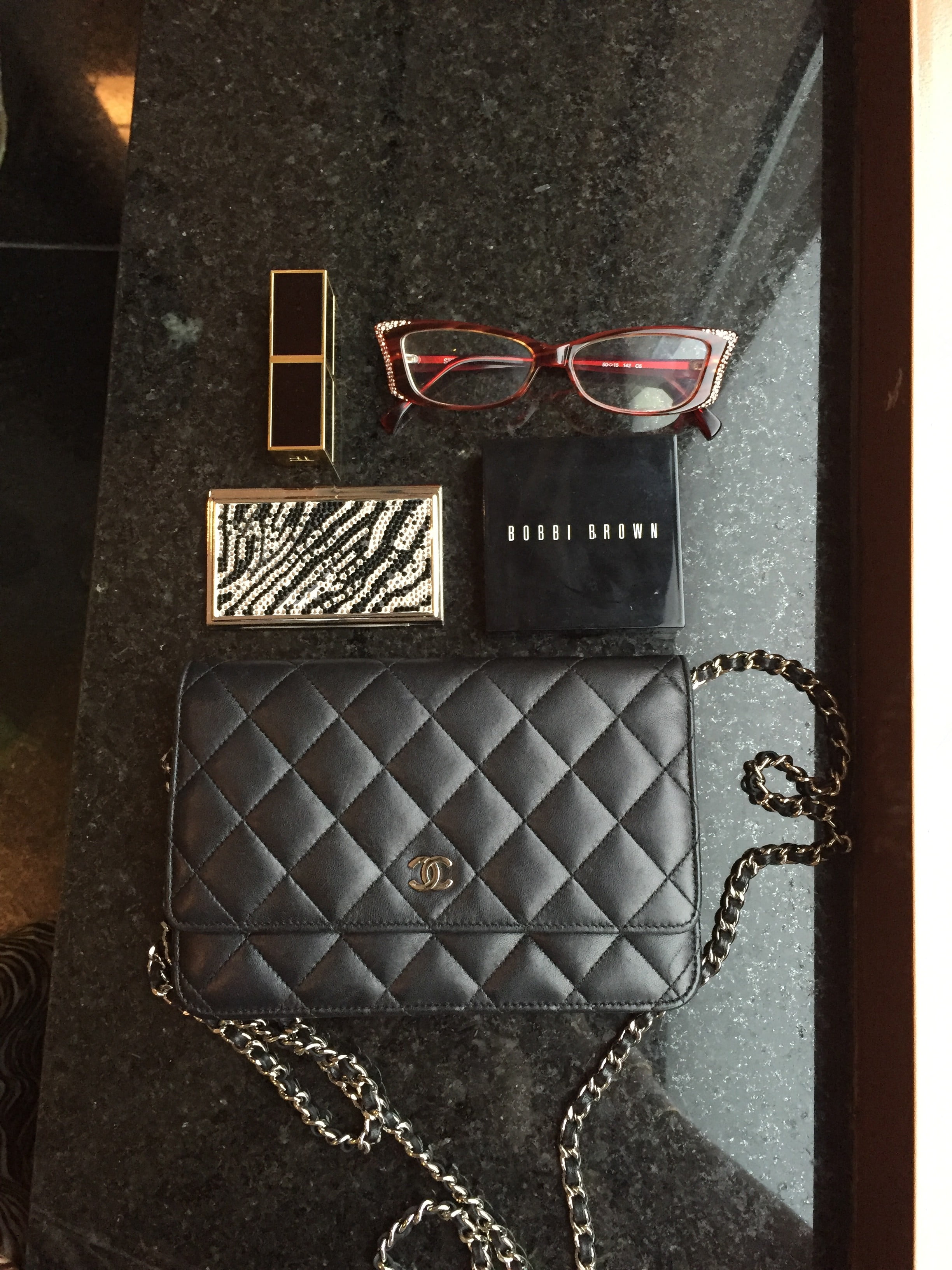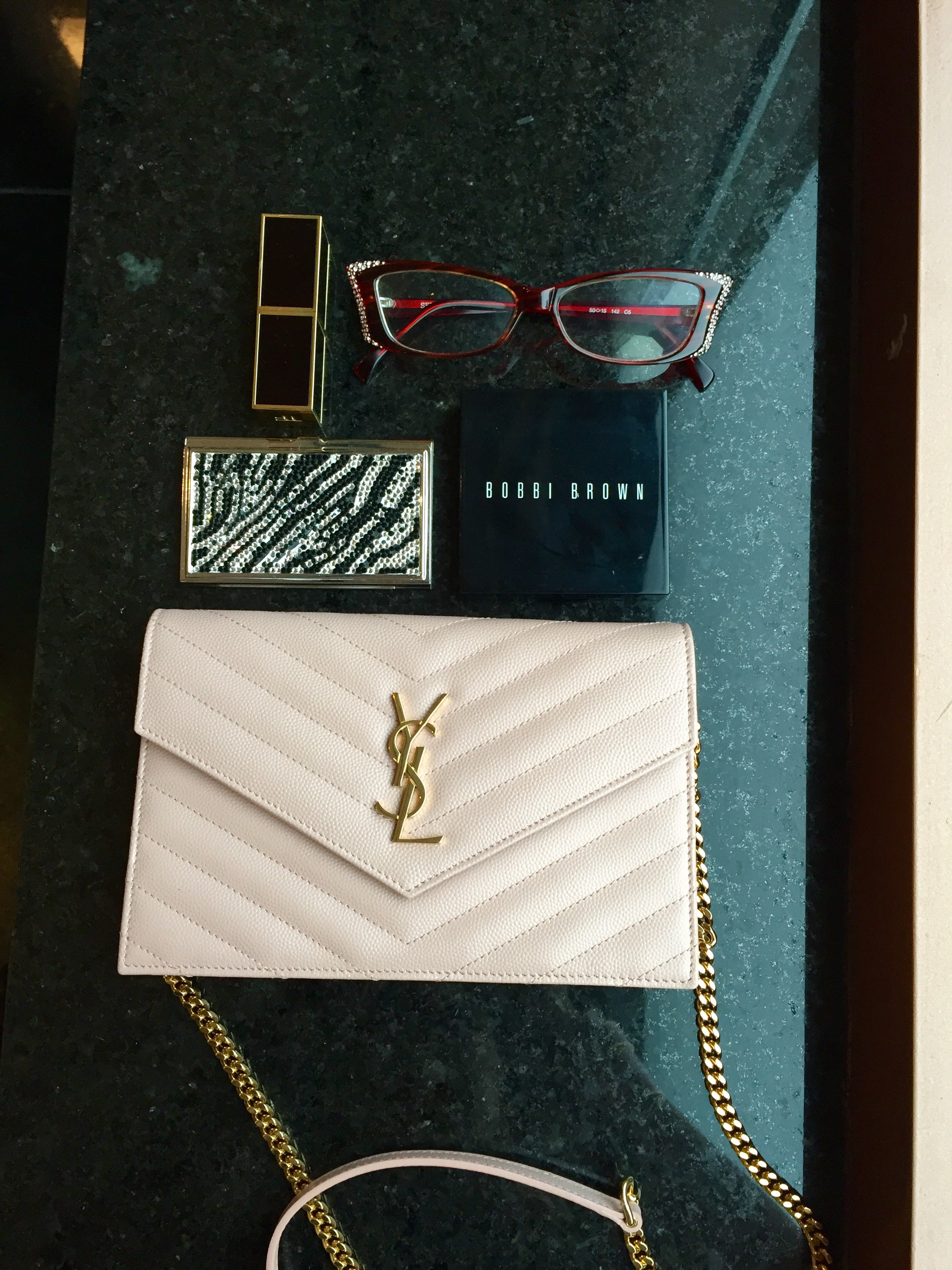 Try-On Comparison
Down below are try-on comparison shots of both Wallet on Chain bags in action. Both WOCs are comfortable enough for crossbody or shoulder wear. Each style hits in the same position on top of the hip.
Model Height: 5'6″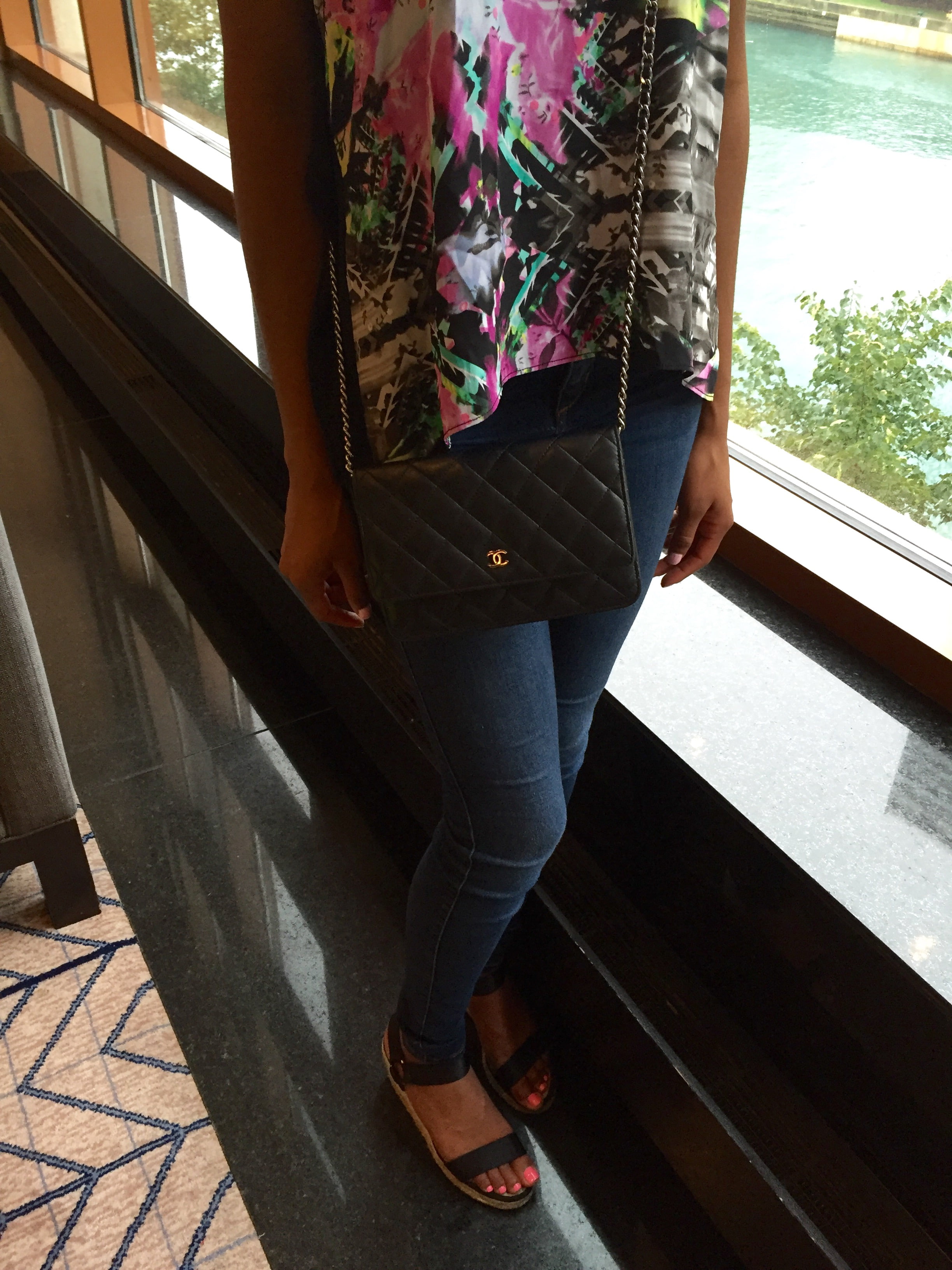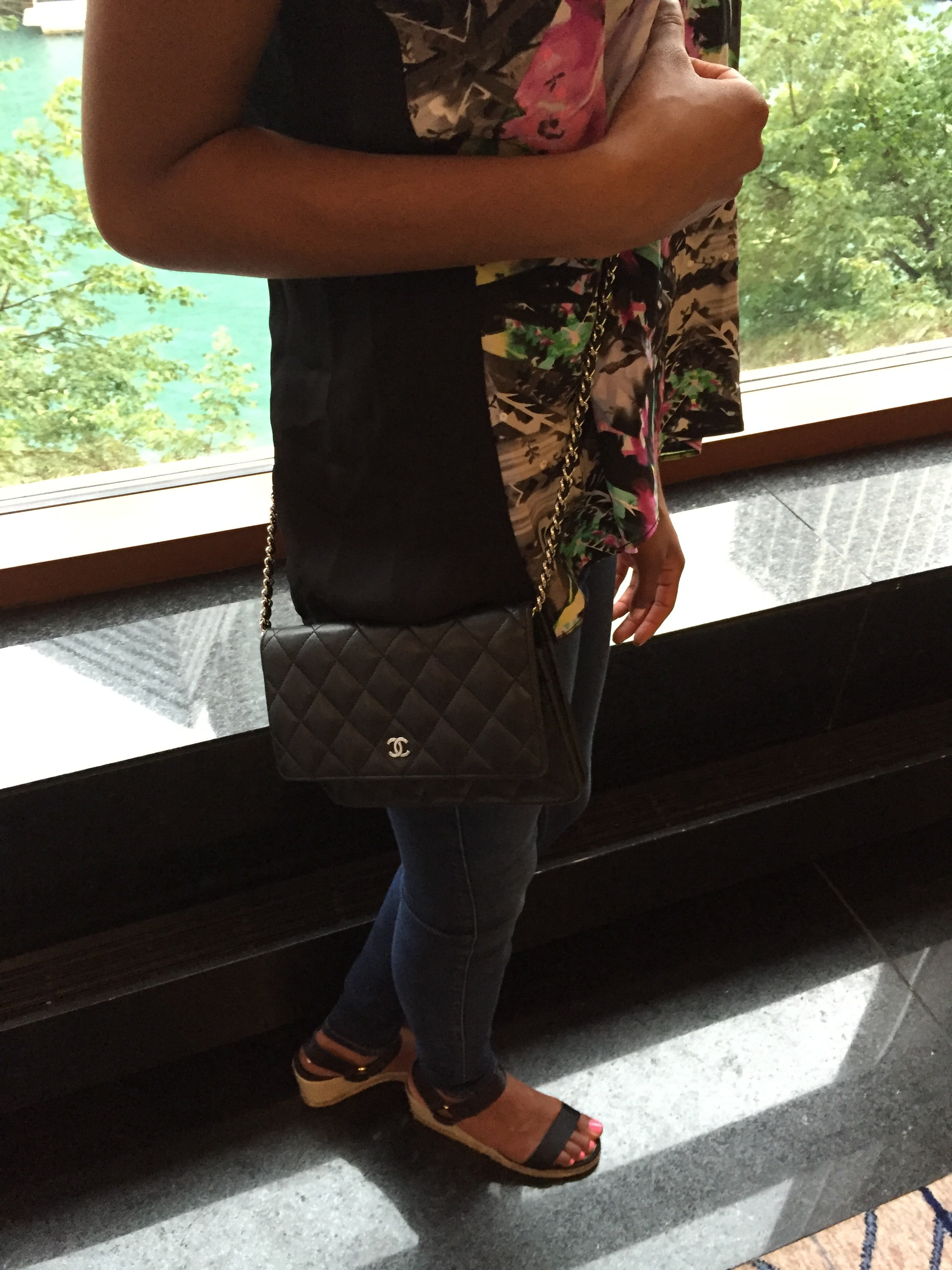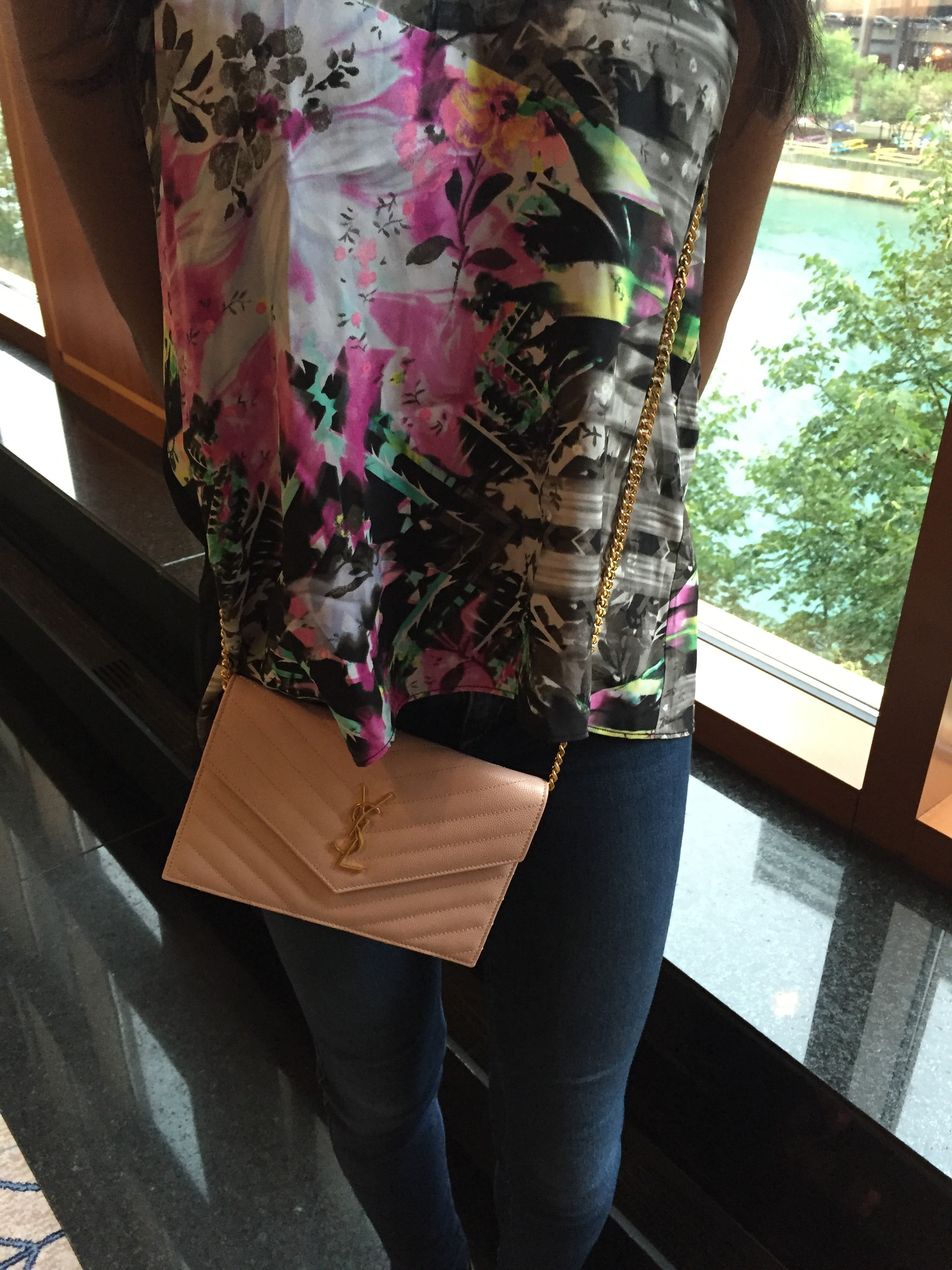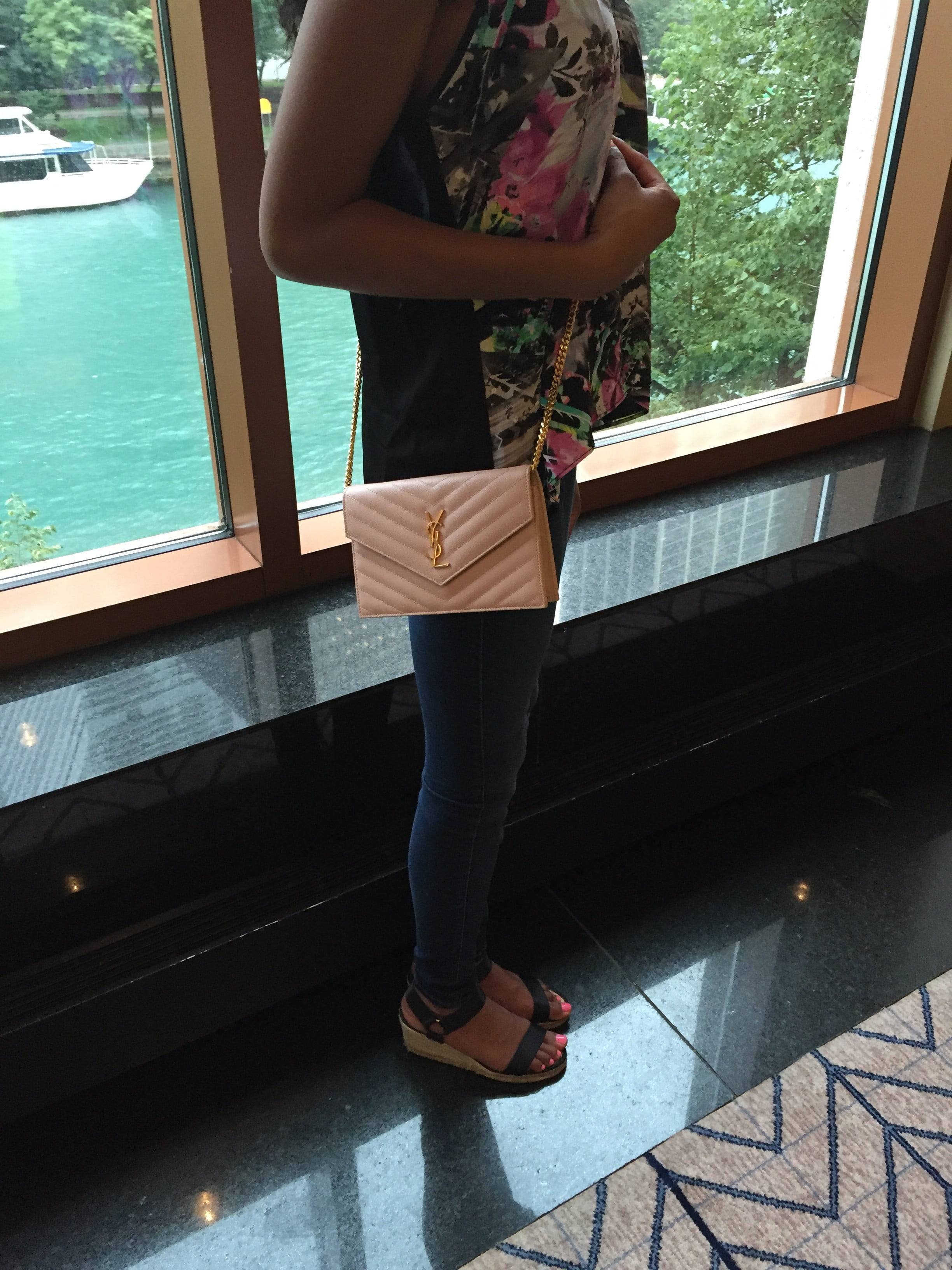 Best Uses
Wallet on Chains are perfect for on-the-go use! WOCs are great entry-level bags due to their relatively low price point, and they also work for many occasions.
Here are a few reasons why PurseBop considers the WOC a staple accessory:
Great for Travel – the perfect bag for nesting bags! If you like to bring multiple bags on vacation, this can easily be stowed in another bag without taking up space.
Great for Crowded Places – the crossbody strap allows for secure wear.
Works well as a mini bag – if you don't like bigger bags and like to be hands-free the WOC will be your best friend!
Great start bag or entry-level bag – try out the WOC from these brands before investing in more expensive bags!
Showdown Results
The biggest question still remains: should I get the Chanel WOC or the Saint Laurent WOC?? You're probably looking for one solid answer, but instead PurseBop will give you this advice: pick the one that best suits your style. This may seem like common sense, but it is hard to take into account what types of bags work best with your lifestyle and wardrobe when you're faced with a tough decision of picking between two gorgeous bags. Both WOCs are beautifully constructed, overall the Chanel WOC is a little more feminine and classic, and the Saint Laurent WOC is more modern and fresh looking. The Chanel WOC comes with a subtle, smaller hardware 'CC' logo or huge embossed 'CC' letters. The Saint Laurent WOC features the big YSL hardware logo. If you aren't a huge fan of logos and are looking for something a little more discreet, consider the Chanel WOC. If you want something that makes more of a statement, choose the Saint Laurent WOC.  Also weigh out your color and leather options at the time of purchase!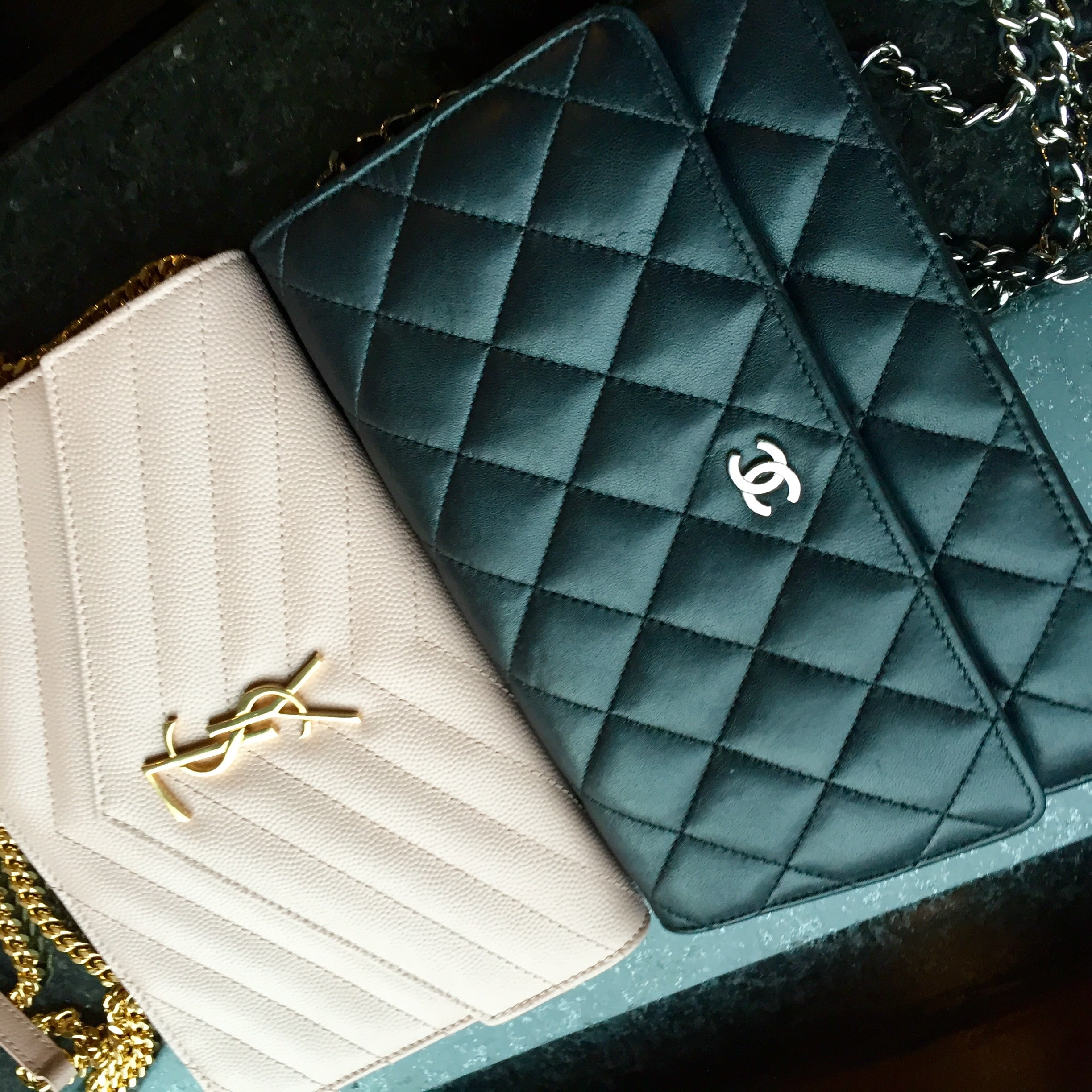 Instagram Eye Candy
Now that you've looked through our comparison pictures, soak in some WOC eye candy from other fashionistas.