You may be stuck at home because of your kids, work, or the global pandemic, but you're still itching to shop for that new handbag… what to do? Sure, you can always scroll through websites, enlarging images, comparing prices, and hoping your purchase completes before another shopper snags the same item. On some level, this can be satisfying. Certainly over the last 18 months or so, we've all learned to make do.
But… what if you want a more authentic, personalized experience? Luxury Promise has your solution, and it's absolutely the next best thing to being in the store!
We did a short interview with Sabrina Sadiq, founder of Luxury Promise, to share the latest on their new, innovative offering called Live Shopping.
Please share with us what exactly Live Shopping is? Can you explain how it works and how we as the consumers will engage with the platform?
Community enrichment is at the heart of what we do at Luxury Promise. Taking Instagram live shopping to the next level, the Luxury Promise Live Shopping experience allows customers to shop in real time while products are released on live video, to provide a community led & interactive shopping experience. We are the first resale platform of our kind to introduce integrated live shopping directly through our website.

Customers can access live shows through a link on our website, where we also post show schedules that you can save and add to your personal calendars. Once the show starts, the products showcased will be visible on a tab on the screen. A chat box will enable customers to ask questions in real time, browse products & purchase everything through the live shopping screen on our page. Each show is hosted by our team of brand experts who are both authenticators and product curators & sellers. Our experts bring a breadth of brand & product know-how to the platform, sharing brand histories, product maintenance advice, luxury investment knowledge, fashion trends & styling tips with our community of shoppers.

Not only will this platform integrate shopping and customer interaction into one page to ensure a smooth shopping experience, it will also bring back the interactive and experiential element associated with in-person shopping in a more accessible and exciting way!
You have clearly set yourself apart from other sellers in the industry… tell us what brought you to this realization and discovery?
We love our growing community and focus on engaging regularly to create an open feedback loop that drives our business on a daily basis. At Luxury Promise, we proudly identify ourselves as a social commerce platform focused on 3 principles: (1) community driven operations, (2) an inclusive and customer centric shopping experience & (3) curating our product range to champion brand identities with focused storytelling around the products we sell.

Over the past year, the Instagram Live shopping platform has taught us the power of providing a One-to-One shopping experience that enables customer interaction & quality-driven selling. Leveraging our team of experts to share their vast brand and product knowledge via Luxury Promise Live Shopping enables customers to enjoy shopping as an experience over pure retail. This discovery led to us launching our own exclusive live shopping platform.

While we are consistently striving to grow, the key to our success has been the Luxury Promise club of loyalists, ranging from customers who buy preloved as a gateway to access primary brands all the way to vintage lovers who turn to our platform to source exclusive products. It is our community that is the bedrock of our success & furthering its interests is our driving motivation in shaping the future of luxury resale.
View this post on Instagram
We love your social media feeds… it always feel like you're having a bag party! Describe your team.
At Luxury Promise, we are the buyers, the sellers, the marketeers & also the direct consumers which we target. Our team extends over London & Dubai and consists of luxury resale veterans, brand experts & product specialists – bringing our global customer base the most skillful product curation and expert authentication measures. The Luxury Promise team is one big family with diversity in age, culture, expertise but we all hold one key value in common: a true passion for sustainable fashion. Genuine passion & loyalty towards our brand drives our work culture and friendships & reflects in all the fun things we do over reels, YouTube and Live shopping.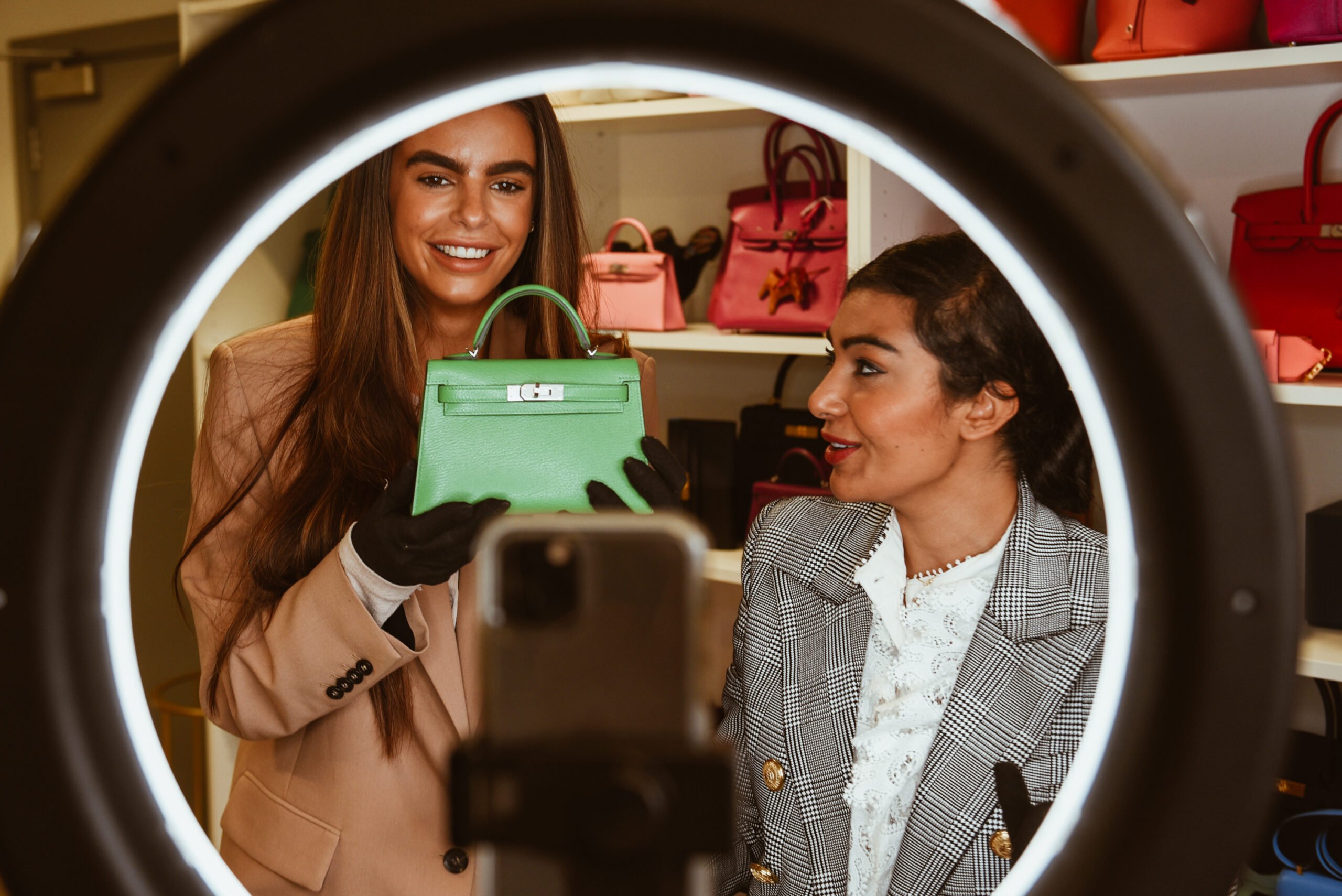 We at PurseBop are thrilled about Luxury Promise's new innovative shopping offering and can't wait for all of you to experience it live for yourselves! The next show is this upcoming Tuesday at 11am EST (4pm London time). Access the Live shows here.