It's not often we are willing to put our name behind a product, so when we do, you know it's special. We have found one of the best innovations for handbag lovers everywhere. Whether you love Chanel, Hermès, Fendi or Gucci — here's the ultimate treat for yourself, your bag, and every handbag lover in your life.
The Carrie is an exceptionally engineered bag holder that will revolutionize handbag culture. It is classy, sleek and sturdy. Carrie can be suspended from any table surface to keep your treasured purse clean and safe. Carrie keeps your purse off the floors, and away from all of the spillable items on the table. That's right, no risk of  wine or gravy, or even chocolate, staining your bag .
I have been using a bag holder for many years. Mine was from the Bellagio Hotel in Las Vegas. So it's not a foreign concept to me, but this one is a game changer. It's beautiful, elegant, and functional. 
The PurseBop team has been using Carrie for about a month to really test it out and we are so impressed. It comes in three metals: silver, gold, and rose gold, making it easy to coordinate with any bag hardware. You'll love the luxurious finish and how strong it feels compared to any bag holder you may have tried. Not to mention the little case it comes in to tuck away when not in use. 
Imagine – it's a night out with your Birkin, Kelly or Constance. Or you're out to lunch, dinner or drinks with friends. You stylishly pull out the Carrie for your bag, seamlessly attach it to the table and suspend your beautiful bag. You'll be the envy of everyone – for your incredible investment bag and the way you care for it. 
The Carrie is going to protect your investment. 
Because we feel so passionately about this discovery, we are working with Carrie to bring you this special offer of 10% off off with code pursebop. This is a limited time offer exclusively for the Pursebop community. You won't find any promo codes any where else. 
With the holidays upon us, Carrie is the perfect present for every handbag lover in your life. It arrives ready for gifting in a beautiful box. Order now in time for the holidays. The Carrie will ship from Miami for our U.S. community and from Italy for our European bag lovers.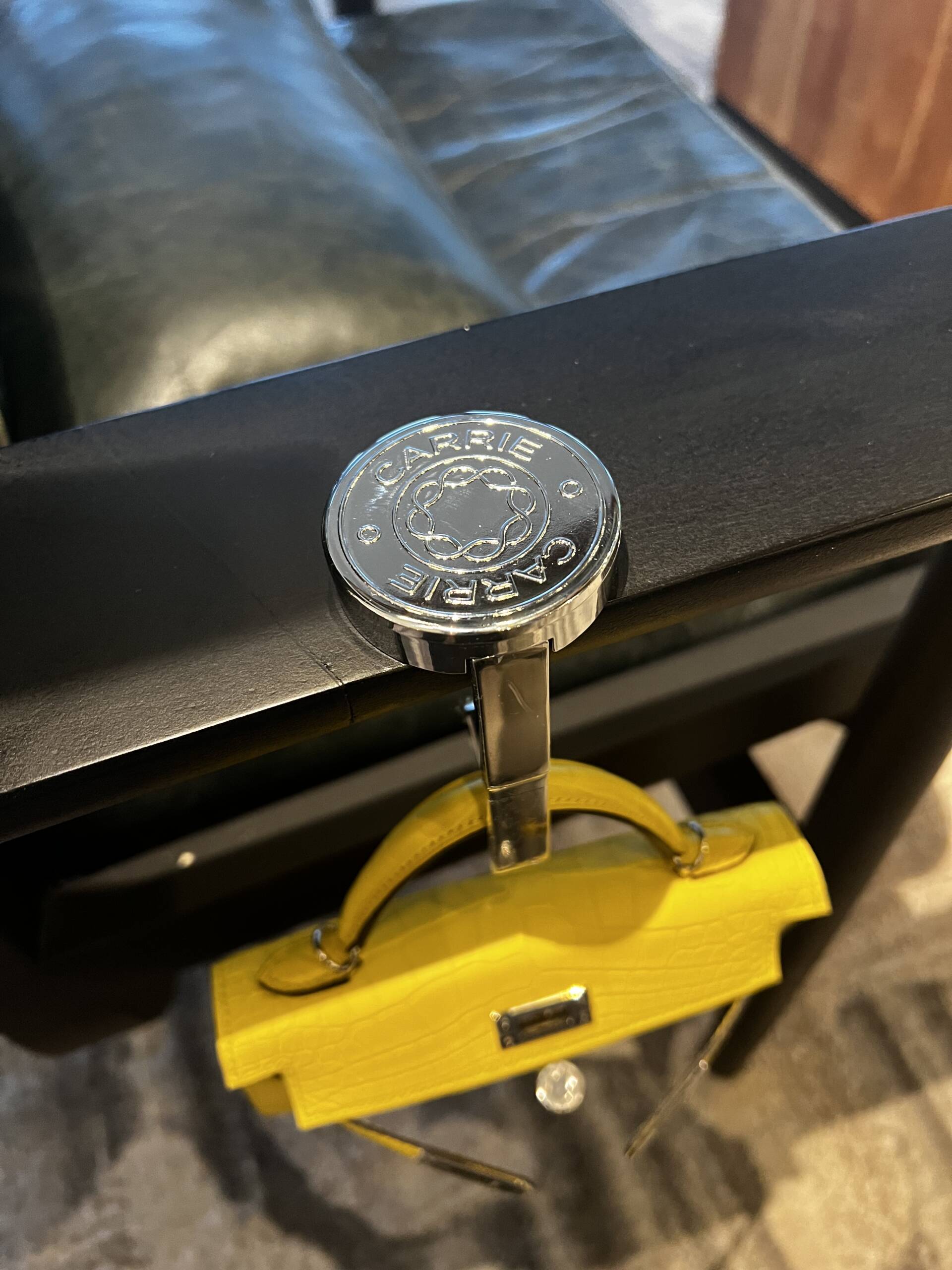 Share your Carrie with us on Instagram @pursebop/@boptalk because we want to see your beautiful bags looking as chic as you! 
Discover Carrie here and use code pursebop to unlock your special price and complimentary shipping. 

Love PurseBop
XO
(you can thank me later, lol)