I chuckle when I think about how I told PurseBop that I never travel. Yet, I have been to Paris three times in less than six months.
My husband just shakes his head when he passes by the growing stack of orange boxes on my shelf. "Don't you have enough bags?" he asked.
"There's just one more I need," I promised.
And what is that bag? Why, it's a Mini Kelly, of course. A Kelly 20 aka Mini Kelly II is notoriously hard to get at my home store or any store for that matter. These are never offered in the public eye, always in a private room or anywhere with a closed door as surely, a riot of Hermès-crazed fans would crowd and marvel over its unveiling.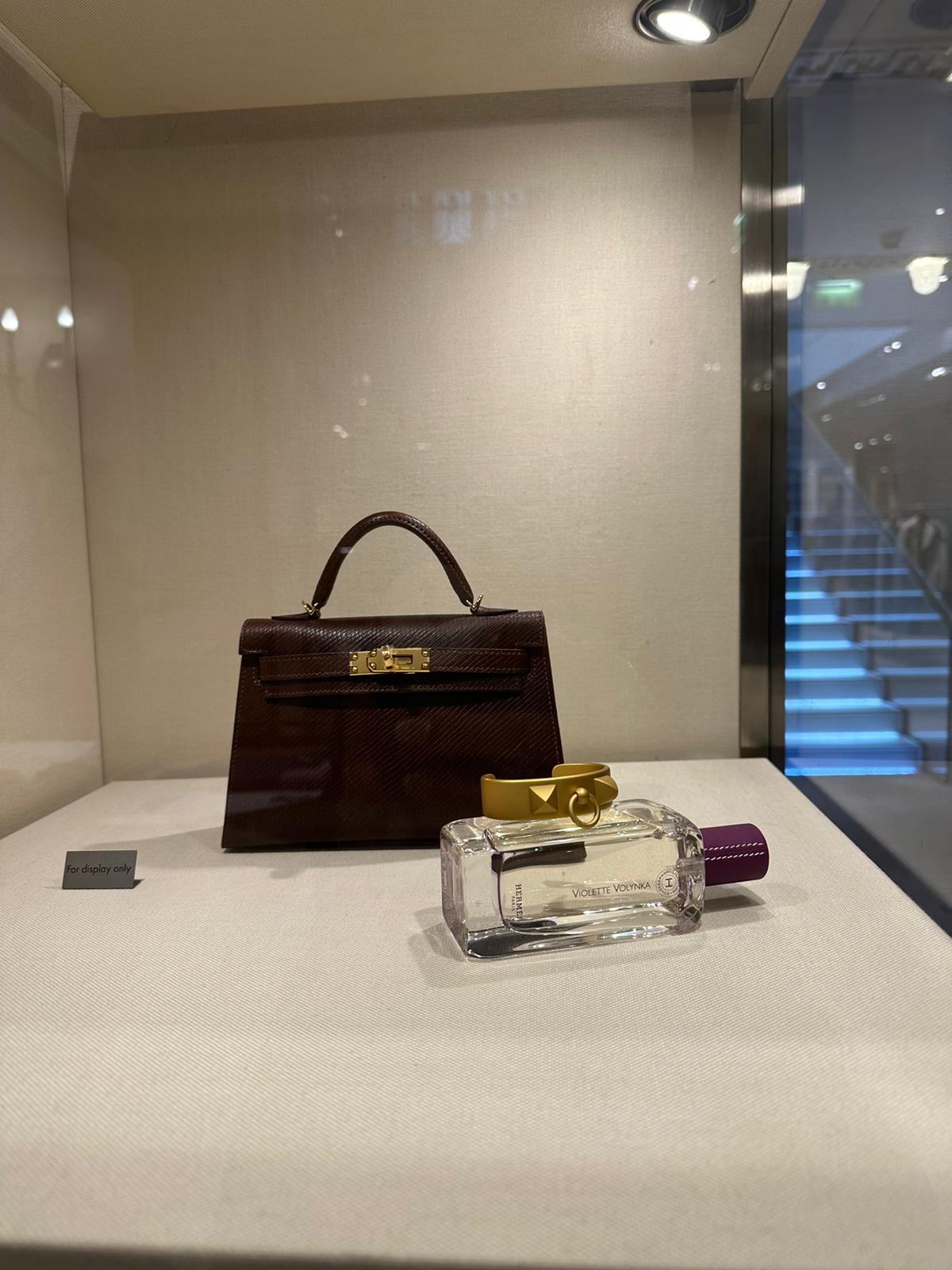 Not wanting to bother my home store SA, I had hoped I would be able to special order a Mini Kelly bag this fall. Alas, the time came and went without an invitation despite not receiving a promised quota bag this year.
However, my sister invited me to tag along on her work trip to Paris. I gladly packed my bags plus two empty suitcases, ready to shop and eat.
Before arriving in Paris, I arranged an appointment with my sales associate at Hermès Faubourg Saint-Honoré.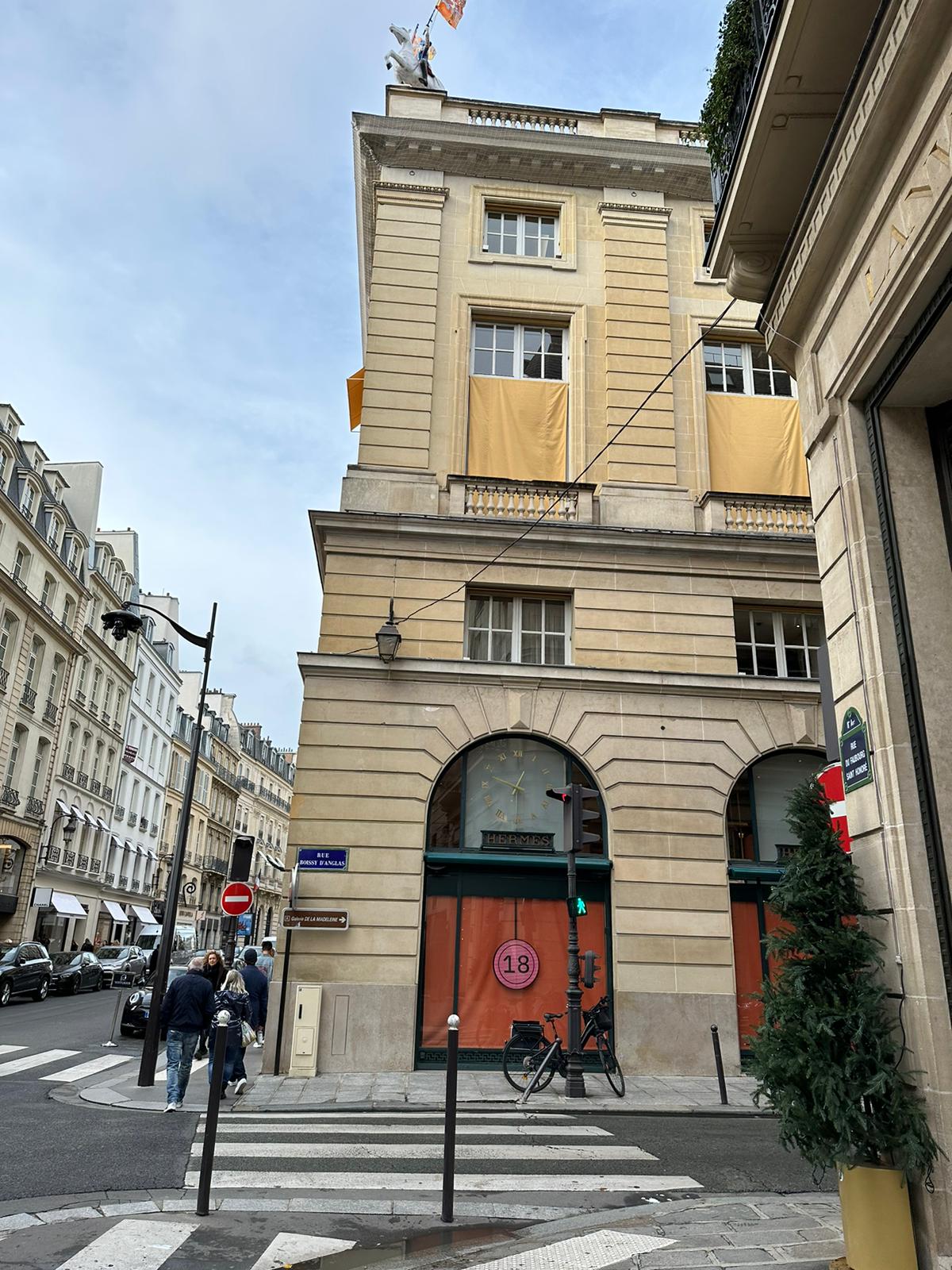 While my sister presented at her conference, I was presenting myself at the front door of Hermès Paris mothership with a bundle of excitement and nerves. The outside windows were blanketed with orange curtains, blocking out any glimpses of the upcoming holiday display. The front of the store had a gorgeous pink flower arrangement. The store was relatively quiet compared to the bustle of customers during the summer months.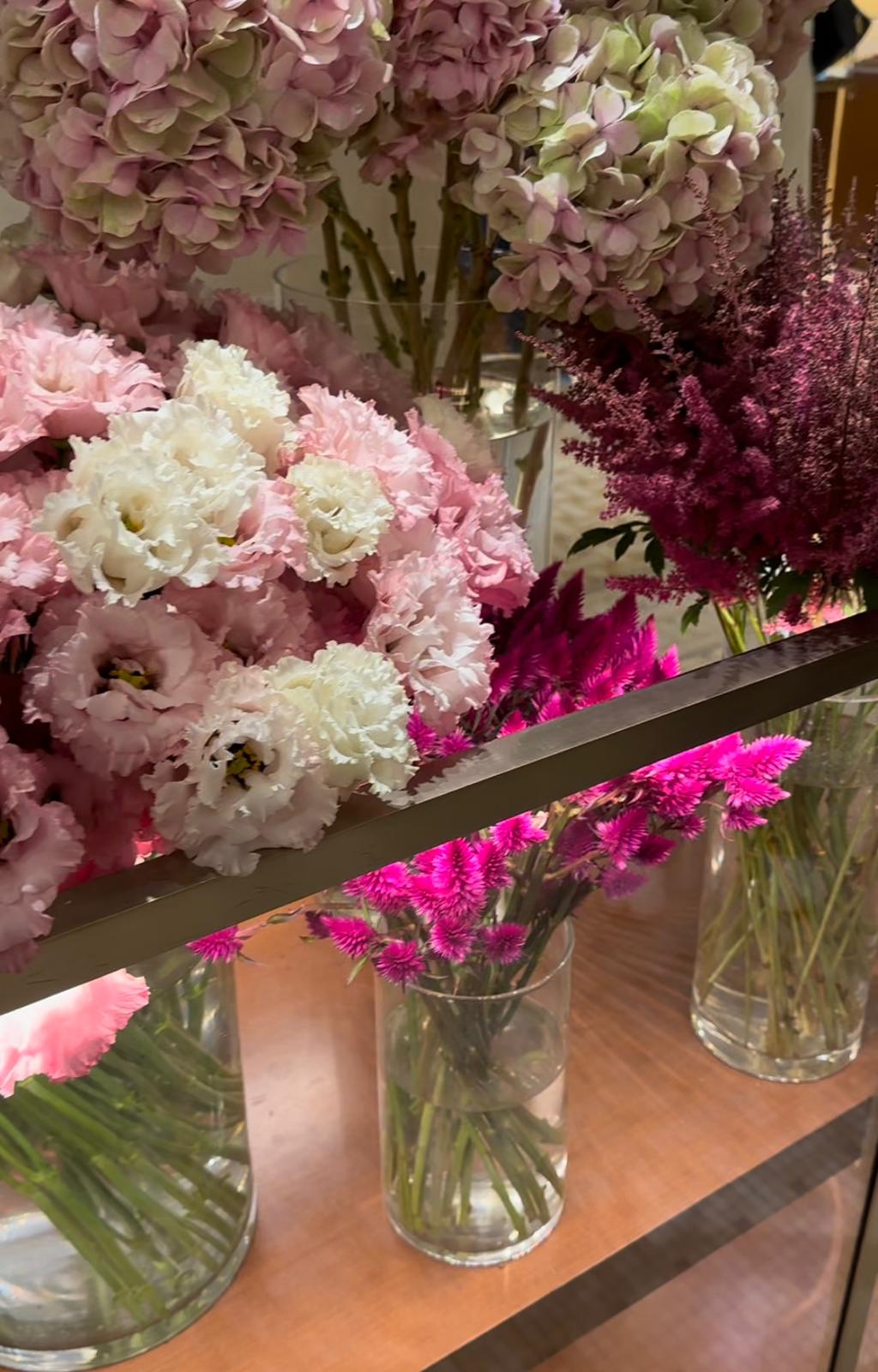 I greeted my SA and we chatted for a while as he showed me some items that he reserved for me in silks, shoes, jewelry, ready-to-wear and accessories. Then he asked me "So, you want to see bags?"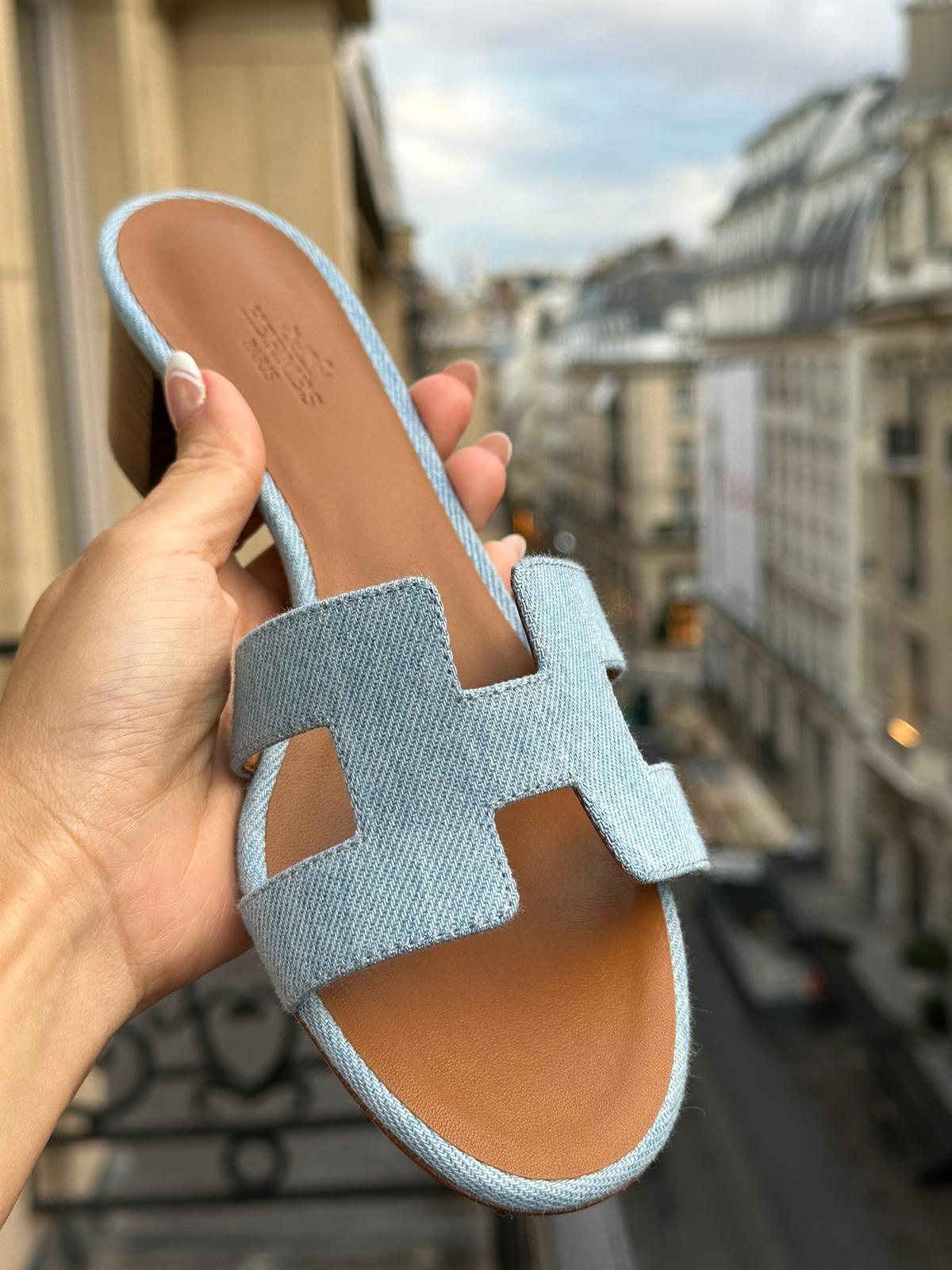 "YES!" I nodded my head eagerly.
We went upstairs into a private room. He asked me, "What kind of bag are you interested in?"
I replied, "The only bag I want is a mini Kelly please. I will be at purse peace after this bag."
He laughed with a knowing wink that purse peace is not at all possible for an Hermès lover like me. He typed out my specs into his phone. I requested Chèvre leather, gold hardware, in Mushroom, Mauve Pale, Vert Fizz, Celeste, Nata or any pink. After reading the 2022 Hermès Colors update article, I've been obsessed with these pastels.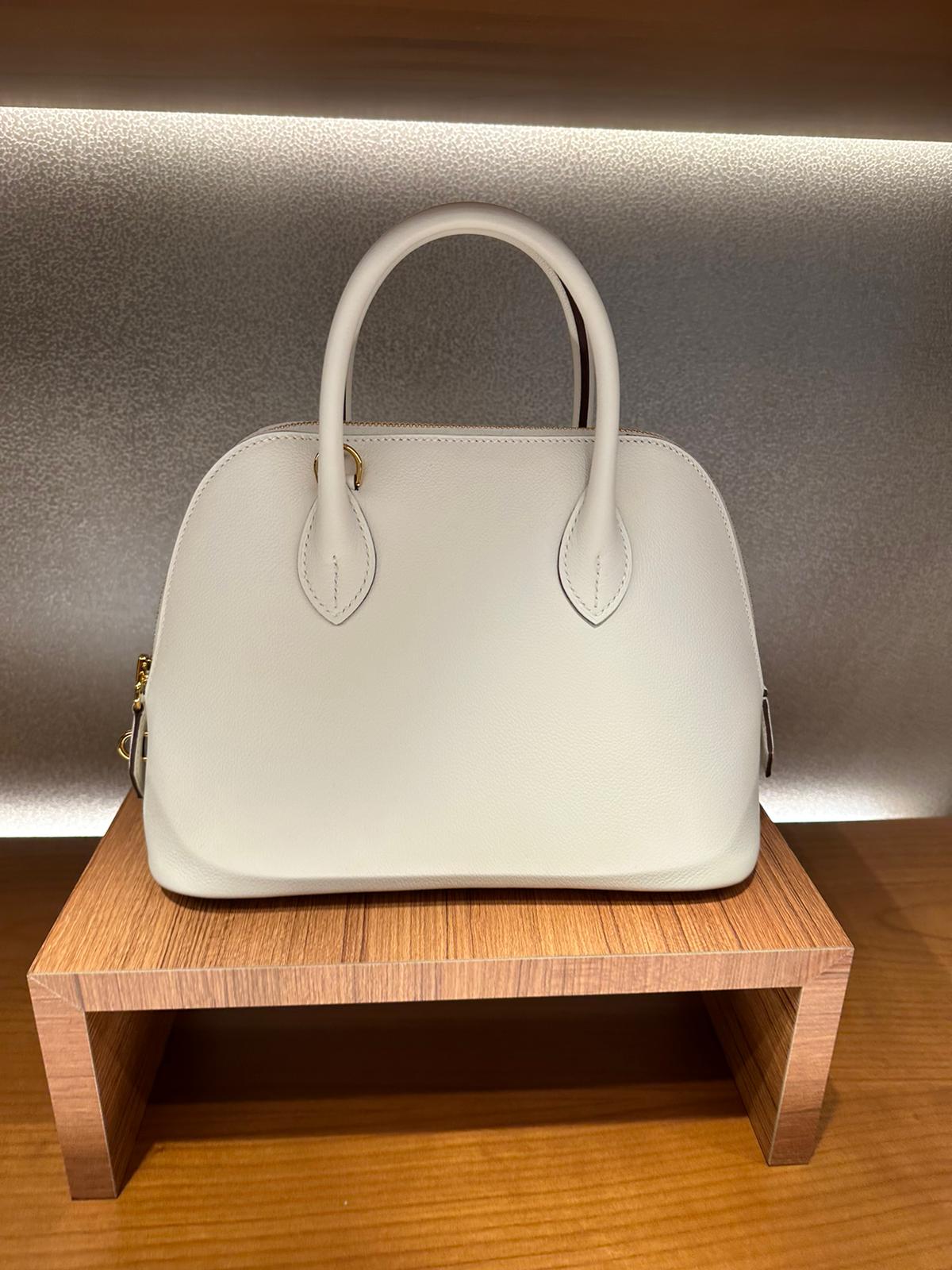 After about 20 minutes, he returned with three boxes. The top box was a small square.
I completely blanked during this part. I knew the top box would be my IT bag. I could barely hear what he was saying as he slowly opened the box.
"Well, I got the leather and the hardware but it's not the same color that you wanted," he said.
Ever so gently with a single gloved hand, he eased a Chèvre, gold hardware, Bleu Brume Mini Kelly from the dustbag.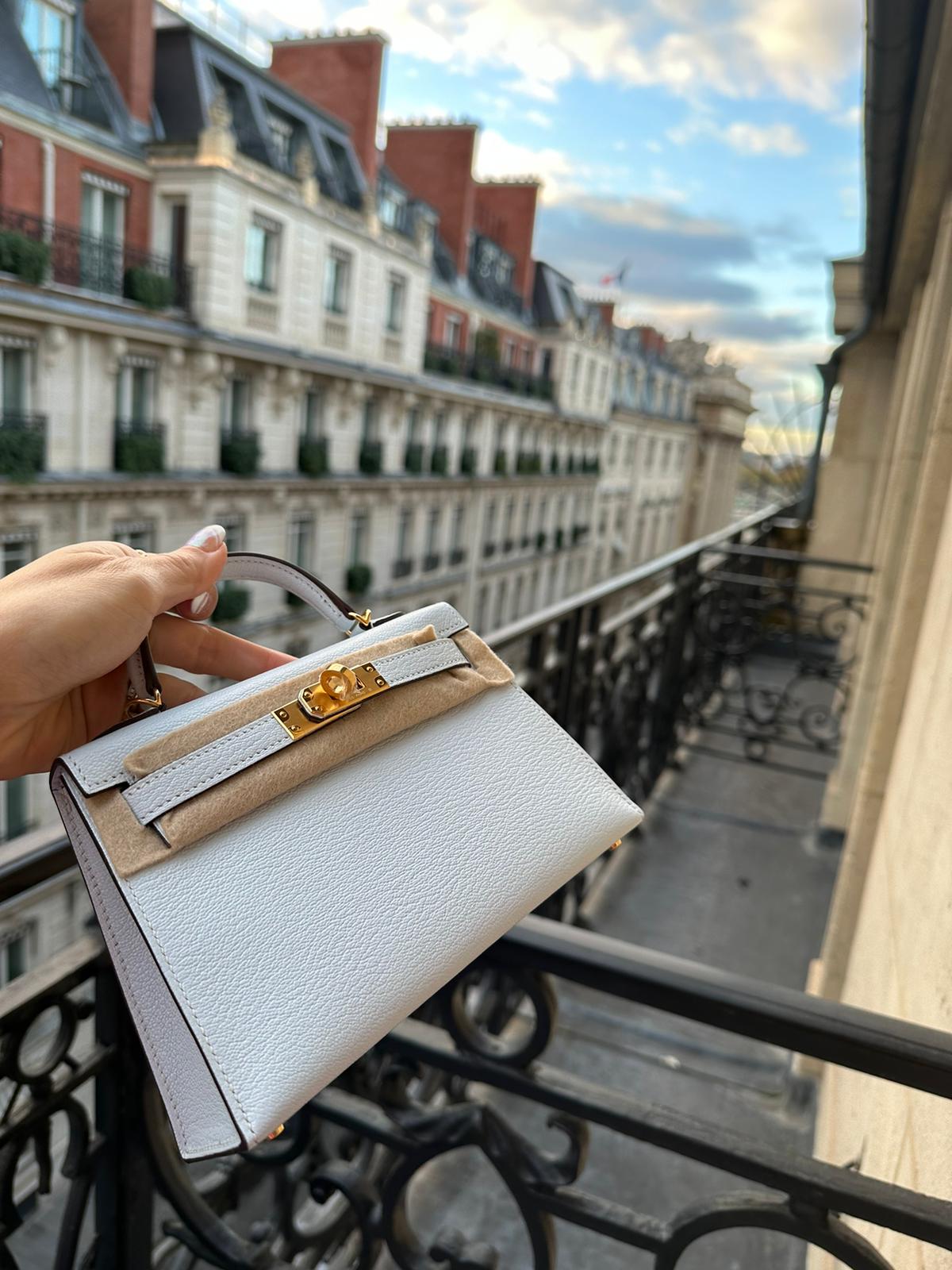 I covered my eyes with my hands and dragged them down my face, letting my palms cup my chin to prevent my jaw from dragging to the floor while I stared at the bag. She was the one that I had been gazing at in those display-only cases. I began to thank him profusely. He was happy that he picked something I loved.
He attached the strap and handed it to me to try on. She was perfect.
In the two other boxes, my SA brought some bags he thought I might like. The first box was a Nata Chèvre Geta Bag with gold hardware. The second box was a Rouge Sellier Evercolor Mini Bolide with gold hardware.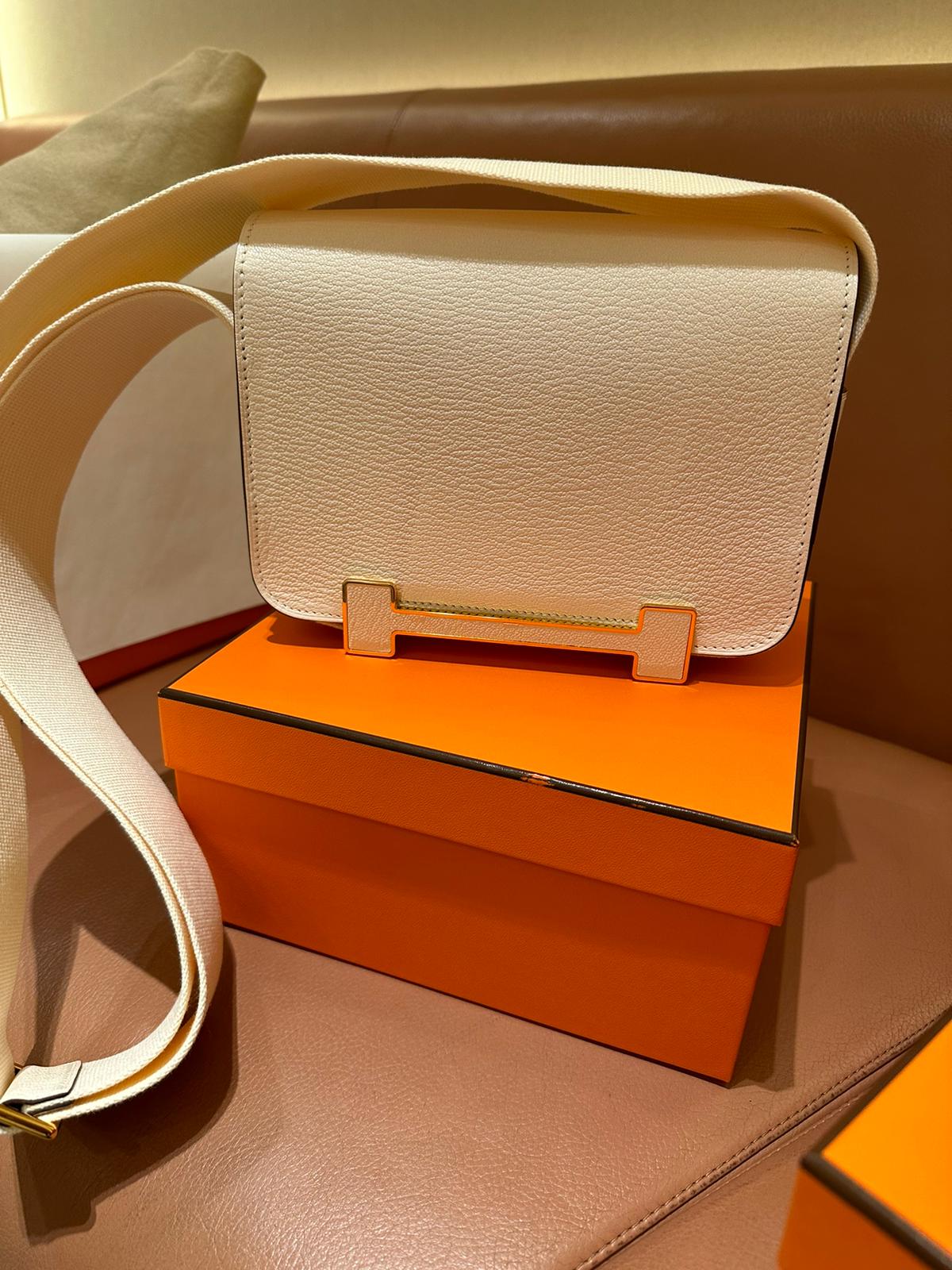 I immediately texted my husband to tell him that I got a Mini Kelly. "Congratulations hun!" he replied. Shortly followed by, "No more bags now, right?"
Well… what do you guys think? I put that message on unread.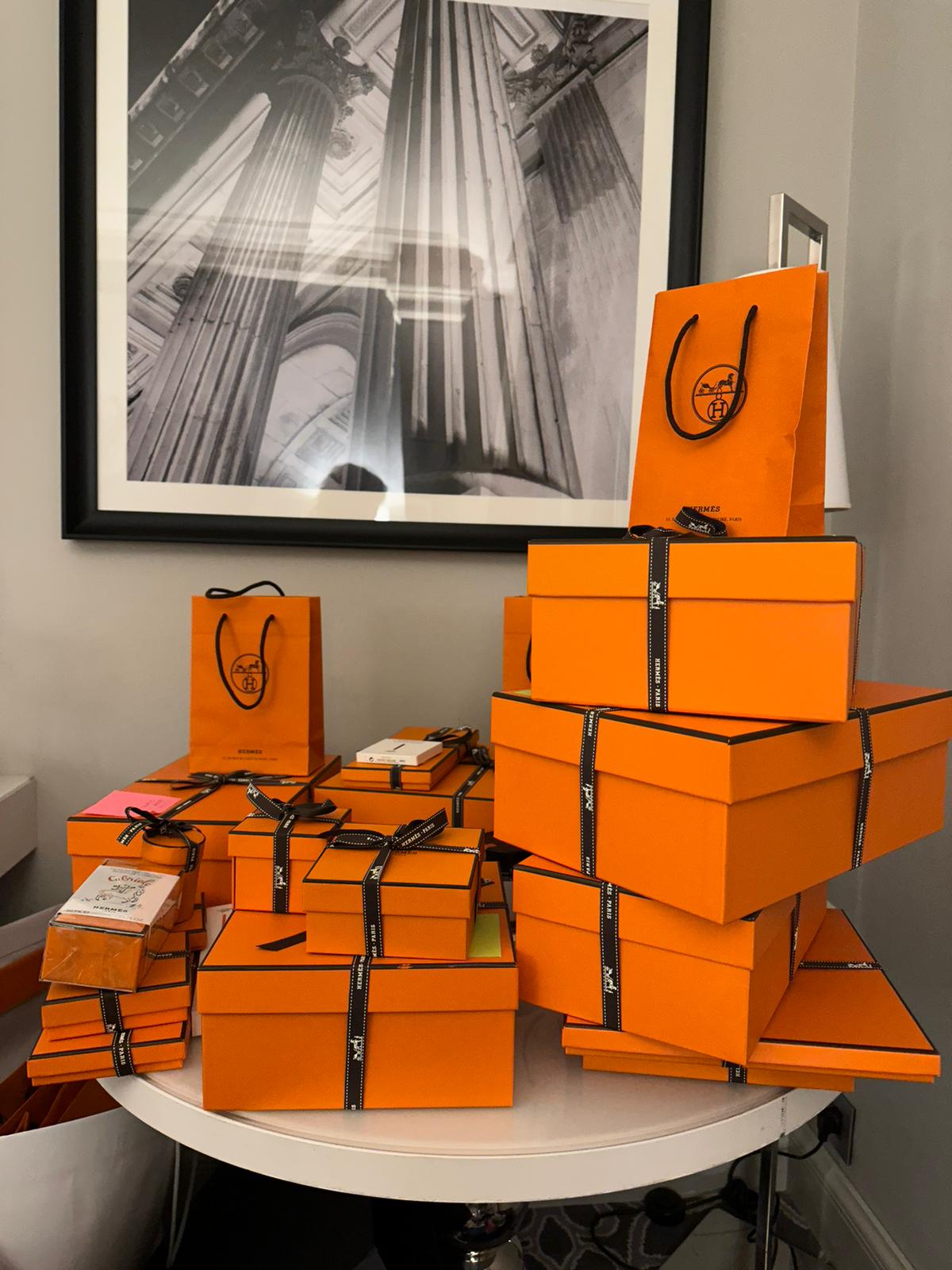 Alas, it was time to fly back home. Notice my Post-It labeling on all the boxes before packing up. I organized all my receipts and paperwork for a smooth customs experience. Courtesy all the articles here at PurseBop, I have mastered the procedures she has advocated for years to her readers.
Read this: Travel Tips from Paris: Hermès Prices, VAT and Customs
This is where my story gets even more exciting. I had the opportunity to travel to Chicago to visit PurseBop for a day. Along with our scheduled work, upon my arrival I discovered we were also going to shoot footage for the launch of The Carrie bag holder.
Knowing how OCD I am about organizing bags and their care, PurseBop gifted this Carrie bag holder to me. It has taken my organization to another level. I'm not a slouchy Kelly or Birkin girl so this bag holder is a must-have for me. I also believe it will help me keep my bags in better shape over time, after all —all the investment buzz has been over luxury bags being the best asset in its class. Keeping our bags in the best possible condition is a top priority for bag lovers.
Read: Report Says Handbags are Best Investment in 2023. What Does that Really Mean?
A perfect welcoming gift for my MK (and in gold to match the hardware on my new mini treasure).
Pictured below with PurseBop's special order Kelly 20.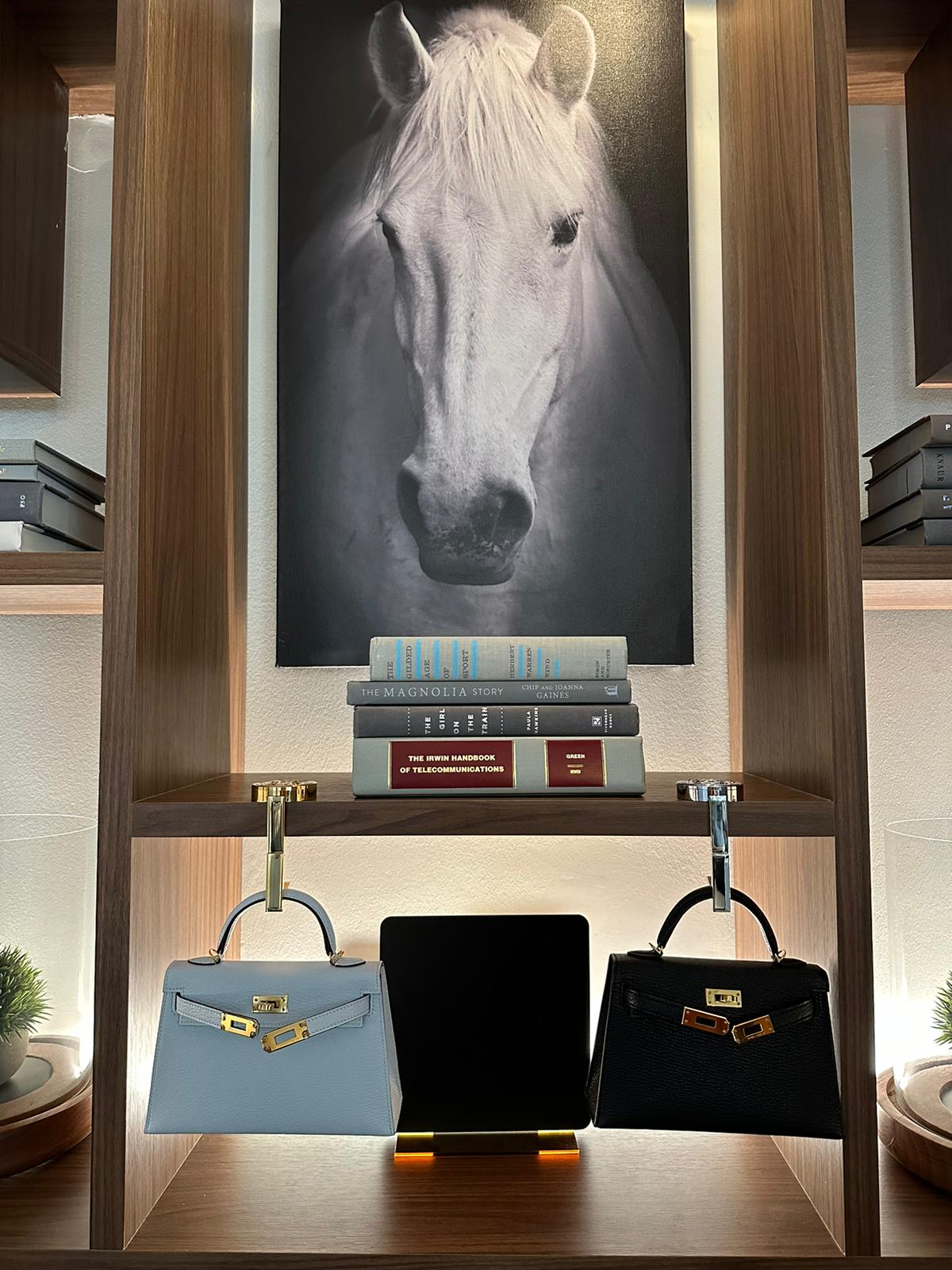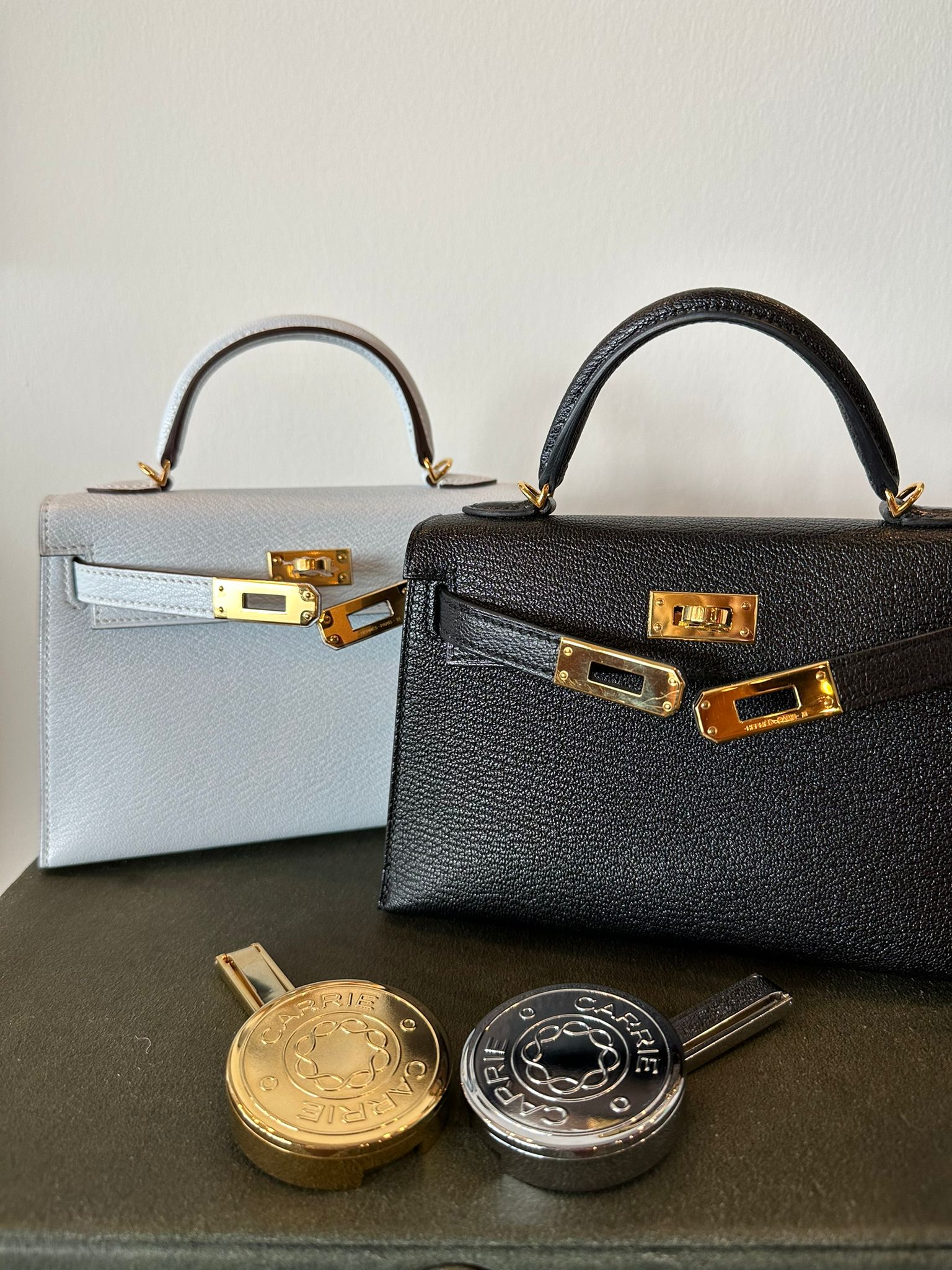 The Carrie holder is incredibly well constructed and will support any size bags. I don't want you to think its for mini sized bags only. It's just what both of us had planned to take to our evening event. The Chicago trip was my mini K's maiden voyage. In fact I was so excited I took it along to reveal with PurseBop.
You can read more about the holders and how to order here: Meet the Carrie Bag Holder. Be sure to use the promo code pursebop to unlock your savings. Carrie is still guaranteeing delivery before the holidays.
Updated: December 12th, 2022