As the nights close in, and the temperature drops, we dream of the warmer months. With the wanderlust of days spent on a sandy beach – we are turning to Chanel's Cruise 2024 collection to bring the heat. Originally shown in Los Angeles and paying tribute to all things Hollywood, the Cruise handbags are ready for their close-up.  Available in boutiques and online on November 15, these summer-ready offerings will prepare you for the season ahead.  
This collection flaunts a palette of lively tones, pastel shades, and shimmering metallics, all set for their Walk of Fame moment. Think hot pink, lemon yellow, pistachio green, aqua, and of course, a sprinkling of classic Chanel monochrome. Playful pieces abound, including the highly anticipated star bag and mini van minaudières, amongst reimagined and much-loved styles such as the classic flap, Deauville tote, and Chanel 22.
Read also: Chanel Cruise 2024 Handbags: A Closer Look at the Bags
So whether you're getting prepared for your next vacation, or summer in the city – there's a kaleidoscope of styles awaiting your exploration. From beachside elegance to urban chic, Chanel's Cruise 2024 handbags will ensure you step into the warmer months in style…
Minis
Mini bags take center stage in Chanel's latest Cruise 2024 collection. The iconic mini flap bag undergoes a series of dazzling transformations. It's a season to shine and sparkle as these petite bags are reimagined in vibrant metallics adorned with star coin purse detailing, as well as sequin embellished options.
When it comes to color, pinks and purples rule, augmented with touches of vibrant turquoise, and warm tones reminiscent of a midsummer sunset. The silhouette options remain quintessentially Chanel, ranging from square to rectangular Mini Flap bags. 
Star Bags
Quite possibly the literal star of the show, the Chanel Star bags shine bright. First in line is the Mini Flap bag adorned with a detachable star coin purse detailing. This star-adorned Mini Flap is available in two variations – a metallic pink rectangular and a purple square design, both boasting a high-shine metallic sheen. Additionally, the Small Classic Flap has received the star treatment in a bold all-silver finish.
For those seeking to make a statement,  the highly anticipated Star crossbody bag emerges as a radiant choice. Available in multiple striking variations, each comes complete with a classic chain crossbody strap. The Star bag is offered in black, and pink, as well as metallic gold and silver options. Drawing inspiration from the nostalgia of the '90s, it is reminiscent of the iconic heart bag of that era.
The stars don't stop there – there's the high-shine metallic backpack, complete with a detachable star coin purse. No doubt you'll get the star treatment with any of these bags.
Deauville
The Deauville tote bags shine this season.  Capturing the essence of sun-soaked days and coastal escapes, the ombre effect on these totes mirrors the full spectrum of summer skies, from the soft pastels of a sunrise to the vibrant seafoam green and electric blue of the daytime ocean, and on to the warm sunset hues, and even the deeper evening shades of purple. 
Maxi Bowling Bag
In a departure from the traditional Deauville design, Chanel introduces a new shape in the form of the Maxi Bowling Bag, available in hot pink and classic black. Measuring 9.8 x 15.7 x 8.3 inches, this elongated design provides ample space for your essentials. Complete with a convenient zip-top closure, top handles for easy carrying, and the signature Deauville chain shoulder straps.
Chanel 22
In this latest release, the timeless allure of Chanel's 22 bag remains unwavering, now available in a spectrum of fresh colorways. Notably, rainbow metal hardware makes a reappearance. Furthermore, the introduction of a new east-west silhouette 22 bag infuses a fresh aesthetic.
The Chanel 22 lineup holds more surprises with the debut of the elongated Chanel 22 shoulder bag. Featuring an elongated design, this chic addition to the Chanel 22 family introduces an east-west silhouette and shorter shoulder straps, creating a chic aesthetic. Crafted from supple calfskin leather, choose from silver or gold-tone hardware. This new style effortlessly combines timeless elegance with a touch of 'cool-girl' flair.
The coveted Mini 22 is in the spotlight with a range of distinctive colorways. For those with a penchant for classic elegance, options include an ombré Mini 22 in white transitioning to gray, and a striking turquoise rendition. If classic hardware doesn't quite capture your attention, the Chanel 22 lineup offers rainbow metal hardware too. 
Backpacks
Backpacks remain front and center in the Chanel cast lineup, filling the role of versatile, functional, and fashionable accessories. In this season, they are summer-ready and athletic-inspired – whether you rollerblade in Venice Beach or head to a Hollywood set.
Minaudières
For devoted collectors of Chanel's whimsical minaudières, this Cruise collection doesn't disappoint. At the heart of this collection, lies the showstopper – a minaudière inspired by a retro surf minivan. This whimsical creation is available in monochrome resin, as well as a silver glitter and pastel pink rendition. Both bags come complete with a chain shoulder strap and a miniature Chanel surfboard.
Hobos Bags
Chanel effortlessly expands its Hobo bag lineup this season, offering a diverse range from small to large. The collection continues as a celebration of summer, with metallic purples, orange tones, and, of course, classic black. Chanel has reimagined some familiar silhouettes first seen in their Pre-Fall/Winter 2024 collection, as well as fresh alternatives complete with vintage-inspired vibes.
Chanel's latest Large Hobo bag echoes the vibrant summer shades seen on the refreshed Deauville. Despite its name, this piece leans more towards a classic tote, boasting a flat profile with a distinctive flap and turn-lock fastening. 
Vanity & Top Handle Bags
Top-handle lovers can rejoice, as Chanel introduces an exciting new addition. A fresh interpretation of the iconic top-handle flap bag, this version boasts an almost 'puffy' silhouette, evoking the nostalgic charm of Barbie's favorite purses. Available in small sizes only, it comes in various options, including tweed, and delicate metallic leathers. 
Clutch & Evening Bags 
Shifting into gear for summer-ready clutch bags, there are options. You'll find fully embellished metallic clutches, and sequinned beachscape designs, amongst more classic baguette bags.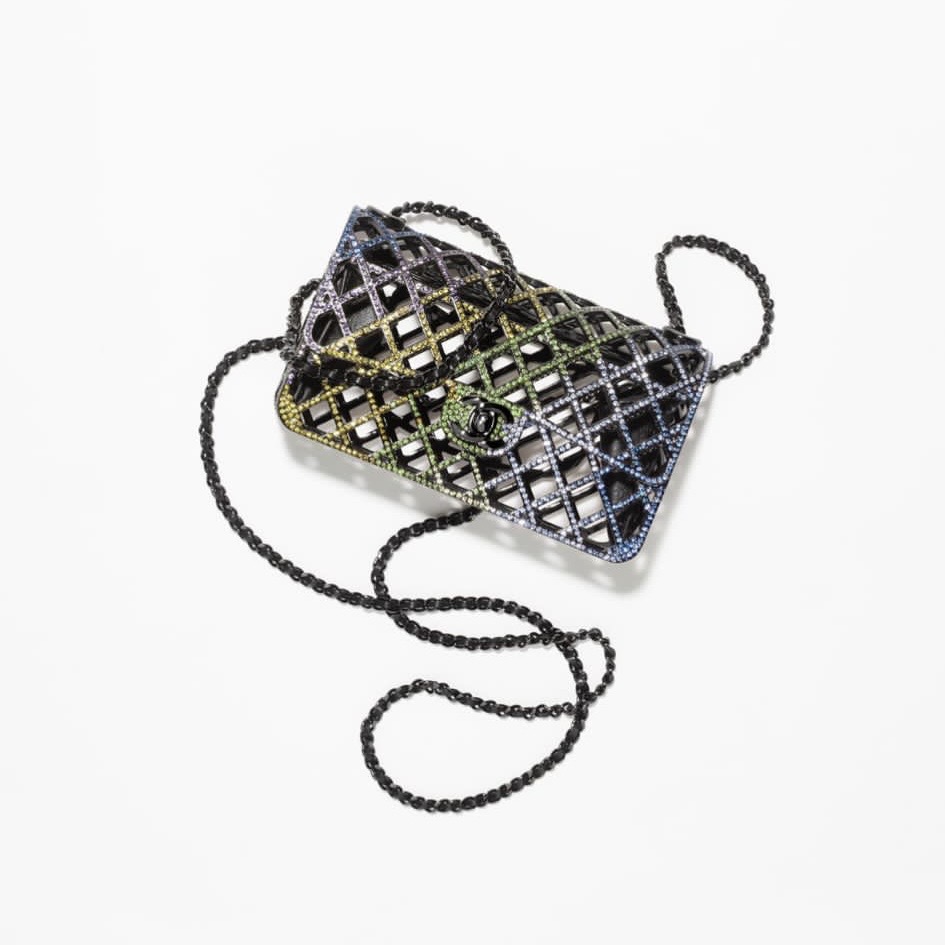 Timeless Classics
In true Chanel fashion, this collection introduces a myriad of Classic bags reimagined in fresh, seasonal colorways, as well as embellished tweeds. The Maxi Flap bag makes a bold appearance in vibrant pink, while the Boy bag undergoes an orange makeover. Several classics also boast rainbow metal hardware, offering a contemporary edge.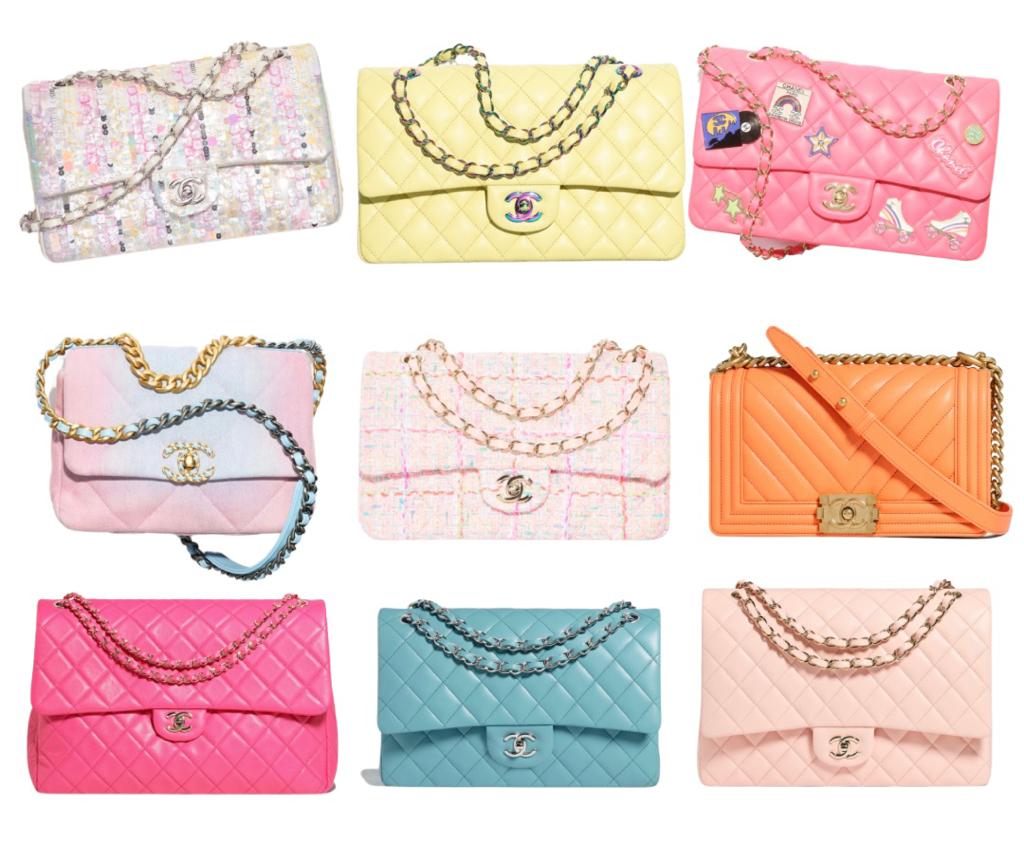 Are you looking for a spring-summer bag refresh before winter truly arrives? With such bright and bold colors on offer, it's hard not to look to the season ahead… What do you think is the real star of this collection? Let us know. 
Updated: November 14th, 2023