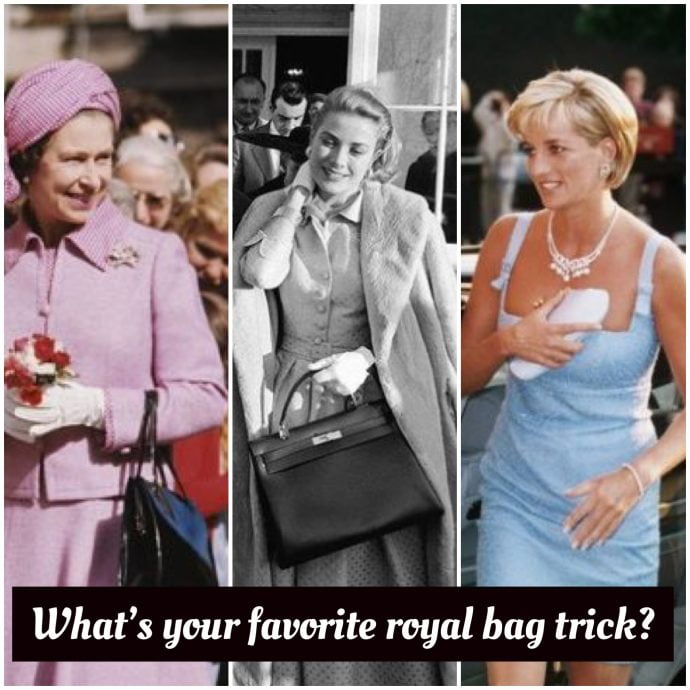 What's your favorite royal bag trick?
What's a handbag for? The answer seems obvious. We carry bags to accessorize, tote around our belongings, and express our personal style. To many a fashionista, the question should rather be: why wouldn't you always have a bag by your side?
But some people—especially royalty—have found uses for their bags outside obvious function and fashion. Always in the public eye, royals have discovered some bag tricks (both successful and…less successful) that may be foreign territory to us mere commoners. Let's take a look at the bag tricks of three famous royals, shall we?
1. Princess Diana: Cleavage Concealer
The ever-fashionable Lady Di could often be found carrying a clutch close to her chest. Now, the reason is no longer a mystery. As Glamour recently pointed out, the clutches were used for modesty. In an interview with The Telegraph, handbag designer Anya Hindmarch—of whom Princess Diana was an early client—divulged that the royal would come to her for "cleavage bags."
"We used to laugh when we designed what she called her 'cleavage bags,' little satin clutches which she would cover her cleavage with when she stepped out of cars," said Hindmarch. The perfect way to avoid a wardrobe malfunction? We think so.
2. The Queen: Secret Signaler
We already know the detailed contents of Queen Elizabeth II's signature Launer bag, courtesy of Glamour, but the Queen's handbag uses go beyond mere toting. In fact, her bag serves as a stealthy symbol.
"If the Queen places her handbag on the table at dinner, it signals that she wants the event to end in the next five minutes," The Telegraph wrote earlier this year. "If she puts her bag on the floor, it shows she's not enjoying the conversation and wants to be rescued by her lady-in-waiting."
3. Grace Kelly: Baby Bump Veiler
You didn't think we'd forget this classic, did you? In perhaps the most famous royal handbag 'trick' to date, Grace Kelly—after being crowned Princess of Monaco—held her Hermès bag over her belly to conceal her pregnancy with Prince Rainier III.
Hollywood royalty turned actual royalty led to handbag royalty: as you may know, this Hermès bag is now titled the "Kelly," after the princess herself. And it goes without saying that the Kelly, along with the Birkin and Constance, is royalty in the world of handbags.