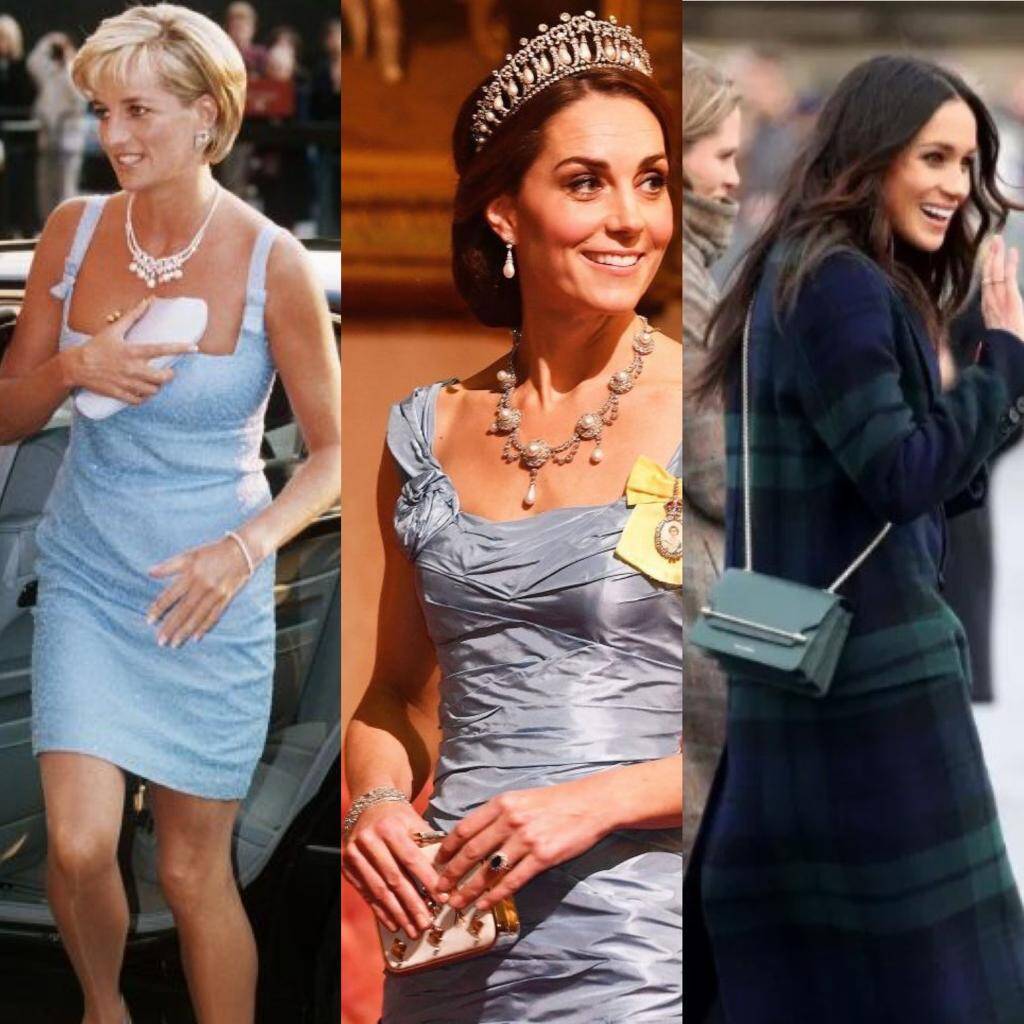 Handbags serve a much different purpose for royalty than they do for us. They are, after all, surrounded by enough staff to carry whatever they could possibly need. Yes they serve as accessories to glamorous outfits, but for many a royal, they go beyond. 
Members of the reigning British Royal family in particular, are famous for using their handbags for several unique purposes. From signaling  to cleavage concealing, we present four distinct royal personalities from the House of Windsor (Queen Elizabeth's immediate family) and the quirky requirements their bags fulfill. 
1. Princess Diana: Cleavage Concealer
The ever-fashionable Lady Di could often be found carrying a clutch close to her chest. Now, the reason is no longer a mystery. As Glamour pointed out, the clutches were used for modesty. In an interview with The Telegraph, handbag designer Anya Hindmarch—of whom Princess Diana was an early client—divulged that the royal would come to her for "cleavage bags."
"We used to laugh when we designed what she called her 'cleavage bags,' little satin clutches which she would cover her cleavage with when she stepped out of cars," said Hindmarch. The perfect way to avoid a wardrobe malfunction? We think so.
2. The Queen: Secret Signaler
We already know all about the Queens love for her Launer bags and what she carries in them (Read: Queen Elizabeth's Loyalty to Launer Hangbags). But the Queen's handbag uses go beyond mere toting. In fact, her bag serves as a stealthy symbol.
"If the Queen places her handbag on the table at dinner, it signals that she wants the event to end in the next five minutes," The Telegraph wrote earlier this year. "If she puts her bag on the floor, it shows she's not enjoying the conversation and wants to be rescued by her lady-in-waiting."
There's more  –
According to reports, if she places her handbag on a chair then it means she would like to continue the conversation she is in the middle of, but if she switches the bag from one arm to the other, then it is a sign that she would like to move on from that particular conversation. Intriguing and confusing for us, but we reckon it works like a charm for THE QUEEN!
3. Catherine, Duchess of Cambridge: Handshake Escape
Royal handbag etiquette requires bags to be held or clutched in one's left hand, keeping the right hand free for handshakes.  Duchess Catherine or Kate, has often been spotted at events with a clutch clasped elegantly in between both hands. She is known to adopt this pose to avoid awkward and time-consuming handshakes. According to The Sun the pose, also known as the 'Cambridge Carry', is designed to add poise and is perfect for those who don't know what to do with their hands. At events where meeting, greeting and waving is required, one does see Kate holding on to her clutch in one hand.
4. Meghan, Duchess of Sussex: Handsfree Approach
Contrary to her sister-in-law Kate, her late mother in law Princess Diana and The Queen, Meghan is spotted often at public events with a sling bag casually worn crossbody, leaving both hands free to meet and greet people at ease. A relatively relaxed approach viz-a-viz the rest of the Royal Family no doubt. While the look may break Royal protocol, we reckon it scores high on style and comfort. And with no underlying agenda… is definitely refreshing!
Which of these Royal Handbag uses do you see yourself adopting? The cleavage concealer is definitely one we are considering.