It is with great pleasure that I introduce to you our latest BopTalk Celebrity @kugzz
@kugzz has a unique and fresh approach to handbags and style. She shared her process of how she curates her handbag collection with us in great detail (Read: No More Than 10 Bags?!).  Many of you were initially hesitant about her minimalistic philosophy, but her advice proved to be effective and invaluable.
Today, we are delighted to share her guide to selecting neutral handbags. Neutrals are supposed to be effortless and versatile, but some of us have found it tricky to implement these supposedly "easy" colors into our collections (Read: The Quest for a Neutral Handbag).  In the guide below, @kugzz provides insight on how to pick the perfect neutral bag. She fully explains how neutrals work on the color spectrum, compares bags from her own collection, and gives incredible advice on how to pick colors that fit your style.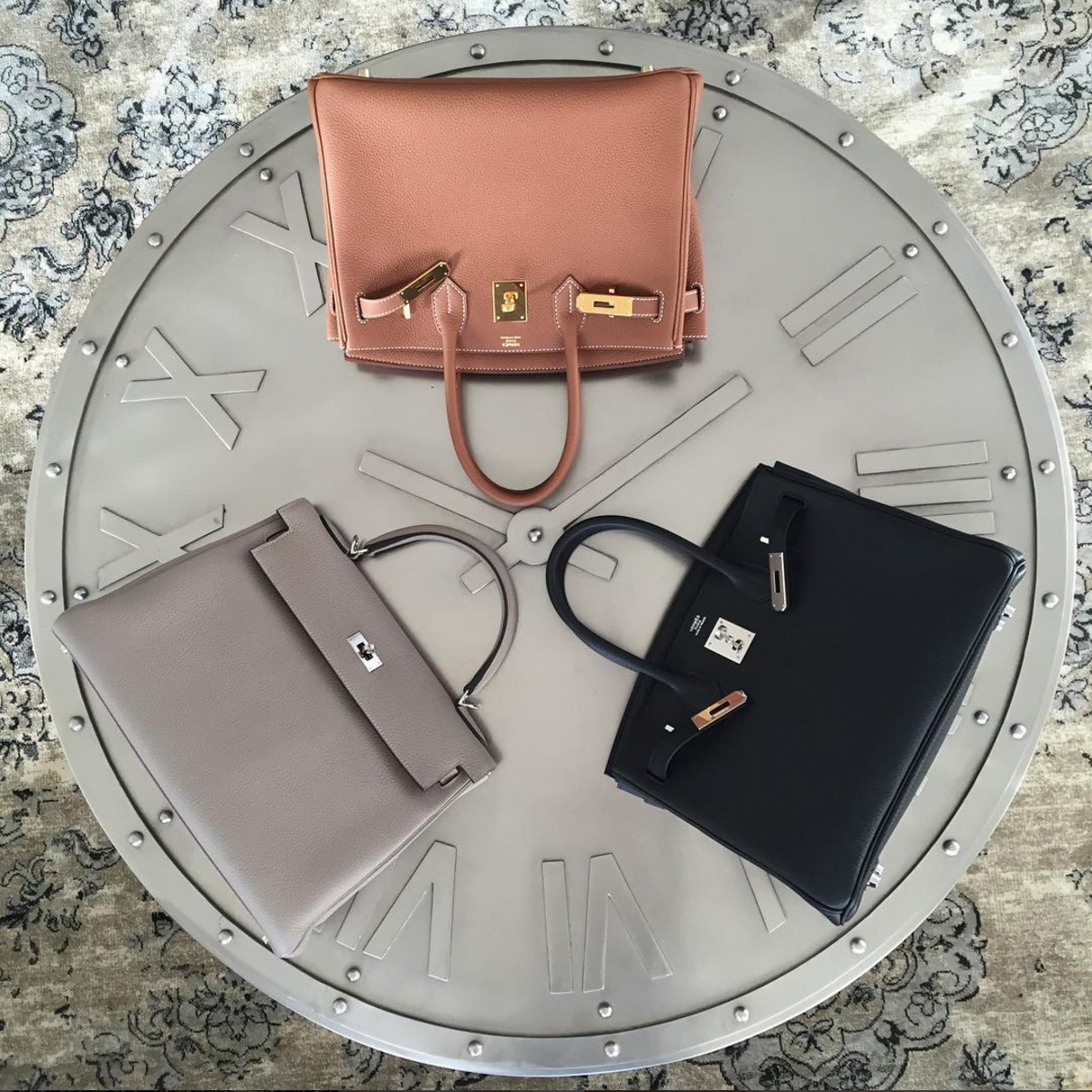 Let's not categorize the neutral lovers as boring and basic people. As basic as the color palette may seem, staying neutral is quite complicated. Do I make any sense? Let's explore more.
So, how do neutrals look on a color wheel? Ha! They actually don't look like anything because they don't even exist on the color wheel.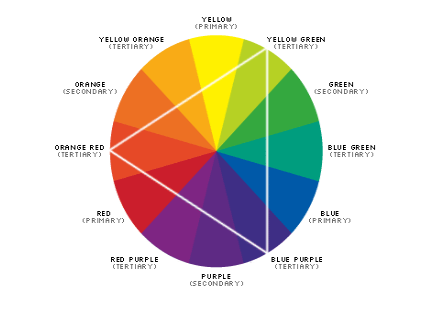 Let's explore the world of neutrals through my eyes. Shall we?
The beautiful colors (or nonexistent colors, whatever you would like to call them) like beige, ivory, taupe, black, gray, and white appear to be without color, and yet in many applications these hues often have undertones. A typical east coast girl's closet consists of black, gray and brown family palettes, and there are always the daring ones who wear lot of colors. I admire you girls!
I took examples of Hermès and Chanel because these are the only two brands I am left with in my edited collection. I hope you can still relate with whatever your current favorite brand is.
How I picked my neutrals?
There are two categories of neutrals:
Cool (blue or greenish undertones)
Warm (brown, red, orange, or yellowish undertones).
In my case, there are three types of neutrals, third being the Hermès Chameleons.
In my experience, Hermès creates the most striking and complex neutrals by adding various tints that react inversely, depending on the surroundings and lighting conditions – especially grays. I have two Hermès chameleons in my collection – Argile (Jige 29/swift leather) and Gris Tourterelle (Kelly 32/ togo leather).
On its own, argile has more beige undertones and gris tourterelle more brown/grayish.
Here are the pictures taken with the same camera, under same lighting with no filters at all. Please note that, the only thing that changed in the pictures is the shawl underneath.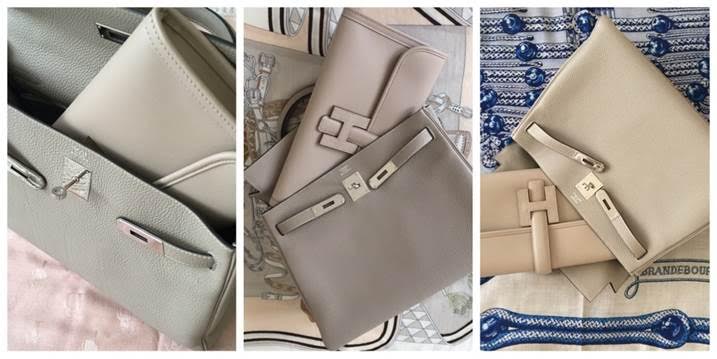 Close up pictures of the comparison shots down below…
What do you guys think? See the dramatic change in colors? Isn't it like carrying a new bag every single time? If your budget allows, you should definitely invest in one of Hermès' Chameleon colors.
Let's move on from grays to browns. Below are my favorite kinds of browns ;)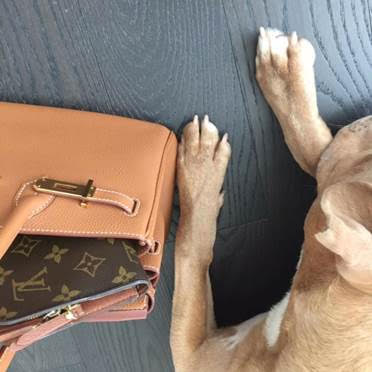 I tend to gravitate towards tan, beige, ivory, and whites; my closet is full of these. Adding a gold/tan color bag was a no brainer to me. This warm neutral has a calm, clean and uncluttered appearance (at least to my eyes). The white trim adds an airy freshness and a "je ne sais quoi" to this beauty.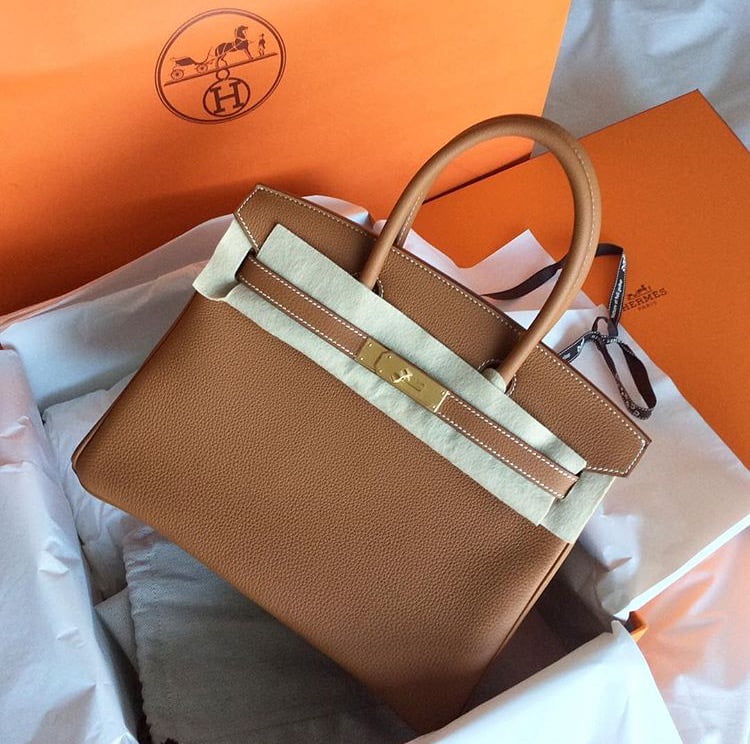 Black is up next
Especially in North America, I believe we have a big appetite for dark colors. We are obsessed with black dresses, shoes, bags, cars and so on. I have three in my collection. Before you roll your eyes on me, please, let me explain.
Chanel classic flap, jumbo lambskin (silver hardware),
Chanel 2.55 (Reissue distressed leather) gold hardware
Hermès Birkin 30 with silver hardware
I'll step away from the neutrals and explore hardware effect and how it could tone any outfit up or down. I won't get into the usual gold hardware/silver hardware debate. Below is my observation.
Black with silver hardware
Fresh and Edgy
Works well with every color combo out there
Black with gold hardware
The forever classic and puts a dressy spin to an outfit in an instant
Unfortunately, the color combo doesn't appeal to my eyes when worn with reds, pinks, corals, blues and purples. It just weighs down the above mentioned color families in spring/summer. Some ladies wear these combos effortlessly, more power to you!
Let's compare pictures and see if you see what I see…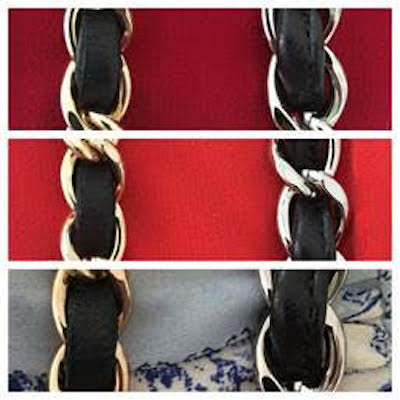 How to select a perfect neutral?
Neutrals works for everyone, from a totally colorless to a very colorful fashionista. Neutrals are exceptional colors that harmonize effortlessly with brighter colors and also work exquisitely on their own. Used together or for contrast, neutrals are essential to your wardrobe. The number one thing you want to avoid is choosing a palette that's nice to look at but not wearable. You want your neutrals to be able to work with every other shade of your palette.
Firstly, figure out if you prefer the warm or cooler neutrals. As mentioned before, cooler neutrals have blue or greenish undertones. Warmer tones have brown, red, orange or yellowish undertones.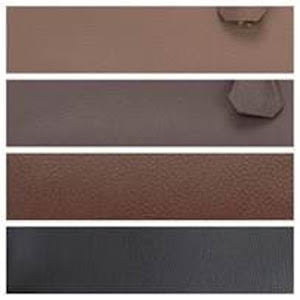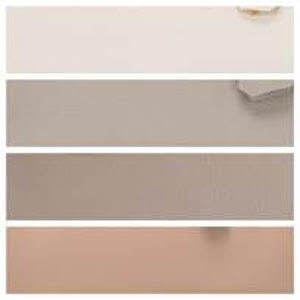 Black needs no explanation. I'll focus on the grays and browns.
Grays
Cooler palettes utilizing gray tones look sophisticated. Similar to whites, adds freshness to any refined look. I'd like to add silver metallic in here too.
Darker grays have foundation of black but with less dominance. I find dark grays very dramatic.
Browns
Cooler palettes utilizing brown tones add elegance and classiness to any outfit especially when paired with white, ivory and beige-ish outfits.
Warmer brown shades are built on gold, bronze and copper to create an abundance of warmth. This palette illustrates more seriousness but also adds more causality than black.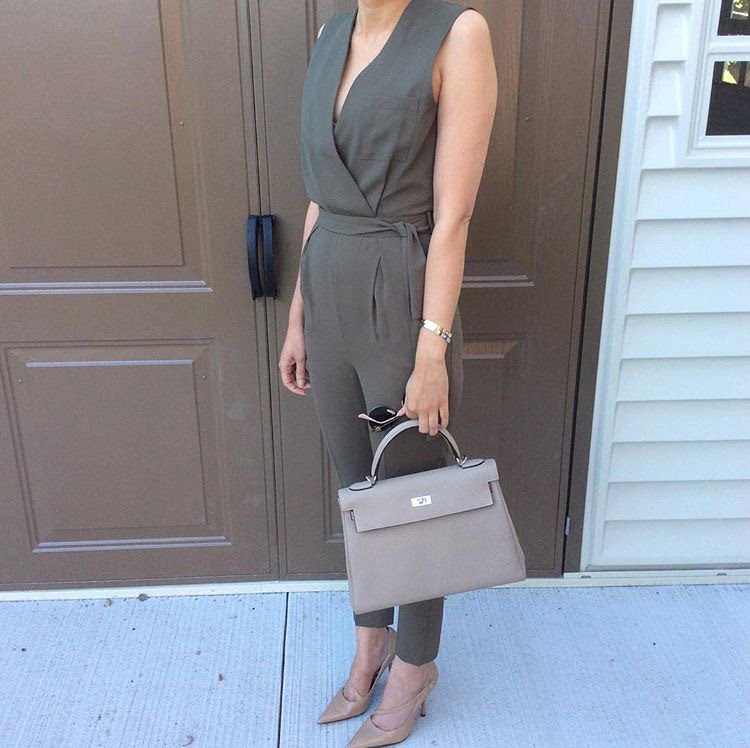 A Few Take Aways
Which colors do you naturally gravitate towards? The best way to do this exercise is by saving or bookmarking images from Instagram, Google, and Pinterest.
Pay attention to the undertones and color saturations. Trust me on this one. You are welcome! Although it may seem tedious and scientific, details make all the difference.
Neutrals build the basis of any woman's wardrobe. These colors sound boring to many, but you can't build a house without a foundation. Can you?
Picking up the right neutrals will create a base for your wardrobe, which later will welcome all those random colored items that you feel like you won't be able to live without. The multi-colored louboutins you have your eyes on, the new Dolce and Gabbana spring/summer ready-to-wear you're drooling over, the neon colored top you saw on sale etc; You get the idea where I am going with this.
Don't obsess over some color because you saw it on your favorite blogger, super model or Hollywood celebrity. Google it! Look for more pictures. Do you wear the same colors that blogger or celebrity wears? Would it work with your outfits and lifestyle?
Incorporating neutrals in one's closet is not a question of 'if' or 'but' but more of 'how' and 'when'. Focus on fewer, better things that can serve multiple purposes to everyday life, and please step away from your hoarding obsession. Like I always say, be the ultimate clutter-free fashionsita.
Love,
@kugzz
Read related articles below:
The Quest for a Neutral Bag
Neutral Week: Bag and Shoe Picks!
Why is Black the Most Popular Handbag Color?
No More Than 10 Bags?!