Neutrals are supposed to be girls best friend… who could imagine that PurseBop has struggled to acquire her very first. In all the years that I have been collecting handbags… why is it that adding a neutral to my rainbow palette is the hardest thing for me to do?!
By "neutral",  I am referring to beiges, tans, greys, essentially, any earth tone.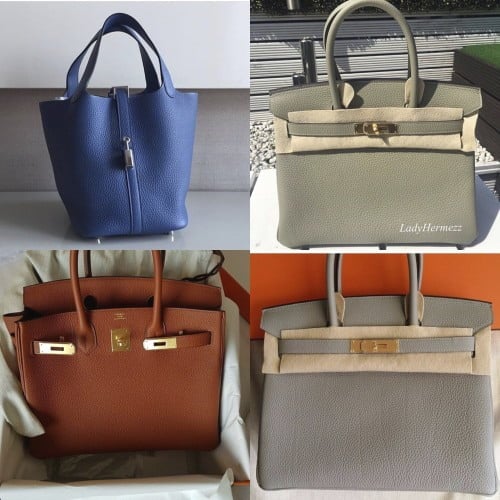 Take a close look at these Hermes F/W 2016 colors here on BopTalk.
Clockwise: Sage, Gris Mouette, Cuivre, Blue Agate
(pics courtesy @ladyhermezz @ruelamode @monica.hermes @theauthenticchoice)
Let's examine my definition of "neutral" till date.
1. The obvious BLACK
I have a few, but not nearly as many as most would have acquired considering the years I have been 'bagging' LOL. In fact, I crave black now more than I ever have before. But somehow, black doesn't necessarily satisfy all neutral moods I have only recently started to crave. I particularly start to feel this neutral void in my collection more in the Spring/Summer season with summery florals and lighter colored feminine dresses where black looks too harsh. Although, my myriads of pop colors would do just fine, I want to try something different, but at the same time I'm hesitant in fears of making the wrong 'expensive' decision, and possibly even a little stubborn to venture into neutral territory.
Related Reads:
The Quest For My Ultimate Bag by @mrslulu3
Why is Black the Most Popular Handbag Color?
2. Metallics
Gold and silver (primarily gold) metallics have been the invisible colorless shades that I reach for when I presume most fashionistas seek 'neutral nudes'. While it may seem odd for the understated dresser, I must confess that silver and gold are the closest I have ever gotten to beige or tan.
My failure to find the right neutral is not for lack of trying. On two separate occasions, a few years apart, I have bought a classic beige caviar classic, once a jumbo and once a medium/large. Unfortunately, I just stared at these bags in my closet and did not know how to incorporate them into my wardrobe, so back they went.  More recently, when in Paris this last January, I nearly pulled the trigger on the calf patent Chanel Boy Bag from the SS16 collection in soft nude pink, but it turned out to be a no-go  (Read: Chanel Spring Patent 2016 Boy Bags & Boy Shopping in Paris).  I will even reluctantly confess to you (please don't kill me here) that I was offered an Etoupe Kelly28 PHW that I also turned away. I think had it been GHW I may have been more tempted to buy it. In my mind somehow, this neutral casual bag I crave needs to be a Birkin (vs. Kelly) or a Birkin style top handle bag.  
I have not quite figured out whether some of us are just wired for neutrals and some of us simply are'nt?

Don't get me wrong, nothing gets my heart rate up quite like a pop of color like Hermes Bamboo green or Chanel flourescent pink but I want to try, I want to give a neutral other than black a serious test run. The hardest part is knowing what type of neutral will work best for me. I do not wear earth tones, I rarely ever wear beige or brown… I wear brights and lots of black in the winter. Nails and lips are usually reds, pinks and oranges. Rarely colorless, except the rare occasion I do the new nude Bobbi Brown lip pencils.
I have been posting neutral colored potential possibilities to my IG page, and we have had incredible lengthy chats about each.
Which shall PurseBop choose?
Should I jump into the neutral game with the investment of an Hermes bag? Will it be Etoupe, Gris Tourterelle or possibly the new Gris Mouette? Should it have grey, pink or brown undertones?
Option 2, should I start with a less expensive brand first to see I can truly fall in love with neutrals? Maybe I could try it out with the hot Givenchy Antigona (the #1 most searched bag on the internet, Read: Top 10 Most Searched For Bags), a YSL shoulder bag , or maybe even Saint Laurent Sac du Jour before jumping to Hermes?
Look at the options and vote below to help me decide…*Remember the pictures down below are only for style reference, the color and size of bag I ultimately buy can change.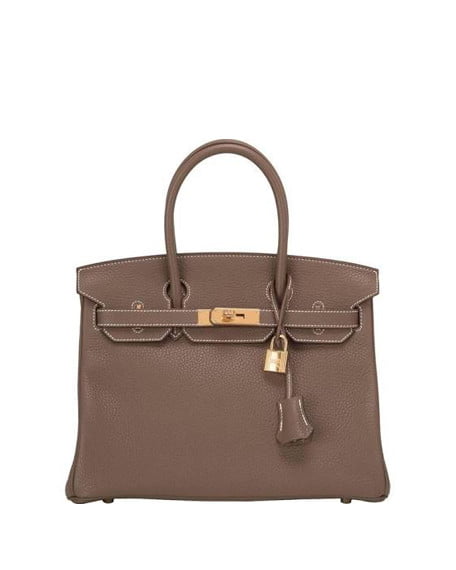 Updated: June 27th, 2017