It's hard to believe we are two months into 2023. Some of us are still putting away – and perhaps admiring – those holiday gifts (and hopefully the outdoor lights LOL). Yet it truly is time to turn our attention to what's trending in handbags this year. After all, they are now hitting boutique shelves and your social media feed.
Of course you're wondering what's going to be big . . . and big remains big. As does small. It's really a matter of what works for you on any given day for whatever event or activity.
But we'd better get cracking. Wait lists are being made as we await the latest bag drops. So, without further adieu, take a look at some of the hot handbags trends of 2023 before they sell out.
Size Matters: Go really Big and really Small
What's big is big. And what's small is big. Last summer's huge hit is back – in the original and new fabrications – along with other oversized bags. But don't put away those minis either. They too are hotter than ever.
Saint Laurent iCare Tote
The "IT" bag of the summer 2022 isn't going anywhere. In fact, it's even getting a makeover in beige suede, launching in June. Are you loving this new look?
The original black version retails for $4,900 while the suede will be $5,600
See: Sizzling Bags of Summer 2022
Additionally, YSL added a giant (yes, that's actually in the bag's moniker) bag for travel designed to take you all day and anywhere.
Hermès Gold Mini Kelly 20
While the Mini Kelly remains a holy grail bag for many fashionistas, the new Gold Mini Kelly from the Hermès Spring/Summer 2023 collection may be the next level up. 
The retail price is unknown. However, an Epsom Mini Kelly 20 is currently $8,700.
Chanel 22 Mini Bag
The Spring/Summer 2023 Chanel runway show debuted the Chanel 22 in a mini size. Those who hated the original design, comparing it to a garbage bag, may change their minds when they see this adorable new design.
The retail price for the Mini 22 with pearls is $5,300.
Chanel Maxi Bowling Bag
Debuting during the Chanel 2023 Cruise Collection, this maxi bag is big on style. A chic rounded shape with zippers on both sides, top handle and chain strap is destined to be the travel accessory of the summer. 
It retails for $4,800.
Chanel Mini Metal Evening
We've been obsessing over this mini bag since it stole the show in Monte Carlo last year. Part Chanel Classic Flap and part Picnic Basket, this is a bag of summer dreams.
The mini size retails for $5,300.
Louis Vuitton Mini Boîte Chapeau
Fashioned from Monogram Reverse canvas, the Mini Boîte Chapeau features two large gusseted compartments. It can be worn as a belt bag, carried by the handle, or on the shoulder with a removable strap.
This bag retails for $2,370.
Lots of Love – Hearts Win
Although Valentine's Day has come and gone, love is still in the air. Heart-shaped and heart-themed handbags are coming from a variety of luxury brands. Clearly the success of recent years' Chanel and Louis Vuitton heart bags was no aberration.
Louis Vuitton Pink Nano Speedy
Ok – so while this one isn't heart-shaped, it certainly includes that pop of loving sweetness. We previously featured the Louis Vuitton Pop My Heart bags in Dragonfruit and Lilac. Now, there's a new heart bag: a vernis leather pink nano Speedy in Mochi Pink. The heart zipper closure detail and the Y2K vibes no doubt have a lot of SA phones pinging to reserve this one. 
This bag retails for $2,030.
Chanel Heart Minaudiere Bag Box
There's a new Chanel version of the heart bag for Spring/Summer 2023. And this time, it's an elegant evening bag. 
The black, red and gold small version retail for 9,000€ while the larger black size is 11,000€. The small version retails for $9,400.
Alaïa Heart Leather Shoulder Bag
Alaïa seems to be everywhere these days, most recently during the Super Bowl Halftime Show on Rihanna. Not to be left out of this trend, Alaïa's adorable red leather heart bag has a two way zip closure with a shoulder strap.
It retails for $1,170.
Le Monogramme Heart YSL Crossbody Bag
This Saint Laurent bag is giving us major throwback vibes. Actually a double take, thinking at first it was vintage. It's not. The jacquard logo canvas bag has a zip top closure and a cross body strap. It features a YSL medallion patch on the front.
It retails for $1,450.
Under the Radar
Sometimes you just want to go incognito. Or at least have your bags not scream label, logo, or luxury. And yet, luxe is your thing. These fly under the radar without giving up quality or style. Call them quiet fashionistas.
Loro Piana Extra Pocket L19 Pouch
Long a staple of this classic, high end luxury brand known for its fabrics, Loro Piana's pouch is a style-maker's dream. This calf leather pouch features a top handle and zipper closure. It also has a detachable strap.
It currently retails for $1,975.
Hermès In-the-Loop
It's not everyday that Hermès introduces a non-Birkin or Kelly handbag that's an instant hit. In fact, the In-the-Loop is seemingly harder to get than any other non-quota bag at Hermès these days. With the shape and functionality of the Hermès Picotin, this adds a bit of extra styling.
The 18 size retails for $4,500.
Polène Numero Dix
You thought the lines for Chanel launch days were insane in Paris. But the lines at the Polène boutique there can be even longer. Surely it didn't hurt that another Polène style showed up in Emily in Paris. Moreover, the lower price point and high leather quality have fans clamoring for these bags.
The Numero Dix (Number 10)  in calfskin leather features a half moon shape and comes with two different length straps to be worn cross body, over the shoulder and in the crook of your elbow.
It currently retails for $460.
Khaite Medium Olivia Hobo
Finally, a Kar-Jenner bag favorite that borders on affordable. This medium sized, slouchy hobo is one of Kendall Jenner's favorite bags. It features a zip top and can be worn over the shoulder or carried by hand.
The leather model retails for $1,600 while the raffia version is $1,350.
Crescent Shaped Bags
Truthfully, the crescent is a shape that never really goes away. It may be associated with the Gucci Jackie 1961 bag, but there are other options.
Gucci Jackie 1961
So, let's start with a true classic: Gucci's small Jackie bag. Available in many variations, it really pops in green. Well, actually, we found two greens, but you're welcome to go black or in any other fabrication.
We've seen two different shades – one in a more subdued emerald hue in natural grain leather. It retails for $3360.
The other green is brighter with a smoother leather. It retails for $2950.  You choose. Either way, it's classic.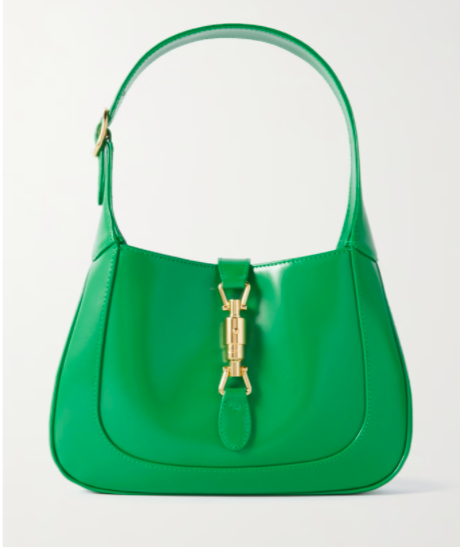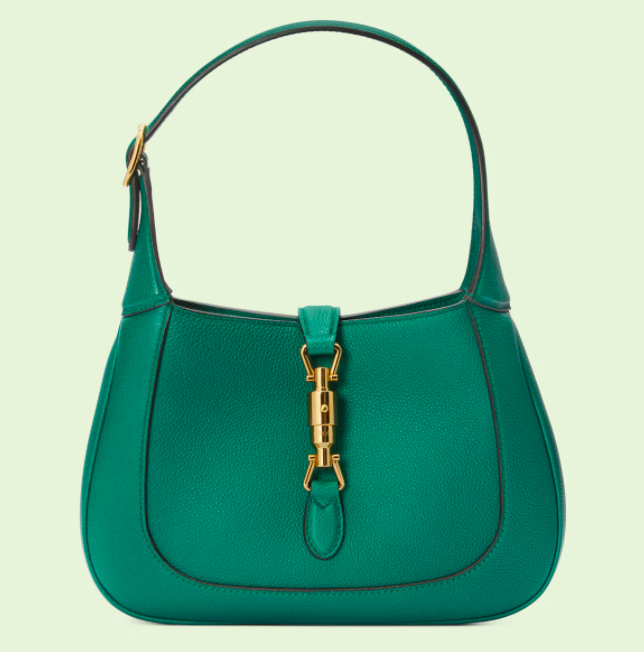 Prada Moon Padded Nappa Leather Bag
Prada is bringing back the iconic Y2K shape but updated in the new padded nappa leather. It's super soft and squishy to the touch. The bag includes a detachable and adjustable leather strap. Alternatively, you can hold it by the top handle.
This bag retails for $2,950 and comes in seven different colors.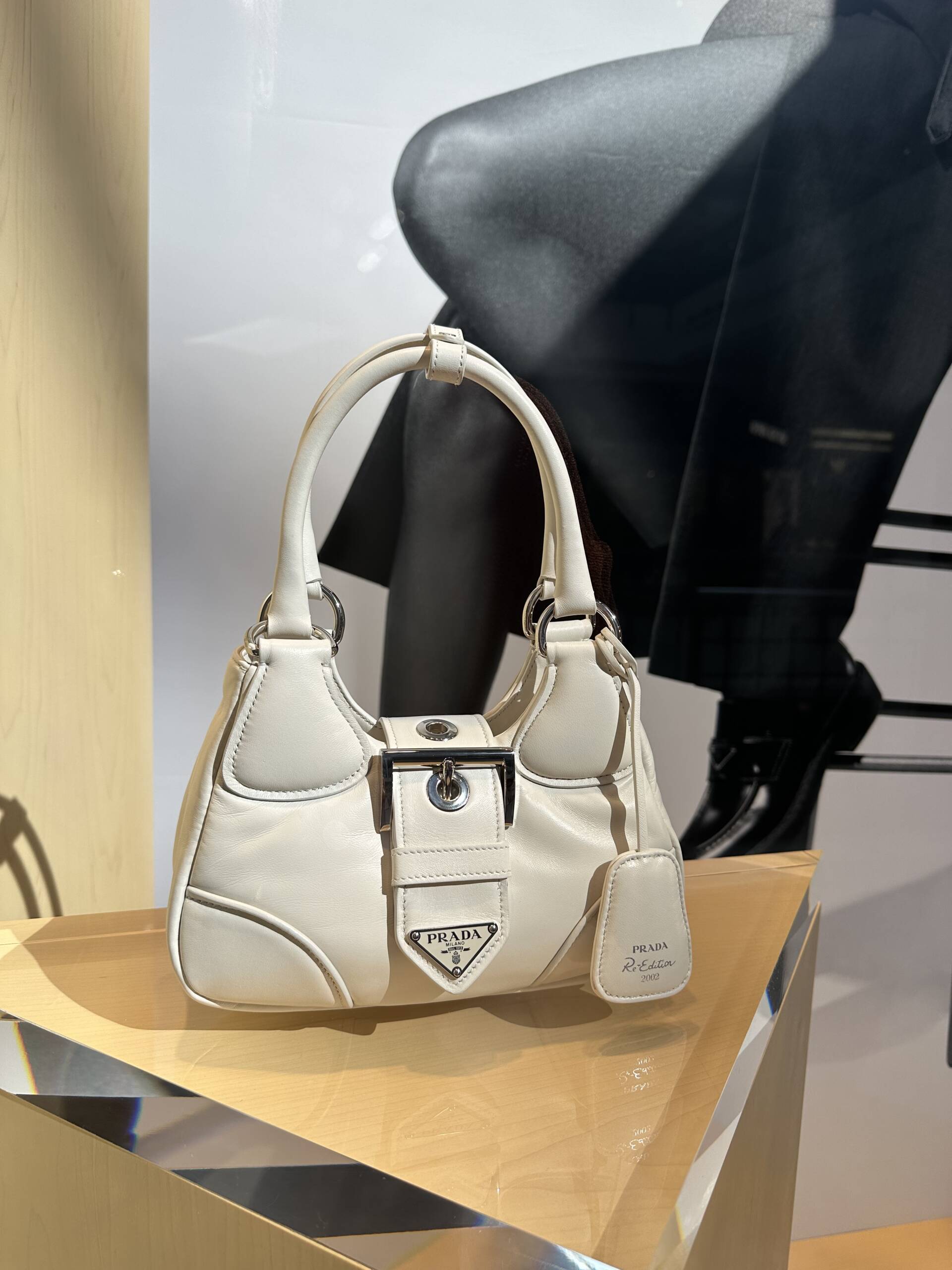 Louis Vuitton Over the Moon Bag
Are you over the moon for this one? From the Bubblegram collection, Louis Vuitton's moon shaped bag can be worn many ways. It comes with a metal chain strap as well as a crossbody canvas strap in the same hue. The padded leather is embroidered with the monogram motif.
It retails for $2,980 and is offered in nine different colors.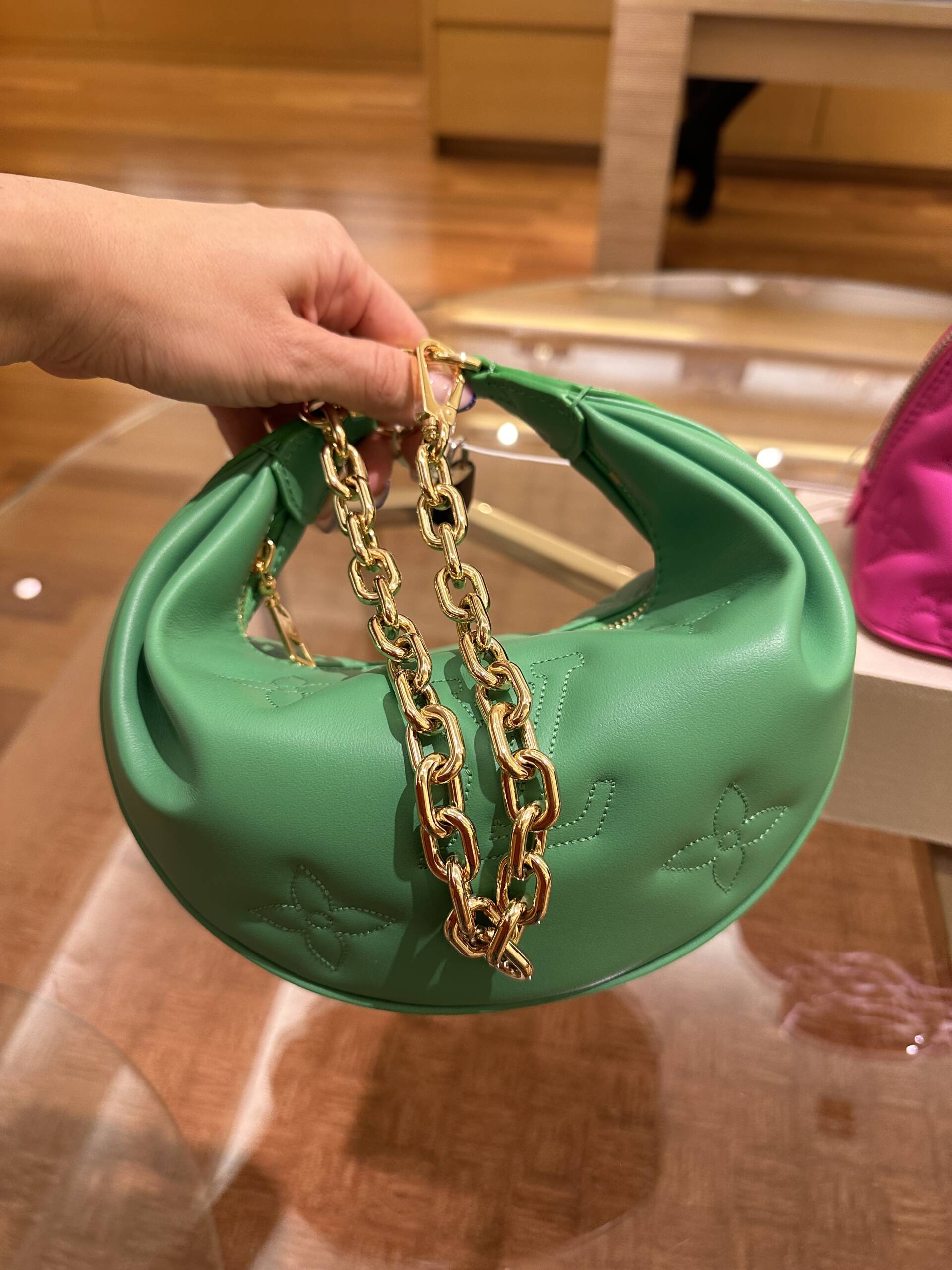 Chanel Lambskin Pouch
Fly to me with the moon with this Chanel mini. Made from Lambskin and gold tone chain detailing, it is offered in white and black. For those that remember Chanel's hula hoop bag, this bears some resemblance, albeit perhaps in an easier to carry style.
It retails for $3,375.
These bags are sure to be flooding your IG feed this year. Which are you hoping to add to your collection?
xo,
PurseBop