Harry Styles is everywhere at the moment.  He is the "IT boy" of pop music, the "IT boy" of current cinema, and most importantly for us here at PurseBop, the "IT boy" of fashion. For those of you who don't know (and if you don't know, where have you been?) Harry is a brand ambassador for Gucci. On top of that, he is about to launch his first fashion collaboration with the Gucci's creative director Alessandro Michele called, appropriately, HAHAHA. Get it? Harry Alessandro on triple repeat.
A true fashionista, Harry also is well known for his love of whimsical purses. Putting the two together, we couldn't help but wonder which Gucci bags would fit his fits.
So we scoured Gucci's Spring 2023 ready to wear collection (as seen in the stunning Gucci Twinsburg fashion show). And we easily found five purses, both quirky and classic, that we can imagine Harry sporting. Whether glammed up at an awards show, or playfully dressing for a night out on the town, or even in conservative duds for his many golf outings, here is what we think Harry might carry.
The Cross Shoulder Crystal Embellished Grumpy Bear Bag
Most recently seen on a t-shirt worn by Harry at the Lisbon stop of his Love on Tour concert this summer and soon to be seen all over his new Gucci collection, Harry is a huge fan of cartoon grumpy bears. Specifically, the bear will appear in blue and pink on a necklace set in the new collection as well as on a brooch and on a t-shirt. Cheeky, fun and fanciful, we picture Harry wearing this bag literally anywhere and everywhere.
The Cross Shoulder Quilted Moss Green Bag
One of those lucky people who looks good in any color, Harry is a vision in green. Not only was green the signature color of his microphone back in the One Direction days, but Harry recently stepped out in head to toe green at the Toronto International Film Festival for the world premier of his new film My Policeman. He stars alongside fashion darling Emma Corin and well known British stage actor David Dawson. Elegant, subtle and distinguished, Harry would rock this bag on any red carpet.
One of the most photographed people in the world, Harry has been snapped by paparazzi repeatedly carrying a cotton tote bag from his nail polish and makeup brand Pleasing. While the pleasing tote might be good for a quick trip to the beach (its lightweight material probably only fits a paperback and a towel), we would love to see Harry carrying this sturdy, traditional, large size Gucci tote. Strong enough and big enough for all the hardware Harry is sure to win at next year's Grammys!
Cross Shoulder Saddle Bag
Heavily influenced by 70's glam rock and fashion, it is hard to believe we haven't actually seen Harry with this exact bag. Yet! 
This equestrian inspired purse with vine-like designs and a saddle bag flap looks like it came directly off the cover of Harry's hugely successful third solo album Harry's House. Perfectly in sync with the baby doll shirt and baggy jeans he wore for that photoshoot, this handbag works in the studio, out to lunch, or just for hanging out with other musicians.
Cross Shoulder Leather Conservative Bag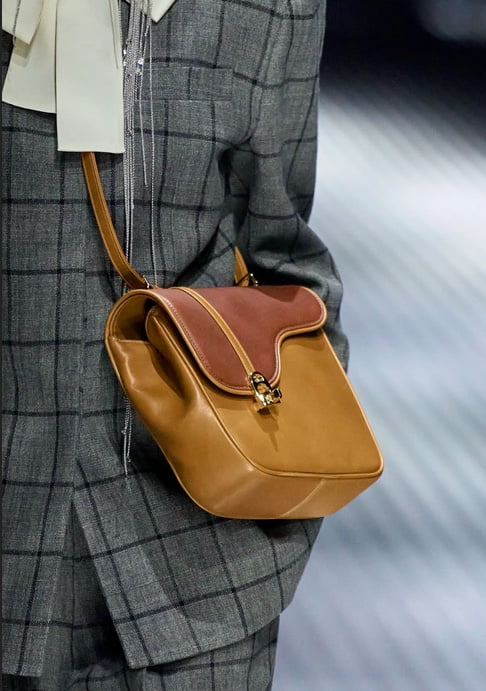 Can you hear Harry stans yelling "fore." Well, probably not. But, the previously little known fact that Harry Styles is a huge golfer is becoming big news. The singer has been spotted on the greens numerous times during his concert-free days (including the world famous Winged Foot Golf Club in Mamaroneck, New York).
Not only that, but Harry has repeatedly referenced the "golf dads" in the audience at his Madison Square Garden shows. True to form and sport, Harry introduced a new feature called the "golf cam"– similar to the "kiss cam" but instead of kissing couples, the jumbotron focuses on men wearing golf clothes in the audience. And maybe it's telling he assumes they are all dads.
Although Harry's concert ensembles are bright and sparkly, he leans more conservative and traditional when out on the links. We think this understated and subtle cross shoulder leather bag would be perfect for carrying his tees and pencils. 
Updated: October 30th, 2022