If sustainability is key- what does that spell for Hermès?
Is it possible for us to single out any reason as to why we love the Birkin? Certainly, it's a supremely functional handbag that can be carried multiple ways. And the enormous historic cache of the house of Hermès is no secret either.
But what is it that makes millions of women (and men!) around the world go crazy at the very mention of the Birkin? Its exquisite craftsmanship? Its projected perception of "status"? Or perhaps, the thrill of the hunt?
Of course, the jury is still out on the latter. And there are countless reasons we hold our Bs close to our purse-loving hearts. But what if the Birkin was to be made from something other than leather. And no- we're not talking about the highly coveted canvas, denim or straw options. A "vegan" Birkin, if you will.
Now, an entirely reasonable question is, why change the Birkin at all? As the saying goes, if it ain't broke, don't fix it!
A growing segment of socially-aware consumers, and industry-insiders alike, however, seem to think otherwise. "Sustainability" is now a major buzzword in the realm of fashion. Brands conscious about pressing concerns, such as mindful consumption, animal-cruelty and carbon footprints, are emerging with a clear competitive advantage.
This has led to the creation of what are referred to as "alternative leathers." In other words, these are non-animal materials that mimic (or try to) the characteristics of various hides and skins. Ranging from fully synthetic (and sometimes rather ecologically questionable) options to those that recycle organic byproducts from various other industries, lately the territory has become ripe for further exploration.
So, before we move on to the speculations about the Birkin, let us delve in a little more detail into the various leather alternatives currently in the market
A Closer Look at Alternative Leathers
Faux leather, or polyurethane (often shortened to PU leather or pleather) traces its origins to a Connecticut rubber plant in the 1920s. Devised as a cheaper alternative to hides, the use of the material has since grown exponentially, finding use in the fashion (both luxury as well as fast fashion) and the automotive industries.
But while PU leather presents a solution to the issue of animal cruelty, its non-biodegradable properties have left environmentalists wondering whether it's a real, long-term alternative (it's not). And the problems posed by faux leather compound the already-existing environmental and animal rights concerns surrounding the leather industry. Besides the use of toxic chemicals, like chromium, it alone is estimated to emit carbon-dioxide equivalent to 30 million cars annually.
Only in recent years have these questions been addressed, with manufacturers now racing to devise more eco-friendly leather alternatives. In fact, a study of the "next-gen" biomaterial industry identified that 38 out of 40 top fashion brands were actively seeking sustainable leather substitutes in 2021.
Thus far, their efforts led to options derived from recycled pineapple plants (known as piñatex leather), cactus fiber, cork, and even grape residues from the wine industry. And one of the most promising developments that has come up as a result is mycelium.
The Prospects of Mushroom-Leather
Derived from the reishi fungi, a traditional Chinese medicinal cure, mycelium refers to the naturally-occurring silk-like fiber within the mushroom. Seems like an odd choice for high fashion. So how did it mushroom its way into luxury brands (pun intended)?
Phil Ross, a San Francisco art-school graduate, originally studied the fungus as a treatment for cancer and AIDS. Soon, however, he discovered mycelium's dramatic ability to be molded into an expansive array of colors, textures, and densities.
Ross then became a mycelium artist, later co-founding MycoWorks, to commercialize the functional design capabilities of the material. In 2016, his company began to explore the prospects of mycelium "leather" as a commodity. And its appeal as an alternative to animal-leather soon became apparent.
For the fashion world, the development couldn't have arrived at a more opportune moment. Since 2015, there had been steady movement in the industry to devise a long-term, sustainable leather substitute. But few innovations had successfully replicated the original quality and performance standards of animal leather.
Matt Scullin, CEO of MycoWorks, echoes the sentiment:
"The fashion industry's expectations are particularly high. Nobody is willing to sacrifice quality and performance for sustainability."
For the growing base of environmentally-conscious fashion consumers, mycelium offers a promise of lower carbon footprints. And, in light of customer demand, luxury brands have jumped quickly on the trend.
In October 2020, Bolt Threads, another manufacturer of mushroom-leather, signed a consortium with eminent fashion brands, like Kering, Stella McCartney, Lululemon and Adidas. Similarly, in late 2022, MycoWorks received $187 million in funding from investors like Natalie Portman, John Legend, and GM Automotive.
And if you think mushroom leather will be gentler on the wallet, think again. It is actually pricier than its animal-counterparts. For example, Bolt Threads estimates material costs at about $25 per square foot. That cost is in line with the highest degree of calf-leather, used by the premier luxury houses.
Enter: Hermès.
Hermès Enters the Picture
Interest in vegan leather possibilities grew beyond the brands traditionally known for eschewing animal product. To the shock of many, in 2021, Hermès announced it would be producing a mushroom-leather version of its $5150 Victoria Travel Bag in partnership with MycoWorks.
Creation of the "leather" involves tanning the mycelium fibers in the Hermès ateliers. This, in turn, produces an amber-hued material called Sylvania. Combined with canvas and calfskin, the mushroom Victoria is born.  Of course, these additions, make the bag not entirely "vegan", but for some, it's close enough.
How much could a Sylvania bag cost? No official estimates were provided. But Stella McCartney's limited-edition collection of Mylo Frayme Bags (made of polyurethane-bonded mycelium from Bolt Threads) retailed for $3,500. Clearly, a Hermès version won't be inexpensive!
Since the Hermès mushroom Victoria pronouncement, we've seen no further developments. However, speculation continues to grow about the future direction of the brand. Known for its Birkins and Kellys, whose prices regularly leap into the five-figure territory, the inclusion of alternative-leathers undoubtedly would signify a radical shift for Hermès.
The bigger question, however, is: could we see a vegan Birkin down the line? Is the step simply an act of greenwashing, or are we truly in for a sustainable future for luxury fashion? The brand's artistic-director, Pierre-Alexis Dumas, seems to indicate the latter,
"with Sylvania, Hermès is at the heart of what it has always been: innovation in the making."
Now, none of this suggests that Hermès will stop producing the heritage leather goods that form the basis for its worldwide stellar reputation. Nor do we expect Hermès to discontinue its exotic offerings, notwithstanding the fact that other brands already have done so.
As you may recall, in December 2018, Chanel ceased the production of textiles and accessories that make use of fur and exotic skins, like alligator, crocodile and python. Gucci and Burberry had eliminated those leathers even earlier.
And Hermès itself has faced repeated criticism for its exotics. For example, in 2015, a PETA investigation pointed towards the abuse and cruelty to crocodiles in one of the reptile-farms supplying to the brand. In fact, Jane Birkin  – for whom the Birkin was named – requested that the moniker be suspended due to these practices. PETA USA also attempted to encourage Victoria Beckham, one of the most ardent fans of exotic Birkins, to switch towards vegan leather with a special edition H&M "Virkin" Bag.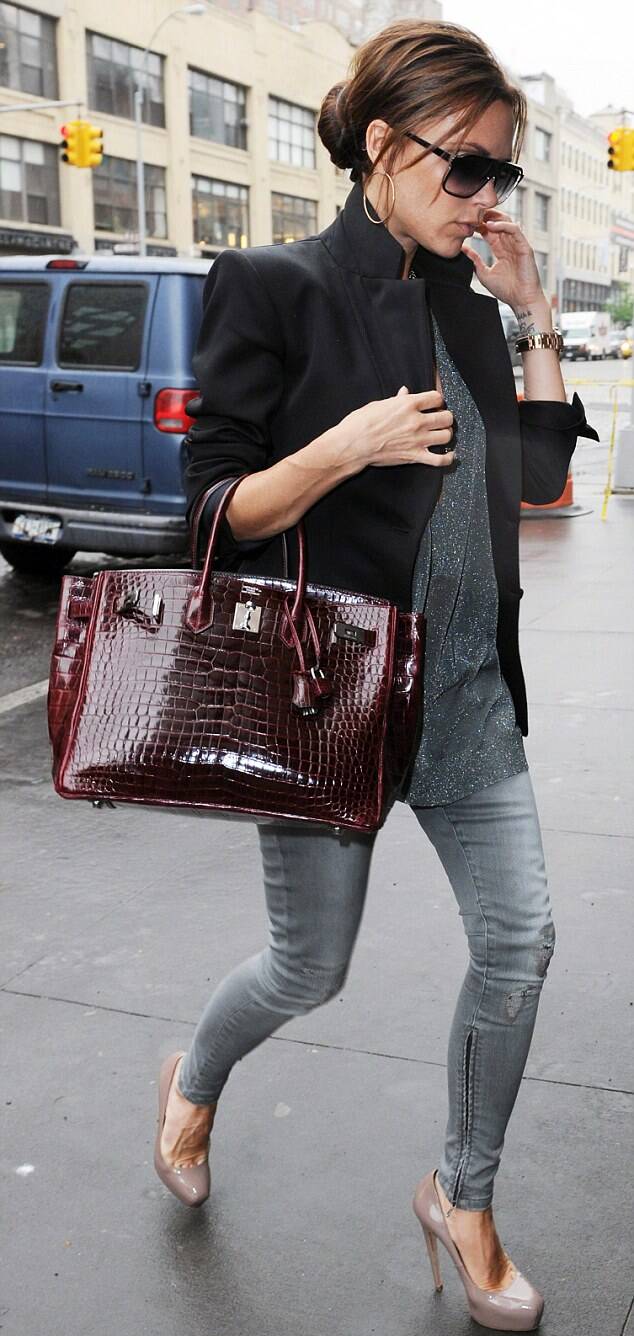 Nevertheless, the exotic Hermès offerings now continue to reign supreme in the hearts of collectors and purse-lovers. The Himalaya Birkin made from Niloticus crocodile, remains the ultimate holy grail bag. It routinely commands six figure price tags on the secondary market.
And scoring any Hermès exotic is at the top of many brand aficionados. With such demand, it's hard to see Hermès ditching the skins. On the other hand, it could be difficult to reconcile these exotic leathers with the brand's recent interest in alternative leathers.
In the end though, the question remains – what are the implications of a vegan Birkin bag? Given that the alternative-leather market is forecast to reach $66.84 billion by 2030, it's certainly a lucrative field for luxury brands to invest in.
At the same time, however, the term "sustainability" itself is mired in controversy. Does it refer to environmental-consciousness, animal-cruelty, and/or workers' rights? And does the expectation for ticking all the boxes place an unrealistic burden on the companies themselves?
Moreover, questions exist as to whether the market for consumers of sustainable luxuries is big enough to warrant fabricating high-end handbags, such as the Birkin, in alternative-leathers. And with vegan or mushroom-leather versions of its premier line of purses, would Hermès still be able to command the high price-points it now has, or would those bags be perceived as less valuable?
Truthfully, the concept of sustainable consumption is much more complex than whether Hermès develops a vegan Birkin, greenwashing or not. Animal-cruelty and environmental-consciousness are merely two facets of a broader, ethical debate here.
But true sustainability starts from the buyer's end, through mindful consumption of what we already possess. That means loving (and using) the bags we already have. And once we learn to appreciate what we have instead of what to acquire next, only then can we decide whether we truly need a Birkin or a Kelly is alternative leathers.
Tell us… are you clamoring for a mushroom Birkin (or Kelly)? Or keeping the veggies on your plate?
Love, PurseBop.
XO
Read Related Articles:
Introducing the New Hermès Constance 1-24
Updated: February 5th, 2023