Unravelling the B's chameleonic properties.
Just mentioning "Hermès Birkin" conjures visions of intrigue and luxury. Glamorous French(-ish) muse? Check. Reclusive mysterious French fashion house? Check. A sensational backstory? Also check!
In fact, initially designed on an airplane, the very first Birkin reportedly came with attached shoulder straps and nail clippers! And throughout the few decades of its existence, it has undergone various changes. From myriad colors to numerous signature leathers, sizes and prints, the options you can have your Holy Grail B in are literally endless! That is, if you can get your hands on it. Which is another story altogether.
Despite popularity and aspirational status, is the Birkin the most functional bag out there? For starters, the shoulder straps are gone today. As are the clippers. Besides that, Birkins – particularly in larger sizes – tend to get rather heavy. And the "prohibitively expensive" factor only calls for a commensurate cost-per-wear. Not to mention the games one must play to obtain one in the first place!
Does that make the Birkin as versatile as one might hope? Or is it limited exclusively to a certain type of aesthetic? Yes and no. It is versatile and fits many aesthetics.
This historic purse is cleverly crafted using a number of features. The best part about them? They'll let you switch up your look whenever and wherever you like! But first, let us steal a quick glimpse at the anatomy of a Birkin before diving into its various functionalities: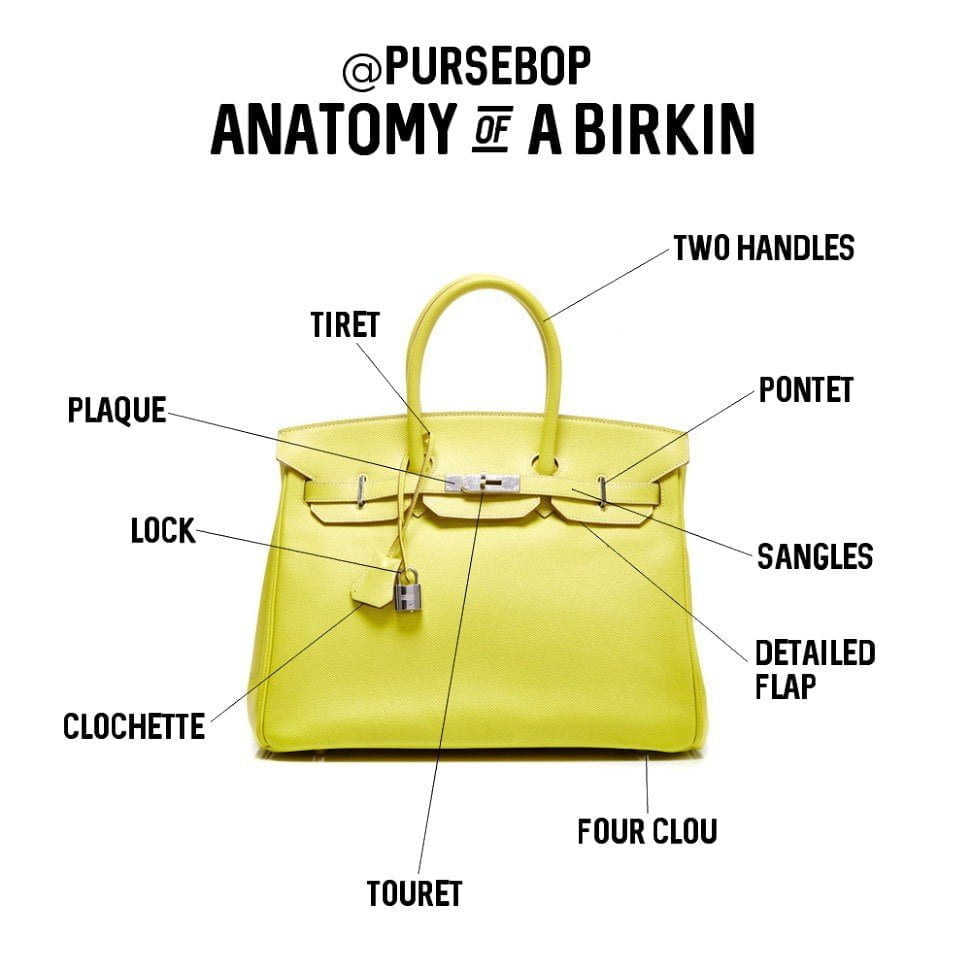 1. Touret: the turnlock that holds everything in place.
2. Sangles: little leather pulls used to draw the accordion sides together.
3. Plaques: metal endings to the sangles for securing them on the touret.
4. Pontets: Metal brackets holding the sangles in place.
5. Lock, tiret & clochette: signature Hermès padlock, complete with leather covering for keys and a strip of leather to dangle from the handles.
6. Clou: the four metal feet of the Birkin.
So now that you see the parts, it's time to move on to the fun. What's that? Using them to your advantage!
Here's the thing though. You've just splurged as much as an average hatchback on a purse. You might think, is it really necessary to change up its look in the first place? Don't you deserve to flaunt your precious carryall as it is? Your very own symbol of "having made it"?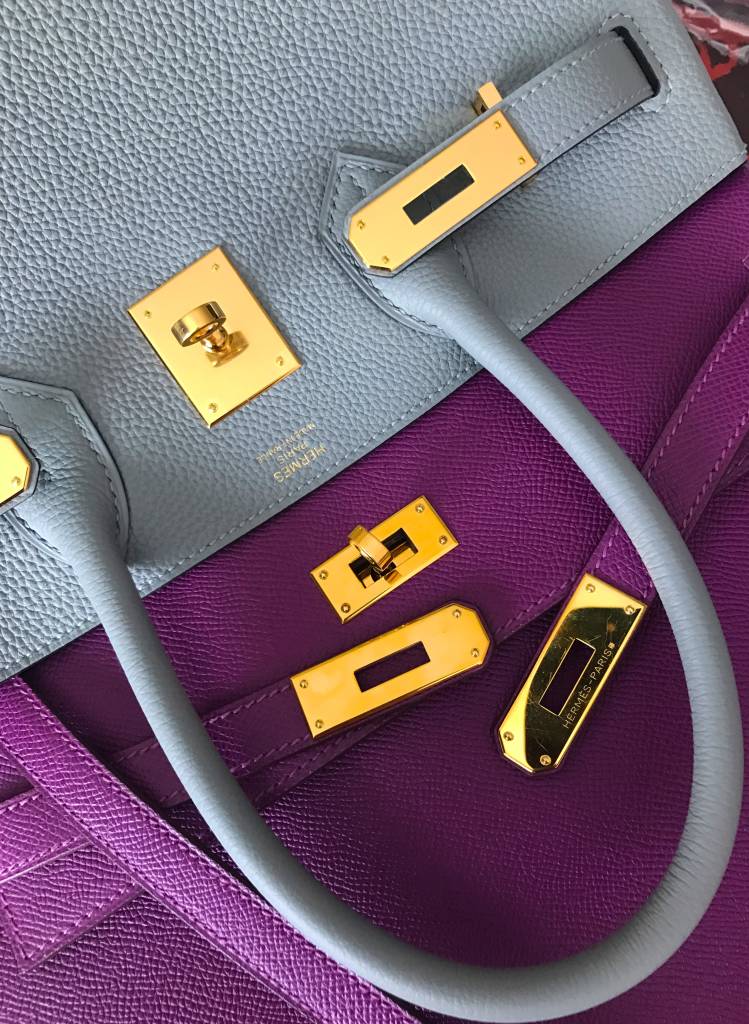 Absolutely. To each their own, of course. But if you plan to use your B regularly, chances are, carrying it primly at all times, flap shut, sangles secured and padlock in place, isn't the most practical. That arrangement isn't the most spacious either. Nor the most convenient.
On the other hand, having the top wide open and accessible to prying hands, poses its own problems. The solution? Tuck in that flap, and fasten when needed!
Before discussing all the various carry options, let's review each element of the deceptively versatile Birkin!
Arguably, the flap is the most defining feature of the Birkin. Its unique design can be neatly folded into the back wall of your purse, instantly converting your secure, structured Birkin into a casual open tote. Plus, Hermès' supple and durable leather won't show a scratch, even with all the folding and tucking!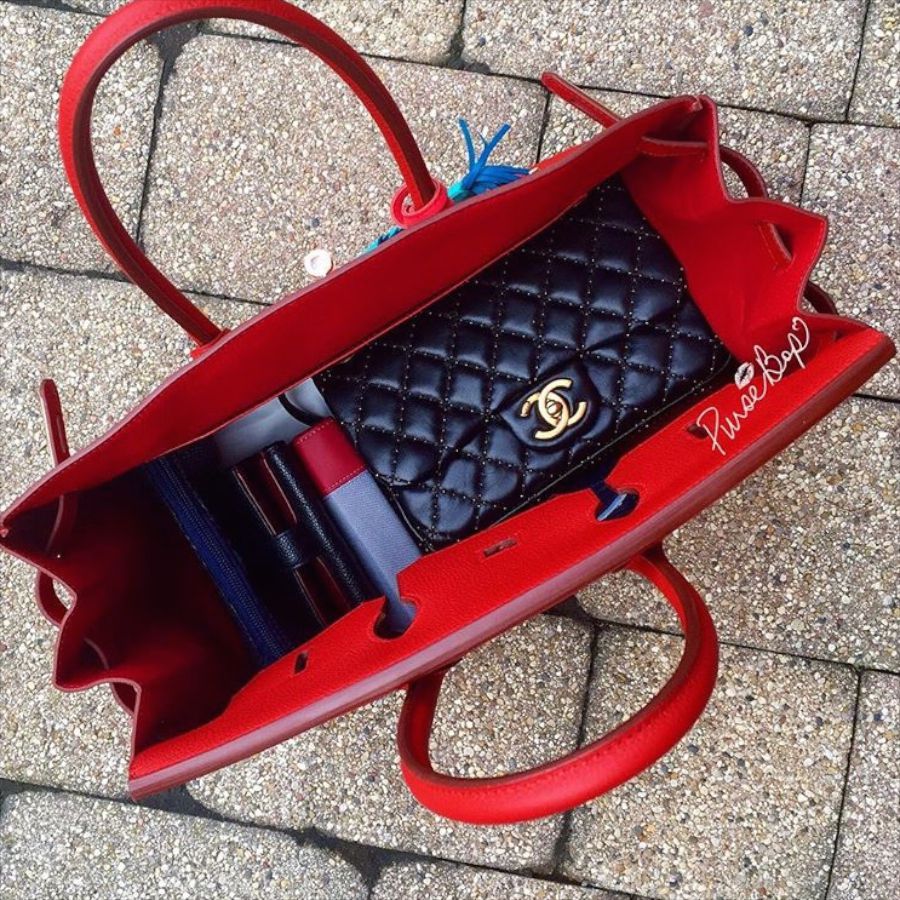 A flap is fairly common handbag feature . However, combined with accordion sides, it's unmistakably a Birkin. Or a lookalike, but that's a story for another day. Pulled together, these distinctive sides create a slim, professional profile. Expanded, the extra length of sumptuous leather can accommodate your needs and your offspring's' too! Low-key but crucial nonetheless. The accordion sides accommodate a deceptive amount of belongings!
Having reviewed sangles, now it's time to see the magic they bring. The sangles are, in fact, what chiefly holds the shape of a Birkin together. Pull them through the accordion sides for a finished, put-together look. For an added sense of primness, attach them on the turnlock. Or you can leave them flailing, of course, in the true Bohemian Jane Birkin-style. Up to you really.
Joining the sangle for a match made in heaven is the pontet. Why? Pontets provide an added placeholder for the sangles! And every bit of distance between the sangle plaque and the pontet brings about a different feel. Pull them all the way across the pontet to the turnlock, flaps tucked, it's almost as secure as fully fastened. Insert only the plaques through the pontet, it's chic and urban.
Bring them through the accordion sides, but don't insert them into the pontets – you get trapezoidal tote. And for a more brusque, businesslike feel, secure the sangles on the turnlock without going through the pontets at all!
The turnlock on the Birkin's face is unmistakably H. But leaving it exposed may not be to everybody's liking. Does it mean it'll stay projected just like that? Fear not! As discussed previously, you can attach the sangle plates on it for a tidy finish. Another look you can opt for is by fastening the flap only on the touret, and leaving the sangles out. Though that's a more popular "Kelly" look, it works just as well on your B. Besides achieving a conjunction of all of the aforementioned looks, you can also dangle the signature Hermès accessory, the H padlock, from the touret!
The Hermès padlock has a history of its own. Until recently, they featured a theme unveiled by Hermès each year! Even now, they're a major determinant in authenticating a purse. But besides providing a (rarely used) security element, is it helpful in any other way? Well, it's undeniably chic. And it's an added, generally fuss-free bag charm too. Plus, if your B is an exotic, your padlock stands (or hangs) tall like a crown of pride!
So there you have it, a rundown of all the different ways you can carry your Birkin. Option galore… or a different way for every day.
Of course, many of these features and their functionalities will vary based on the Birkin size. For example, a Jane-Birkin style sticker-encrusted B35 will not resemble a stiff open-top B25 in boxcalf. And your own body type, gender, and preference likely will have significant bearing on the issue too. How? Well, an open-top Birkin 35 or 40 will bring about the largely casual, airy vibe. And if you happen to be on the taller side, it's likely that this style will complement you more than the cinched-top look.
The "tote" aesthetic isn't something that you would achieve, however, in the smaller sizes, even if you leave the top open. Conversely, if you're a guy with a Birkin making a trip to the office, you might be more inclined to have it fastened in a slimmer, briefcase-like profile. Even seasonally, in summer, for instance, you might be more prone to carry it open. During fall, however, having a more put-together blazer/coat look maybe in vogue.
But whatever it is, one thing is for certain. The Birkin is a lot more versatile than it looks!
Tell us, what's your favorite way to carry the ultimate bag?