What can I say that we haven't said before about the most beautiful shade of light pink lilac from Chanel 21S? We've analyzed this color up, down and inside out, from every angle and under every ray of light. 
When we first shared pictures back in February, the site went viral with excitement. We continually updated our article with more comparison images of the beautiful hue from Europe, as they became available.
Read: New Chanel Colors for 21S are TDF and Here's a First Look at the Classic Mini with Handle!
But for me to carry on about the information already shared would be repetitive. So, I think it best to dive into my personal journey to this precious caviar flap. 
It's no secret that I am a pink lover. There is no color that warms my heart like a bright saturated shade of pink. Whether magenta, fuchsia, rose or bubblegum, I'm all in. Over the years my long time readers will remember Hermès reveals in Bubblegum Pink, Rose Lipstick, and Rose Pourpre to name just a few. Going back further in time, you may recall PurseBop's Pink Frenzy series of Chanel offerings in the 2013-2015 era. 
The point being that there's been a constant thread of passionate pinks to make my heart sing through the years. But if I pay close attention, it's interesting to note that the pinks that have ultimately made it to my collection are of a more saturated tone. The lightest pink that I may have is Hermès Bubblegum Pink (5p). I long to add Rose Sakura, but the H fairy hasn't fulfilled that dream yet. 
The range of pinks still foreign to my collection are the softer whispering shades of pink. Truthfully, I hadn't really taken note of this… until my recent (and current) Chanel obsession. 
Let me bring you full circle and explain: there were two pink options in 21P that I fell in love with but resisted the temptation to bring home with me. The first, a beautiful caviar Barbie pink… and the second… the very bubblegum lambskin with rainbow hardware. My heart still pines for both, but this time I am letting the rational side of my brain lead the way. 
Both colors are incredibly beautiful but also very similar to shades of pink in my collection already. This is how I rationalized my decision… I asked myself this…  "If bubblegum pink were the perfect shade to match my outfit, what would I carry… my B25 or the rainbow flap?" 
If hot pink is what I craved, would I reach for one of my Birkins or the new Barbie flap… ?" Now I know a case can be made that the styles and uses are very different, but I said to myself… 'come on Monika, really… let's be practical in this already frivolous state of affairs, lol." 
It's not at all exciting to rationalize gorgeous pinks away, but somehow it worked. 
I managed to refuse and resist — but only for a while. Ultimately, I succumbed to the pink lilac.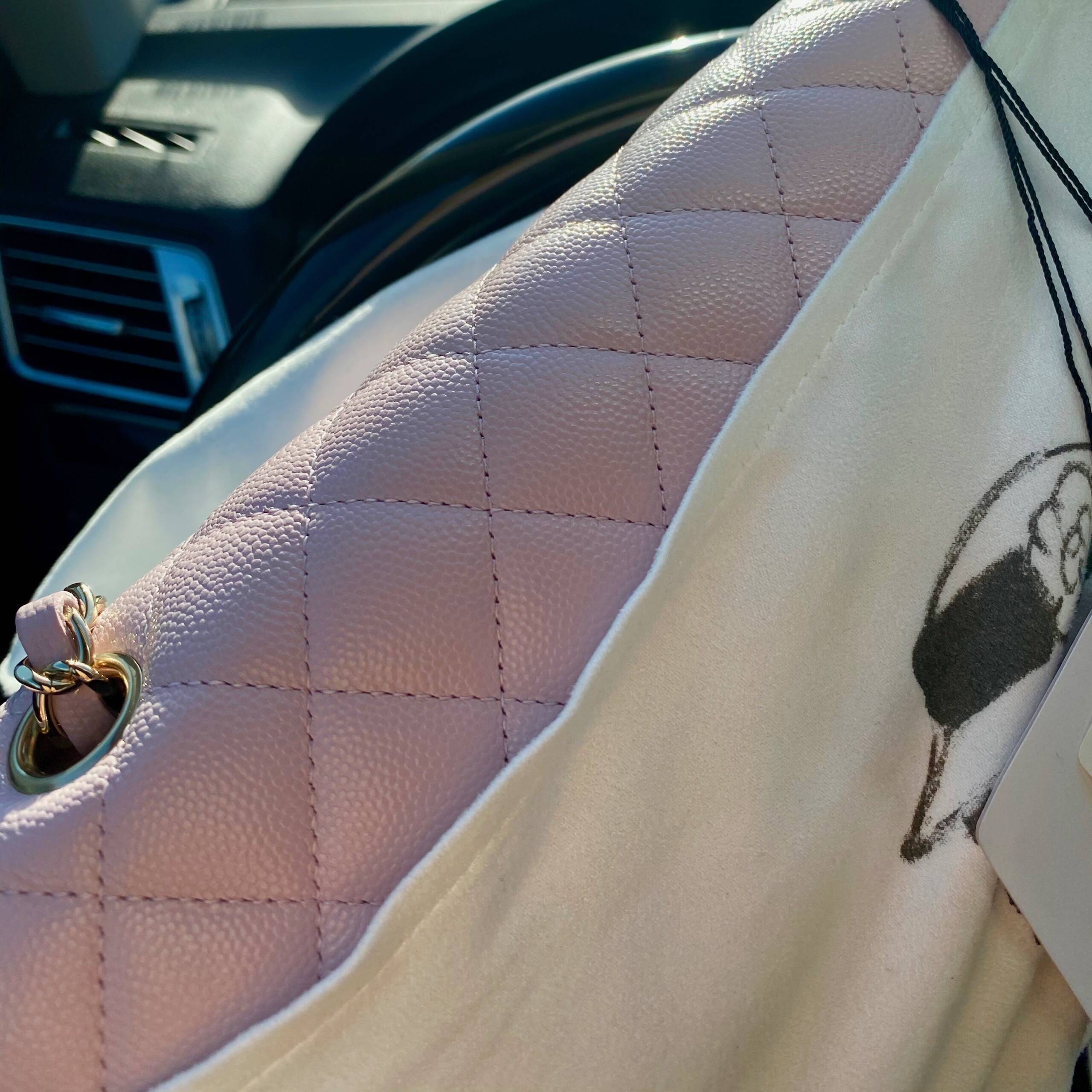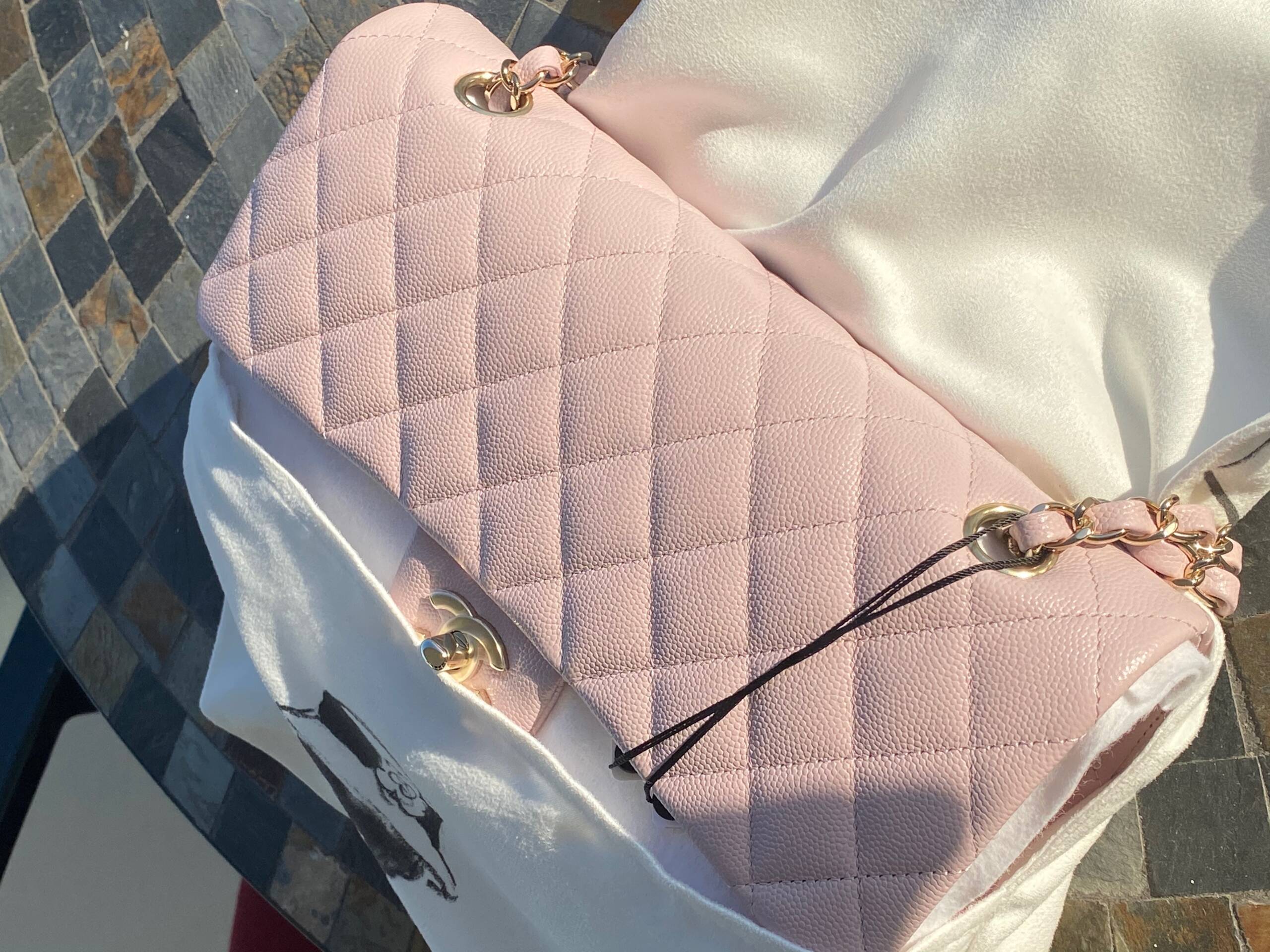 Rationalizing "the permission" to buy is merely one part of the Chanel flap project. Locating one is the ultimate challenge. 
When I began this quest for the perfect Chanel pink during the 21P release (in early February), I asked my sales associates to keep an eye out for any other pinks that might come in. It was my good fortune that my Chicago sales associate took that advice to heart and had added my name to the reserve list for this pretty lilac pink back then. 
Fast forward to mid-March. I had lunch plans at Le Colonial in downtown Chicago, which (perhaps not coincidentally) is right above the Van Cleef and Arpels store and next-door to Chanel. After a leisurely lunch with the girls, followed by some eye-catching window shopping at VCA, we made our way to the Chanel front door hoping someone might let us in. We did not have an appointment, but explained that we would love to browse around. My sales associate was not available, but another was happy to assist us. After temperature checks and sanitizing, we made our way to the boutique floor. Shopping with girlfriends is always so much more fun than alone. We tried different bag styles, discussed our wishlists… light CC banter. We had no big expectations from this visit. 
Now remember, my last visit to the boutique was only a week earlier when I picked up my neon yellow flap. I felt at home and comfortable. If you haven't read that story or seen the photos, I highly urge you to have a glance. You won't be disappointed.
Read: Chanel Reveal: The 21S Classic Flap that Makes My Heart Sing
As we were chatting away and one of my girlfriends was getting herself on the reserve list for a mini, my own sales associate walked by and whispered to me: "hang on, I might have something for you…"
Aren't these few words like magic to our ears? 
I had no idea what she was checking on or what possibly she could be bringing to show me. I was distracted when she came back to the main floor. It wasn't until my girlfriends both uttered a sound like "ohhhhhhhhhhh" that I turned to see what they saw. 
Wowza… She looked far prettier than her pictures. She was delicate, soft, feminine, and the way the light bounced off the caviar — slightly showy. She was perfect, and took my breath away. 
By this point we had already published and shared a myriad of photos of this color —so there really wasn't an element of surprise of what to expect. But despite that, I can tell you now… that not a single photo we have published does justice to this beauty or the actual effect of the color in caviar. It's impossible… she's such a complex chameleon. I  have tried my level best here in various lightings and settings, but what the naked eye can experience, photos simply cannot.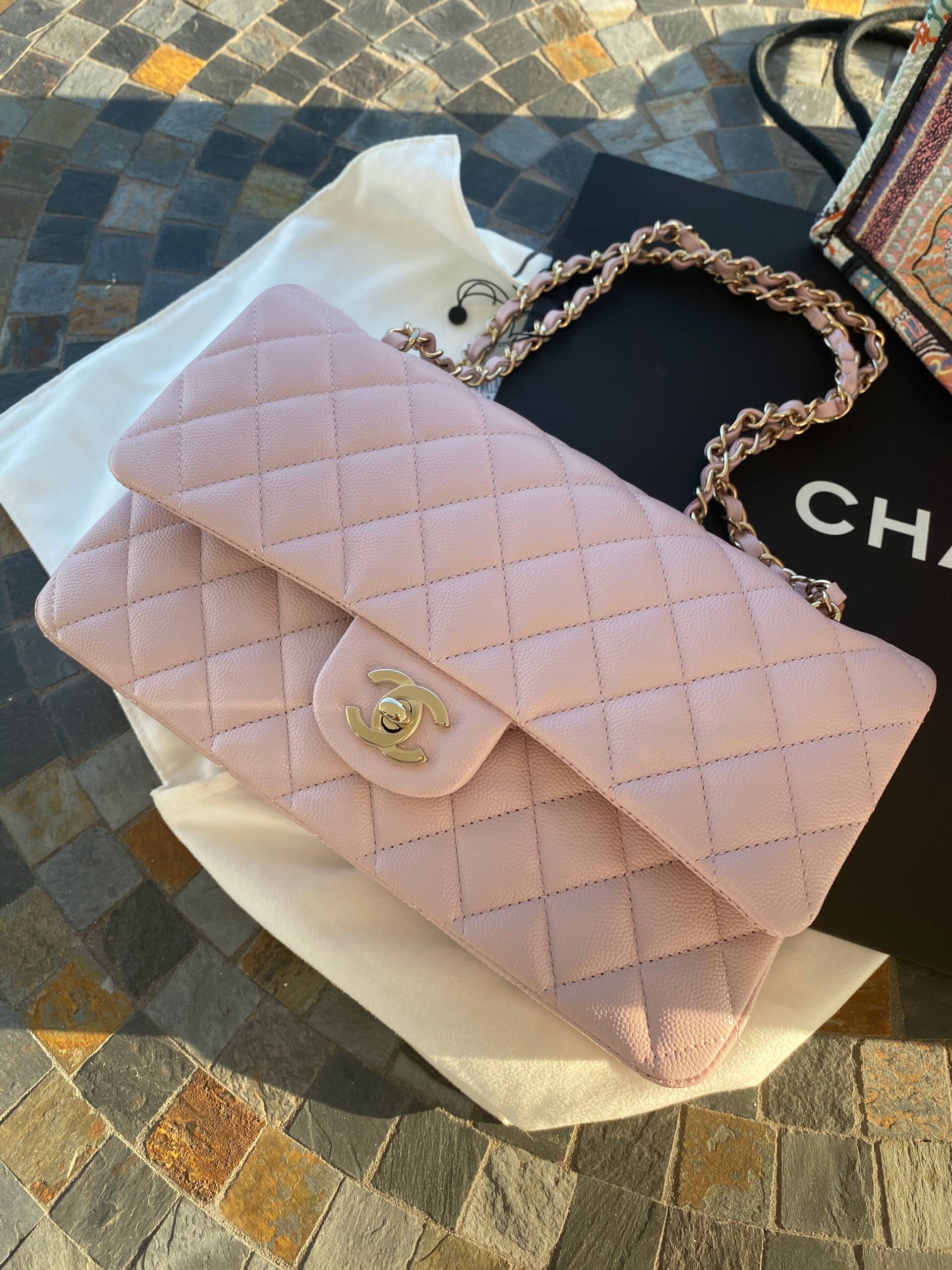 The pretty purse was packed up for me. There was no way I was leaving her behind. I did not take very many photos this time. Perhaps I was somewhat distracted with discussions of colors coming for 21A… I promise a detailed report on this later. Plus, I had just extensively photographed and documented the arrival of the 21S neon yellow flap. 
With every exciting new purse comes the plotting of how and when to reveal. It would be impossible to top the green Chicago River as a backdrop — sights etched in our minds now and forever … so maybe this time something simpler.
A soft unveiling in Miami with daddy… accompanied by the ocean.