Once again, Chanel has delivered! There is no doubt that the reintroduction of its highly coveted golden beige hue will set sparks flying throughout the luxury sector. Many Chanel lovers will recall the 21P and 22S collections and their caramel tones, which sent social media and luxury lovers into a frenzy (read: The Chanel Wether's Original Candy Colored Classic Flap). For those still seeking their candy-colored dream – all hope is not lost.

Caviar lovers rejoice! We are delighted to report that caramel mania, may be back, and better than ever, in perfectly pebbled leather form. Behold, the all-new warm-toned gold beauty of the Chanel Small Classic Flap in caviar leather from the 23P collection. Is there anything not to love about this golden beige  bag?
Is the Chanel Beige colorway here to stay?

Although the initial hysteria surrounding the caramel tone has calmed slightly, this new arrival is a welcome addition for caviar lovers. Originally only available in luxurious lambskin in previous collections – those seeking a more durable option were caught in a tough spot. While Chanel does not tend to repeat or re-release their color ways, the highly coveted Caramel NB 356 has graced our presence multiple times now, in both the 21P and 22S collections. This begs the question, is this golden candy tone becoming a classic colorway at Chanel?
There were reports of a slightly varying tone of tan between the NB 356 of each collection – due to variations in leathers and the dying process. And as for the most recent addition, the 23P color is a true golden tan tone, with an ever so slightly cool undertone. The durable caviar leather enhances the toffee hue tones. With its complimentary light-gold hardware – what's not to love?
How can I get my hands on the 23P Chanel Beige Classic Flap?
Launched in early March 2023, the Chanel 23P collection is in boutiques worldwide. Caramel and gold shades, especially in the Classic Flaps, sell out incredibly quickly. Not only are minimal quantities produced, but plenty of these bags will find themselves on resale sites with premium price tags. This raises the question, is the Chanel 23P Classic Flap going to cause another caramel-style frenzy? With its similarities to the much-loved and highly sought-after NB 365 color, this latest caviar version (NM 366) will surely be a hit.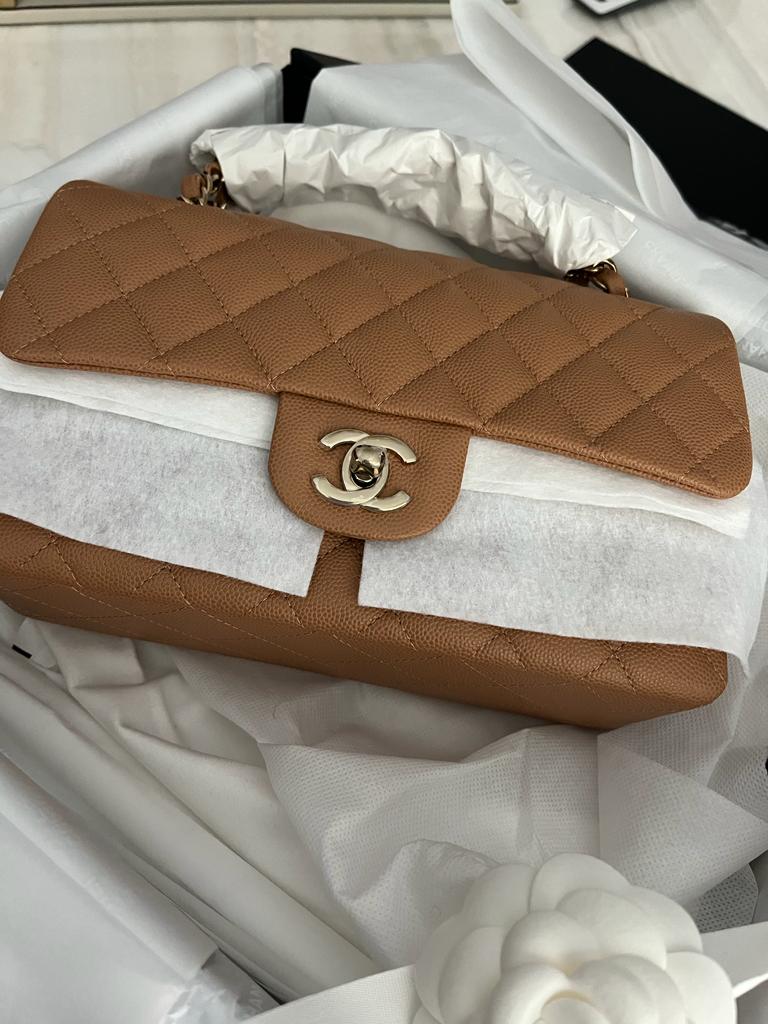 Chanel Price Increases
It is no secret, that Chanel's prices have rapidly risen in the past few years, and continue to climb. The cost of the Chanel Classic Flap has risen 17% since the beginning of this year. With the latest price increase on March 2, the price of the Classic Flap in small rose to a staggering $9,600 in the United States – that's a 17% increase! Those who (luckily) managed to bag the caramel Classic Flap back in the 21P collection, will have snagged the tan dream for $6,200. That's a gobsmacking 55% price increase since its original debut in 2021 – hang onto those flaps! 
Chanel 23P vs. 22S
So how does it compare to other colors? Here are some comparison photos between 23P and 22S. Remember the Caramel craze? See The Chanel Caramel 21P Frenzy – The Race for the Classic Flap is On Again
Chanel vs. Hermès – Which Gold Is Best?
Without a doubt, gold and tan tones remain some of the most popular colors available in luxury goods across the board. Classic and timeless – these golden hues can elevate any look. However, perhaps one of the most popular variations of the classic colorway has to be the Hermès Gold. 
Similar to the tones of the Chanel 23P collection, the Hermès Gold is a true light brown tan colour with a warm caramel undertone. However, much like any other Hermès color – they are synonymous with the fashion house, and cannot be found elsewhere. No one does it better than Hermès! We can see why this timeless classic retains its value so well. This iconic hue certainly deserves its place on a pedestal! 
Within the world of luxury goods, prices have continued to climb across all brands. The current price for a Hermès Birkin 25 in Togo leather is now $10,400. While the Birkin may cost 8% more than the small Classic Flap – you're certainly getting more bang for your buck. This raises the question, is the Hermès Birkin a better investment?
What do you think about this Chanel beige caviar delight?