Remember the 21P Chanel caramel flap frenzy? Well, for me, that train left the station before I could board. While I harangued SAs about pinks, others smartly laser focused on caramel. By the time my rosy desires were satisfied, I was just too late to score that delicious Werther's candy colored medium flap.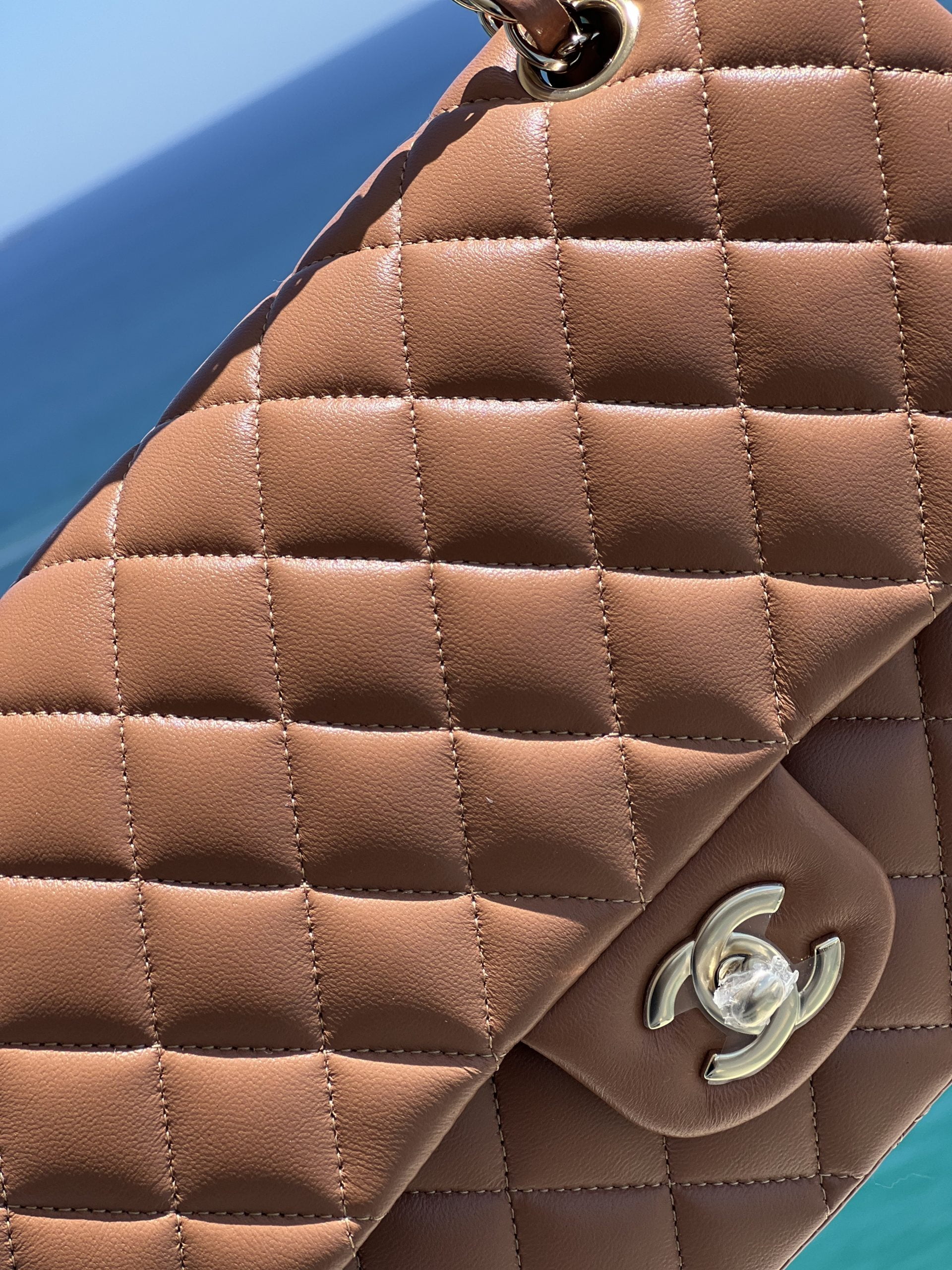 Disappointed, I sat on the sidelines as scores of influencers and collectors basked in the glory of their caramel flaps. Envy and frustration set in. So much so that I even reached out to resellers. You would think being Pursebop would help me score one. For the record, it did not. But maybe they thought I was an undercover agent for Chanel and would get them into trouble. Who knows?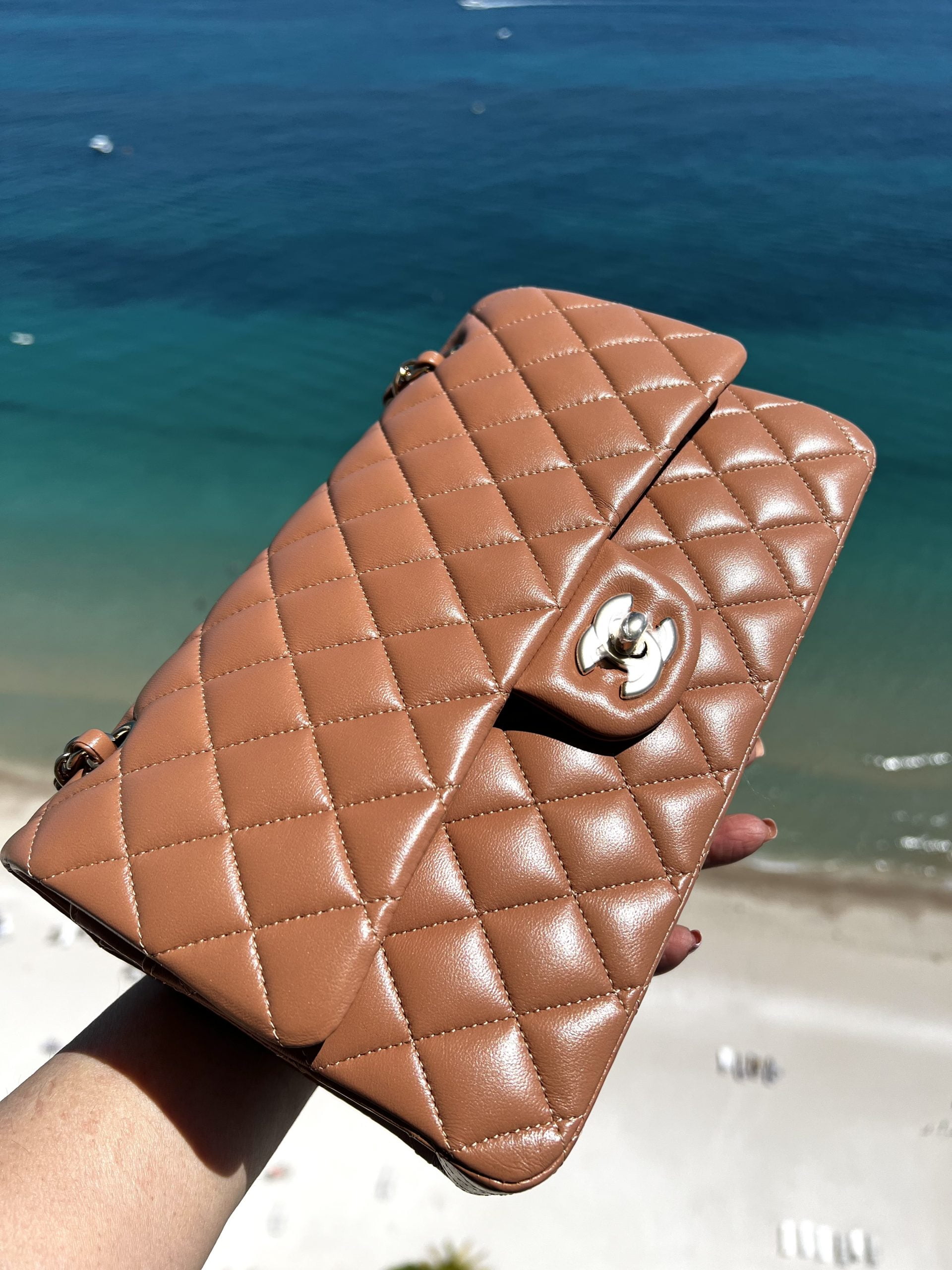 Regardless, there was no 21P caramel flap for me. Fast forward a few months later and Chanel released an orangey brown, perhaps a caramel substitute for some, but not for me. 
Of course, with the Chanel of late, new seasons bring new colors and always the chance of something exciting. This time, though, rumors flew that 22S would include the identical 21P caramel color. That, as you well know, is quite atypical; Chanel doesn't usually repeat or re-release colors. To my knowledge and in the many years I have been collecting, the same color code has never been re-released (again). Except of course the classics: black, beige, and white. Even reds vary from season to season.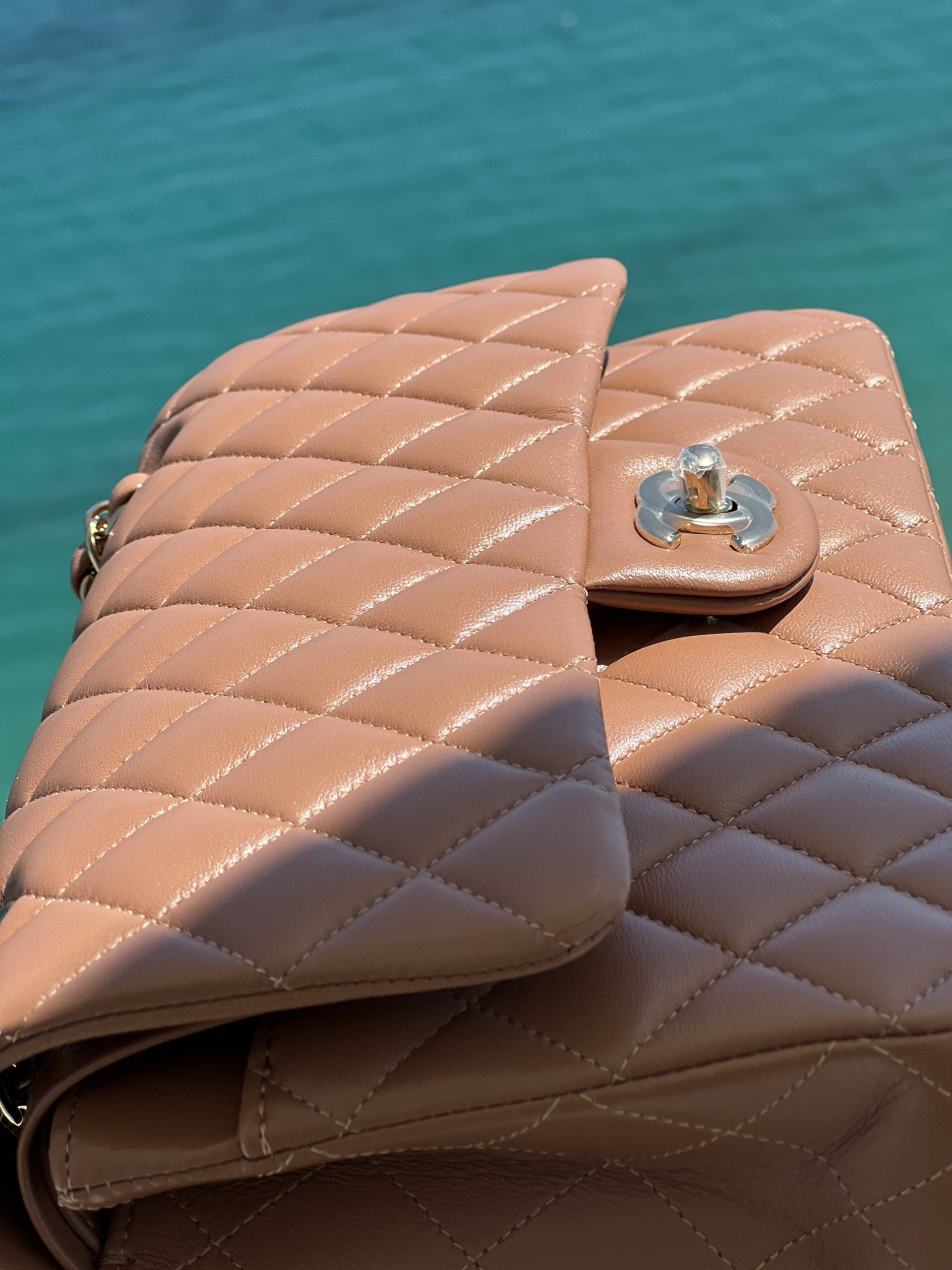 Lo and behold, the rumors were true. Caramel – NB 356 –  is back. Which begs the question: Is it going to become a classic? And not just a seasonal color? 
Anyway, determined not to miss the boat (or train) again, I reached out to my favorite Chanel sales associates as soon as rumors began to swirl. Please please put me on a reserve list. I can't say that I was overly excited, or counting the days… But it was somewhere in the background of must haves.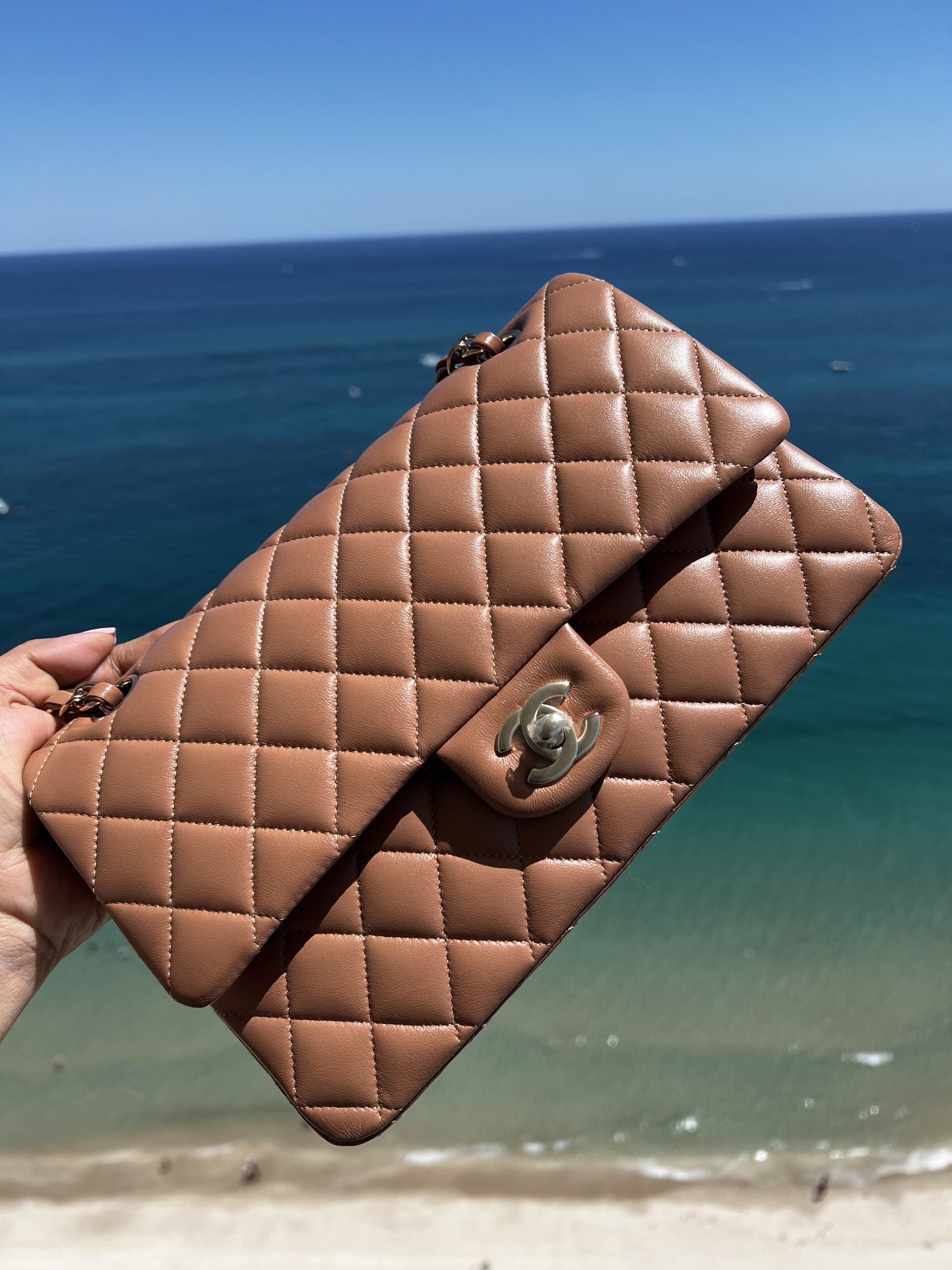 Fast forward to early March – March 10th to be precise, the same day 22S officially launched. Social media bubbled with word of its arrival. I reconfirmed with my sales associates and, within a matter of days, one perfectly quilted puffy and delicious medium flap in "caramel" made its way to me.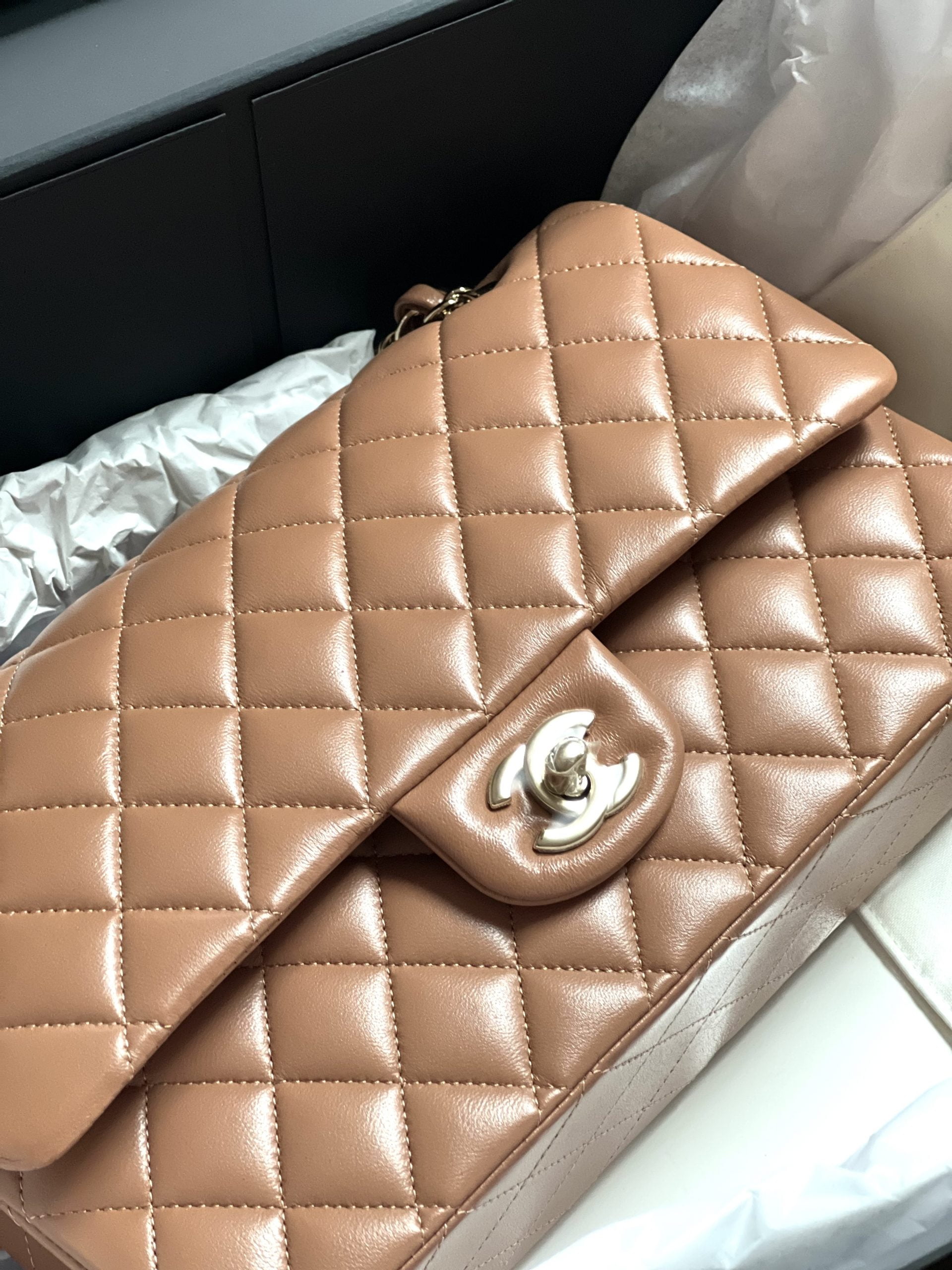 Until I opened my very own box, I actually had not seen this color in person. Beautiful as it is, it is very difficult to photograph and get an accurate read. This NB 356 is a hue that can only be captured by the naked eye. Moreover, whether it is precisely the same as its predecessor will take some time – and bag sourcing – to verify. There are reports of a slight difference between the NB 356 of 22P and 21P, principally that the earlier bag has more of a golden tan tint.
As for the 22P color… I would call it more chocolate milk than caramel, with a slightly pink or nude undertone. Once I opened the box and saw that creamy light chocolate leather peeking out, it was love at first glance.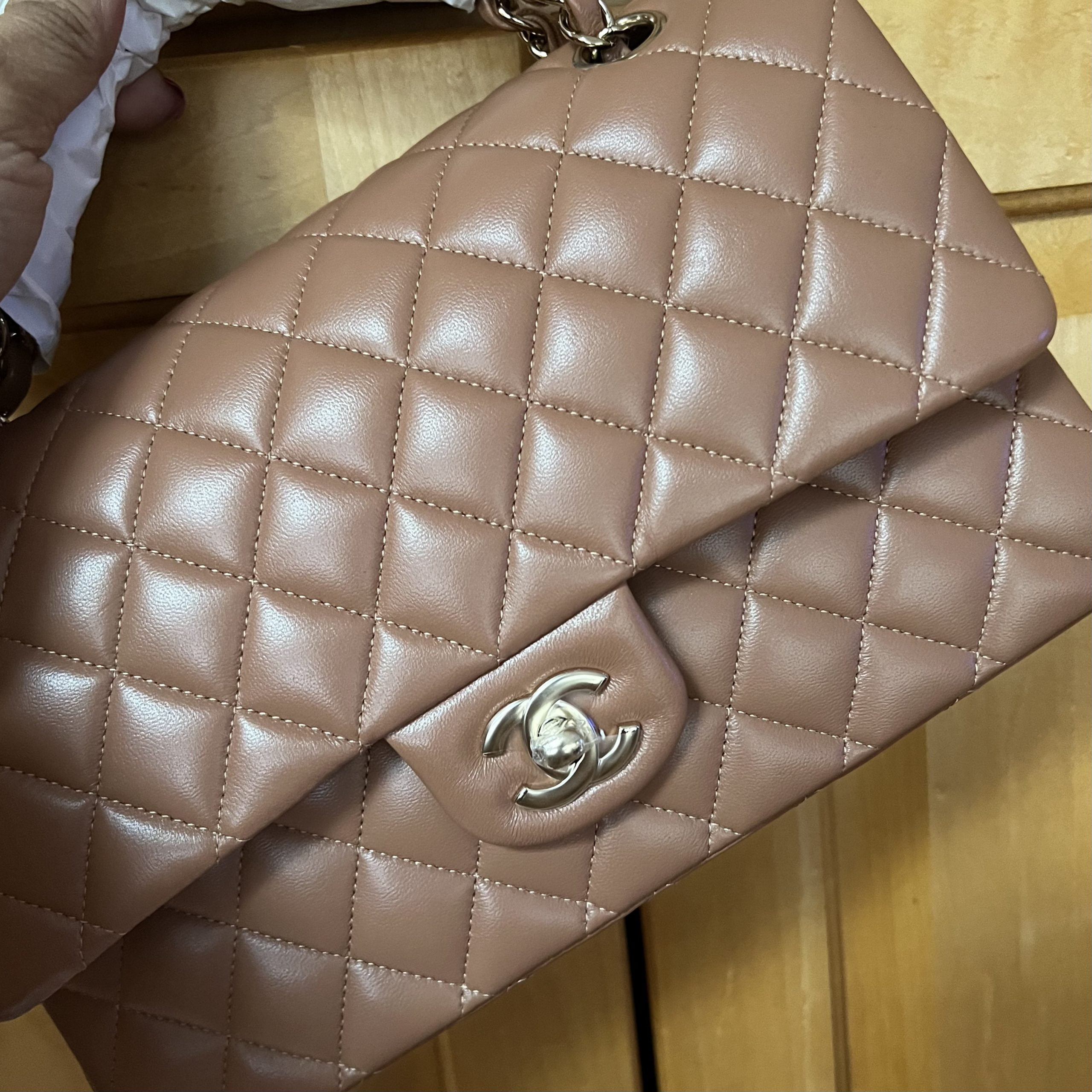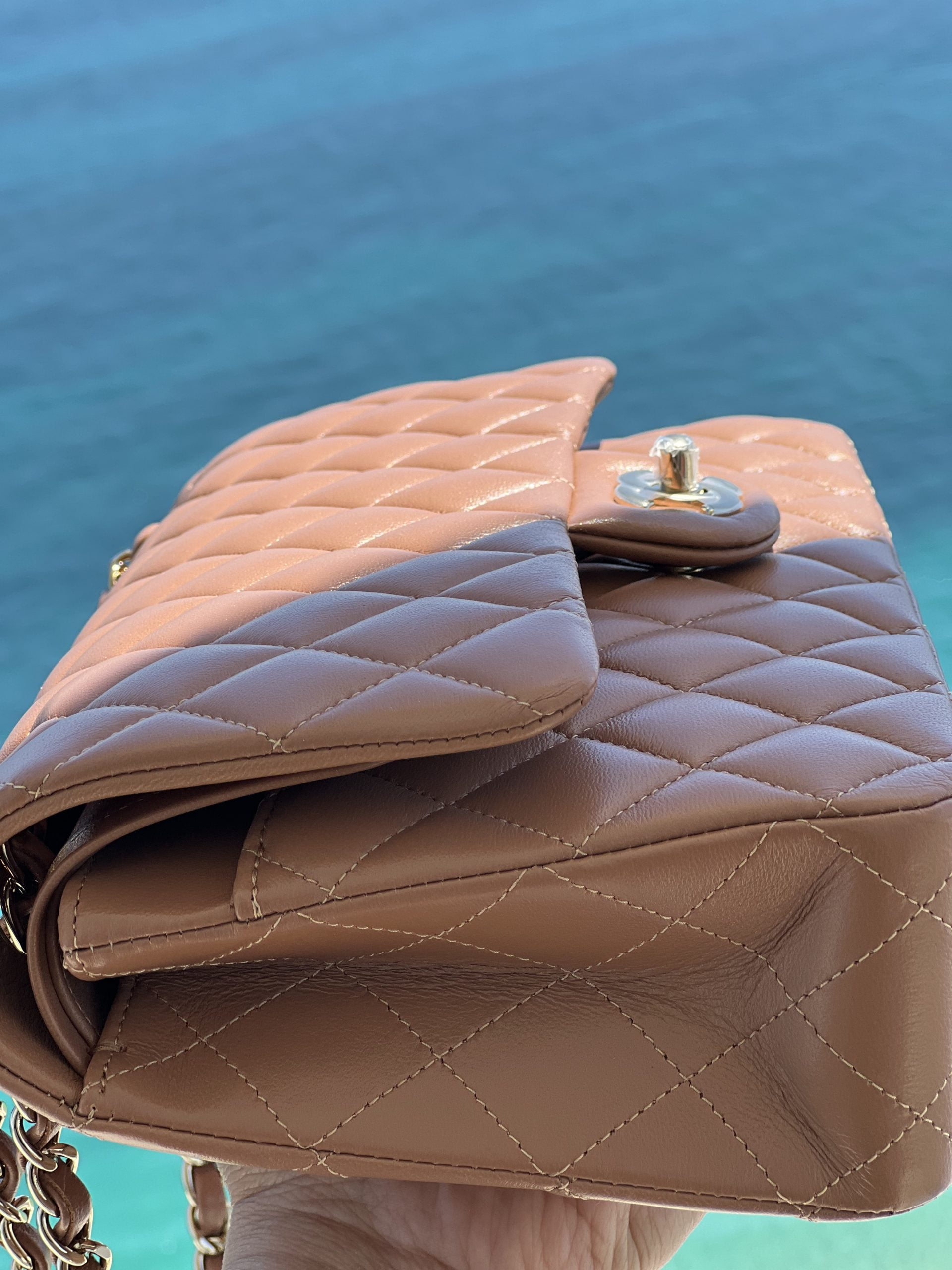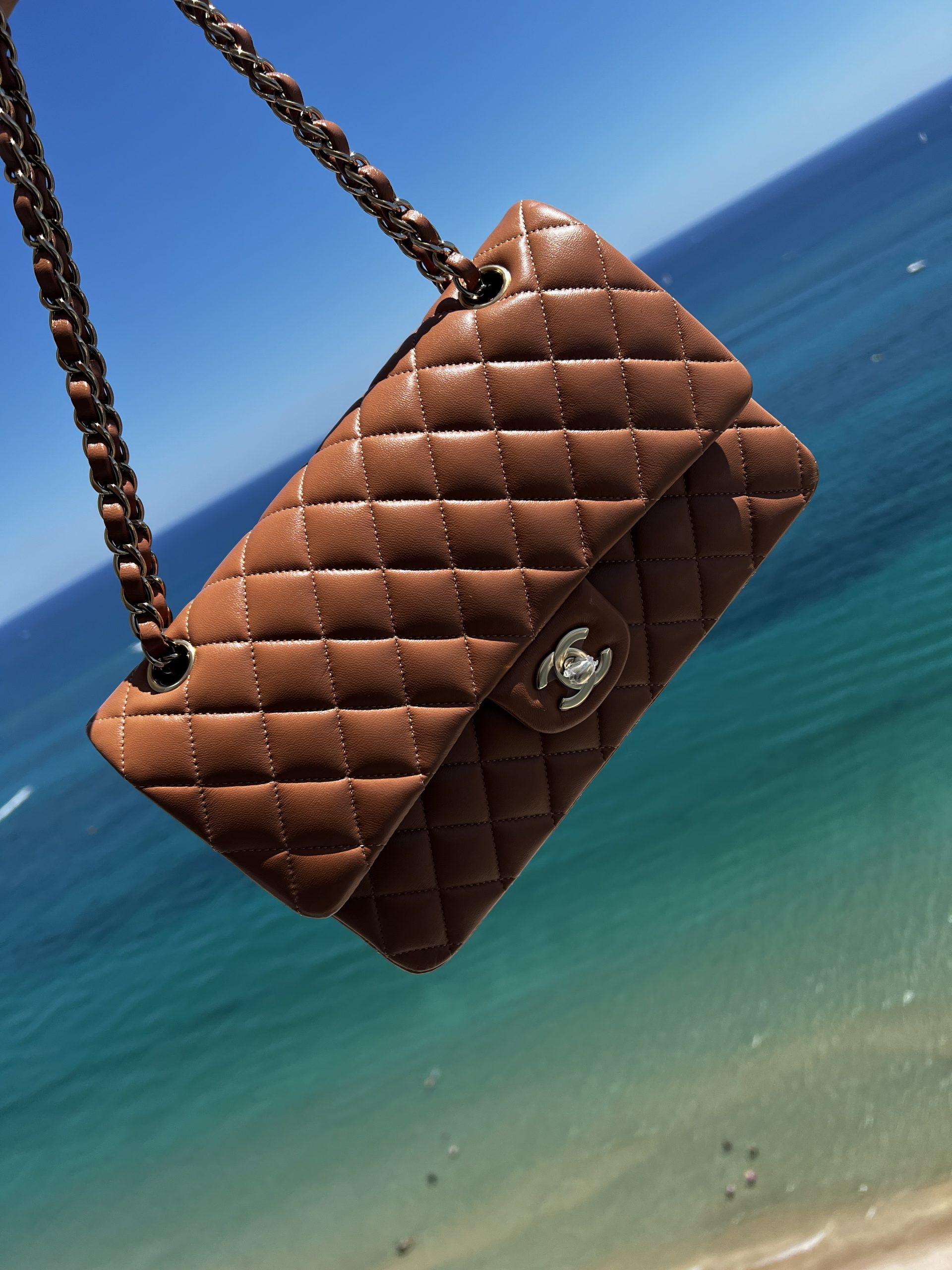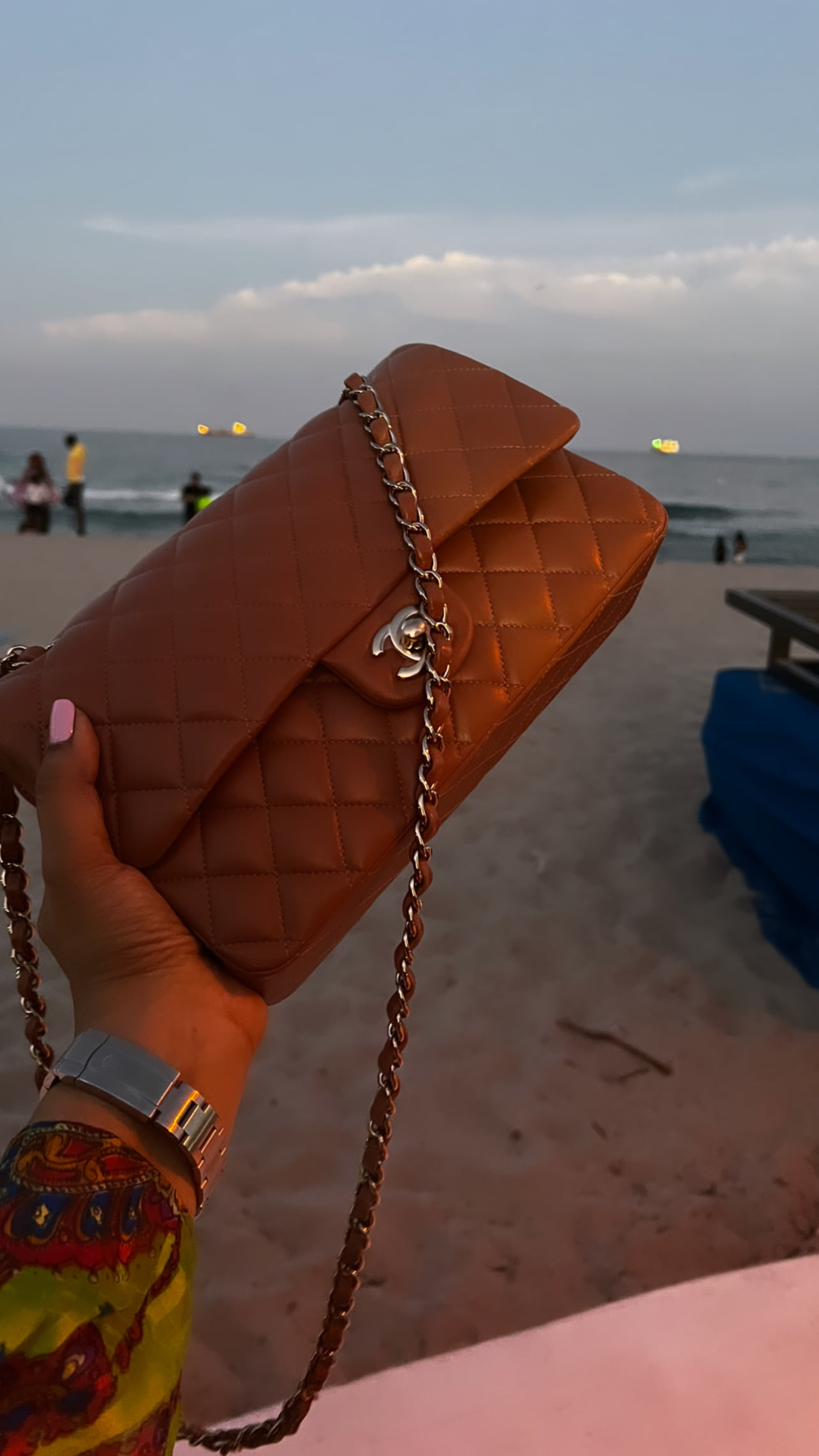 She traveled from Chicago to Miami to be officially revealed by Papa PurseBop. 
Now that I have my delicious flap, it's time to indulge in an ice cream sundae with some caramel topping with the family.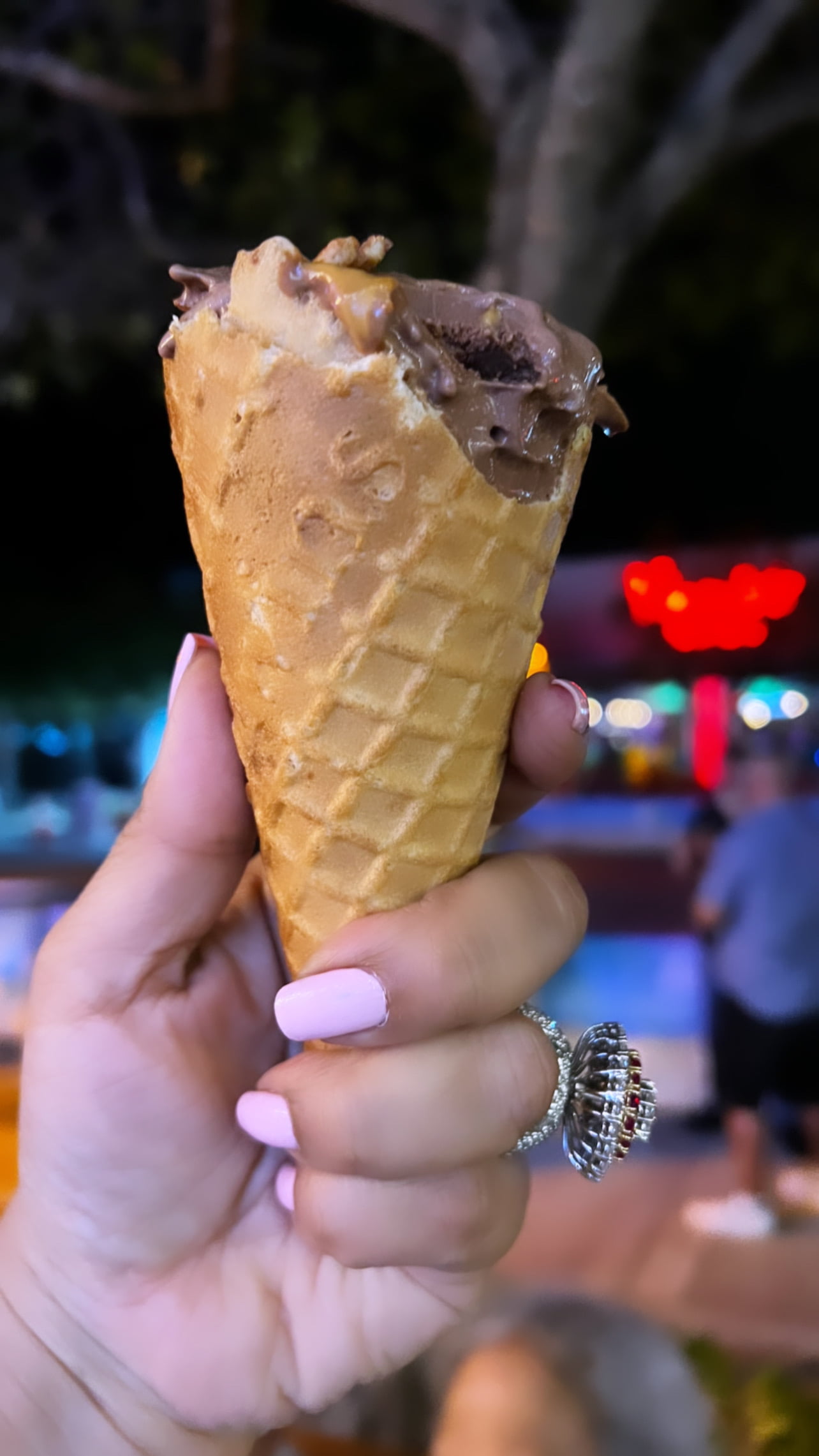 The Frenzy for the Chanel Caramel Classic Flap from 21P - originally published February 3rd, 2021
I've never seen anything quite like it. I'm not talking about the color… what I'm talking about is the excitement, the drive, the adrenaline and the the hunt.
It seems, despite initial protests to the contrary, that no one is actually bothered by the huge price increases on the Chanel Classic flap. The fact is that just in the last two years, the cost of the Classic Flap rose nearly 25%. Yes, all I see and hear are people flocking to snatch the 21P collection of colors. And Caramel tops that list… and of course pink.
This euphoric feeling when Chanel new colors are launched is not foreign to me. Indeed, I probably know that rush better than most. Deep in my handbag soul, I am Chanel girl first. I dove deep into Coco's world with a cornucopia of rainbow-hued flaps. And despite moving over to the Hermes side several years ago, I once again find my attention to orange wandering back to Chanel. My passions for that gorgeous quilted flap heightened again. 
So what is it exactly Monika? Have you become bored with Hermès? Not likely, LOL. 
Or is it that the Chanel game has more oomph to it? The hunt is back… Is this new challenge to find your flap what is enticing me again? Clearly, something is going on with the imbalance in supply and demand for the latest Chanel offerings. 
Maybe it's the pandemic and decreased production that has caused this shortage. Or perhaps it's a clever marketing strategy of exclusivity and desire. Either way, even with all of my connections, I have no 21P caramel to reveal. Nor have I secured the two-tone classic flaps that come in candy colors of pink, yellow and blue. 
True, my Chanel touch is not quite what it once was. My amazing sales associate at the Chanel Chicago boutique left her post nearly two years ago. I haven't been to the store to build a relationship with another. In fact, all of my contacts at the shop are gone. I don't recognize a soul and the whole store feels very foreign to me. Please understand that there was a time (long before my trip down the orange brick road) when I made weekly visits to Chanel. I would study the new arrivals, the new shades — I knew it all like the back of my hand. But that's simply not the case anymore. Add to that this horrible last year that kept me away from nearly all retail stores.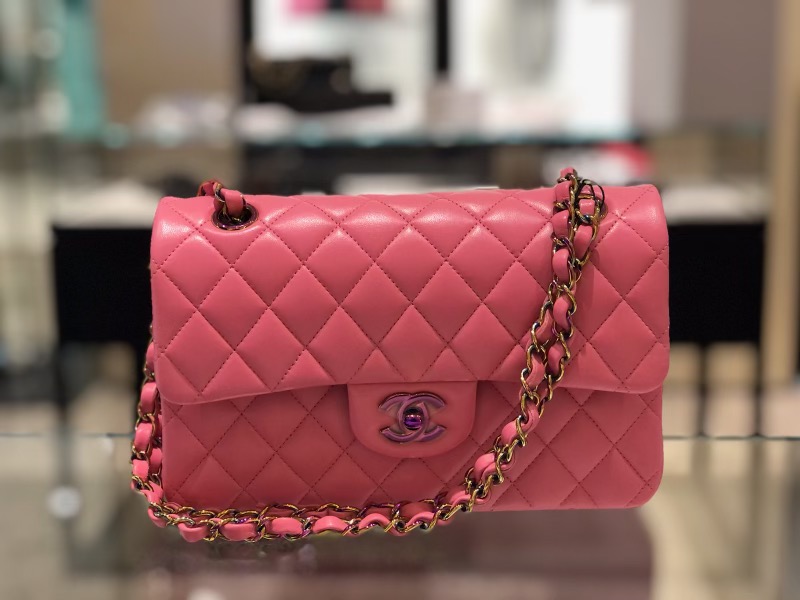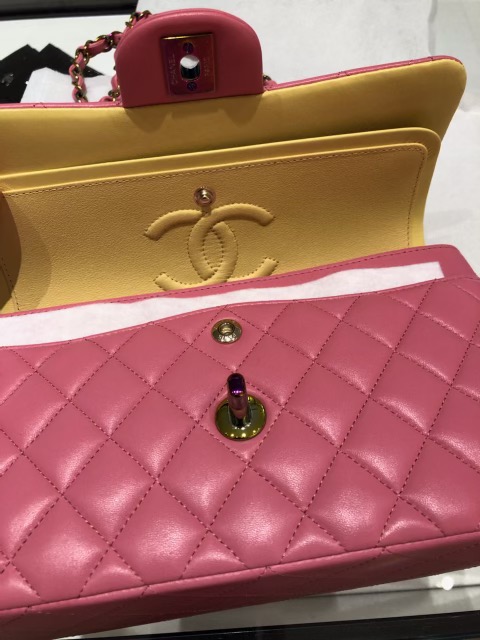 But let me not digress, I really want to think about this and have you join me. Let's take an honest look into what's actually happening. Is the fact that I cannot get the flap that I want in the color that I want part of the allure? Or is it just a passing spell and season of irresistible colors?
Isn't this one of the things we love most about Hermès? Of course, it's the beautiful bags, the quota system, the impeccable quality etc etc  But, if we're really honest with ourselves, a big part of it is —the CHASE. And now if Chanel somehow succeeds at creating that same scheme of scarcity with their magnificent classic flap, will a generation of exclusive flap collectors emerge and will the seasoned collectors revive their love? 
It certainly feels like Chanel is headed in that direction… I mean a classic flap only costs 750 euros less than a Birkin 25 today. Right?
Read: Chanel Price Increases Push the Birkin Premium Down – Here's How Much

I really started out this article only wanting to share and spread my love for the Chanel 21P classics. However, in the process of typing,  a much deeper question has come to the surface, one I find myself pondering repeatedly as I continue the search for my Caramel flap. I also wouldn't mind one in pink with the yellow interior and I'll even take one in light metallic gold. 
Oh Chanel, what have you done to me … again!