UPDATE: Karlito iPhone cover now available in the Fendi Karlito Capsule Collection! 
Yes, this is what you think it is… a Karlito iPhone cover!
News of the debut came earlier this week at Fendi's pre-fall presentation. Only 400 pieces will be produced worldwide and it's tagged at a whopping $600 (the cost of an iPhone, LOL)!
The miniature KL adorning the black nappa leather cover is reminiscent of Karl Lagerfeld's iconic style with white hair, black shades, a high white collar and black tie.  His body is done in fox and crest in kiddassia fur.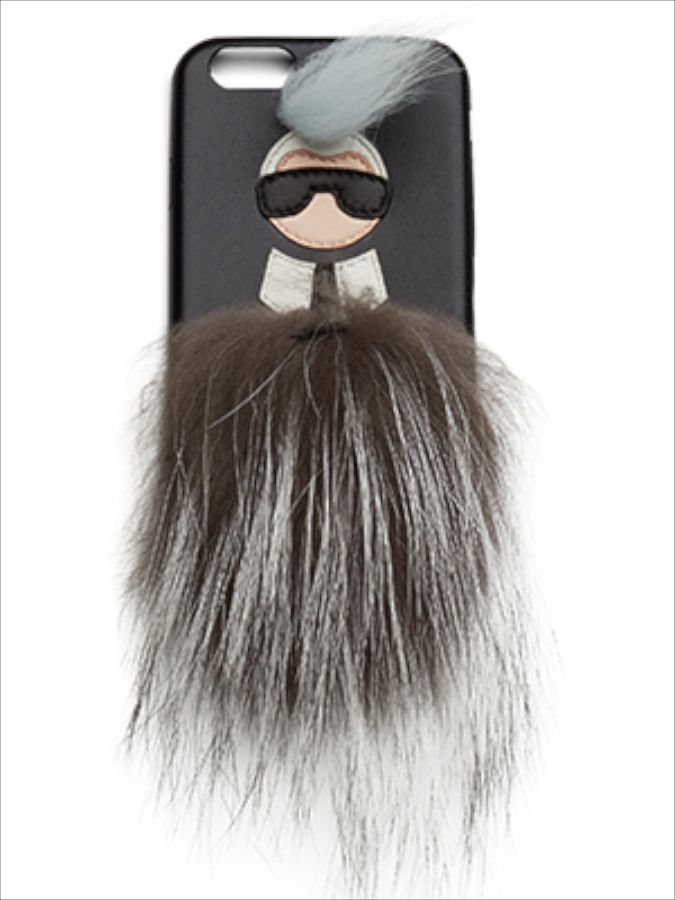 I'm in no position to comment on its frivolity since I've been a heavy hitting proponent of the Karlito craze myself with the #bopwithKARLITO hash tag on Instagram and created an entire stop motion video dedicated to his homecoming…
I learnt of the news while visiting the Fendi Miami location this last weekend whilst picking up another critter I shall soon muster the strength to confess to.
The Fendi bug's are alive and well, the bag charm trend is peaking and the 'IT' phone cover of 2015 will have folks scrambling to get their name on wait lists… others will roll their eyes in amusement at our indulgences.
Fendi's creative director of accessories, Sylvia Venturini Fendi has our attention peaked once again! (Oh, and in case you are wondering, the case will only be available for iPhone 6).
Love PurseBop
XO
Updated: May 19th, 2017