PurseBopping to Activism
by Maura Carlin
With social calendars filled with marches, rallies, vigils, protests and the like, fashionistas are wondering how to accessorize. Our feature on Marching Bags detailed security size, transparency requirements, and pondered whether a designer bag is even appropriate for the event.
Now it's time for your bag marching orders:
#1 Ziploc bags and progeny – To use Nancy Reagan's words, "just say no" to the plain Ziploc bag and the XL one with that hole-for-a-handle.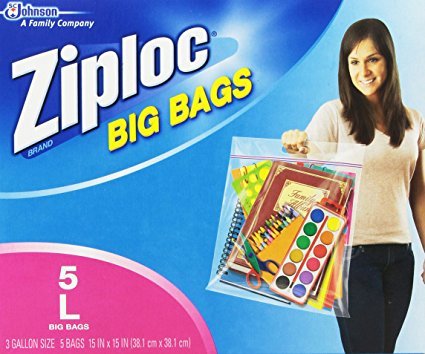 Seriously, you'll need a bag just to hold your plastic bag.
However, much like the homegrown "Pussy Hats" of the Women's Marches, a cottage industry of purses made from Ziploc bags has developed.
So, you want some personal flair? Skip the duct tape to leave it clear. If you're crafty, go for it.
Offshoots of this perhaps inelegant movement are the functional and permissible clear backpacks that we all know so well.
Refinery29 devoted a feature to this look. Target and other big box stores carry them as well. Again, DIY is an option. Just don't expect to be named a "fashion do" in any magazine.
#2 Clear plastic designer purses– We've got one word for the label-loving future: Plastics. As seen in 1967's iconic The Graduate. It's a huge step up from Ziploc that doesn't zip. They  are seemingly oxymoronic, but still somehow all the rage. You get that high fashion look, and everyone can see your junk. Of course, do you want to pay up for plastic? Well, that's up to you. By the way, Chanel is coming out with a new one this Spring season in the Beauty Lock model.
Or dig deep in your closets and scour resale outlets for bags past from Chanel, Hermes, Loewe, and Delvaux, just to name a few.
#3 Fanny packs –Always a tourist favorite and usually a fashion no-no, bum bags were re-popularized a couple of years ago by premier designers and sometimes chicly renamed "belt bags." Permitted size-wise, they leave you a comfortable hands free flag waver. For those of us with waists, these bags can multitask – as belts. The bummer is they only work for those of us without much booty.
Chanel made one recently in the classic quilted leather style.
Or, you can transition to the men's side of LV for the Geronimo. Call when Hermes adds one to its current lineup!
#4 Mini bags especially cross body – These are probably a favorite and easy to find at nearly every designer level.
PurseBop's got an entire Mini Guide to help. Show your signs – Hermes, Chanel, Celine etc – while holding others. But again, if size matters, swipe left.
#5 "Not a bag at all" – If you're just not that into bags. But then, it's unlikely you follow PurseBop. Nonetheless, you can try a utility jacket or vest with lots of pockets. This one by Figue can even hold a bottle of water, a few little flags and paper signs, along with your phone, extra battery and lip gloss, and other rallying essentials.
This jacket trend is so popular Net-a-porter has an entire section devoted to this style.
A utility jacket is also a great equalizer – they are available at every price point, including J.Crew and Old Navy. If there's a security checkpoint, however, leave plenty of extra time – it's going to take a while to empty those pockets.
Whether you march left or right, how will you hold your baggage?