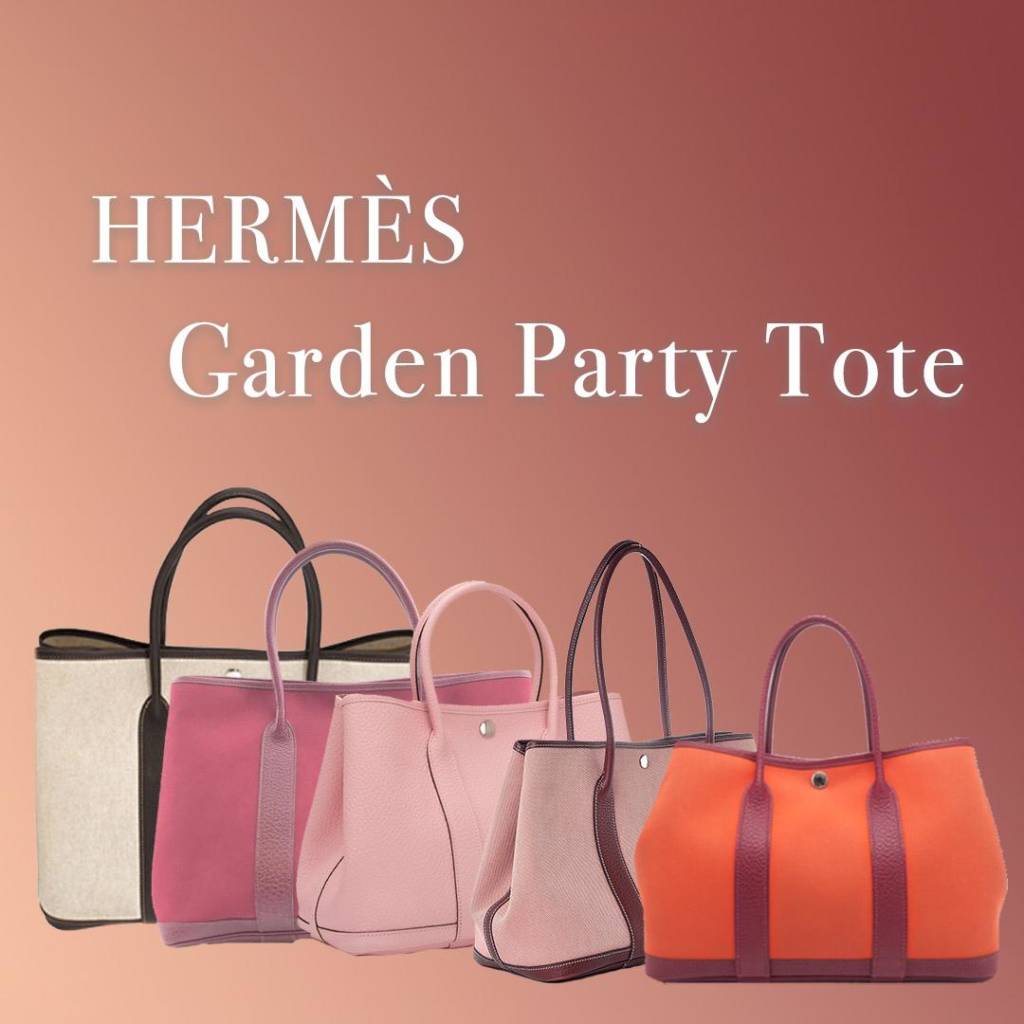 Is a handbag collection ever really complete without a tote bag (…or two or three)? Although most of our favorite luxury brands design them, the Hermès Garden Party Tote stands out. You can't get much more luxurious than Hermès. But in terms of the brand's usual price range, the Garden Party Tote is relatively inexpensive! At least, it is less expensive than the infamous Hermès trifecta of Birkin/Kelly/Constance.
The tote's practicality and versatility make it one of Hermès' most popular items. Of course we've discussed this bag before but an update on all things Garden Party Tote is well overdue. So here you go, enjoy!
What to expect in this reference guide:
Is it worth it?

Reasons to consider the Hermes Garden Party tote

Notable features

Discussion of materials, sizes and prices

Celebrity style

Instagram eye candy
You may be thinking…there are tons of solid totes out there from great brands, like the Louis Vuitton Neverfull for example. However, if you're looking for Hermès craftsmanship in tote form then this could be the bag for you.
The Garden Party Tote gives you Hermès at a price point you don't usually see from the brand. In addition to the quality (and let's face it, the label), its 'blank canvas' aesthetic makes it easy to style and dress up for any occasion.  While the bag may not be as synonymous with the Hermès brand as the Kelly or Birkin, it certainly hits the mark on quality, functionality, and looks.
Reasons to Consider the Hermès Garden Party Tote:
Hermès quality craftsmanship for a price not typical of the brand
Ideal entry level bag if you want to get a feel for Hermès without breaking the bank!
Great durability (especially the canvas material)
There's a Garden Party Tote for everyone due to the wide selection of colors and materials available (but more on that to come!)
Blank canvas aesthetic means you can easily put your own spin on the tote by adding twillies or bag charms to the handles.
The "Clou de selle" snap fasteners on the sides of the bag mean the tote's shape can easily be changed allowing for extra space
The Hermès Garden Party is designed like your typical tote. It has one big, open compartment and is designed to be functional and accommodate your things easily. While other bags from the brand boast sangles, clochettes and locks (read: Hermes 101 Birkin v. Kelly for a full lesson on every part of a B and a K if these terms seem unfamiliar!) the Garden Party Tote relies on simplicity and functionality for the source of its popularity. This is what makes it such a great on-the-go bag.
Notable Features:
Clou de Selle Snap Closure
Zippered Interior Pocket
Canvas Interior
The Garden Party Tote is very versatile and not just because it can be dressed up or down. It comes in two different styles: all leather or canvas with leather trim. In other words, you can opt for a more sophisticated and classic look or stick with hardwearing, durable canvas depending on your lifestyle. This also means that if you're working with a smaller budget, you can still afford the bag in canvas rather than getting it in all-over leather. A lighter price tag also comes with a lighter weight.
The canvas styles have a canvas body and contrasting leather handles and trim. Canvas styles are available in Officier and Military Canvas. Negonda leather is commonly used for the leather styles as it is soft and supple, with a matte finish. Additionally, Negonda calfskin is durable and water resistant, which makes sense since totes endure a lot of wear and tear with frequent use. The tote also comes in Epsom calfskin, first used by the house in 2004: it's a printed leather with a striking finish and is scratch-resistant—ideal for a frequently used bag. More recently certain styles have been made available in Country cowhide, a leather developed specifically for the Garden Party bag. Its name is inspired by its sporty and relaxed quality, perfect for a life spent on-the-go.
Both the canvas and all leather styles have canvas interiors. (Most other Hermès bags have leather interiors.) The use of canvas interior adds to the bag's practicality and makes it relatively more affordable compared to its H peers.
Common material combinations:
Canvas and Cowhide
Negonda calfskin
Epsom calfskin
Country cowhide
The bag boasts three sizes: Small (30), Medium (36), and Large (39). Small is perfect for everyday wear. The Medium Garden Party Tote has a little bit more capacity and is therefore better suited for travel, work, and errands. Not surprisingly, the Large Garden Party Tote is more heavy-duty and better for travel and usually comes in canvas.
*Please note sizes vary very slightly depending on material
| | |
| --- | --- |
| Size | Dimensions (L x H x W) |
| Hermès Garden Party Tote 30 (Small) | 12" x 8.5" x 5" |
| Hermès Garden Party Tote 36 (Medium) | 13.5" x 10" x 6.5" |
| Hermès Garden Party Tote 39 (Large) | 19.5" x 14' x 9.5" |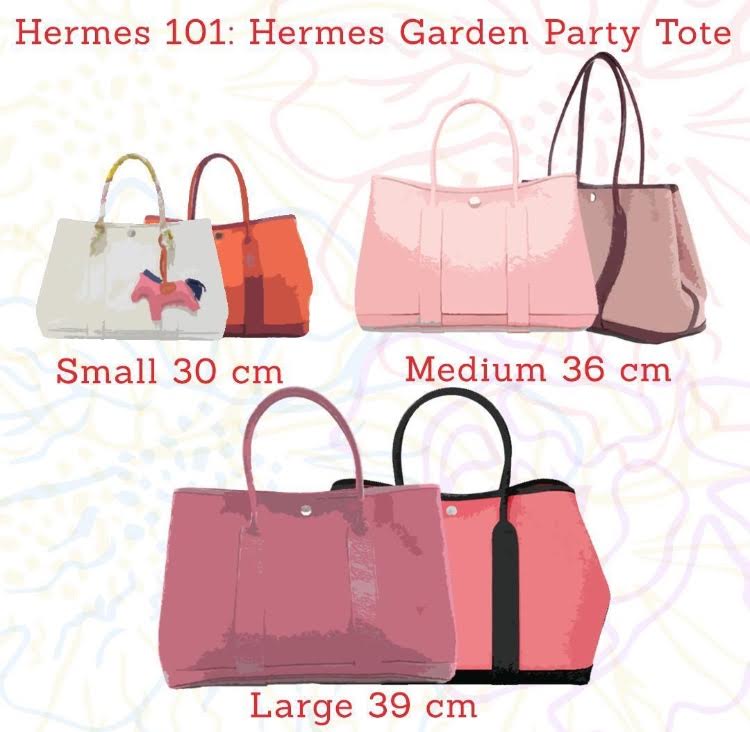 *Due to various materials and sizes, prices for Garden Party Totes vary. Canvas styles retail for less than all leather styles.
| | |
| --- | --- |
| Size and Material | Price in USD |
| Canvas Garden Party Tote 30 (Small) | $2,075 |
| Leather Garden Party Tote 30 (Small) | $3,550 |
| Canvas Garden Party Tote 36 (Medium) | $2,350 |
| Leather Garden Party Tote 36 (Medium) | $3,750 |
| Canvas Garden Party Tote 39 (Large) | $2,960 |
A-listers have been spotted loving their Garden Party totes everywhere!
While it's easy to look at the Hermès Garden Party and see a typical tote bag, here at PurseBop, we think this bag is so much more. It's distinct look not only makes it stand out from the H family but its variations in size and material mean those with a smaller budget, or perhaps who just want to test the H waters, can enjoy the craftsmanship of the brand.