Hermès. The name alone is practically synonymous with luxury, and even the epitome of luxury, especially when it comes to bags. Demand for the brand's highly sought-after Birkin and Kelly is simply unparalleled within the luxury world. And, over the decades, Hermès has remained loyal to its second-to-none craftsmanship.
To this day, Hermès continues to produce its handbags by hand, in its France-based ateliers with specially trained artisans. Production of each bag takes many person-hours. It is no secret that the Birkin and Kelly are perhaps some of the most well-made and high-quality pieces available in the luxury world.
Consequently, demand for these highly sought-after handbags rarely, if at all, wavers. While Hermès remains true to its roots – it simply cannot keep up with the scale of demand. Over the last several years, Hermès has enhanced its production capabilities by adding new leather workshops in France. Yet, to many Hermès fans, there still are never enough available handbags.
When you look at the trajectory of its pricing for Birkins and Kellys over the last few years, it is remarkably stable. At least until 2023. Admittedly, like other high-end brands, it raises prices periodically. In fact, it is known for annual increases in the 1-3% range.
However, as compared to Chanel and Louis Vuitton, its prices have risen at a much slower rate. As an example, the tag on Chanel's medium Classic Flap rose 16% in March 2023. And if you look back to 2016 when that same bag cost $4900, the current $10,200 price tag means it's more than doubled in just seven years.
Below we take a look at the pricing history of the Birkin and Kelly. As you'll see below, although prices for these bags have risen – especially in 2023 – it's at much slower pace. So far, anyway.
Despite the rising prices, the Birkin and Kelly will forever remain iconic and a true status symbol within the world of fashion.
Hermès Birkin
The Hermès Birkin remains one of the most coveted and popular handbags available on the luxury market. A true piece of fashion history – with plot lines in movies and television (like Sex and the City), it seems this infamous and much-loved Hermès Birkin will forever have cult status.
Originally designed as the ultimate travel companion, the Birkin was first released in 1984. Behind the iconic design, were the masterminds of Hermès CEO Jean-Louis Dumas and Jane Birkin herself. Since that fateful day during a flight from Paris to London, the Hermès Birkin became the be-all-end-all bag in the fashion world and remains a true symbol of status.
No doubt part of its elevated standing, beyond the quality, is its limited availability. As of 2000, there were reports that Hermès only produced about 12,000 Birkins per year. Nowhere near enough to satisfy luxury lovers clamoring for a bag (or two or more).
And even with the addition of 11 leather workshops since 2010, and expectedly a greater number of bags created, there never seem to be enough. Unfortunately for most, these bags are not simply available to purchase and are only sold to selected clients.
Back during its release in 1984, the price for a Hermès 35 Birkin bag was approximately $2,000. This gradually rose to around $2,750 in the 1990s, and consequently $4,000 at the turn of the century. Today, the same Birkin bag is available in boutiques for $12,700. That's a 585% increase in price in just under forty years.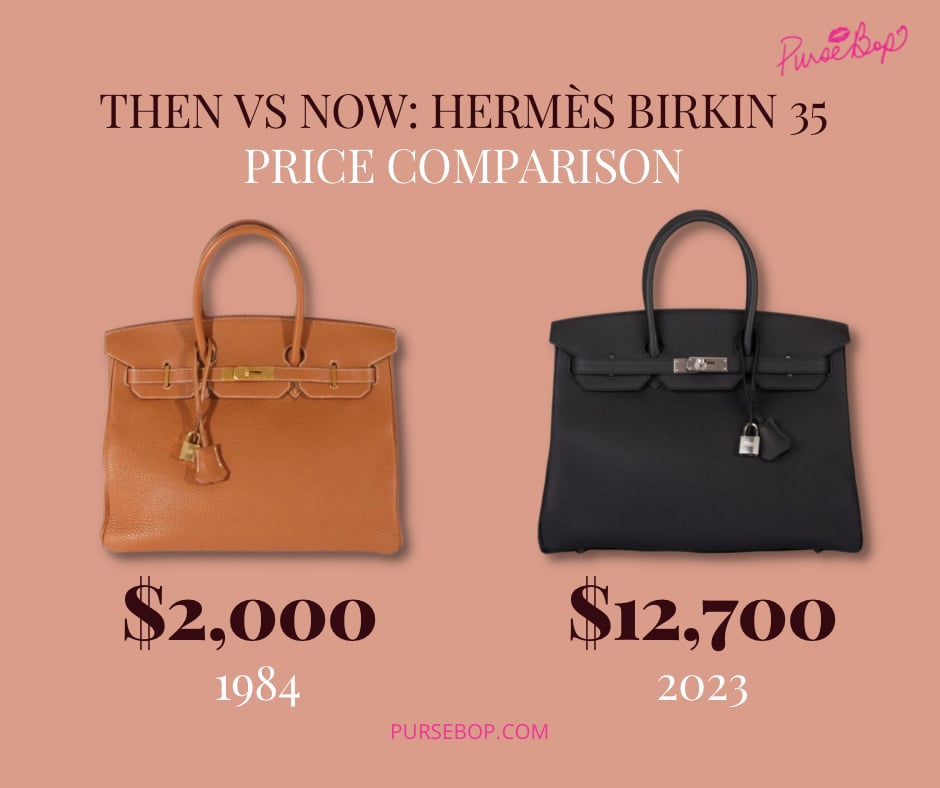 Hermès Birkin Price Increases
However what impact are the more recent price increases having at Hermès? Just five years ago, in 2018, the price for a Hermès Birkin size 35 in Togo leather, was $11,900. Since then, despite multiple price hikes, the same bag today sells for $12,700. That's only a 6.7% increase.
Interestingly, though, is the difference between pricing history in the United States and Europe in the last five years. As you can see from the chart below, Birkin pricing grew more quickly in Europe, where the bag traditionally was less expensive. We can assume this is being done to decrease the price gap between the two regions and a gentler move towards global price harmonization (eventually).
To illustrate this, let's take a closer look at Birkin prices based in Continental Europe compared to the US.
| | | | | |
| --- | --- | --- | --- | --- |
| Birkin 25 (Togo) | 2019 Price | Current 2023 Price | Price Increase | Increase (%) |
| USA | $10,100 | $10,400 | $300 | 2.97% |
| Continental Europe | €7,400 | €8,050 | €650 | 8.78% |
| | | | | |
| --- | --- | --- | --- | --- |
| Birkin 30 (Togo) | 2018 Price | Current 2023 Price | Price Increase | Increase (%) |
| USA | $10,900 | $11,600 | $700 | 6.4% |
| Continental Europe | €7,400 | €8,900 | €1,500 | 20.2% |
| | | | | |
| --- | --- | --- | --- | --- |
| Birkin 35 (Togo) | 2018 Price | Current 2023 Price | Price Increase | Increase (%) |
| USA | $11,900 | $12,700 | $800 | 6.7% |
| Continental Europe | €8,200 | €9,850 | €1,650 | 20.12% |
Despite the consistent price hikes at Hermès, the percentage increase from 2018 to 2023 has been small. In stark contrast, luxury brands such as Chanel have had increasingly high price hikes across the board over the past few years. Prices have risen for their Classic Flap bag by 15.9% this year (See more: The Surprising Original Costs of Favorite Chanel Items in Your Closet). While prices continue to rise at Hermès, they are certainly at a much slower rate than other luxury brands.
Hermès Kelly
It's not all about the Birkin!
While the Hermès Birkin might have the bigger name, the Kelly actually came first. Launched in 1935, the then-named Sac à dépêches bag was designed by Robert Dumas. It wasn't until around 1955, that the bag garnered popularity. While filming To Catch a Thief, actress Grace Kelly used her Kelly to hide her pregnancy from the paparazzi. In 1977, Hermès officially renamed the bag in her honor.
Hermès Kelly Prices: Then Vs. Now
The famous Hermès Kelly 28 Sellier was available to purchase from boutiques in the 1990s for approximately $3,500. Today, the Kelly has increased in value to $11,800 – a 237% increase since then.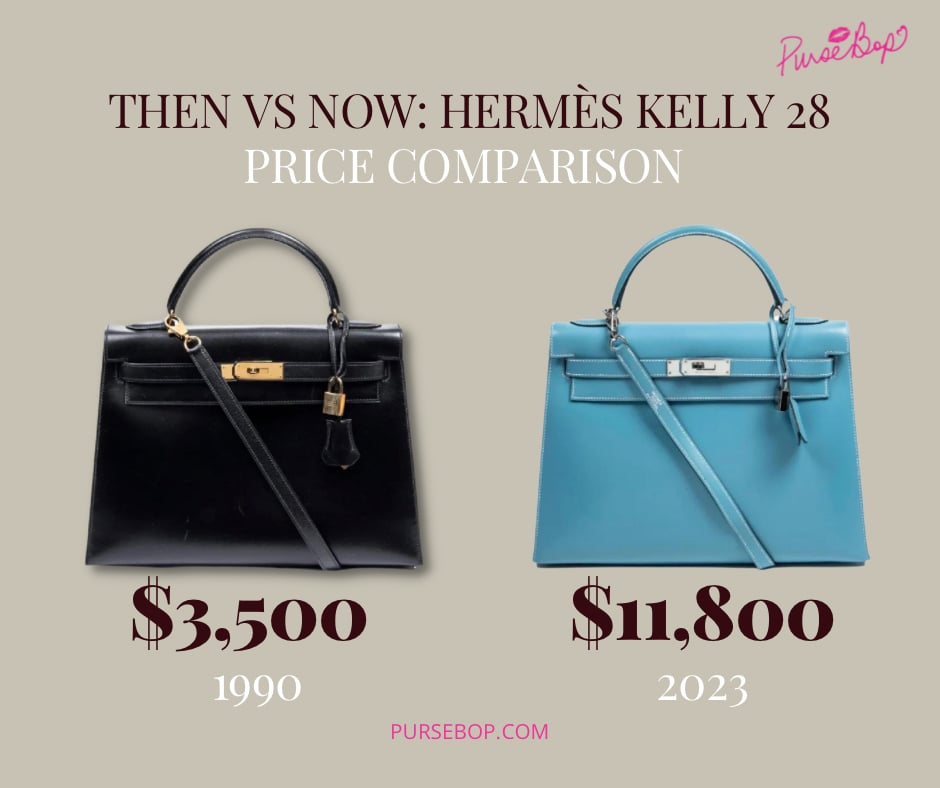 Hermès Kelly Price Increases
Interestingly, despite the Birkin's fame, the price of its older sister, the Kelly, has grown more, especially in recent years. We have seen an increase in the Kelly's popularity with many preferring it to the Birkin. Perhaps then it's no surprise to see bigger jumps in pricing.
Look at what happened this year. In 2023 Kelly prices spiked at a much higher rate than for the Birkin. The below charts demonstrate the change in the price of the Hermès Kelly within the past four years, in the United States and Continental Europe.
| | | | | |
| --- | --- | --- | --- | --- |
| Kelly 25 (Togo) Retourne | 2019 Price | Current 2023 Price | Price Increase | Increase (%) |
| USA | $9,350 | $10,900 | $1,550 | 16.57% |
| Continental Europe | €6,600 | €8,050 | €1,450 | 21.96% |
| | | | | |
| --- | --- | --- | --- | --- |
| Kelly 28 (Togo) Retourne | 2020 Price | Current 2023 Price | Price Increase | Increase (%) |
| USA | $10,200 | $11,300 | $1,100 | 10.78% |
| Continental Europe | €7,400 | €8,650 | €1,250 | 16.89% |
| | | | | |
| --- | --- | --- | --- | --- |
| Kelly 32 (Togo) Retourne | 2020 Price | Current 2023 Price | Price Increase | Increase (%) |
| USA | $11,000 | $12,000 | $1,000 | 9% |
| Continental Europe | €8,800 | €9,200 | €400 | 4.5% |
As you can see, much like the Birkin, the Kelly has been subjected to price hikes over the past few years. However, the percentage increases for the Kelly have been much more impactful.
Which Hermès Kelly has received the biggest price increase?
The latest 2023 price increase at Hermès impacted all of their bags. However, everyone's eyes were eagerly on the Birkin and Kelly. While the Birkin received a price increase of around 3% on average, there was a big spike in some models of the Kelly.
In contrast to the Birkin, the Kelly 25 Togo Retourne received a 10% increase. Meanwhile, it was a similar story with the highly coveted Mini Kelly 20. The Mini Kelly 20 Matte Alligator also rose in price from $28.500 to $31,500 – a 10.5% increase.
Hermès Birkin & Kelly: Which size is the most popular?
As trends come and go, what is considered the most popular size of Hermès bags changes. Currently, Hermès offers both the Birkin and Kelly in various sizes, ranging from the Mini 20cm to the larger 35cm.
The Hermès Birkin 35 is the original size, and many collectors refer to it as the True Birkin. However, as we all know, sizes fall in and out of favor. The Birkin 30 has certainly had its time in the spotlight, as it was neither too big and heavy (which was a reported issue with the 35), nor too small to hold daily essentials.
For years now, mini bags have been the most desired. Currently, the smaller-sized B25 is the most coveted Birkin . And there's great news for mini bag lovers – the hotly anticipated Hermès Birkin 20 is now here (See more: OMG, Move Over Mini Kelly, the Birkin 20 is Here).
When it comes to the iconic Hermès Kelly, currently the most popular sizes are the 20 and 25. As a much more structured bag, the smaller sizes are coveted as they are easier to carry and easily transition from day to night.
While fashion trends may continuously come and go, any Hermès Birkin or Kelly truly remains a timeless investment.
Are you Team Birkin or Team Kelly? What size? And just how much are you willing to pay?