The mini bag craze got us thinking a lot about size. When you're bag shopping, you may breeze through the process of deciding between a brand, a style, or a color, but size can be a whole different dilemma. In a recent Q&A, many of you asked whether you should go smaller or larger when it comes to size and how you should make your decision (Read: Don't Get Rid of Your Larger Bags Just Yet!). You really have to do your research to make sure you're investing in the perfect bag size, and this is especially true when it comes to Hermes. No one wants to pay thousands of dollars for a beautiful Birkin and then regret the size they chose!
Information you find online about Birkin sizes can be pretty limited. The names associated with each size can be confusing and numerical measurements alone can still leave you feeling lost. Last year, we published a guide to Hermes Birkin sizes with real-life bag comparison pictures, which proved to be an extremely helpful point of reference (Read: From Mini to More: Hermes Birkin Sizes). By popular demand and many email requests from our community, we decided to do an even more in-depth comparison of the Hermes Birkin sizes. We will be using models to demonstrate how each Birkin size looks against various body frames, which will hopefully give a better idea of the true size of each bag.
We're extremely excited to share this little "experiment" with you! We have a ton of pictures, and even videos so you can see the bags in action.  You'll be shocked by how the look of Birkin can totally change depending on the size and how the impact of each size can vastly differ from person-to-person. First, we'll review all the various sizes Hermes has to offer before we jump into our comparison.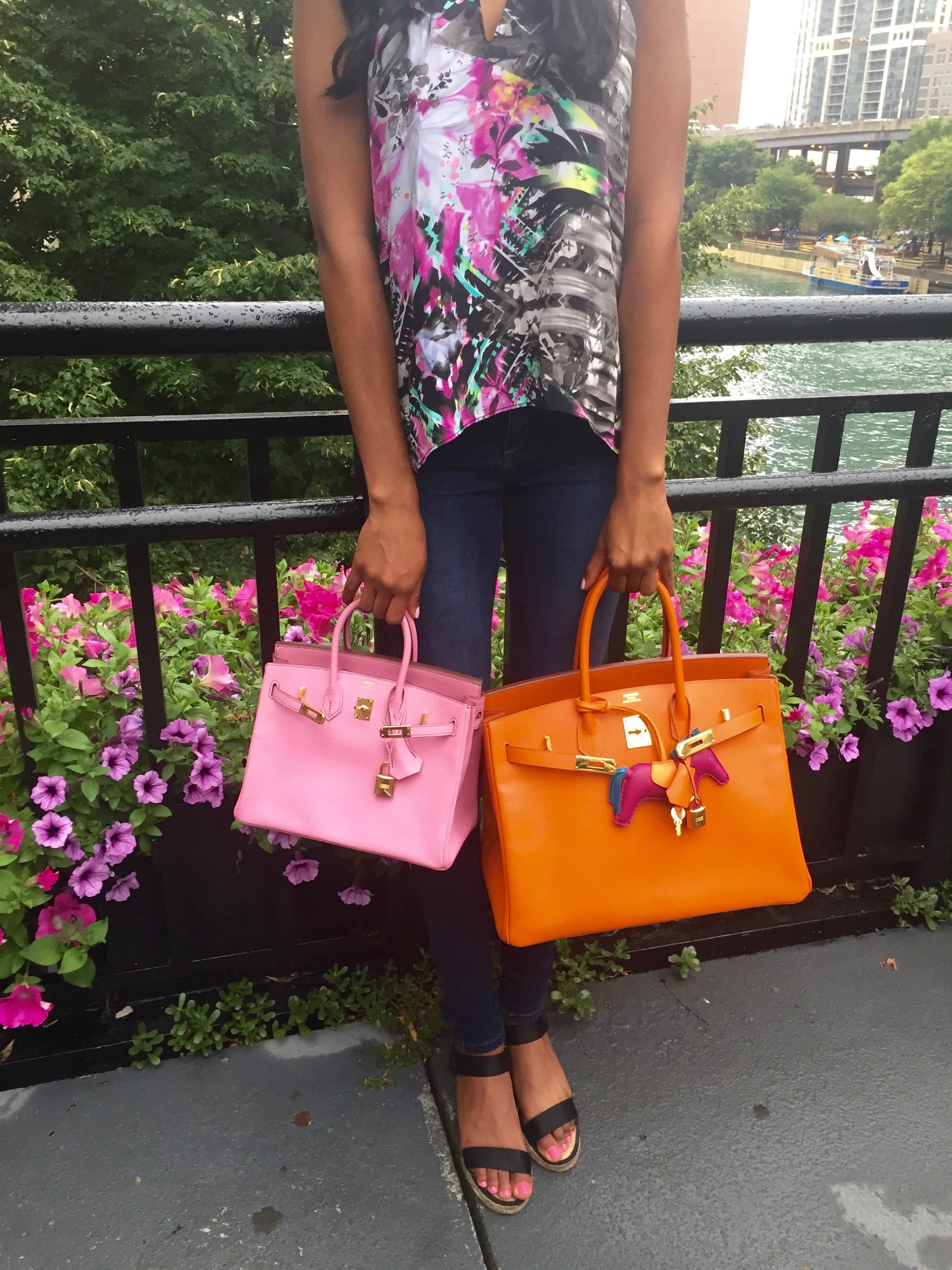 The Sizes
The Birkin is available in 4 different sizes from the adorable "mini" version to the biggest travel size. Many aficionados refer to each bag size in short hand with the letter "B" followed by the length in centimeters (ex. B35)
Birkin Sizes:
Birkin 25 (B25)
Birkin 30 (B30)
Birkin 35 (B35)
Birkin 40 (B40)
The most common Birkin sizes are the B30 and the B35. The B25 is a hard size to find and is usually only offered to VIP clients. It is more commonly available in Asia, but it is quickly gaining status in other parts of the world. After conversations with Hermes insiders and aficionados we found out that the B25 size gained popularity among Asian women partly because it doesn't overwhelm small statures. The B40 is hard to find as well, but it is usually less requested. The B40 is more suitable for travel instead of an everyday handbag.
For our comparison, we will be using the Birkin 25, Birkin 30, and Birkin 35.
Dimensions
Smallest to Largest (L x H x W cm):
| | |
| --- | --- |
| Birkin Size | Dimensions |
| Birkin 25 | 25 cm x 20 cm x 13 cm |
| Birkin 30 | 30 cm x 22 cm x 16 cm |
| Birkin 35 | 35 cm x 25 cm x 18 cm |
| Birkin 40 | 40 cm x 30 cm x 21 cm |
Prices
*all prices listed in togo leather
| | |
| --- | --- |
| Birkin Size | Price in USD |
| Birkin 25 | $9,500 |
| Birkin 30 | $10,900 |
| Birkin 35 | $11,900 |
| Birkin 40 | $13,200 |
Size Comparison
About the Experiment
We want to give you a clear idea of the true sizes of Birkin bags by comparing the bags worn by actual people. Our teammates Morgan and Marissa will model 3 Birkin sizes in the same standard poses to reflect how the bags carry in real life.
About the Bags
Birkin 25

Color: 5P PINK
Leather: Mysore Chèvre
Hardware: Gold

Birkin 30

Style: Ghillies
Color: Bamboo
Leather: Body – Togo, Trim – Swift
Hardware: Palladium

Birkin 35

Color: Orange
Leather: Epsom
Hardware: Gold
About the Models
Model #1 Morgan (wearing patterned top and jeans)
Height: 5'6″
Dress Size: 0 US
Model #2 Marissa (wearing black romper)
Height: 5'4″
Dress Size: 4 US
The Poses
Held in the center
Crook of the arm
In the hand, down by the side
Hermes Birkin 25
*note: the Hermes Birkin 25 can only be carried in by hand since the handle is too small for the bag to be worn in the crook of the arm.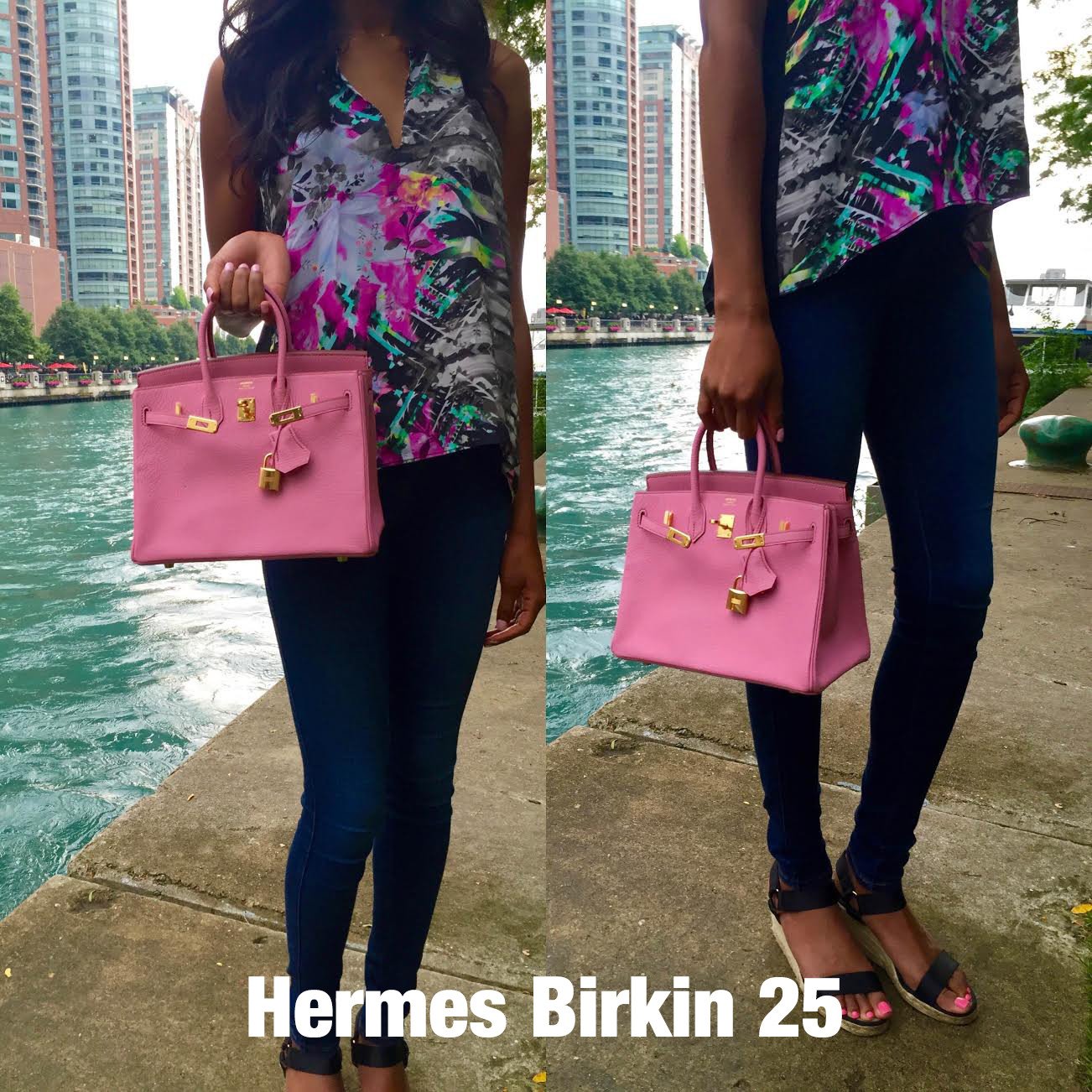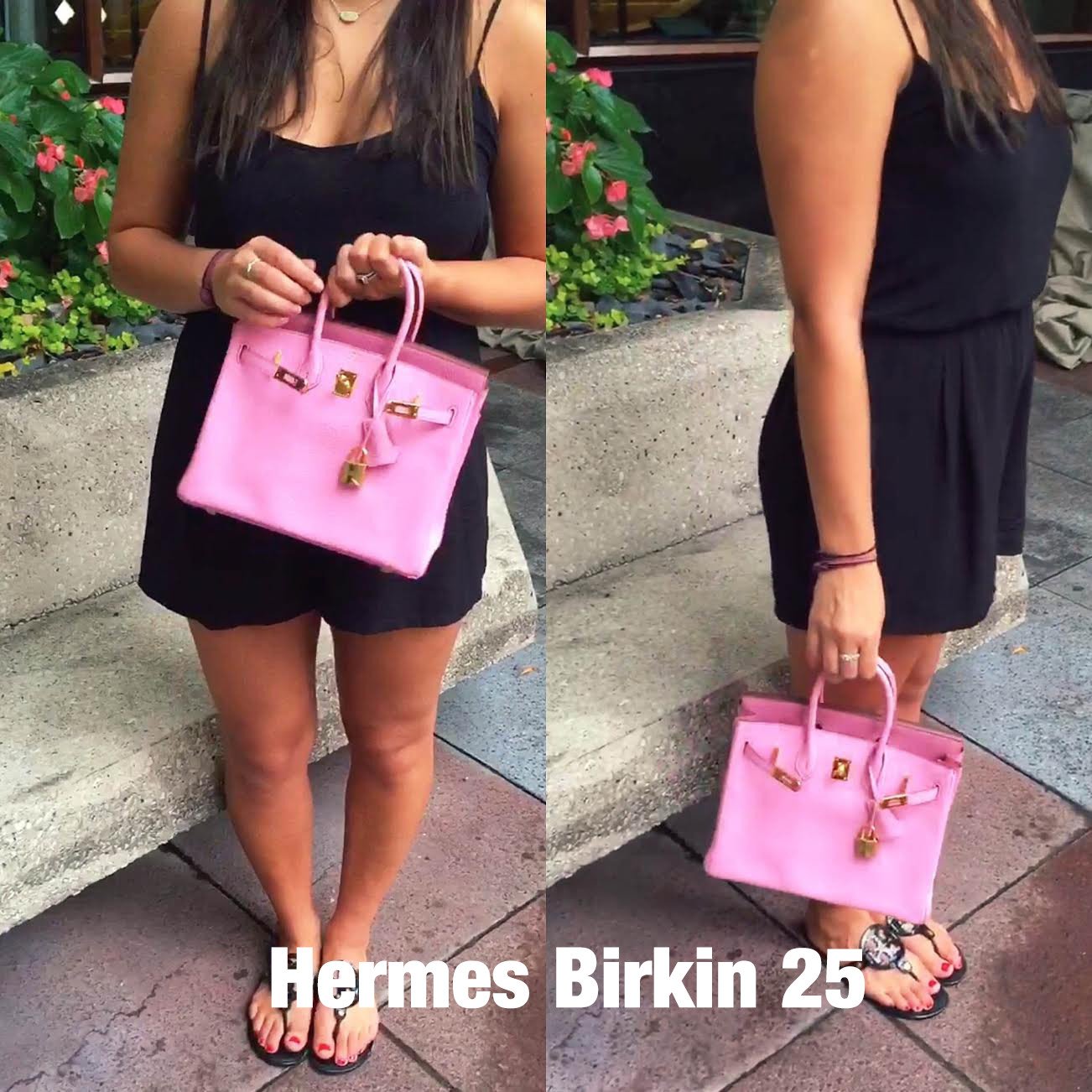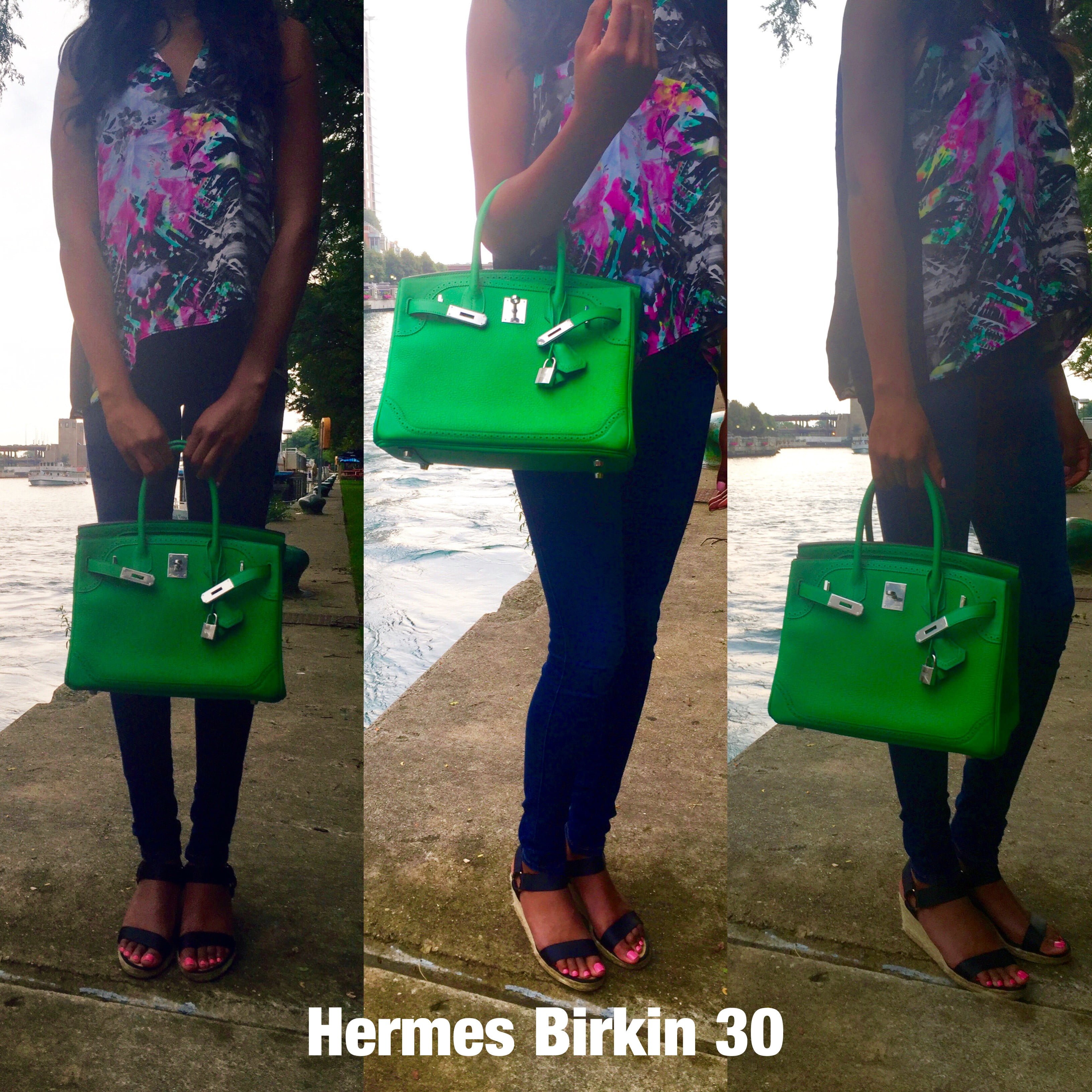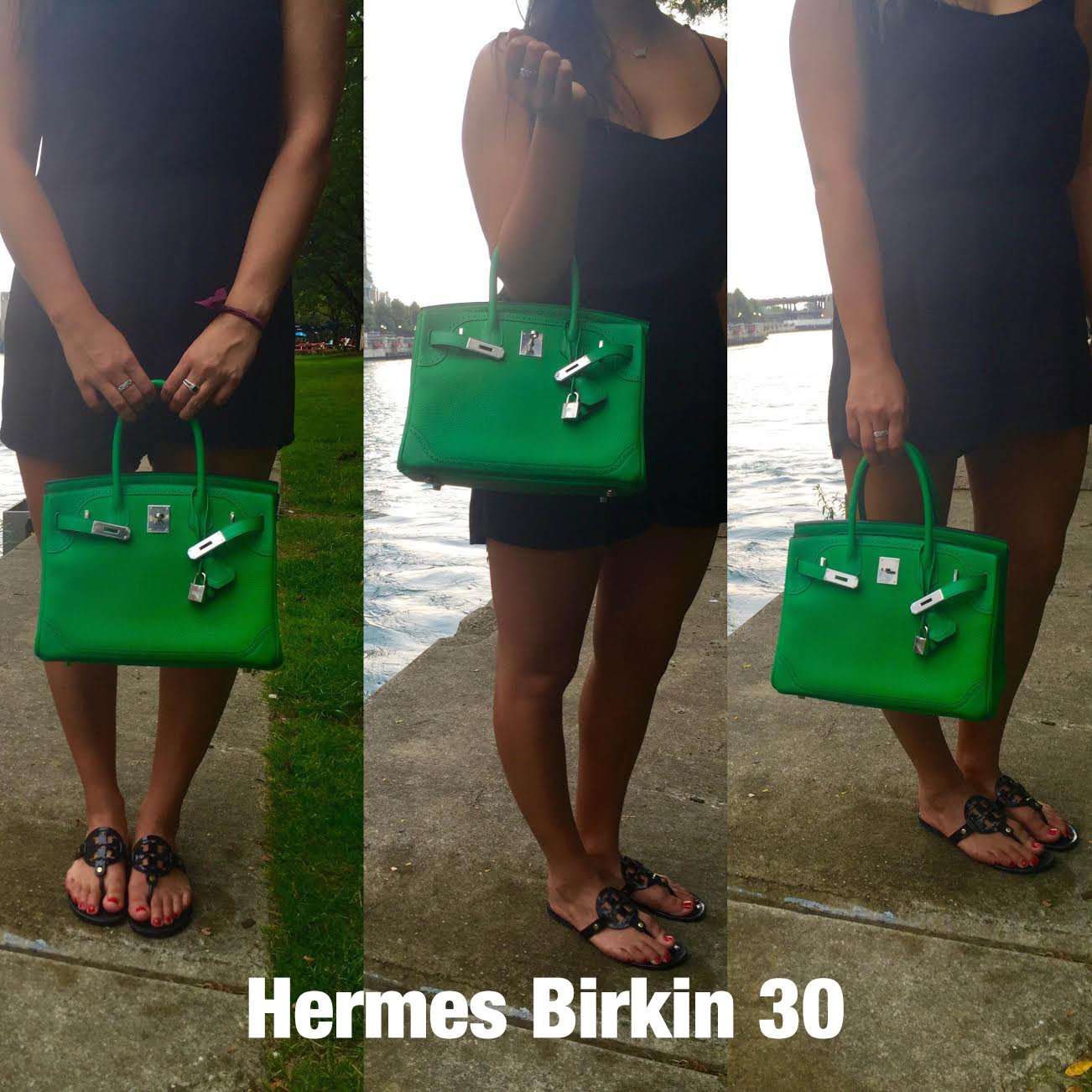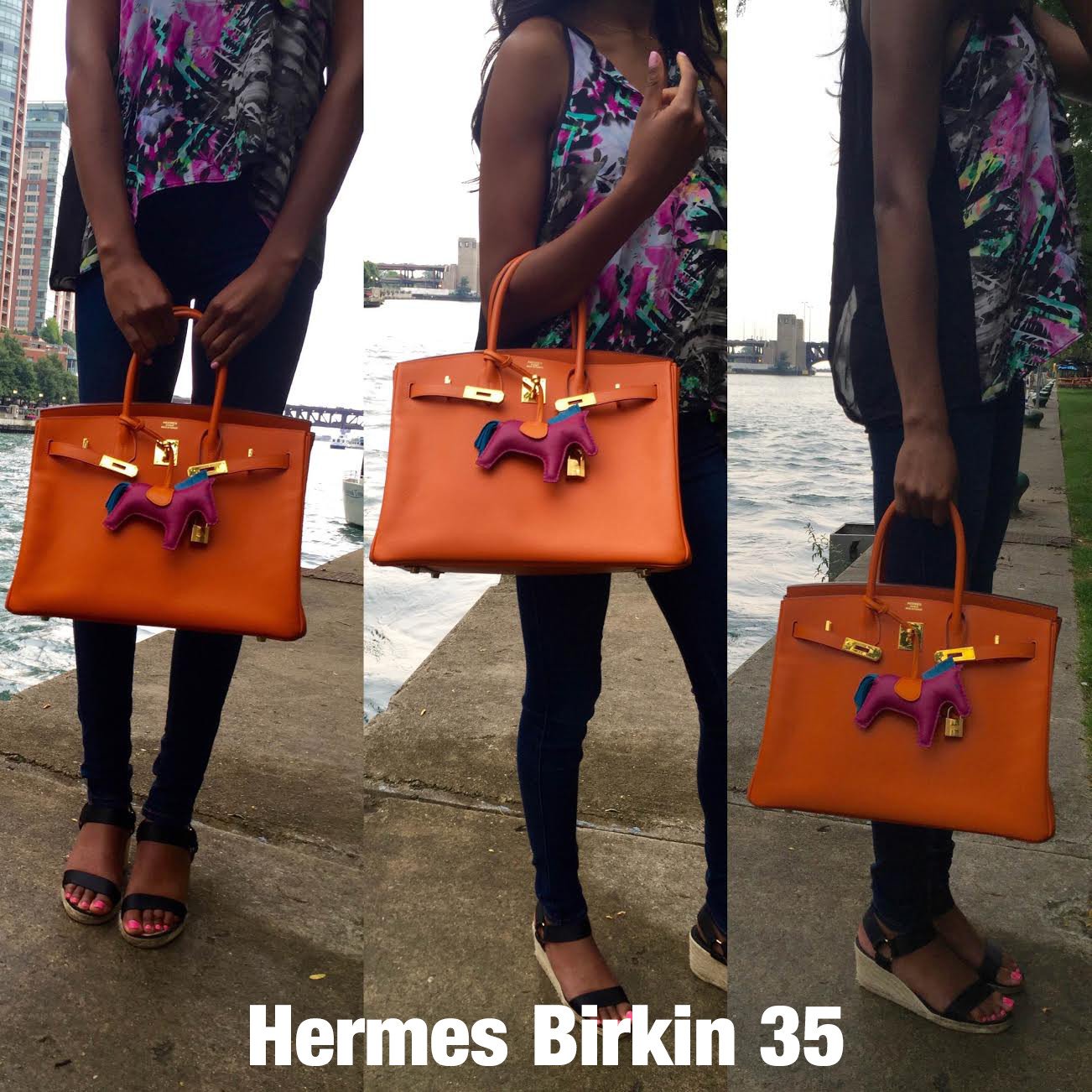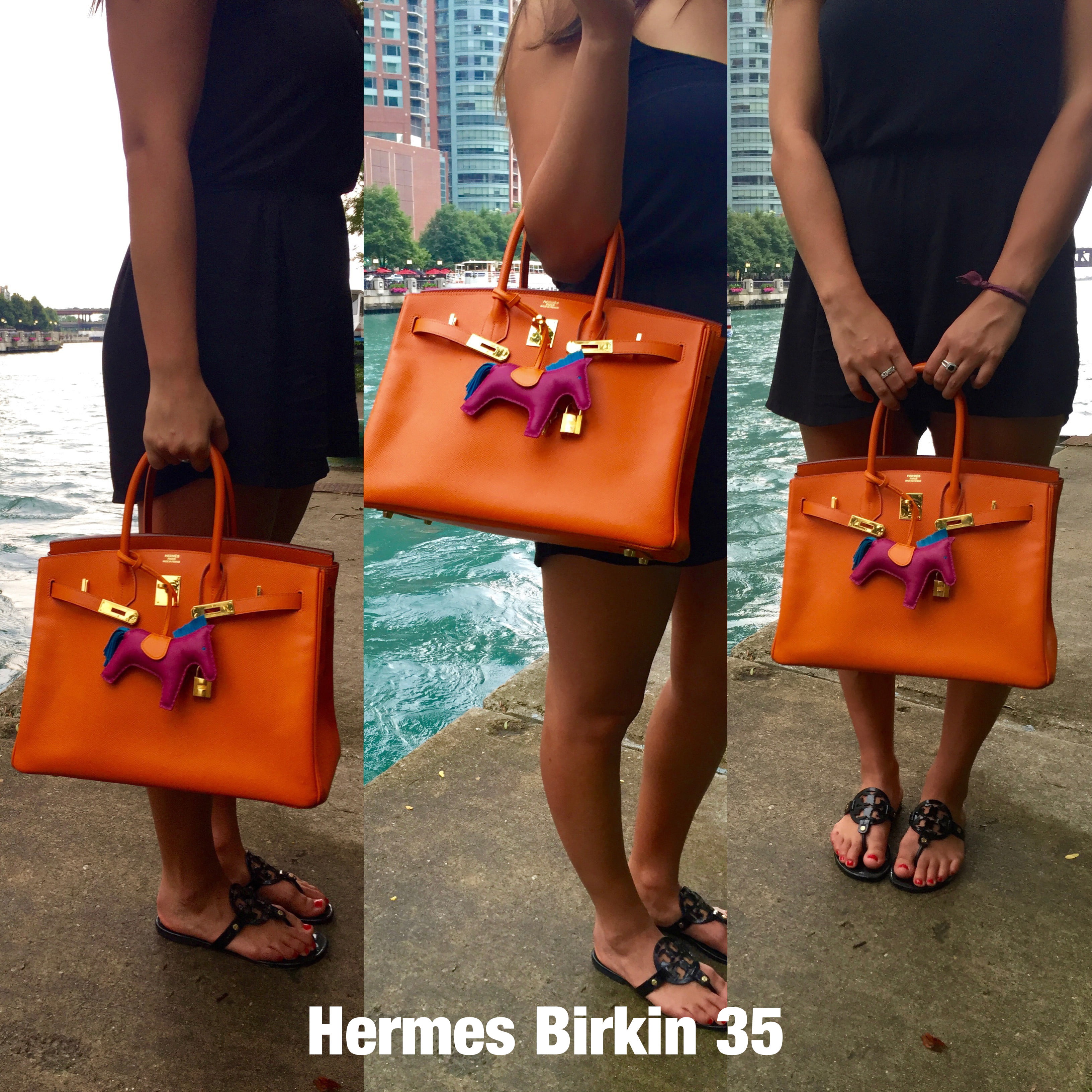 Held in the Front
Birkin 25 vs. Birkin 30 vs. Birkin 35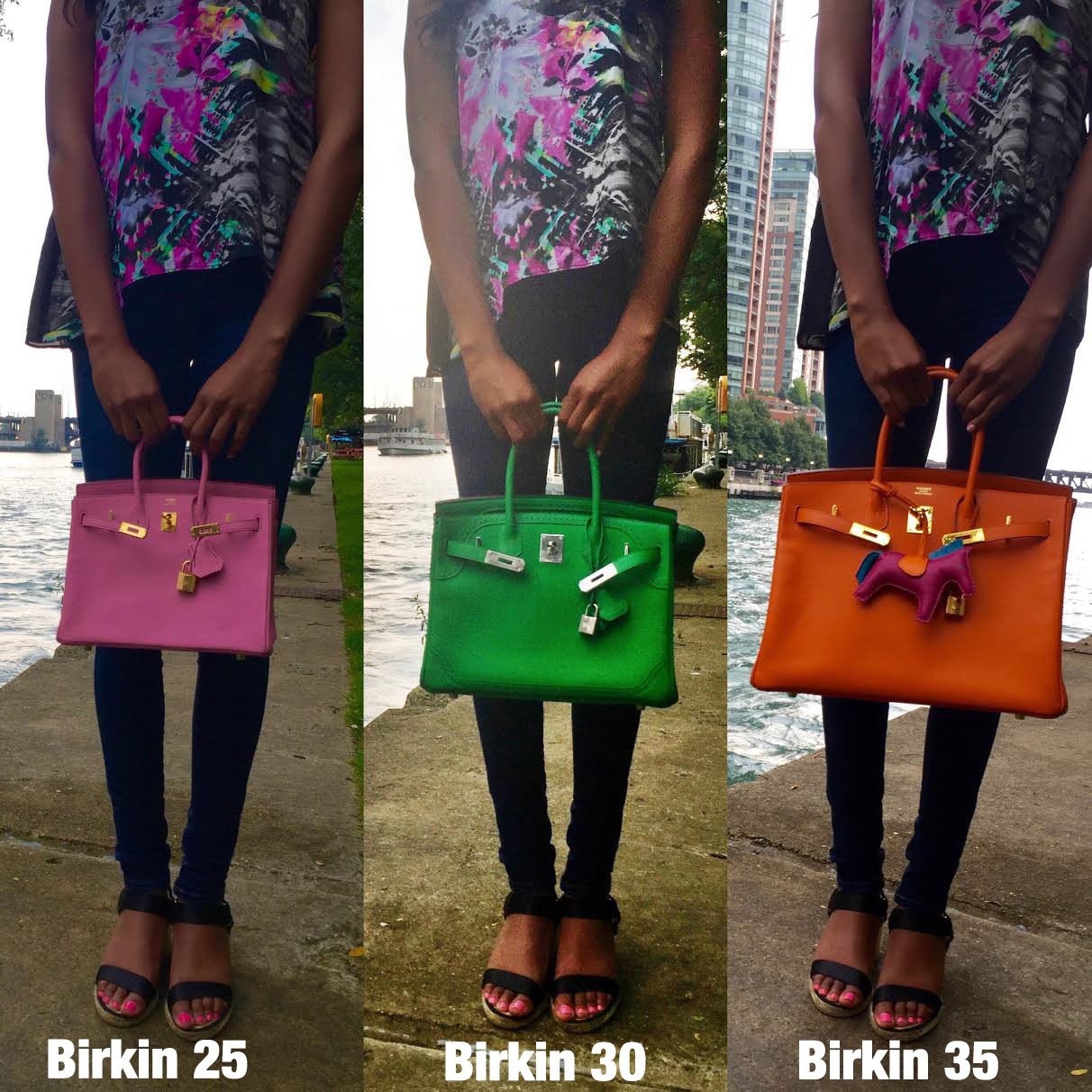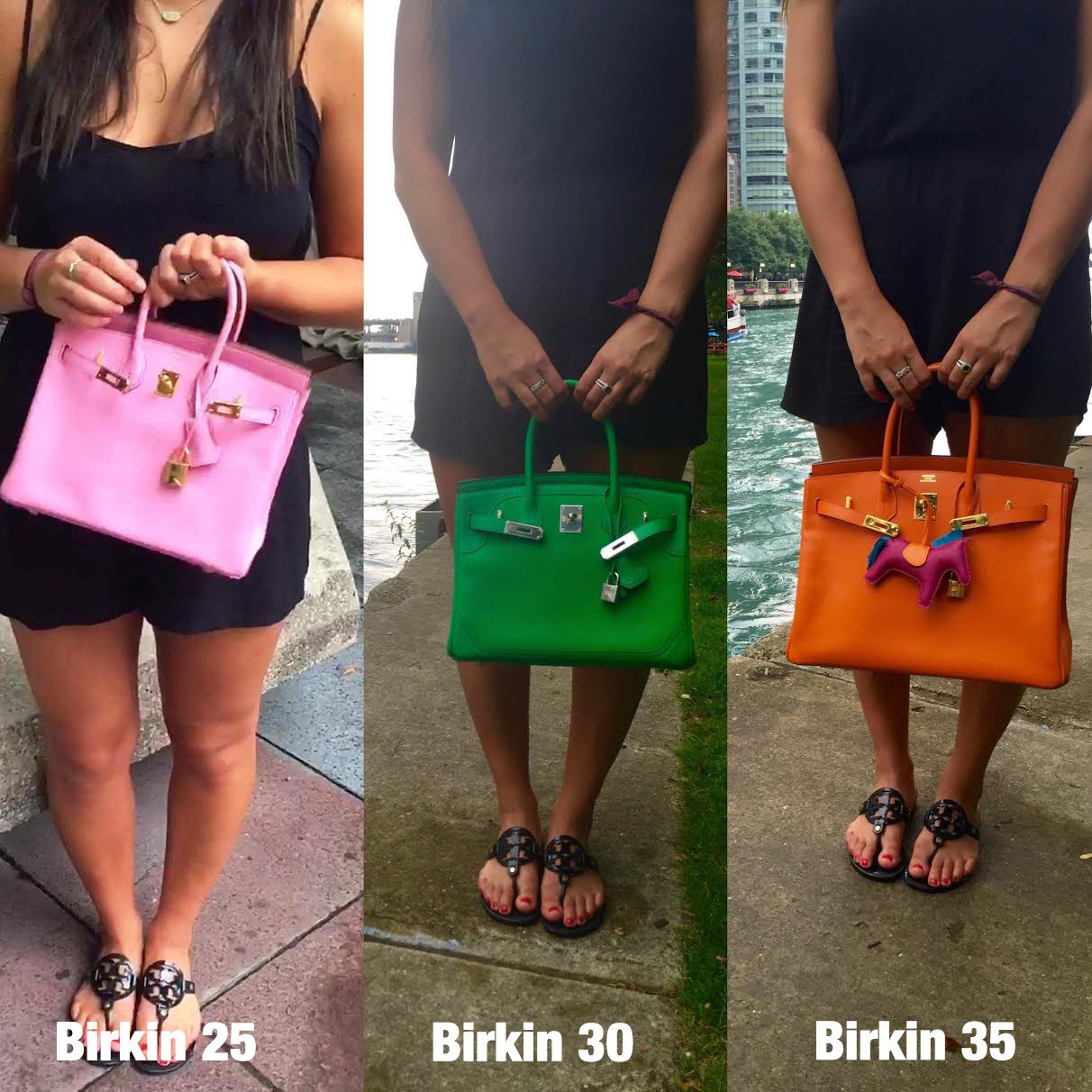 Crook of the Arm
Birkin 30 vs. Birkin 35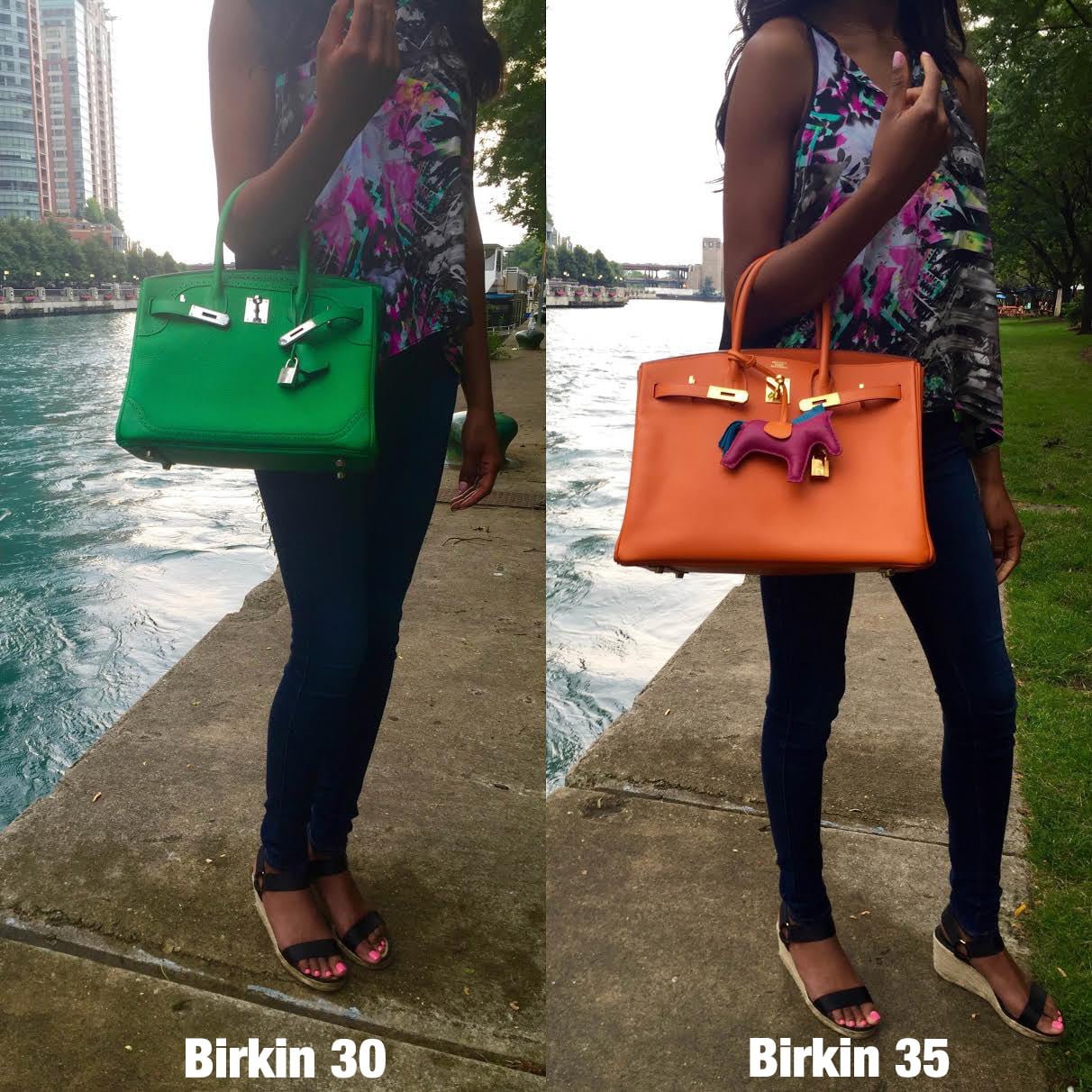 In the hand, down by the side
Birkin 25 vs. Birkin 30 vs. Birkin 35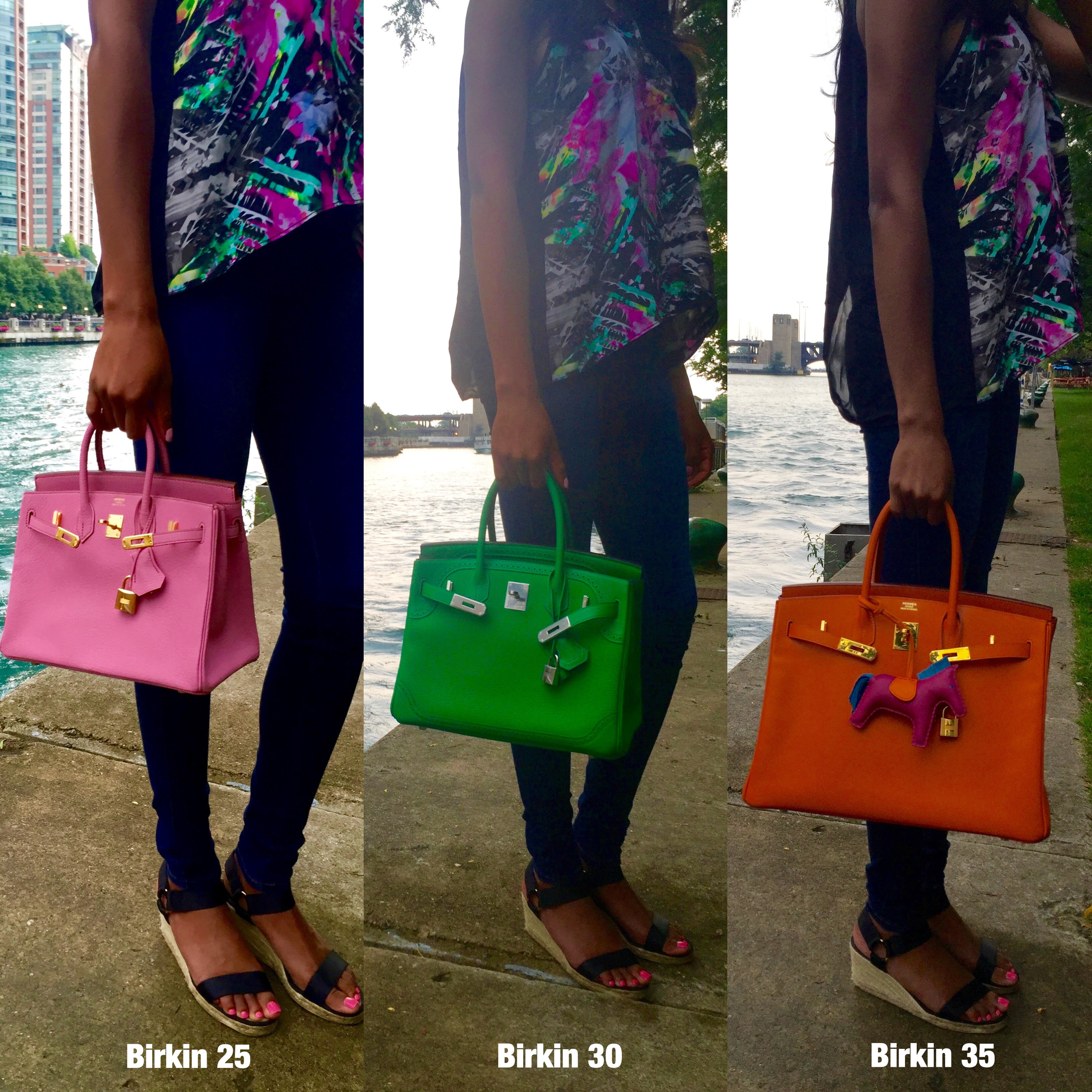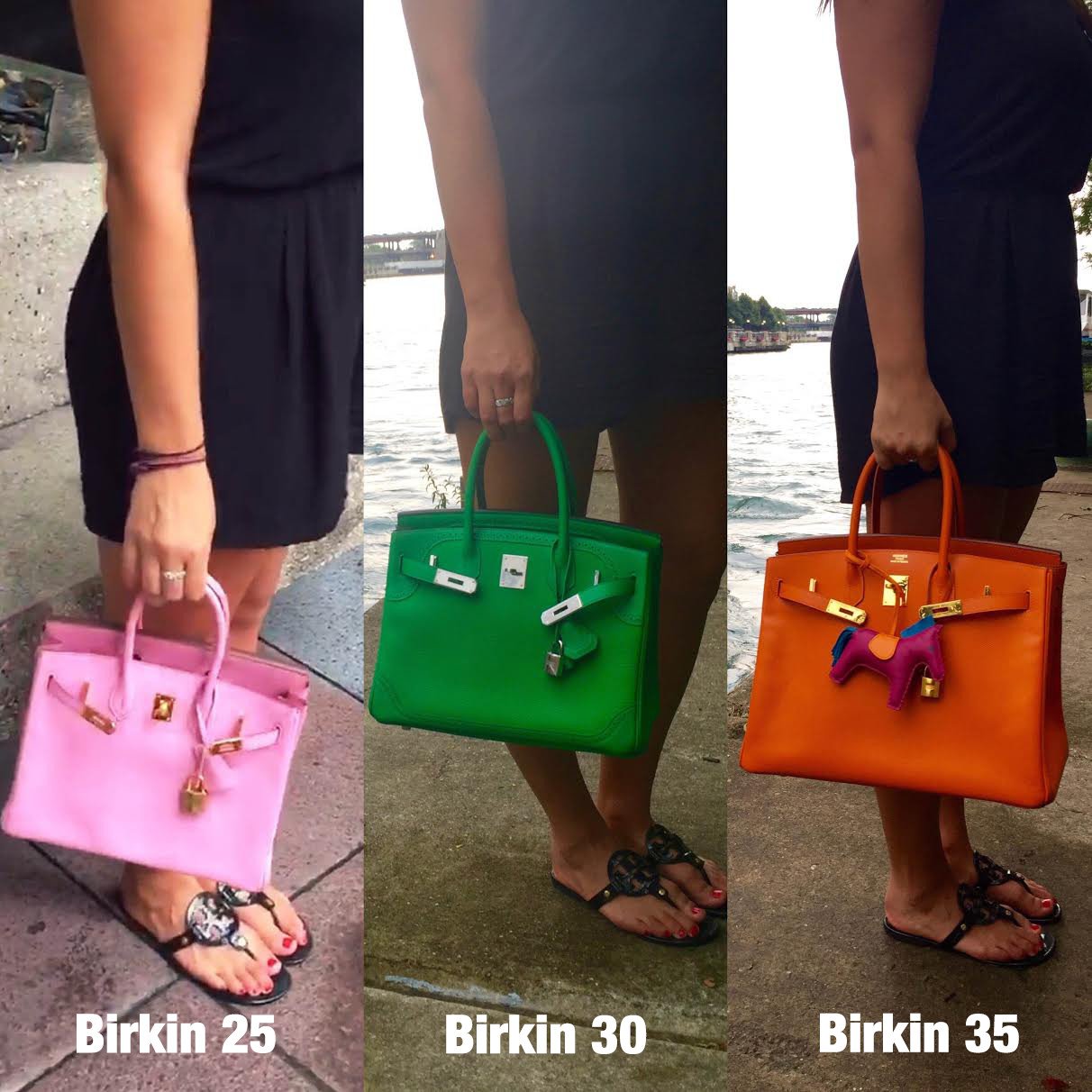 Pros & Cons: Best Uses of Each Size
Remember, you should pick your bag size based off your own needs, style, and most importantly, desire! There are no set rules when it comes to sizes because what is popular or appropriate is always changing. Trends are cyclical – one day mini bags may be out and oversized bags could make a comeback, and vice versa. People may tell you that you have to pick a size that matches your body frame or that one size is a better investment than another. At the end of the day, your personal happiness with the bag will outweigh any other factor!
If you are looking for guidelines to help with your research, see our notes about each bag below:
Birkin 25
Best suited as a special occasion bag. In the right color and leather, it makes a great evening bag for more formal wear.
Very rare and hard to find, seems more popular in Asian countries.
PRO: Preferred size for smaller statures
PRO: Small enough to look elegant in any setting
PRO: It is still spacious and can carry significantly more than other mini bags (Read: Not All Mini Bags are Creatd Equal)
CON: The handle is very small – cannot be carried in the crook of the arm like the other sizes
Birkin 30
The most versatile size as an everyday handbag
PRO: Works well with many body frames. Will not overwhelm a smaller frame, but does not look out of place on a taller body frame either.
Birkin 35
Best as an errand bag or for travel
PRO: The most classic size of the Birkin since it is the "original". Many women from France, the homeland of Hermes, state that their preferred size is the B35. Since the B35 is the first Birkin Hermes made, some people claim it is the best investment in terms of value compared to other sizes. Remember though, the Birkin bag itself is a classic and highly coveted on the resale market, so the size of the Birkin is negligible when it comes to value.
Birkin 40
Less commonly available and less commonly requested
PRO: Almost exclusively used for travel
PRO: Very popular with men. Historically gentlemen wanting to carry the Birkin have opted for this size, but today we are seeing all sizes being sported by fashionable men.
CON: Even with stiffer leathers, it tends to have a slouchy, unstructured look due to the size. The bag can be quite heavy even when empty because of the sheer amount of leather used to make the bag.
CON: Might overwhelm smaller frames
Updated: June 23rd, 2020