WARNING: Before you go completely mini, consider this advice… "bag size is just a cyclical trend"
As of late, 'mini' has been the buzzword when it comes to bags. We've indulged in our mini madness and can't deny that tiny bags are simply adorable! However, there is an important fact that we must acknowledge and come to terms with: Mini bags are still just a TREND. Die-hard mini bag lovers, don't get offended yet! Even as a trend, the look of a mini bag still holds longevity and mini's can still be key pieces of your collection throughout the years.
What we want to emphasize here is that choosing a size for your handbag should be a matter of personal preference and not just because of trend…
While I am personally a huge advocate for mini bags, I want to bring attention to the fact that the mini bag movement is still just a phase. The rise in popularity of mini bags hit recently, but trends for many designer Fall 2016 collections show a shift towards bigger bags. Remember companies need you to keep buying!
We receive many emails from fashionistas in our community asking for advice about switching over to mini bags, about downsizing their Birkins, their Kellys. So many of you have reached out to us that we thought it prudent to openly discuss the subject on the size of bags. I am sharing my personal advice in the Q&A below to help out all of you who have some of the same thoughts.
Q: Dear PurseBop,
I loved reading your series about scoring at FSH, and I must say secretly I am thrilled you bought a B35. There seems to be a trend I see on IG where many popular fashionistas talk about buying B30's and how they no longer love their original 35's. I will  likely have only one opportunity to buy a Birkin in the next few years.  I have saved up for about 2 years now, and I am going to Paris this Spring and hope to score one. I want a 35 because it is a classic, but I am afraid of buying a Birkin that is out of fashion. Please advise. I love your blog and rely on you for much of my luxury knowledge, especially news. Hopefully you can help me out with my dilemma. 
Love Sarah.
PurseBop: Firstly, be rest assured that a Birkin 35 will never go out of fashion! I can say with complete confidence that there are greater chances for a B25 to look outdated than a B35. I am truly concerned when readers write to me because they feel pressured to follow a trend. Buying an Hermes bag is huge investment for anyone, but please keep in mind that those saying this may have the luxury of buying several and experimenting with various sizes and following those trends. The B35 is classic, the original, and if I could own only one Birkin, it would be just that! Please buy the size that speaks to you. This smaller B trend will turn around and then B40's might even become the rage.  Birkins are and will be forever… you need to select a forever size for your personal needs that isn't just based off of what other fashionistas are saying they prefer for the moment. The fashion world can be fickle, and these size preferences are cyclical.
Furthermore, there are differences across regions. When I was in France and spoke to many French women, their preferred size was still 35!  Asian women tend to prefer the smaller B sizes because they are typically more petite. That being said, I still see many petite women rocking big ol' 35's! I hope this helps put your mind at ease… please report back once you score! I cant wait to share in your excitement of that first B. Simply magical…
Q:  I love your B25, the pink color is amazing and simply beautiful! I so want to take the B25 plunge, but I am worried that it may be too small. I'm 5'8 with curves. Any insight would be appreciated. 
PurseBop: May I ask do you carry any smaller bags? Any mini sized ones? Do you carry clutches for evening occasions?
The B25 is not that small compared to other bags in the small and mini range. It's actually much larger than many bags I carry and LOVE.
For reference, I am 5'7 and qualify as curvy too! I am definitely not a petite girl, and I love smaller bags. In my opinion, it's all about the total look. I do not feed into the theory that a bag should be proportionate to size! Should a necklace or ring be proportionate to ones size​? Do we wear bigger or clunkier shoes because we are tall​ or curvy? Should a short or petite woman not enjoy the impact of a big bag or wear only dainty jewelry because she is smaller?
We make our own rules my dear. You can rock anything with confidence, just own it! Ultimately it's your choice.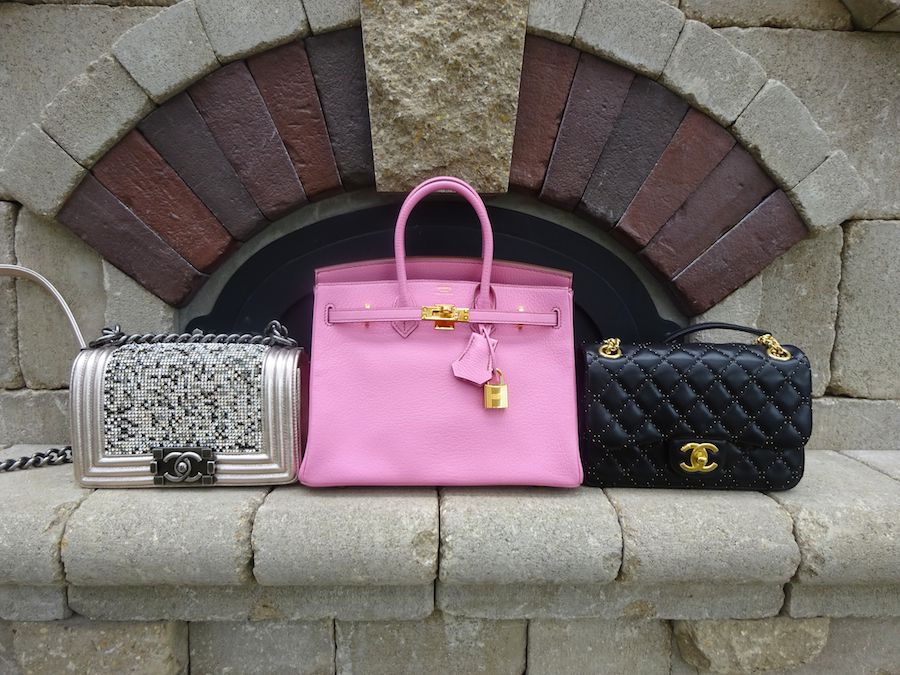 Q:  PurseBop does a B25 look too small for daily use? Do you use yours for daytime and evening, or evening only? 
PurseBop: We refer to the Birkin 25 as a mini bag, but it's really not a mini at all. It's the "mini'est"of the B sizes, but it actually fits more than a Chanel jumbo. We tested out what fits into various mini bags in our "What's in my mini bag?" Challenge. If you scroll through the pictures tagged#pursebopWIMMB on IG, you'll be amazed at how much mini bags can really hold. As for the B25, its got mega capacity. I think the novelty of a size 25 lends itself to being something special and maybe better suited for special or evening occasions. Yet if the truth be told, it totally carries enough for all my daily needs and would make a great daily bag too. Maybe I need a neutral colored one to test it out for myself! While I love the barbie pink color of mine, it can be limiting sometimes. Hopefully my comparison pictures will help you gain some perspective.
Q: PurseBop I need your advice. I own one Birkin35 and one Kelly35. I am listing both with a well known reseller to hopefully finance one new B, perhaps a B25. What do you suggest? Do you think I should buy a 30 or 25. I cannot afford to buy a new one unless I sell both because my Kelly is a bag my aunt passed down to me. It's a black box Kelly, GHW but it's pretty beat up. I don't know how much money I will get for it. I really want a trendy little B like I see everyone buying on IG. I don't know how practical a smaller sized birkin will be for my work life, but I am wanting to 'freshen' up my look…
PurseBop: Quite honestly the advice I am about to give you may seem boring but I have serious concerns of you letting go of both your classics. Especially that vintage K. Would you consider sending it to Hermes spa to have it refurbished? I suggest investing a few hundred dollars first and getting her fixed up. Please don't make any impulsive decisions.  What you have are the classic sizes and to let go of both sounds too steep an investment for one smaller sized Birkin. The B35 is still the classic size, the original B. And that K will be stunning once it returns, plus it has sentimental value that no amount of money can buy.
I'd like to share another piece of advice. IG can be a misleading place that somewhat distorts the "realities". What seems like everybody is doing, may in fact only be a handful of influencers. I myself get persuaded at times with the pictures of others, so I know how easy it is to get tempted with something I may ordinarily never consider. Ultimately you must do what suits you, your likes, your preferences, your lifestyle. It's lovely to admire the looks of others but please make these decisions based on YOU! I hope this helps.