Buyer beware? Or is it reseller beware? We're not really sure. And you probably aren't even aware… After all, when was the last time you really read a receipt, especially after a thrilling Birkin purchase at your favorite Hermès boutique? Right, us neither. We're too focused on the bag experience. 
But you probably should take a look. There's some really stunning language right there on the front of the receipt. It's not even hidden on the back with a bunch of boilerplate.
"The customer represents and warrants that they are purchasing Hermès product in our boutiques for their personal use. Therefore, you agree you will not, directly or indirectly, resell Hermès products purchased in our boutiques for commercial purposes."
Well, that's certainly interesting. Before we delve into what it means, let's talk timing. This clause is relatively new. And we have the receipts (so to speak). The PurseBop team pulled out paperwork from our collective Hermès purchases, and lo and behold, this new wording popped up around July 2020. None of our purchases before that have anything remotely similar. Even for purchases after that, while most receipts include that language, some for Ready-to-Wear and non-handbag items, do not.
Which brings us to why. On its face, it looks like an attempt by Hermès to prevent resellers from going into a Hermès boutique and buying with the intent to profit by flipping the bag or other goods. Surely you remember all the complaints against teams of people who (in the old days before the appointment system) crammed lines at the crack of dawn at the Mothership in Paris to get a bag to resell. This seems to be for them and the businesses employing them. But, wasn't the appointment system FSH instituted supposed to reduce or eliminate that problem? Moreover, the whole pandemic, which began months before this new written condition, ushered in an era of appointment only shopping worldwide. Clearly, something else is going on.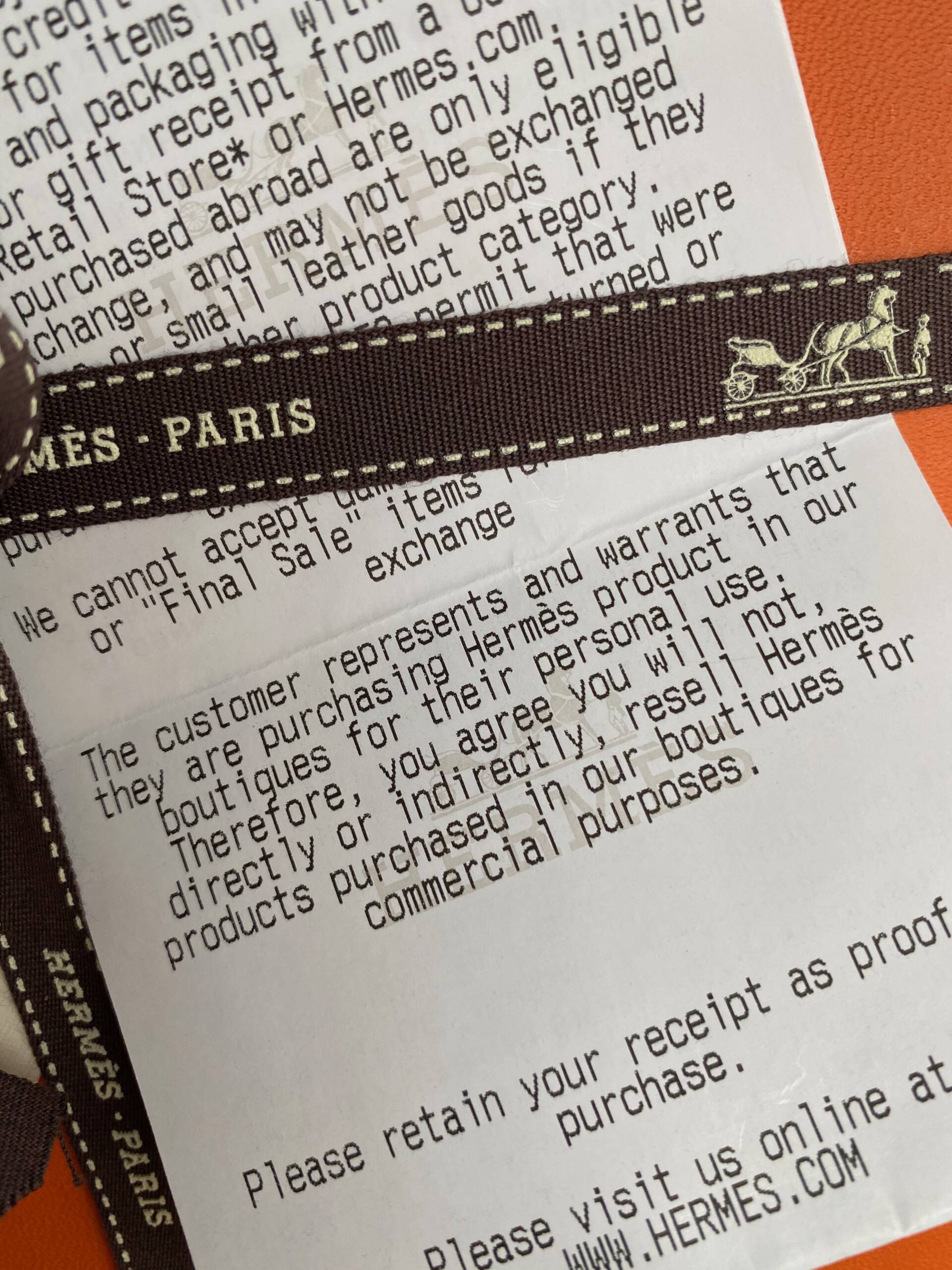 Furthermore, like it or not, part of Hermès' value comes from the fact that it is exclusive AND the existence of a secondary market. In other words, there is comfort in buying a bag that you know you can resell and recoup your investment. 
In any event, whether this clause on the receipt (which no one reads) is really enforceable remains to be seen. In theory, it does allow Hermès to sue some of the secondary marketers who purchase directly from the store. Of course, those are also some of its biggest customers. 
As for the rest of us who want to rehome a bag . . . not to worry. This one should only apply to those purchasing from Hermès for "commercial purposes."  You are allowed to change your mind – and sell, gift, consign to whomever. And for those luxury resellers who enable your rehoming, this language shouldn't apply to them either as they are not the direct Hermès customer. 
Which returns us to… is this a solution to a problem Hermès doesn't really want to solve?
Love PurseBop
XO
p.s. I will reveal whats in my (this) box this week! Stay tuned…