Hot off the heels of last week's Hermès 2022 Financials comes this interesting observation. One of the PurseBop writers is presently in Paris and reports that there are few or no tourists from China. The corollary of that is that, although she also describes a city full of shoppers, they are from places other than China. 
Data gathered from Charles De Gaulle Airport in Paris confirms the limited number of visitors to Paris from China. At least those flying directly to Paris. Presently there are only three routes from China. That compares to 73 routes from the United States, which has the highest number of flights to and from Paris.
Why is this interesting? Well, Hermès pointed to its 2022 revenue success coming from, in part, sales in Asia (not including Japan). And that means mainly China – its largest market. Indeed, as quoted in the Financial Times, Hermès Executive Chairman Axel spoke about strong demand and desirability of Hermès products in China:
"We were very strong in China with strong growth in our numbers regardless of the quarter and including the fourth quarter . . . The rebound in China for us took place as soon as Wuhan reopened in 2020," adding "I think sometimes we use a little bit of catastrophising about the effects of the health crisis in China to explain other things."
In other words, Hermès is doing just fine with a core part of its clientele essentially staying in its home geographic region. Clients in China have been and continue to purchase Hermès products. But, they are doing it in China.
And then, when you look at the revenue numbers in France for 2022 – Hermès' home country – sales are up 27% over 2021. Per the above statistics, the increase is not due to travelers from China. Indeed, Hermès specifically attributes this success to both French and international customers. And it's not due to significant price increases, like those taken by Chanel and Louis Vuitton. Hermès did not impose a larger than usual price hike until the calendar turned to 2023. 
All of this leads us to wonder, with arguably fewer vacationing shoppers (at least from China), why aren't there more handbags available for the rest of us in Paris? On first blush, we'd assume more bags are being sent to and sold in China, thereby reducing supply in other places. However, it is not clear which products wealthy Chinese consumers are purchasing. Hermès' financials do not break down revenues in business regions by geographic area. And shoppers in Asia often report high expected purchases in multiples of handbag prices before receiving any bag offer.
We know that demand for these hot handbags has not declined. Anywhere. And that includes Paris. Our community consistently reports disappointing shopping sprees at the Rue du Faubourg Saint Honoré boutique in Paris aka the Mothership (notwithstanding the more often repeated stories of huge hauls).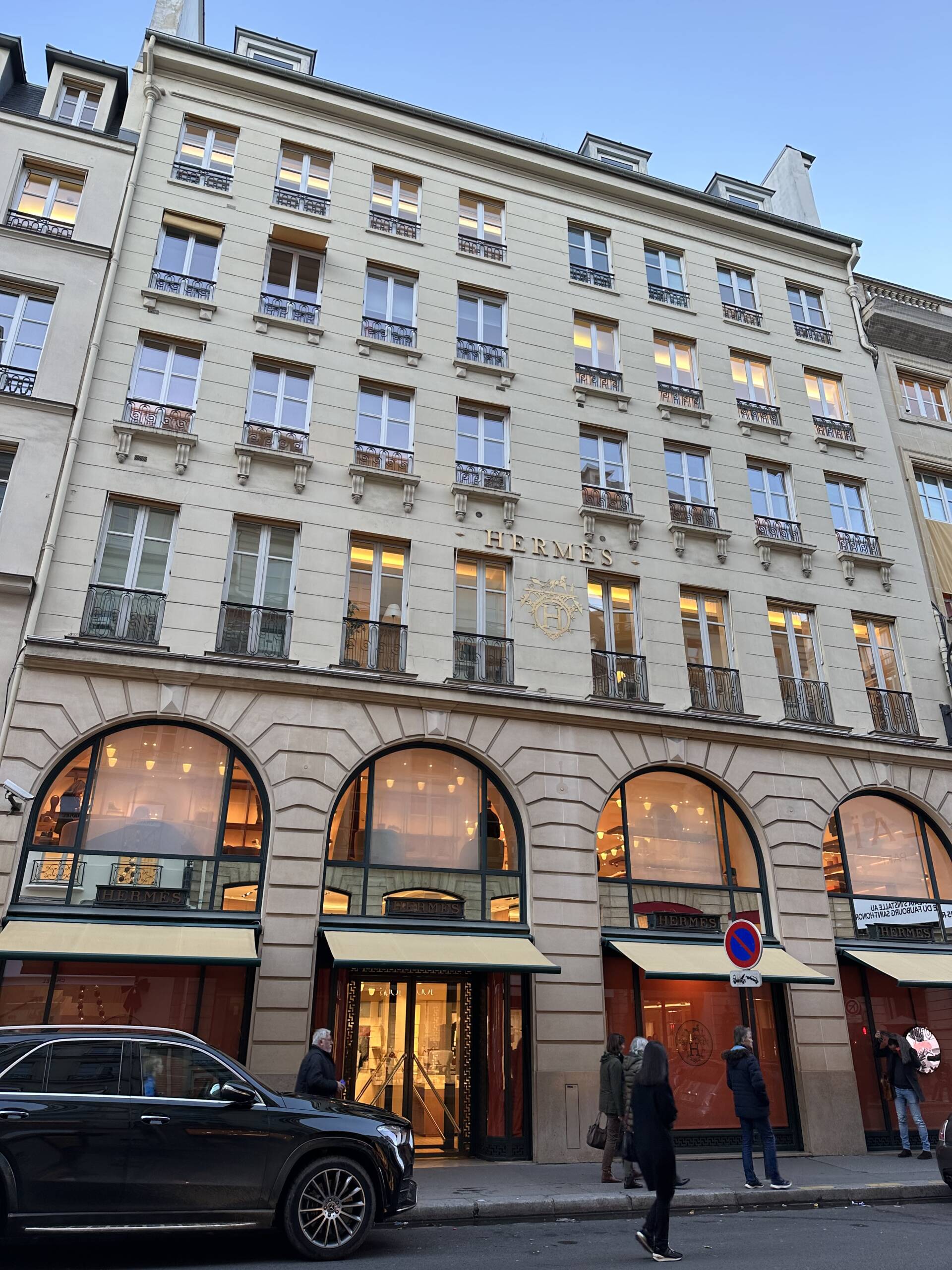 Evidence points to Hermès' changing strategies in its Paris stores, as we've written about before. FSH is no longer the great equalizer space where everyone has a shot at a bag. Where it doesn't matter whether you've purchased anything before. Or whether you have already purchased your quota limit of handbags. 
Now, FSH seemingly has access to your spending and purchasing profiles in other countries. Specifically, the boutique could see whether you have maxxed out your quota limit. That in turn could affect your options.
Additionally, FSH may be paying more attention to what you spend in the Paris boutiques before being offered a bag. If accurate, it's what could be called something of a "pay to play" or "spend to get" situation, i.e. the more you spend on non-leather items the greater your chances of getting a bag offer, though not necessarily a Birkin or Kelly.
Put another way, and as supported by the actual numbers, Hermès is selling more non-leather goods items than it used to. Interestingly, comparing revenues for 2021 and 2022 by business sector, for example, Ready-to-Wear grew as a percentage of overall sales from 24% to 27%. At the same time, Leather Goods & Saddlery declined from 45.6% to 42.8%. Not huge changes, perhaps, but also could be part of a trend.