Sometimes you just can't afford the exact bag you are lusting after. Especially as prices keep going up. What to do? Consider buying another designer bag that looks similar but costs substantially less? We found less expensive, but comparable looking, designer alternatives to some of our favorite bags. These just might satisfy your bag craving while also saving some bank. 
Months of sheltering in place also means not spending money on expensive dinners, entertainment, or vacations. For many of us, home food bills spiked (as did exhaustion from preparing three meals a day for however many people were in your home!). On the other hand – and assuming your job and income was not adversely affected – you may have saved some extra money that you want to put toward a new bag. 
In January 2020, Hermès also raised prices in Europe approximately 3% on the Birkin 25 and 30 only (read:Hermès Prices 2020: USA Versus Europe). To be fair, this is an annual event for Hermès. As of now, U.S. prices are stable, however, most U.S. stores have not reopened.
Louis Vuitton Top Handle Tote (Fall 2020) Instead of the Hermès Birkin
We can dream of owning the ultimate HGB, the Hermès Birkin, but now may not be the best time to indulge. Instead, contemplate the Louis Vuitton Fall 2020 two-tone structured top handle tote seen on the runway earlier this year. (read: Louis Vuitton Fall 2020 Bags Encompass the Past, Present and Future) It looks so similar to the Birkin that we did a double take. There are two top handles, it is open at the top, the side straps are reminiscent of the Birkin sangles in a contrasting color found only on an Hermès special order, and the hanging key resembles the Birkin clochette. Although the shape is a bit more rectangular than the Birkin, the similarities overall are striking. It comes in three 2-tone color options as well as solid brown. We have not seen the price of this tote, however, we can safely guess that it will be priced substantially under the $10,000 price tag of the Birkin. 
Prada Woven Leather Bucket Bag Instead of Hermès Chaine D'Ancre
Hermès debuted its Chain d'Ancre woven leather tote in two colors in its Spring 2020 runway show. And it has an $8,000 price tag (read: No Birkin or Kelly on the Hermès Spring 2020 Runway). Instead, consider the Prada Woven Leather Bucket Bag for $2,200. It also comes in the same two colors, brown and black, but it is much more practical. There are no open areas so your belongings are more secure, and it has a braided handle that can be worn on your shoulder or arm. It is perfect for your next outing this summer just in time for the reopening of restaurants and parks. 
Ferragamo Boxyz in Wicker Instead of the Hermès Picnic Kelly
If you had your sights on a new wicker bag this summer such as the Hermès Kelly Picnic, consider Salvatore Ferragamo's Boxyz in wicker instead. Not only is the Kelly Picnic virtually impossible to get in ordinary times, it is usually only offered to the ultimate VIP customer. And if you are considering buying it on the resale market, be prepared to pay over $50,000 for the mini size!
The similarities between the Kelly Picnic and  Ferragamo are striking in everything but the price. The Ferragamo is under $2500 with the same wicker construction and boxy shape. Carry it by the top handle or with a strap, just as you would with the Kelly Picnic. Of course, it's not "the" picnic bag but it could satisfy your craving for a seasonal wicker top handle bag.
Gucci Dionysus Instead of Hermès Constance 24
If you have your eye on the Hermès Constance 24 but don't think $10,000 for this iconic and hard to obtain bag is in your future, how about the Gucci Dionysus. The Constance shoulder bag with its large H logo clasp is unique for Hermès because most of its bags are usually recognizable merely by their design rather than their logo. Gucci, on the other hand, is known for its logo heavy bags. In 2015 it introduced the now iconic center buckle composed of two tiger heads in a horseshoe shape on its Dionysus bag (read: YAY or NAY: The Gucci Dionysus Bag). This bag has become a timeless classic which you can purchase for $2,650. Gucci scored a home run with this stylish, identifiable, timeless and popular new bag. Could it be your viable alternative to the Constance 24?
Louis Vuitton Grenelle Instead of Hermès Kelly
Who doesn't want to look like Grace Kelly while sporting the ultimate Hermès Kelly bag some day? Although that day may not be today, you can still purchase a stylish, timeless and ladylike bag in the Louis Vuitton Grenelle PM bag for $2,860. Both bags have a structured, elegant design, sturdy top handle and long over the shoulder strap that is easy and versatile enough to use every day. Both also have enough interior space to hold your wallet, cell phone, keys and make up bag. The only difference is the Louis Vuitton Grenelle bag leaves extra money to spend.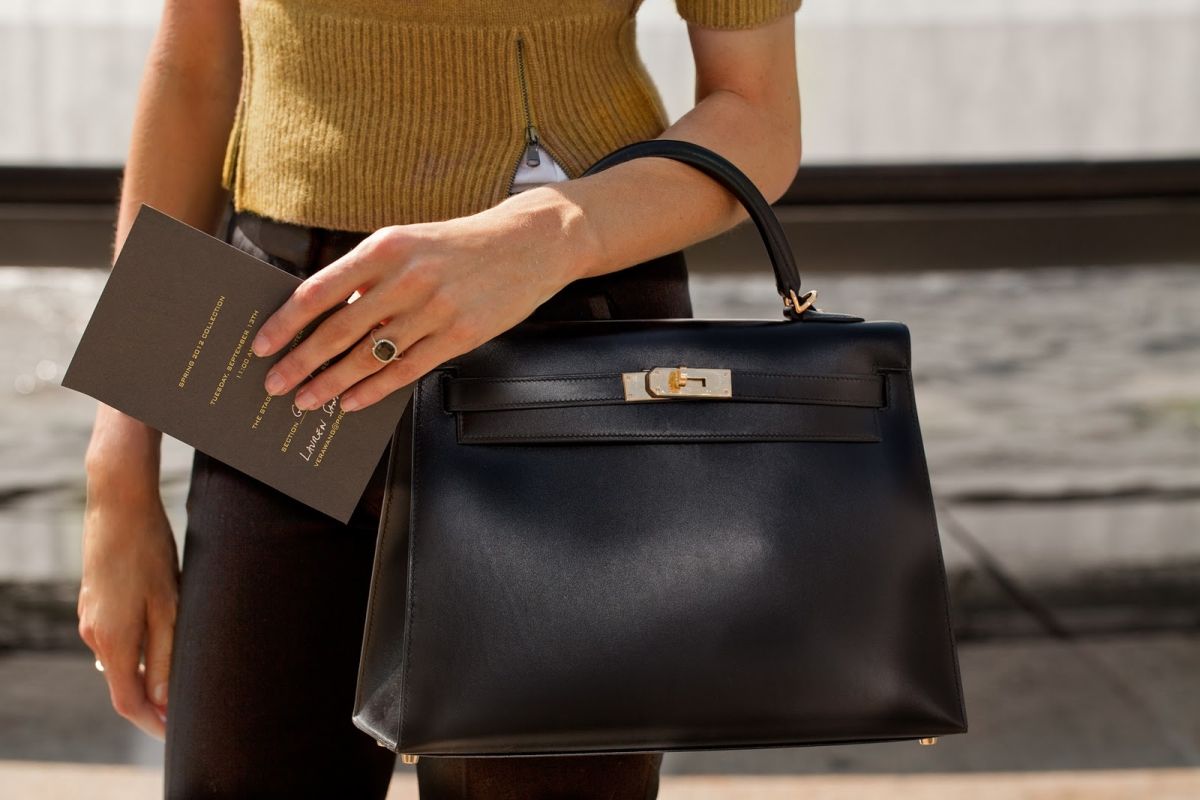 Balenciaga Extra Extra Small Ville Top Handle Instead of Hermès Mini Bolide
The Hermès Mini Bolide is extremely cute, surprisingly versatile, and holds more than you would imagine. But if the lack of availability and the $5300 price tag for this wee bag is not a prudent investment at this time, a true contender is the Balenciaga bowling bag. The similarities between the Balenciaga Ville Leather Top Handle Bag and the Hermès Mini Bolide are uncanny. They both have the bowling-style satchel shape, double top handle and removable crossbody strap, top zip closure, and interior zip pocket. However, the Balenciaga bowling bag will only set you back $1790 saving you almost $3500. It is clearly a great alternative that is readily available for purchase, almost identical in design, comes in multiple colors and sizes, and will leave you money for that weekend getaway. 
So what do you think? Will any of these designer substitutes satisfy your craving? Or will you hold out for the original? Let us know.
Updated: July 22nd, 2020