(but late is always better than never…)
Although fall colors have made their debut here in Chicago, PurseBop is still sorting through summer dresses and baring sandals…As I plan and pack for my glamorous trip to the 'celebrity struck' island of Turks and Caicos, I realize that something very special of mine got tucked away in the armoire without a proper and formal introduction.
All this thought of beaches took me back in time to Miami in early August. I spent a few days at home with family and bonding with my younger sister that flew out from Canada to join me. It was cherished time, with long walks and heart-to-heart talks, late night giggles and snacks, epic long instagram sessions, and of course 'shared retail therapy' (an absolute necessity for us, or so we ASSUME)!
My sis was new to Instagram so we had a field day adding pictures of our daily events and finds… (my many pics can be found @PurseBop …just scroll back about 2 months). This screen shot of my instagram post marks the beginning of this LV legend I am to begin…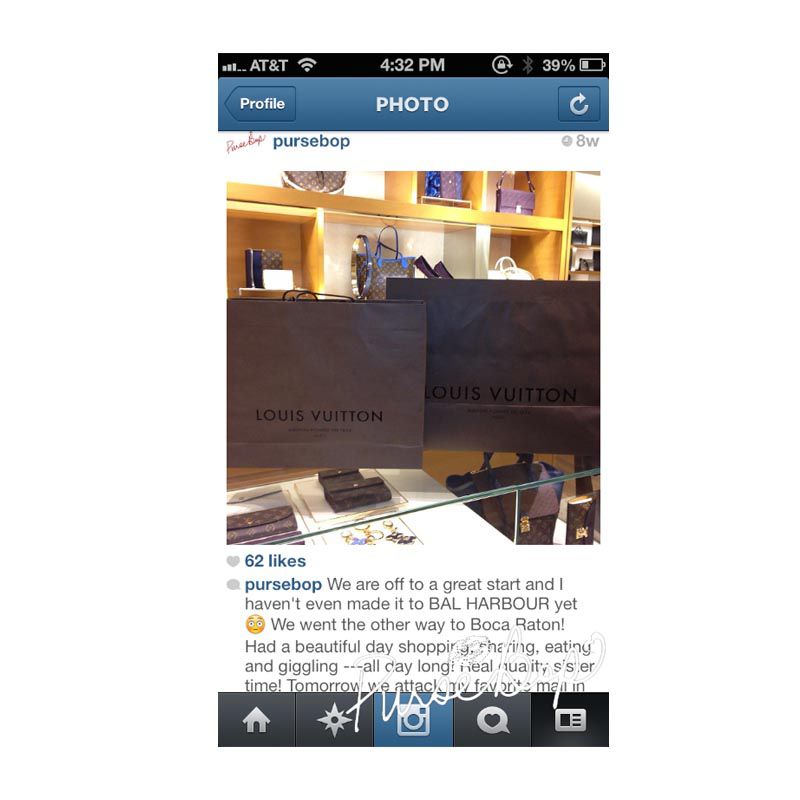 I need to give you a little background to this purchase in order for you to appreciate my acquisition, LOL. Around May-end, news of these new limited edition show bags was released. Pictures had been appearing in magazines for weeks and fellow fashionista reveals were trickling in on Instagram. I just loved the bag but quite honestly wasn't sure if really wanted an LV (CC addiction, LOL). I have purchased very select pieces in recent years and only the occasional RUNWAY SHOW ones. As much as I adored it, its presence was conveniently tucked away in the left hemisphere of my brain, subdued by my rational right hemisphere…
Few weeks later while roaming Michigan Ave, I popped in to the Chicago flagship store just to browse, when my PurseBop curiosity kicked in… naturally I asked if by chance there were any around anymore (hoping of course there would not be)…sure enough she brought out a blue sequined one, which although was darling, was not me. She offered to track one down, but I was content having seen it and putting the subject to rest…. right side dominated once again!
Fast forward to Miami…I was strolling through Boca Raton mall and there was THE burgundy sequin Speedy in the window and my eyes widened…it was gorgeous! I had always thought if I were to purchase one, it would be the black sequined one, but quite honestly BURGUNDY was no where on my radar! It took me completely by surprise and it was indeed breathtaking…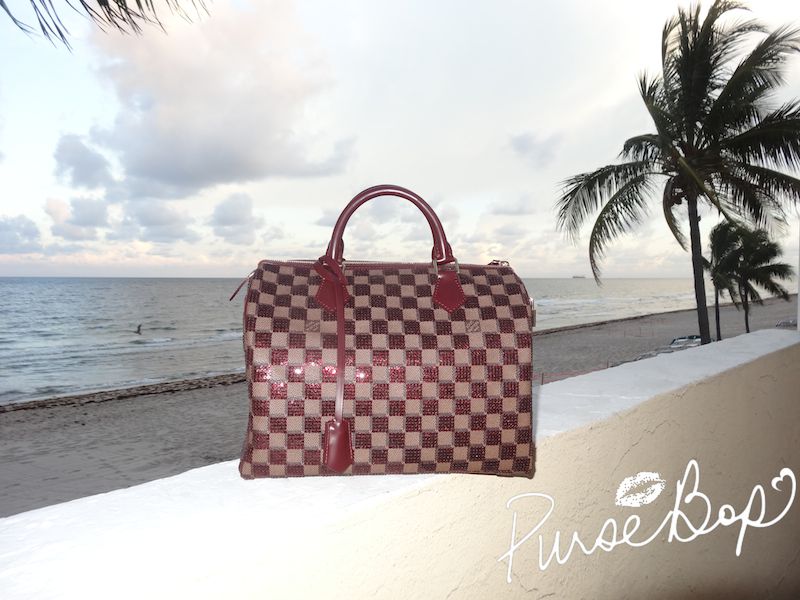 I retrieved my sister and mom from their respective shopping indulgences and told them I needed to show them something for one minute…just in the LV window and we would LEAVE IMMEDIATELY.
I thought I was hallucinating because the bag was no longer there. But I had just seen it…where could it go from the display window??? in a matter of minutes…really was I imagining? My mom and sister thought this was the height of PurseBop stunts to get them to come to the LV store…
I had to go in and ask…and the lovely Yashira Rivera greeted me with a warm smile despite my reluctant and eager to leave mom and sister in tow. In any case, I tried to explain that there was a burgundy sequin Speedy in the window and……etc etc
Well at least we know I am not crazy, it had just SOLD. Phew, I was a  disappointed, but saved again…or so I thought :)
As we planned our exit strategy, within just moments Yashira (I highly recommend her)… had another one hand carried over from the Saks LV (the very last in the country…)
And let me tell you once that creamy ivory sueded cover slipped off…it was LOVE, just pure LOVE…
My sister gasped in delight, my mom smiled ever so slightly and we all nodded a tele-pathic YES! It was a unanimous verdict. PurseBop was adding a luminous burgundy sequined Damier patterned Speedy to her collection!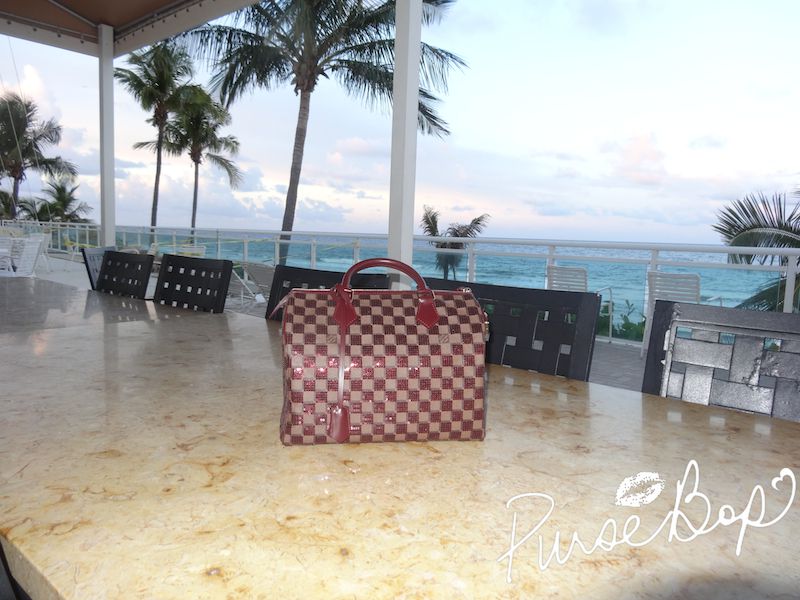 I asked Yashira to give me some specific details about the collection to share with all of you…I will quote her directly here,
"The Damier Canvas is created through an impeccably executed and controlled process. This iconic material is sublimated through the embroidery of 3 layers of colorful and luminous sequins. The embroidery is voluntarily misaligned with the Damier Canvas so as to create a relief effect. Sequins have undergone a specific treatment, to make them less abrasive. The embroidering nylon thread has been selected for its resistance in order to ensure the longevity of each bag. Refined details have been added to the original shape: shiny edge dying and trimmings, and lining matching with the sequins colors."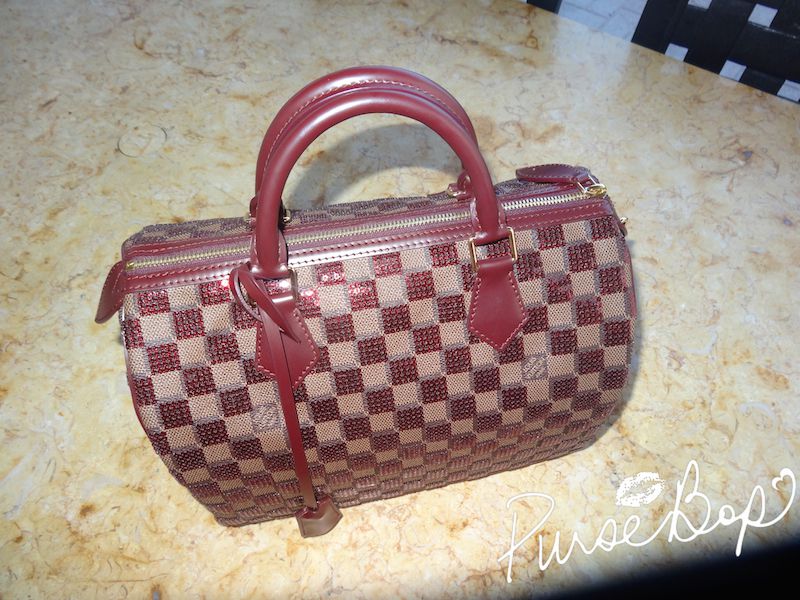 I honestly did not intend to write you a 'full briefing' story on the event, but clearly it beats packing, LOL. I have a feeling its going to be an all –night'er.
Since I have recited the entire SPEEDY journey, at this point I may as well finish it off…
What could be more beautiful and fitting for our Miami indulgences than the sunset on the beach. I literally dragged my assistant (my sister) down to the beach where we took these gorgeous shots of our LV patterned beauties against the ocean…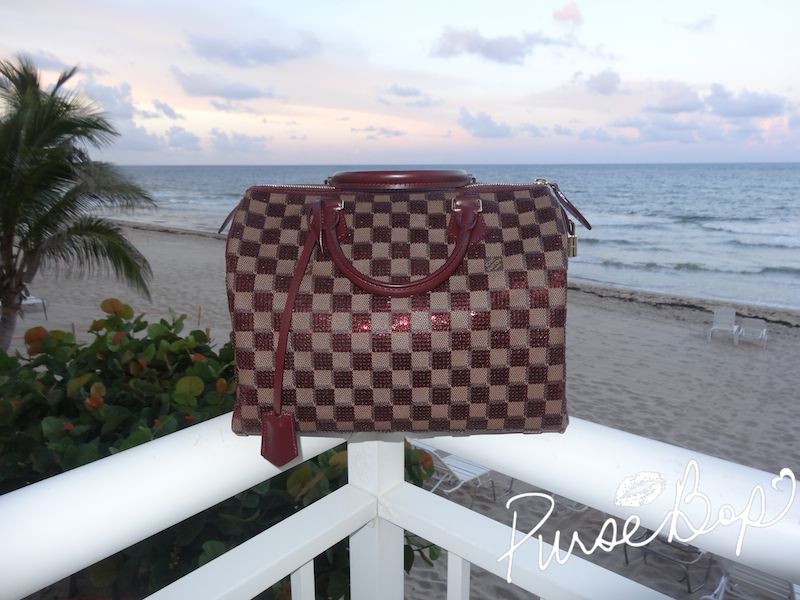 Well it didn't end there…baby sis needed something too and she found something a little more practical for her lifestyle with her 3 hockey playing boys!
The very spacious LV Artsy GM…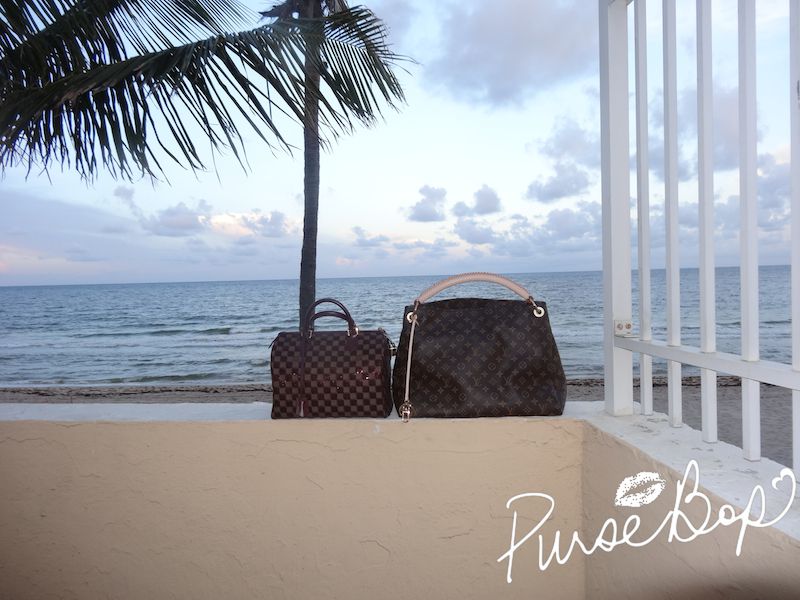 Happiness is shopping with sisters…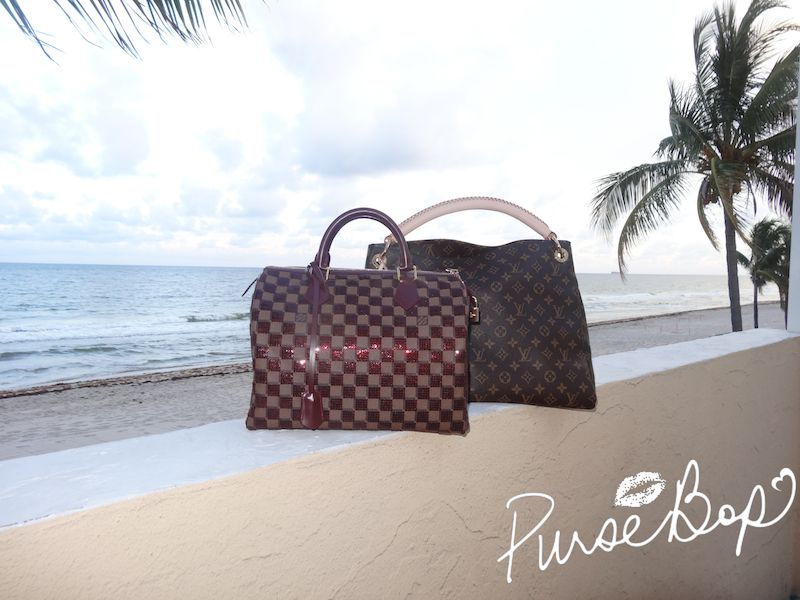 In our happy place…
"If you're lonely when you're alone, you're in bad company"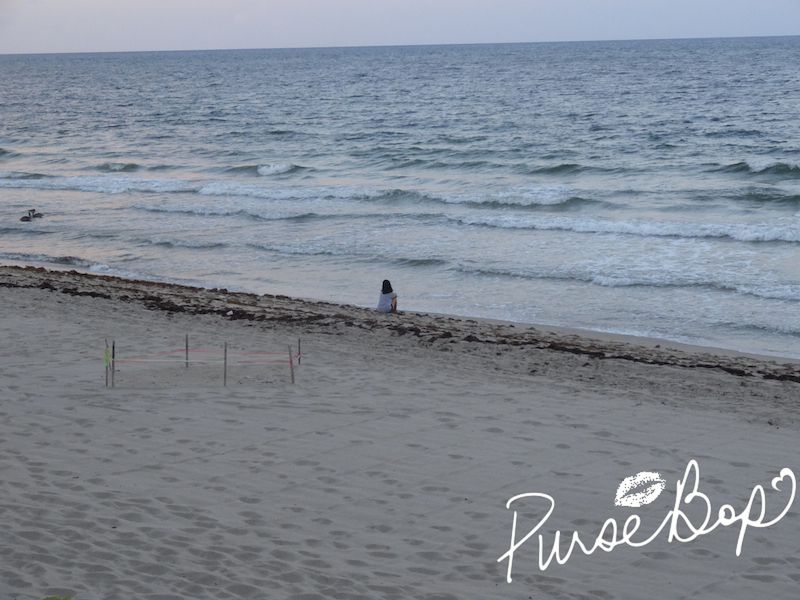 I was a little long winded (suffering from SPAS: subconscious packing avoidance syndrome) LOL —but I must resume! I will keep you all updated on my adventures in Turks and Caicos  via Instagram @PurseBop
Wishing everyone a beautiful weekend,
Love PurseBop
XO