It's probably no surprise to PurseBop readers that luxury brands are big business. A recently-released report confirms the lure of our favorite Maisons –for consumers and equity investors. It also shows a shift in the rankings – with some moving up and others moving down. Can you guess who's on top?
But first, let's look at how this report evaluates companies. 
Kantar, a world leading data, insights and consultancy agency, released its annual Brand Z report.  The report ranks the world's top 100 valuable brands and, while it is no surprise that giants such as Amazon and Apple top the list, it was the luxury category which outpaced all other categories in terms of overall growth.
What is Brand Z?
Brand Z is a report published annually by Kantar which ranks the top 100 most valuable brands in the world.  According to the report, the findings are "based on the unique and objective BrandZ™ brand valuation methodology that combines extensive and on-going consumer insights with rigorous financial analysis."
Why is the report different to others of its kind?
The Brand Z report differs because it uses "consumer viewpoints to assess brand equity."  They conduct millions of interviews and on-going surveys annually to get a deep understanding of how consumers perceive brands on a category and market basis.
The luxury category grew overall by 29% making it the fastest growing category overall, now estimated to be worth over $171.3 billion.
The growth in this category can be attributed to many different reasons, a few of which are discussed in short below.
First, luxury brands continue to embrace technology and move forward with their current and new consumers because of it.  This includes embracing technology both in production, supply chain, shop floor, e-commerce and technology within products.
Second, the luxury brands leading in the report aren't just reactionary to the world around them; instead they are pioneers and trailblazers. Often, embodying inclusion and diversity or ensuring sustainability and the environment are at the top of their strategic agendas.  Historically, luxury brands often have remained silent on such issues, preferring not to voice or be associated with an opinion.  Now, however, they are alert to the importance of having a purpose which speaks to their consumer.  Although brands which appear on the list have faced various controversies, it is how brands deal with these which continues to characterize them.
Third, there is a step-change in luxury brands towards accessibility with brands such as Gucci leading the way with this.  Although some could argue accessibility is the antithesis of luxury, it is a strategy which worked for Gucci. Others like YSL, Givenchy and Balmain followed suit. The Brand Z report clarifies "inclusive luxury speaks to bringing a sense of cultural inclusivity to the brand identity, communication, voice, and visuals—all while retaining product exclusivity as is core to the business strategy." 
Although the number of people able to purchase luxury goods hasn't necessarily increased, social media has made it easier for consumers to appreciate and desire brands.  Since younger consumers want to feel connected to luxury brands, the entry point pricing strategy is key because it allows a wider audience to build meaningful relationships and associations with brands and develop the next generation of customers. The importance of accessibility can also be demonstrated by the 7% growth in the reseller market – The Real Real, a luxury consignment store saw stock rise by 45% after last week's IPO as investors saw the value in what the company does.  Reselling is inclusive, accessible, diverse, sustainable and environmentally friendly.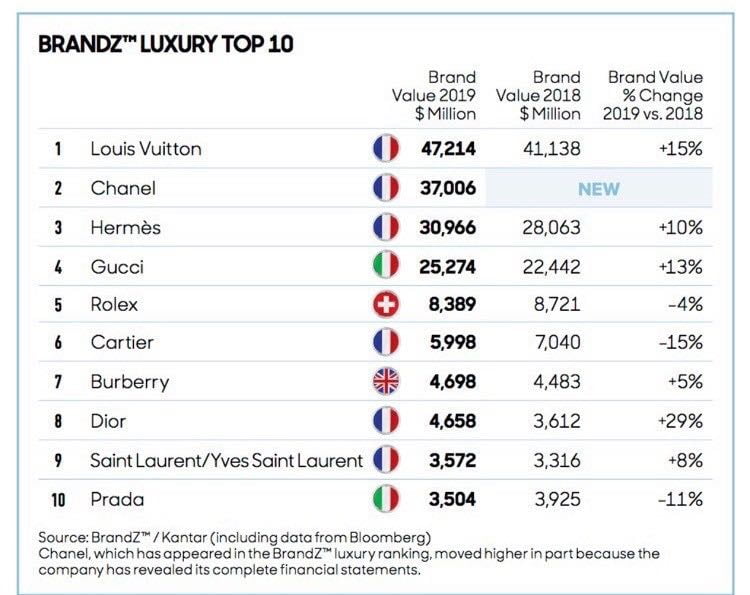 Topping the list… Louis Vuitton. Are you surprised? The brand has been on fire lately with its creativity in every product category, the new era of Virgil Abloh as well as its collaborations with other brands and talent.
Chanel appeared on the list for the first time at number 2 after publishing its financial reports. Hermès came in at the 3 spot.
Gucci moved up the list from last year and continues to be a pioneer in the category as a brand which strongly resonates with today's consumers.
YSL had the biggest growth of any brand in comparison to last year, adding 45 per cent value growth.
Dior saw excellent growth particularly with Chinese consumers.
Burberry continues to grow under Marco Gobbetti and Ricardo Tisci ushering in a new era.
Within the top 10 we have two jewellery and watch brands – Cartier and Rolex – standing strong in the category.
Prada just makes the top 10 with recent news that the brand is reinventing its famous Nylon bag using eco-friendly materials.
Ranked brands:
Ranked Brands
Louis Vuitton ($47.2 billion)
Chanel ($37 billion)
Hermes ($31 billion)
Gucci ($25.3 billion)
Rolex ($8.4 billion)
Cartier ($6 billion)
Burberry ($4.7 billion)
Dior ($4.7 billion)
Saint Laurent/Yves Saint Laurent ($3.6 billion)
Prada ($3.5 billion)
What are your thoughts on the ranking?
Did any brands surprise you?
Let us know.
Love, PurseBop
XO