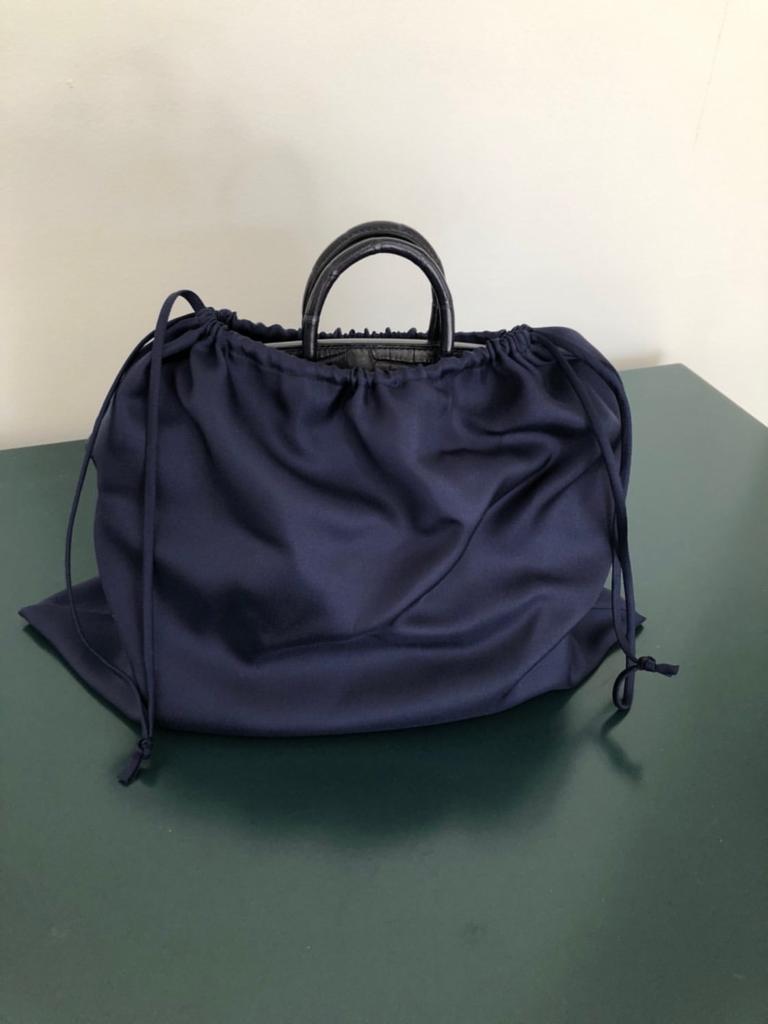 There are few things we get more excited about than limited-edition, special-issue Hermès bags. Who could resist those exclusive bags that pop up every once in a blue moon and push the boundary of what "Birkin" and "Kelly" can mean? The So Black Collection, Picnic Kellys, Metallic Birkins, the list goes on and on…
Well, Hermès has a new extra special B, officially called the Sac Birkin Faubourg. The Birkin Faubourg is nothing short of gorgeous—a true Holy Grail Bag—and we're so lucky that we get to share all the details (& many stunning photos) of the new bag, thanks to a member of the PurseBop community. The owner prefers to remain anonymous, but was generous enough to share her treasure with us!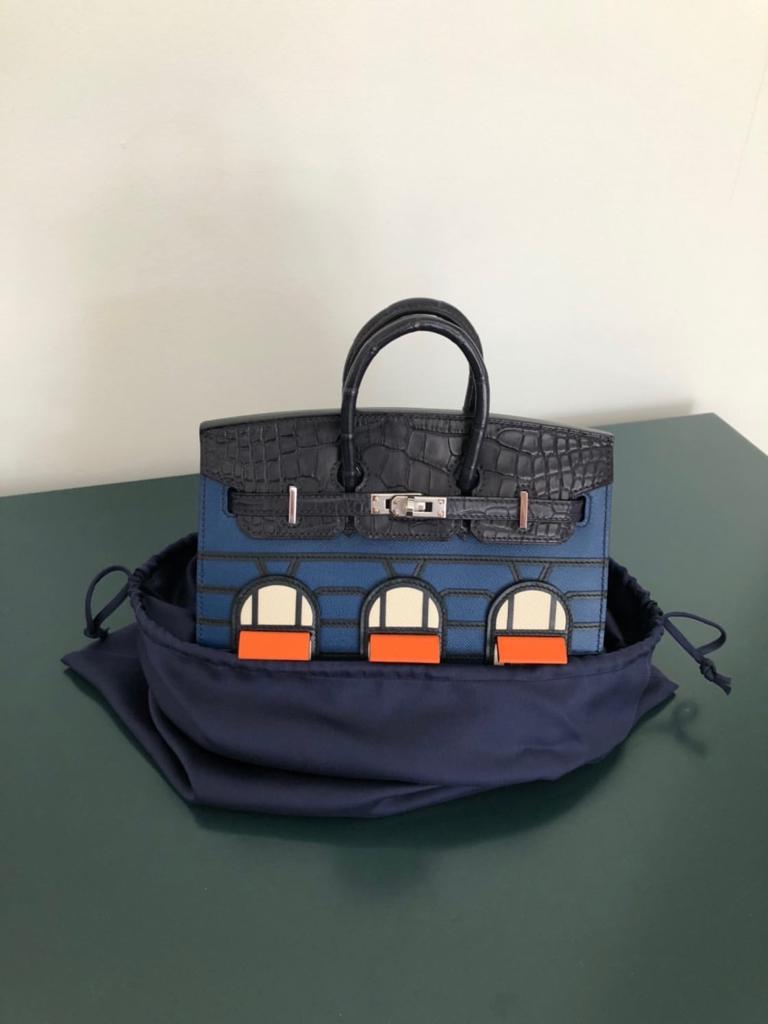 Pull down the silky midnight blue dustbag, and the striking design is revealed. The Faubourg is a Birkin 20 that exists in 2 versions: the blue one pictured here and a brown-hued one. You'll immediately notice that the elaborate Birkin represents…a building facade?! Yep, it's the Hermès flagship on 24 Rue du Faubourg Saint-Honoré (FSH) in Paris.
The cutest part? Perhaps those Hermès-orange awnings, which are small flaps on the front of the bag.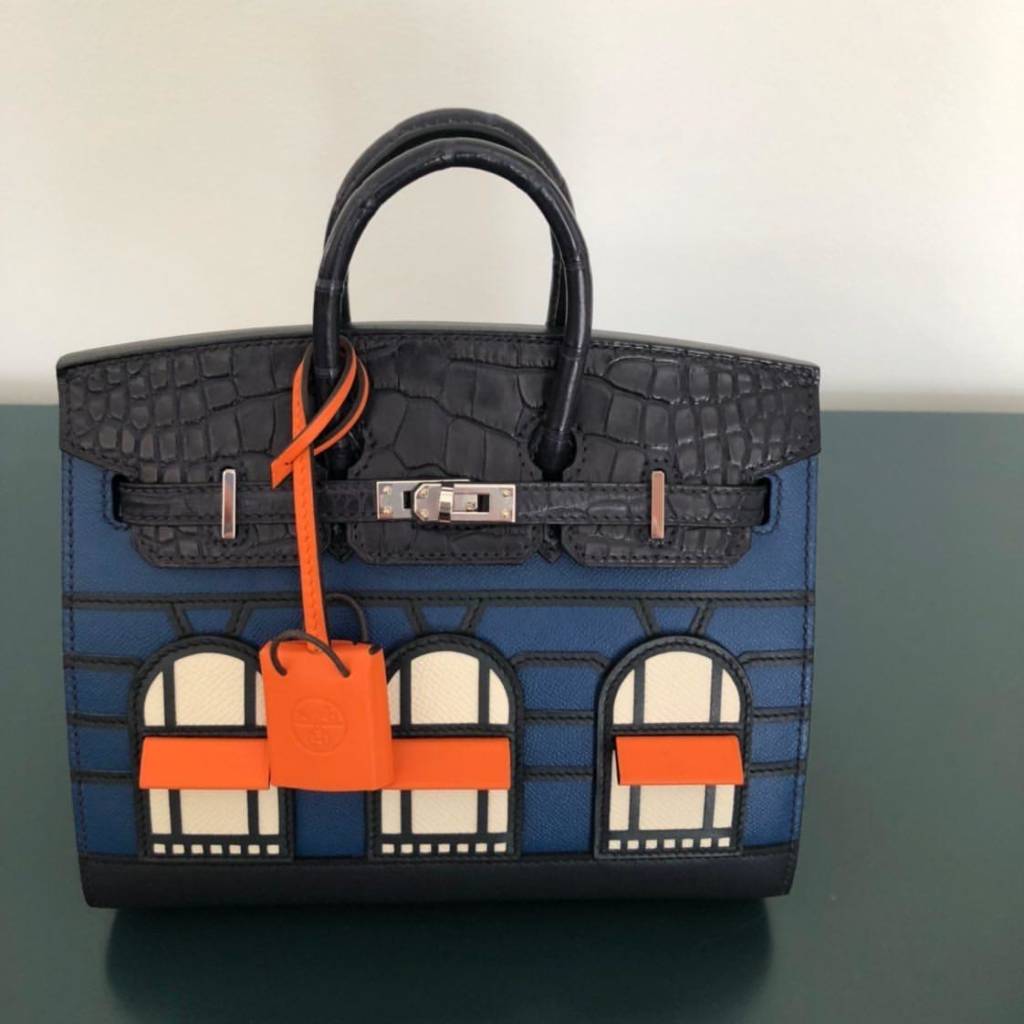 This beautiful feat of craftsmanship is created from a whole array of leathers. No detail (or texture) was spared.
The body is primarily made of Madame calfskin, with a matte crocodile flap in Bleu Marine. The rest is a combination of leathers: Swift for the orange awnings, tiret and clochette; Sombrero for the bag's base and line details; and Epsom for the glass window panes. The lock, however, is normal palladium hardware!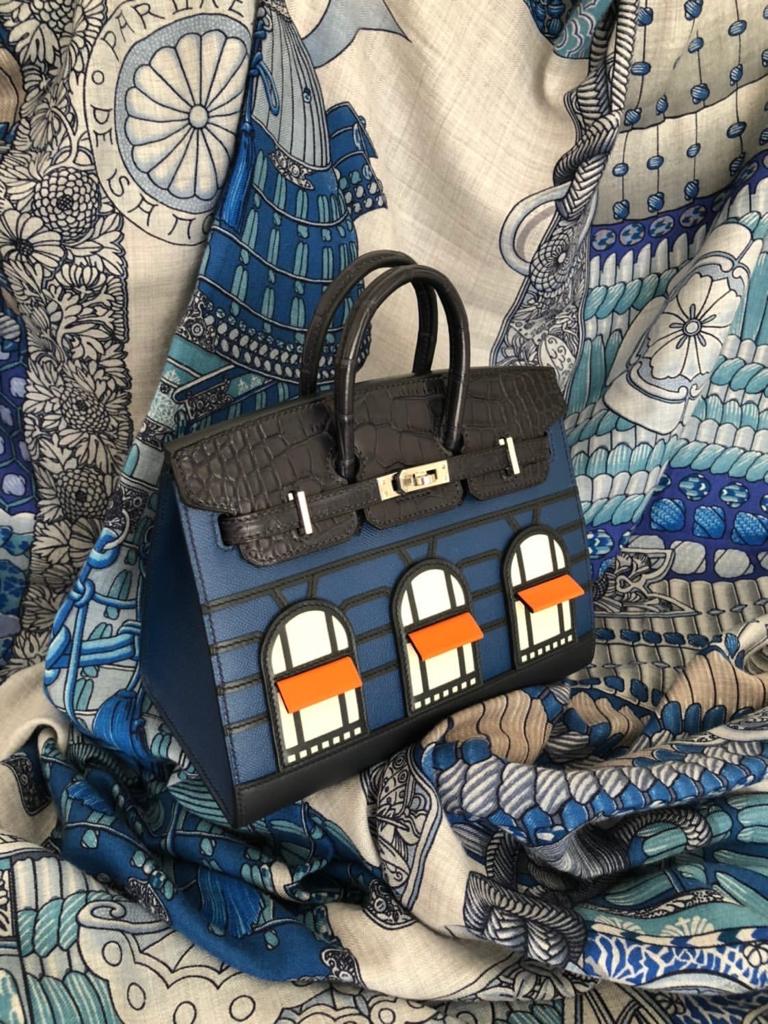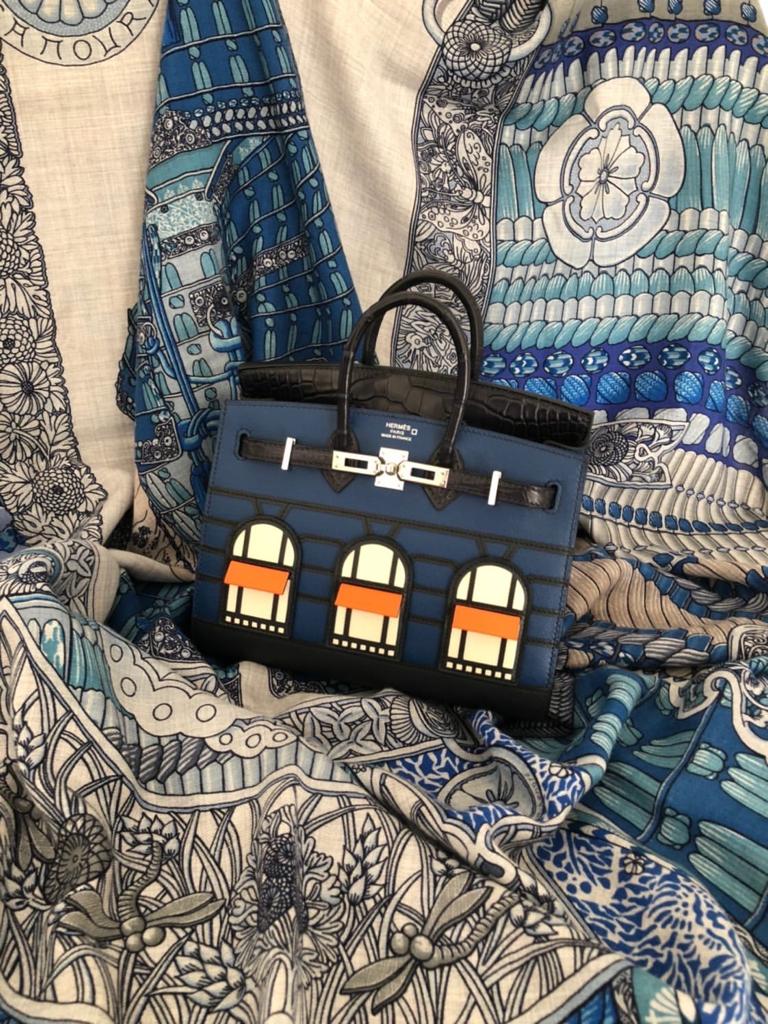 In the photos of the bag's angles below, you'll notice the various textures of the Birkin Faubourg. The back remains relatively simple, while the layered leather on the front creates a 3-D effect.
Don't miss that it's a sellier Birkin. Look carefully at the edges. Clean and stitched tight,  just like the sellier Kellys you all have become familiar with (read: Hermes Kelly Sellier vs. Retourne Debate).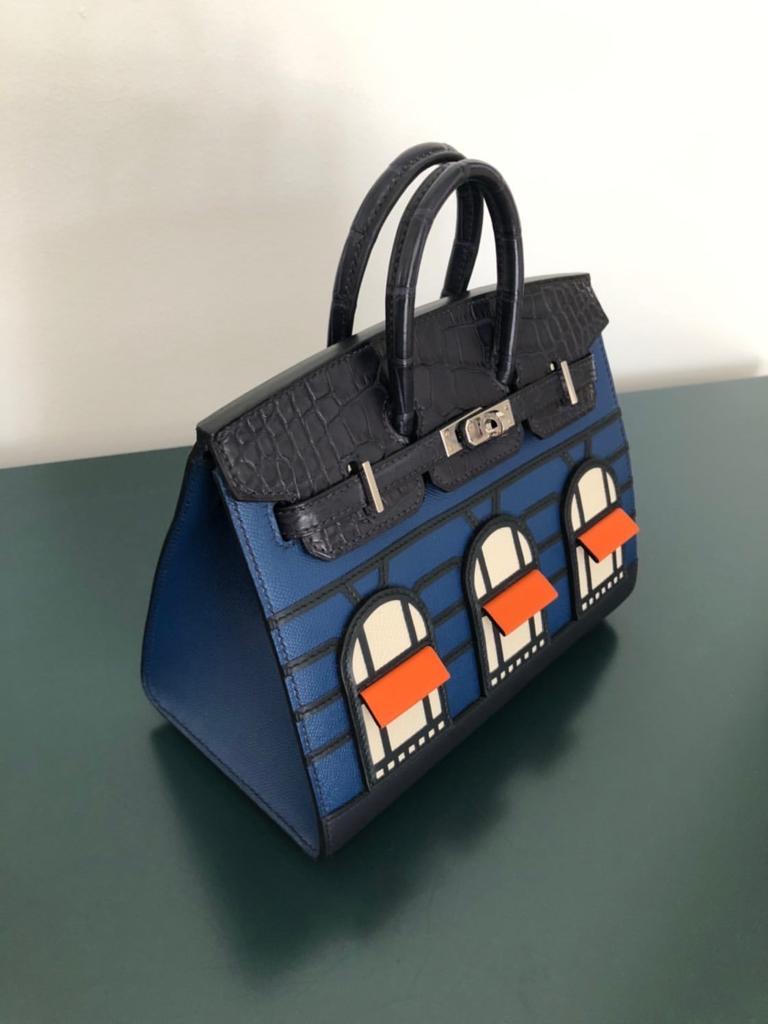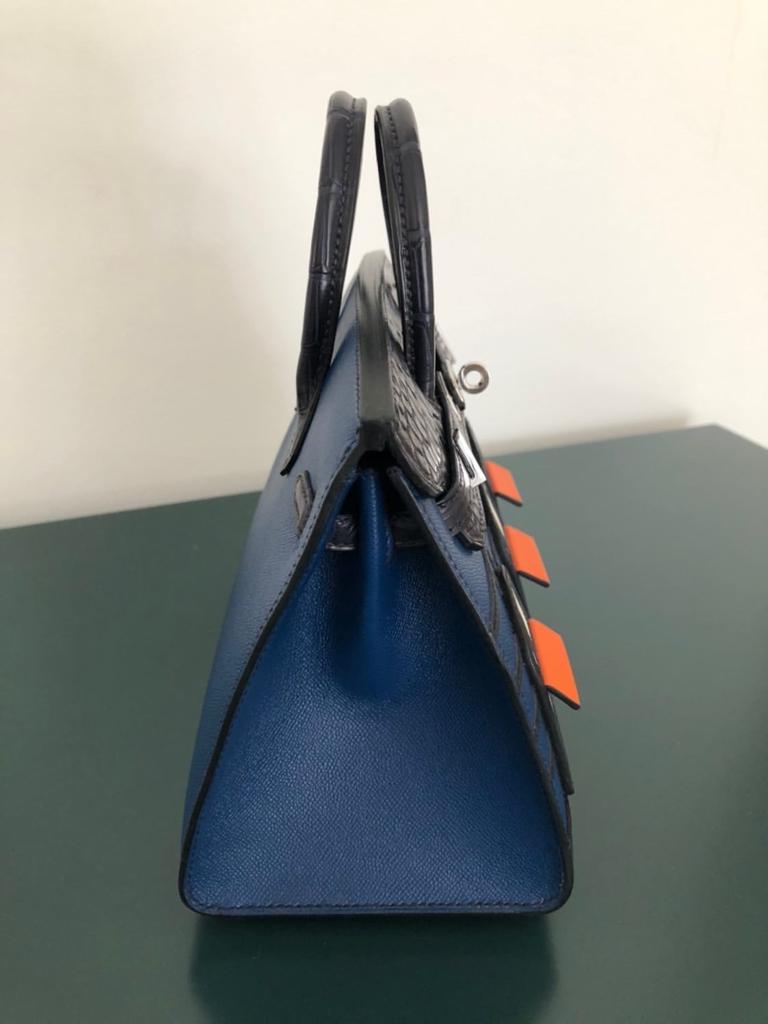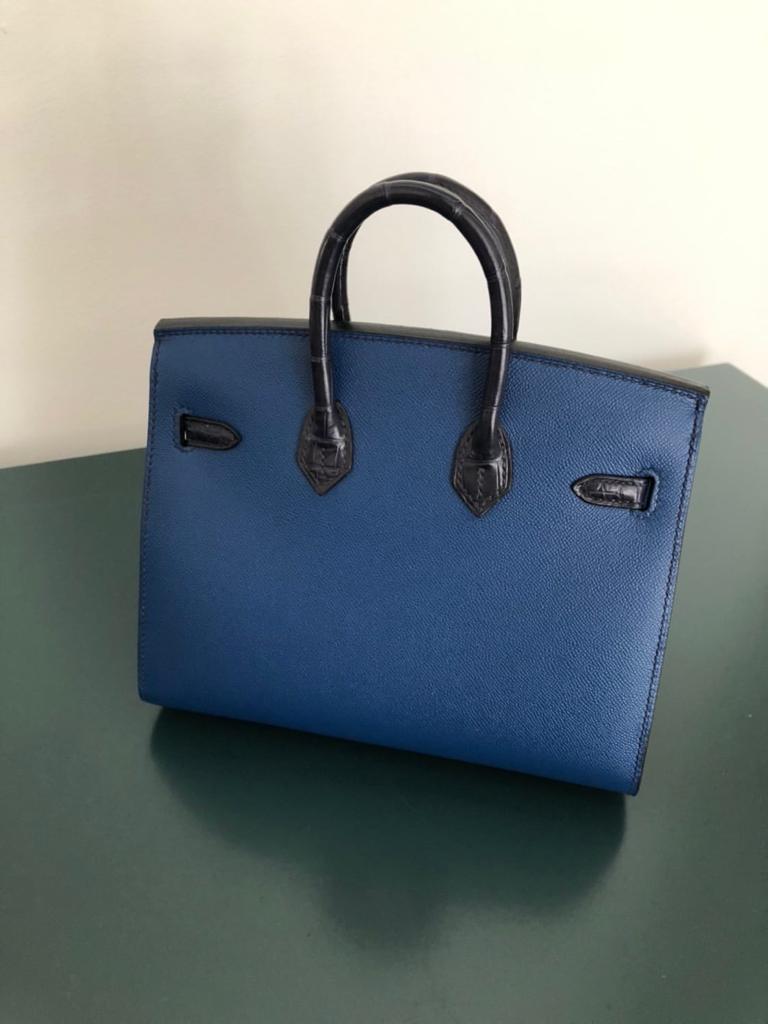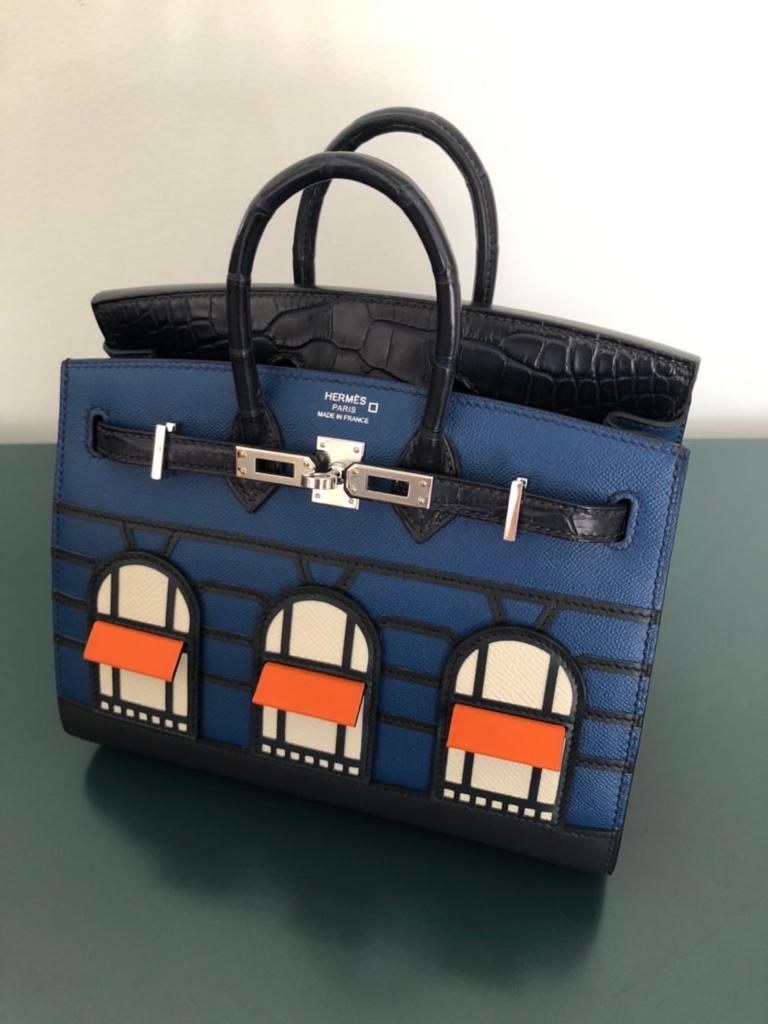 And please don't miss the clochette, which is one of this bag's most unique details. Instead of a traditional clochette, this B has one that looks like a classic Hermès shopping bag, complete with "handles," in the brand's signature orange.
We have to say, it looks a lot like the brand's new bag charm… read: The New Hermès Bag Charm: An Inside Look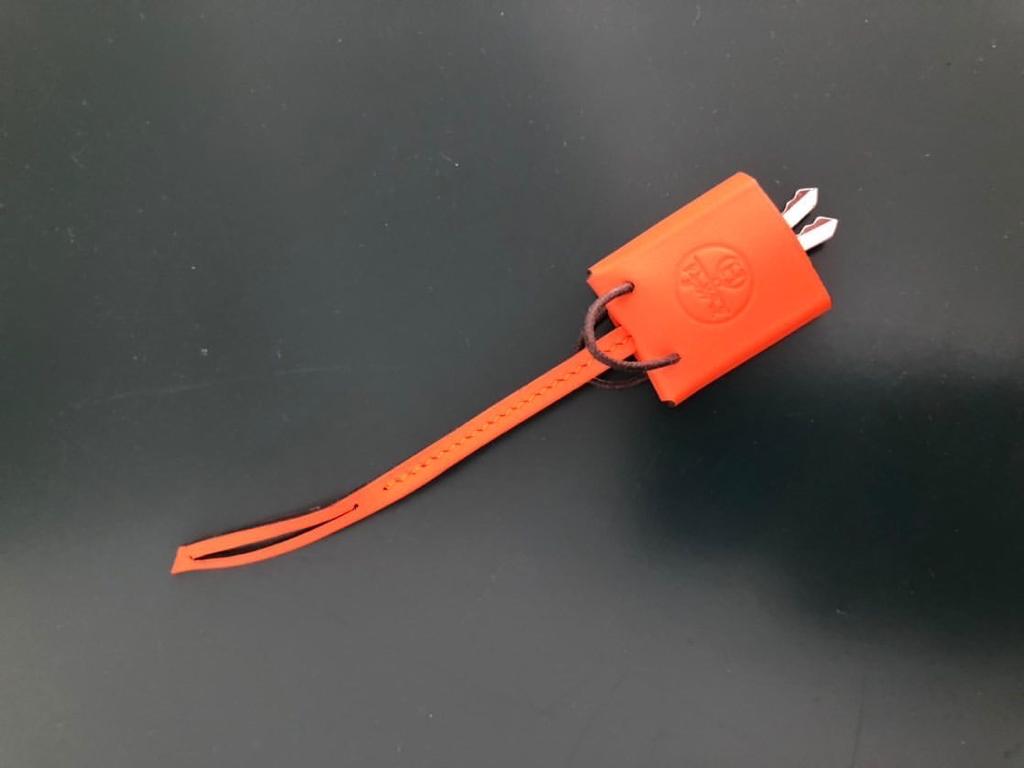 Here are some photos to compare the Birkin Faubourg 20 to other exotic & calfskin Birkin and Kellys in the 25 size! While the other bags are beautiful, the Birkin Faubourg undeniably stands out.