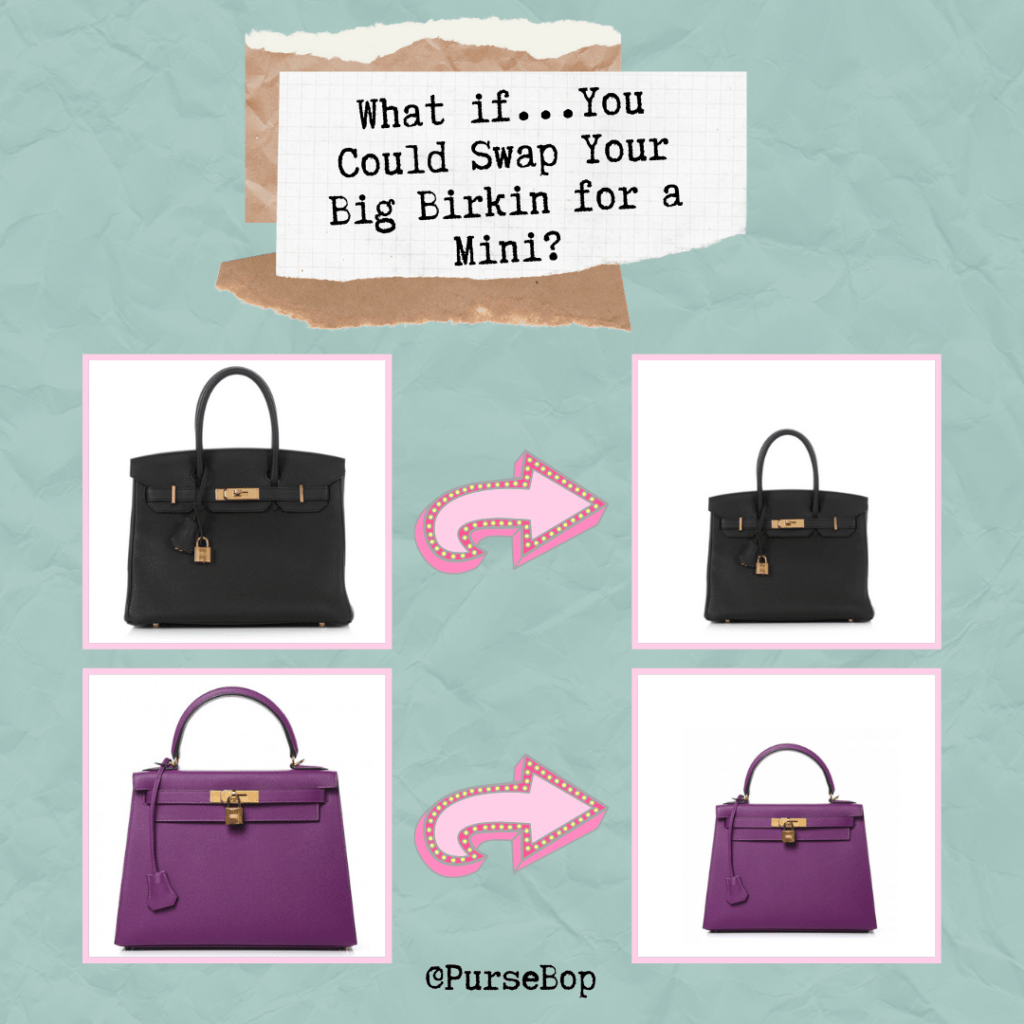 Ever get an urge to downsize your Hermès bag collection? Not the urge to purge. Rather, a desire to shrink nearly all of your coveted and adored purses to smaller sizes.
Clearly, without magical powers that won't happen. However, what if you could find the same bag in the same color in a more petite dimension. For example, despite how lucky you were to obtain a Hermès Birkin 30 in Gris Tourterelle with rose gold hardware from your favorite boutique, you now dream of that same purse in the B25 size. It's one thing to dream, though, and another to purchase a mini-me.
1. Honey, Do You Want to Shrink Your Bags
So the first question is whether and why you're wishing bags were smaller. One source of the problem is the difficulty (at least for some) in obtaining a Hermès Birkin or Kelly. Let's face it – it's often a matter of what is available and offered to you. There's an instinct to buy whatever is offered for fear there won't be another available near term. Even for those lucky enough to Special Order, it's not a carte blanche: there are limits on colors, leathers etc. In other words, it is possible that some of the larger bags were not on your original wish list.
There are many possible explanations for wanting a smaller handbag. It could be a matter of function and practicality. Perhaps your Birkin 35 (or any other size or style) is feeling too heavy. You've Marie Kondo-ed your handbag and realize you only need to carry a phone, keys, glasses and lipstick. Or your children have aged out of the diaper, coloring book, etc stage and either don't need you to always be prepared . . . or they can carry it themselves. These changes in lifestyle can be catalysts for a downsizing.
Others are inspired by perceived fashion of the day – that smaller bags are à la mode. On this one, while it is true that mini minis are much in fashion, so are super large, and in fact everything in between. Moreover, the pendulum swings back and forth (or big and small) nearly as often as the seasons change. You might to hold on to at least some of your larger options.
2. What Kind of Variety is Your Spice of Life
Another consideration is whether you would you buy a miniaturized version of a bag you already have? Imagine a closet of black Birkins in 25, 30 and 35 sizes, all with the same hardware. That might be your dream handbag armoire. Or it might bore you. It's a matter of taste. There's surely a reason and season for a Black Birkin in any size, but would you take advantage?
One test is whether for any given ensemble or day, there's another bag that would work just as well. For example, could you use the B30 instead of the B25? Well, of course you could, but would you feel satisfied. Perhaps it's a better question when debating color: whether the larger Rose Pourpre completes the outfit as well as, say, a petite Magnolia.
3. The Thrill of the Chase... Or Not
Let's say, you do want to shrink your favorite bag or bags. How? Rarely can you just waltz into the Hermès boutique and find the exact size, color, hardware combo just waiting for you. Sure, you may be lucky – especially with the classics like black, etoupe, and gold. But really – that little sister Lime Kelly 25, for example, likely is not in store. There may be a similar color around but Lime color leather isn't available right now (trust us, we've tried).
Your next option is to go to the secondary market, that is, to resellers. For many, that's a line they don't want to cross. You need to be comfortable that the seller and bag are legit, the condition is acceptable to you, and so on. Moreover, depending on the bag, it could be more expensive than purchasing at Hermès . . . if you can even find what you want.
Should you be fortunate and find what you want from a reseller (or friend) at an acceptable price, there's one more dilemma: do you keep both?
4. Swap or Save?
Lucky you… you've found the aforementioned B25 in Gris Tourterelle with rose gold hardware. Now what? Do you want to own both the B25 and B30? It may be adorable to see the big/little sister pair on the shelf, but what if you need to sell the B30 to fund the purchase of the B25. 
First, you're back to finding a trust-worthy reseller to handle the transaction. But that comes at a cost – time and money. Your bag may not sell right away. And the reseller takes a cut, out of the sale price.
Alternatively, if you're really fortunate, one of your nearest and dearest wants your used bag and is willing to pony up for it. There's no middle person, so no cut of the proceeds. Yet, it's not always comfortable doing business with someone you know.
Regardless of how you rehome the bigger bag, no one can promise that you will receive enough to cover the cost of the wee one. This is particularly true if your bag is used and/or older, as age and condition affect resale price. Moreover, the bigger bags are not at peak popularity right now and therefore do not fetch maximum pricing.