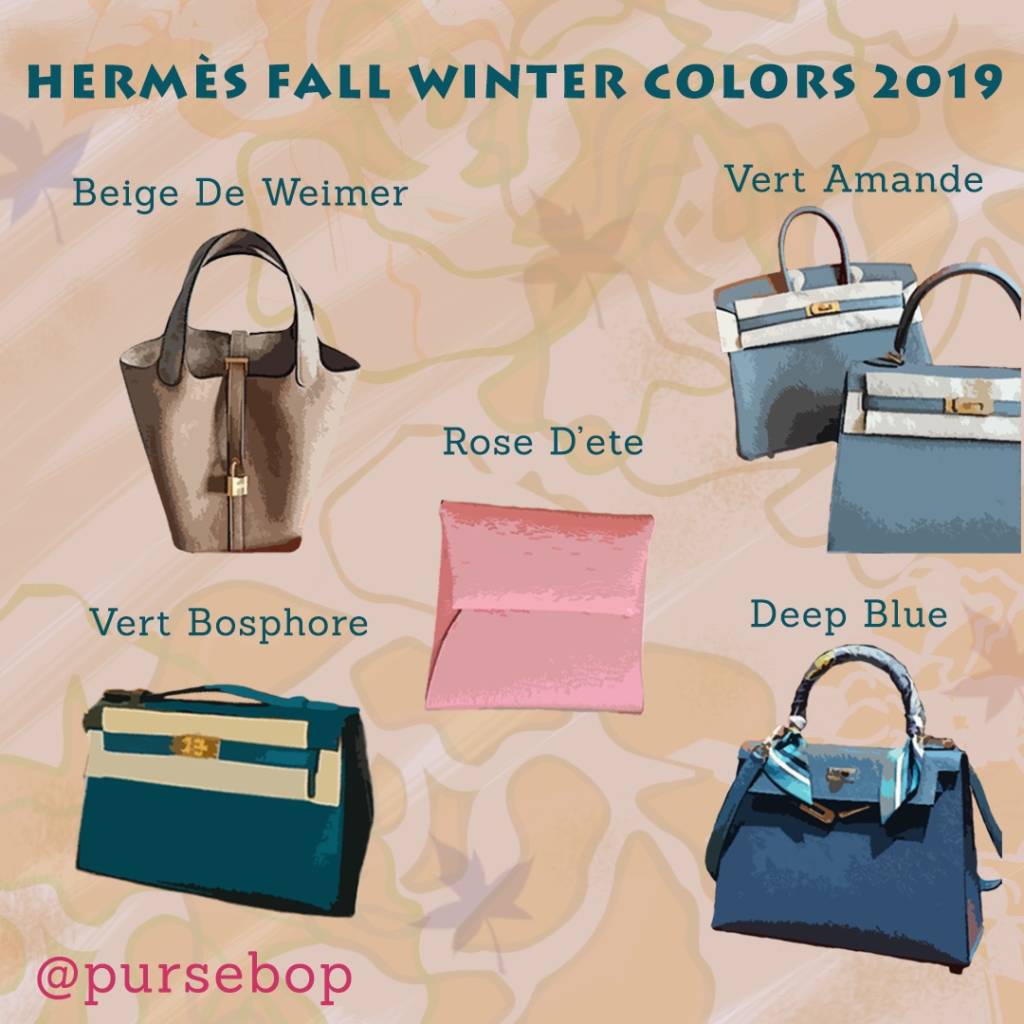 For Hermes devotees, it can be a most wonderful time of the year. No, not the holiday season. Rather, the highly anticipated reveal of a new season's colors is a highlight. We're sharing the latest colors for Fall 2019.
All of the newbies (including the Vert Rousseau we haven't yet seen) fall into the proverbial neutral bucket. Shades of blue, green, beige and pink – with names that don't necessarily match – these colors will blend and mesh with autumn hues. The season is quite a contrast to Summer 2019 (read: Hermes New Colors). 
Hermes dives deep into another blue… called deep blue. Whether you see blue or green, it's reminiscent of ocean waters. It's neither bleu sapphire nor nuit, darker than paradis, atoll, du nord and lighter than marine or obscur. Amazing just how many shades of blue Hermes creates.
Sometimes Hermes calls beige bags gray and gray bags beige, but this beige bag actually looks beige. Withs tones of oatmeal, etoupe, or tan, this beige likely will be a hit with fall wardrobes. Will it rival etoupe and gris asphalt? Only time will tell.
Pink lovers… you take the lead. Is it Rose Azalea, Rose Lipstick or a cousin to the newer Mauve Sylvestre? In any case, it's likely to delight.
When Colvert and Malachite get together, the imagined result probably is the new Vert Bosphore. Deep and luscious, it appears green and blue and yet is strictly neither.
Translated, it's green almond and, frankly, we don't get it. We love the color but see blue and gray, more than either green or almond. Darker than Gris Mouette and Bleu Lin, it can lighten up any winter ensemble.
Clearly, Hermes Fall 2019 colors follow a subdued and neutral palette. Even traditional fall colors like deep red, burgundy, burnt orange and yellow are missing, as are "pop" hues. Are we heading to a more somber, understated season or era?  Do any of these colors fit your mood? Are they on your shopping list. Let us know.